One year ago today, the Walt Disney Company made an unprecedented announcement that would change everything.
Walt Disney World (plus Disneyland and more) would be closing for an extended time for the first time EVER since it opened in 1971.  The initial closures would begin on at the close of business on March 15, 2020 and run through the end of the month. Two weeks.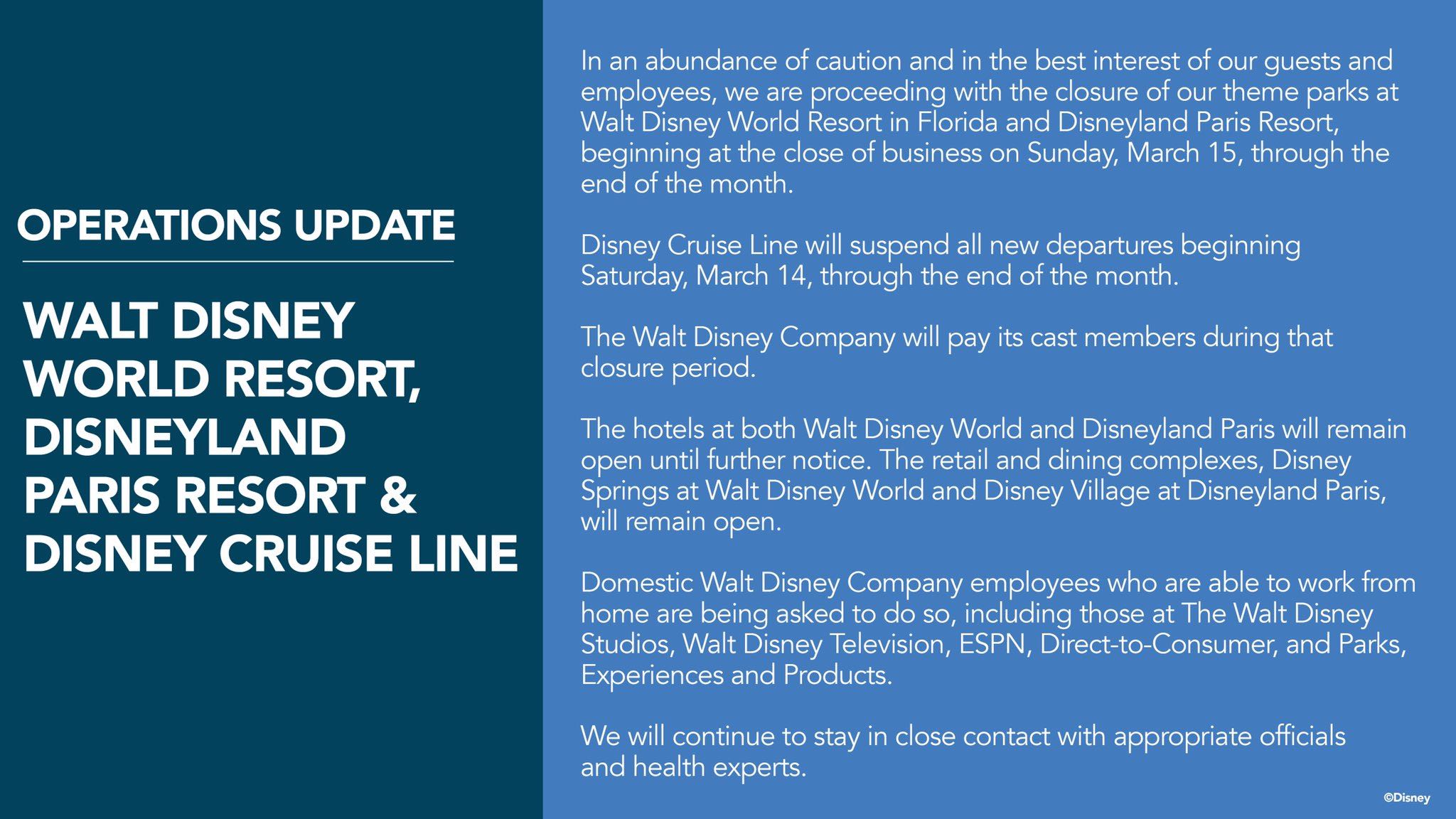 This was unthinkable. We scrambled to get the news out and then anxiously looked towards the future. What would our jobs be like? What do we need to do RIGHT NOW to be prepared for the next two weeks?
As Morgan and I look back over the last year, we thought it would be a poignant time to reflect on what those initial moments after the announcement were like as not only humans but theme park journalists.
Morgan's Story
I had started working with AllEars in early 2020 (a dream job come true), so I was still a relative newbie when March rolled around. By the time March 12th came along, the team had already seen plenty of news reports about the worldwide impact of Coronavirus, and knew that the parks closing down was a very real probability.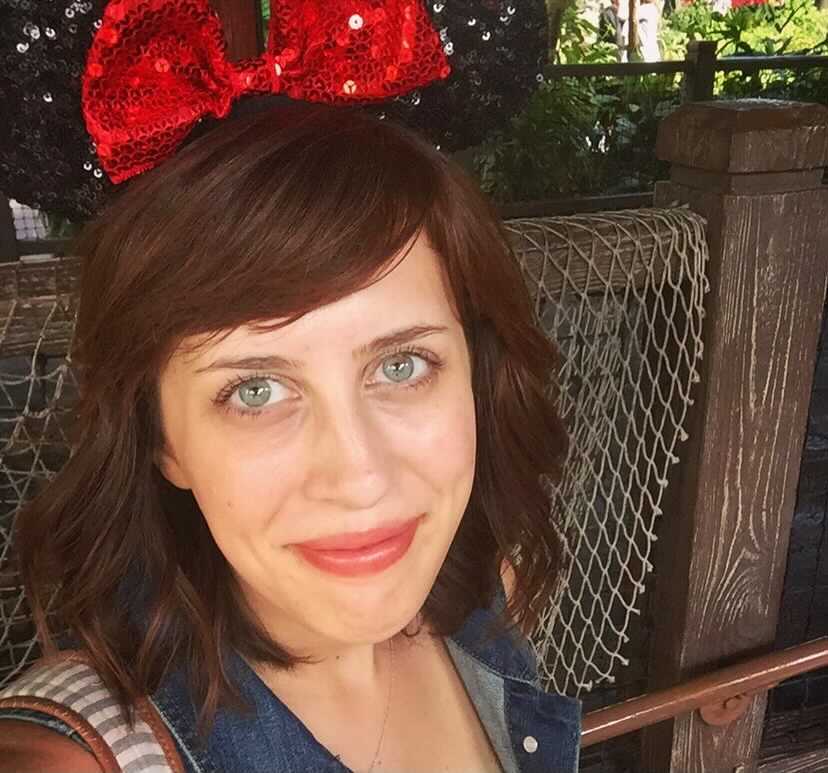 I remember it all happened in pretty quick succession — first Broadway went dark, then Disneyland announced it would be closing, followed shortly thereafter by Disney World.
Even a year out I remember pretty vividly the many emotions I felt. Number one, and most overwhelming (as I'm sure it was for anyone) was fear. Disney World is known for always being open, aside from a few days-long closures for hurricanes. Taking away the fact that Disney World is a large part of my job, the parks closing felt like a heavy emphasis on just how serious of a situation the health crisis was.
But, very quickly, I realized that general fear and confusion was how everyone was feeling. As soon as the parks announced they were closing, we got a flood of questions from our readers. "What does this mean for my trip in May?", "I want to cancel, but the phone lines are busy, what do I do?", and "How do I get refunded for my Annual Pass with the parks closed?" were just a few of the questions we got right away.
At the time, Disney hadn't released answers to most of those questions yet. Those answers came in over time, with our team sometimes picking up new information in the middle of the night due to a small site update or clarification.  But, it was those answers that could help you, our readers.
Writing for a travel-oriented website, while Disney World and all the other theme parks was closed was…interesting, to say the least. It involved spending many late nights getting details on what Disney would be refunding and when, with plenty of screenshot comparisons searching for the most minute changes in details that could help answers some of our readers' questions. It also involved listening in to daily government task force meetings, an experience I will truly never forget.
Those late nights and Disney detective work also came with some positives, though. I got to know some of our readers better in helping them search for answers for their questions. Plus (and I'm going to get real cheesy here for a second), the experience truly brought the AllEars team closer together because we were all going through something totally unprecedented both at work and in our personal lives, and felt grateful for the work we were doing.
During this time I've gotten incredible musical recommendations from Quincy, I got to start working with my forever fashion icon Breedlove, and I've gone back and forth with Molly on who is the best Chris (the correct answer is Chris Evans).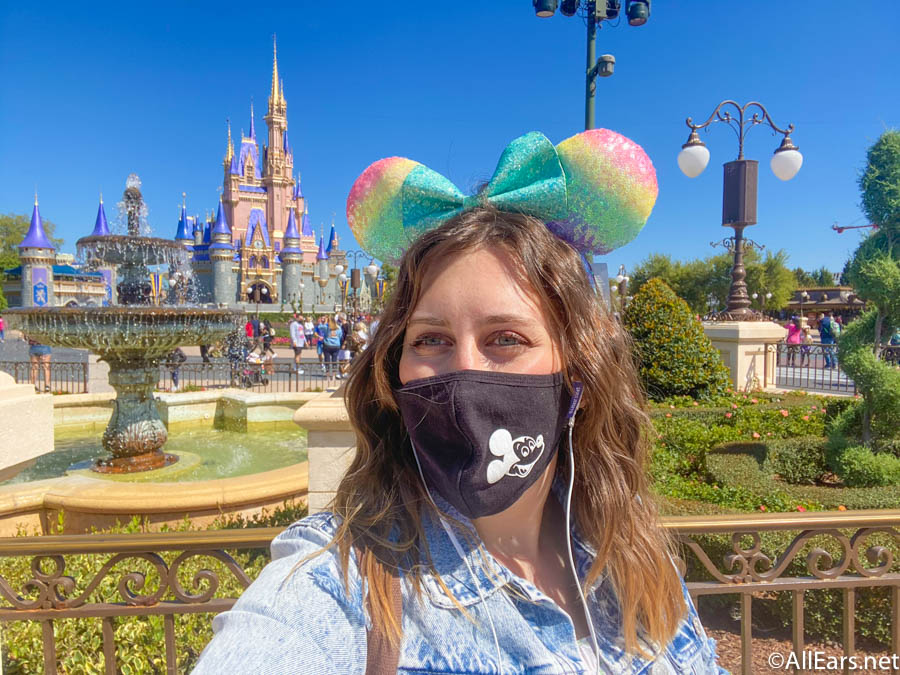 Since the parks initially closed, Disney World has reopened, with Disneyland looking to reopen soon. For AllEars, our team has gotten closer and, I hope, more creative. We've been able to bring in new shows, posts, and more content that we hope is both helpful and helps bring a smile to anyone looking for their daily dose of Disney. This time has been trying not because the parks were closed, but because of the uncertainty of it all. I'm so grateful for the people I work with, and the family I've made here. This year has certainly not been without its challenges, but I'm thankful for everything I've learned along the way.
Molly's Story
I was walking out of EPCOT, where I had been filming all day, when my phone started vibrating off the hook. This isn't unusual — when you're in the greatest text thread of all time with your co-workers, your phone is usually buzzing non-stop. But when I opened the message, I wasn't greeted with a friendly debate about which Star Wars character is better or someone sending cat photos (Morgan and Quincy, looking at you.) It was official — Walt Disney World had made the announcement we'd all been waiting for: they were closing.
Despite the fact we all knew this was a very logical probability, having been tracking not only the international theme parks but also the CDC and domestic trends, it was stopped me in my tracks to see the announcement officially written out. Walt Disney World nor Disneyland have EVER closed for this long. They've both shut down for an odd day here and there for weather, and closed early on 9/11, but to shut down for two weeks…possibly more?!…was unfathomable.
My mind was racing a million miles a minute — and one of the first questions I had was, how am I supposed to do my job, which is making videos about Disney World, if Disney World is closed?!
I immediately messaged our YouTube Manager, Meghan, and we got to work. Since we had a feeling this was coming we'd already started stockpiling footage for videos we could turn out when the park was closed. I had just a few days left to film, and we came up with short videos that could be shot simultaneously. Over the next two days, I filmed SIX videos between EPCOT and Hollywood Studios. This, along with videos we had already in the works, would be enough in-park videos to last us a month…just to be safe in case they extended the closure a bit.
As we all know now, the park closures lasted much more than a month and we had to get creative. At one point we stopped and asked ourselves, should we even be making videos right now? Does anyone care about what we have to say about Walt Disney World when the world is literally crumbling around us?
In total, I shot more than a dozen videos at home, mixing pre-existing park footage in a Q&A style format where I just talked from my desk.  I'm really proud of those videos. Our team worked together, during a very dark time, to think outside the box and create the best content we could and help our viewers. We received dozens of messages from people thanking us — parents who needed something new to show their kids, teachers who were trying to teach on Zoom, and even nurses working the Covid units that needed an escape. Those messages meant more than I could ever put into words. In a time where nothing made sense and there an everlasting feeling of hopelessness and anxiety, it felt good to have a purpose and know we were doing something small to bring joy to others. It created a community between our followers and us. Honestly, it's what kept me going.
Throughout this past year, I have learned a lot about myself, our team, and humanity in general. These unprecedented closures forced us to become better — better writers, better reporters, and a better team. Every day the parks were closed I was in awe of this group of people. We stayed up late scrutinizing website updates, CDC mandates, and trying to answer questions no one had ever had to ask before. We listened to hours of government task force meetings. We figured out how to write compelling and factual pieces we never would have had to write before 3/12/2020. We had zoom Happy Hours to try and feel normal.  If there's a silver lining to the Disney parks closing it was that we became the best team we could possibly be, which means we're providing the best information and content we possibly can to our incredible readers. I am so lucky, to not only have a job at all right now, but one that has made me better in the most trying year of our lives. I am so proud to work with these people, and so honored that our readers trust us and follow us.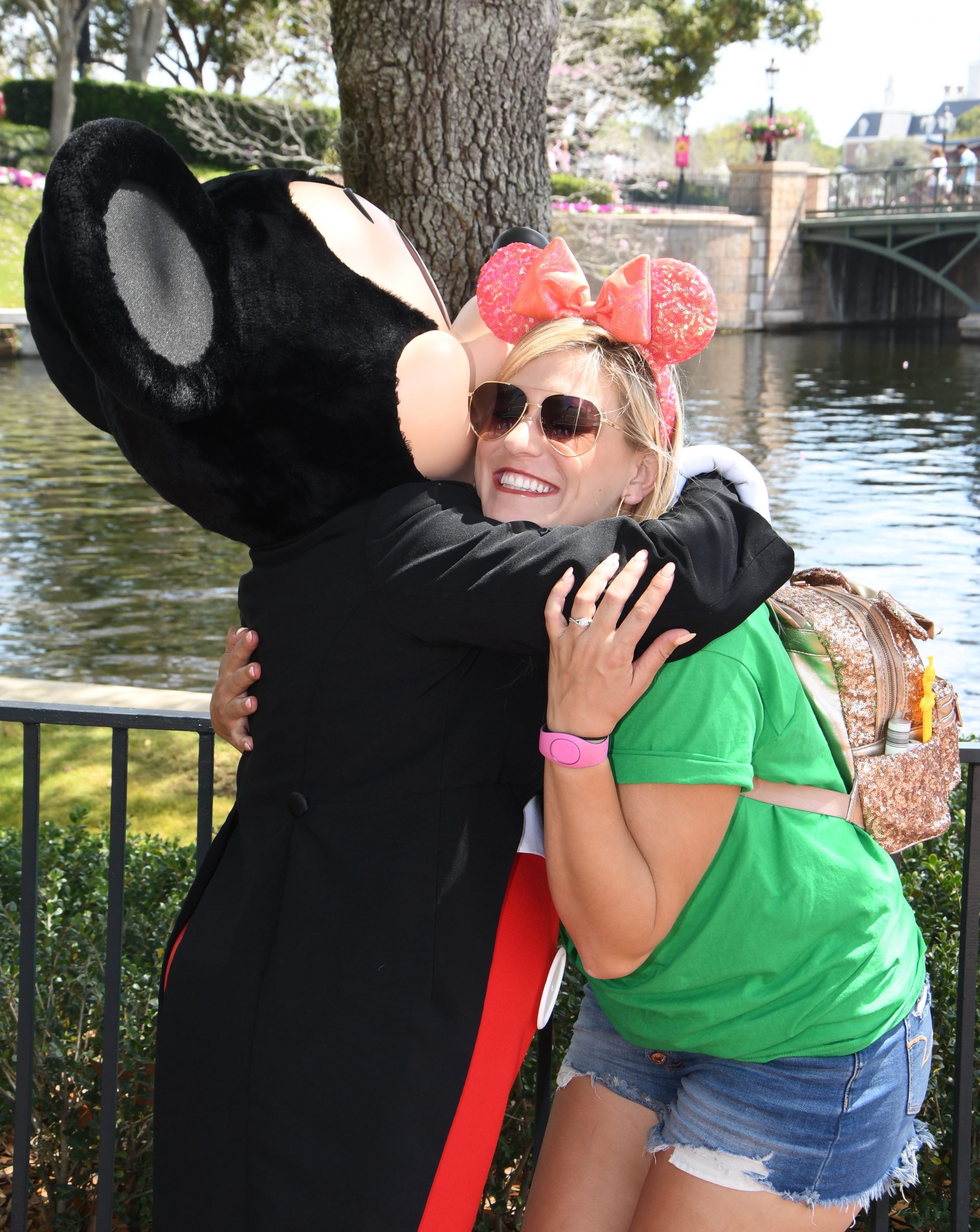 I took this photo one year ago. It was the last time I hugged Mickey Mouse. It feels like an enternity ago; the world is a completley different place now. It seems silly to think about this pandemic in terms of Walt Disney World, when there is so much more important stuff out there. I'm not so pixie-dusted to think that it really matters if people get to high five Goofy or ride Space Mountain or not. But Disney has long been a source of joy and fantasy, and to see them shut their doors and change the way they operate is a harsh reflection of reality. It's hard to wrap your mind around a global pandemic, but it's easy to understand the symbolism that every single Disney Park in the world is closed. And while I hope to never see a closure announcement again, I also hope I never forget what I've learned because of it.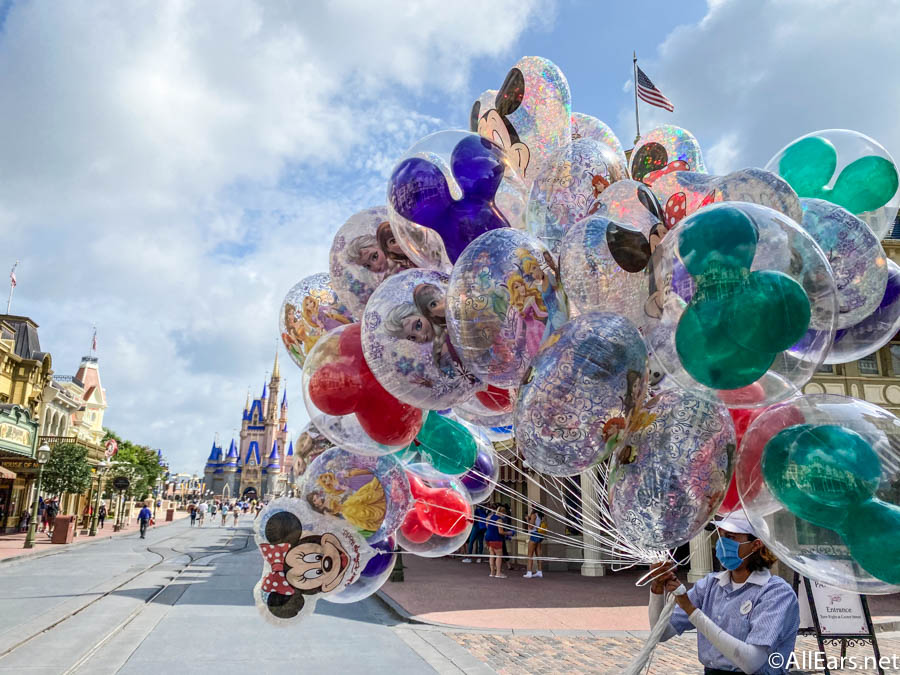 If 2020 taught us anything, it's that we're lucky to do what we do, with the people we do it with, and that we'd be nothing with you. Thank you for sticking with us throughout this unprecedented time. We hope we were a source of information, answers, or a smile during a scary time.  Here's to the year ahead — and just think. If we can all get through the last 365 days, we can do anything.
What life lessons did you learn in 2020? Feel free to share in the comments!
Join the AllEars.net Newsletter to stay on top of ALL the breaking Disney News! You'll also get access to AllEars tips, reviews, trivia, and MORE! Click here to Subscribe!