Based on the Newberry Award–winning children's book, Flora & Ulysses: The Illuminated Adventures by Kate DiCamillo comes Walt Disney Pictures' Flora & Ulysses.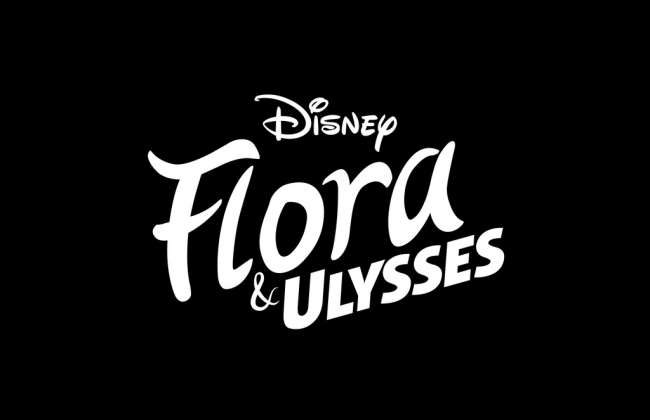 Flora & Ulysses tells the story of self-proclaimed cynic and comic book fan Flora, whose life of introversion following her parents' split gets turned upside-down with the introduction of a super-powered squirrel named Ulysses.  The friendship that results leads the two into adventure as they repeatedly confront peril from any number of surprising sources.
To get an advance look at the film production (back in 2019 when people could still go places and do things), AllEars was invited up to the set location in Vancouver and got to talk to some of the many talented Flora & Ulysses cast and crew.
Ben Schwartz plays Flora's estranged father George and was generous enough to come in on his day off to talk about his role and the film and his love of Disney.
On memorable moments:  "A lot of the joy I've gotten from this show has been watching Matilda [Matilda Lawler ("Flora")] and Ben [Benjamin Evan Ainsworth("William")]–this is their first big gig and it's so exciting to see.  They're going to be incredible.  Matilda is so special, truly a special actress and the fact that this is her first one is really fun to watch.  And also I'm a very big Disney nerd so the idea that at the beginning of this film I get to see the castle and all that stuff is one of those very emotional moments for me, just because my whole life I've watched all that stuff.
"But the stuff from set has been lovely, Lena's [Director Lena Khan] been incredible.  It's such a big piece, especially for someone who's maybe only done a movie or so beforehand, she's handled it beautifully and wonderfully and brings the spirit of what Disney's all about to it and there's a really fun chance it could be a very special movie."
On his character, George:  "I play George Buckman…my background is I created my own comic books….I had all this passion, put my art into these pieces and I made Flora fall in love with the ideas of all these things and she's so obsessed with my comics…but I never had the guts to publish them or to get them published or anytime I tried, a 'no' was all it took for me to get scared.
"So I never really believed in myself, which is another great classic Disney trope, so the idea is that I couldn't do that and it takes my daughter and this squirrel to push me to believe in myself.  But the whole thing is that you follow that start of me not feeling like I have what it takes to do things and that kind of bleeds into my marriage and it kind of makes Phyllis, who's played by Allyson [Alyson Hannigan ("Phyllis")] (who does an incredible job, she's great in everything,) lose faith in me and feel like I'm not going anywhere and not helping the family.  It splits up the family and I live on my own and it takes all this stuff for me to believe in myself and realize how much I need this family and we love each other and come together."
On the DuckTales invasion:  "So, in this movie, it started with me, and then Danny was cast, and then when they were casting, they were like 'oh there's this great gentleman…it's almost like the Comic Book Guy from The Simpsons,' and we were chatting about names and were like BOBBY MOYNIHAN!  Lena loves putting little Easter Eggs in things, so not only is there Bobby and me and Danny Pudi, which is the three Duck brothers, but Webby is played by Kate Micucci and she's in it, and she's amazing.
"And also one of the Easter Eggs is that, if it stays in the cut, when you see Bobby for the first time, he's reading a Duck Tales comic.  When you look at the comic book store, there's all these references to all these things, and one is when we're signing the book at the very end of the movie, behind Alyson Hannigan, it's a Buffy the Vampire Slayer comic.  You gotta really look at it, but it's all the really nerdy stuff that, like, me, I love so much. "
On his favorite Disney character:  "It is very hard to beat the Genie in Aladdin….Up is one of my favorite movies of all time so I relate very much to Dug, but I think for me, the Genie in Aladdin because I was a kid who loved comedy and physical stuff and heart and that was everything."
On Galaxy's Edge:  "Not only did I go, but for whoever's nerdy here, I got to ride the rides with Tony Baxter…and then I made him go on his rides with me!  We had a little group — Bobby was there — and we went with Tony on his own rides and it was like Heaven."
On his favorite Disney Parks attractions:  "I've never been international…so Robin Lopez, who is a professional basketball player, was tweeting about DisneySea so I didn't know if he was kidding or not, and then someone said 'oh, it's real.'  I did Sonic the Hedgehog and I'm hoping we open in Japan –that would be the Sea one, no?  So all my dreams come true if we get an opening there.
"I'm a fan of the classics, so the Haunted Mansion is to me…I just love it so much. So my rides are Indiana Jones, Pirates of the Caribbean, Haunted Mansion, and I'm going to tell you something: Soarin' does not get enough respect. It is, I think, the perfect ride to enter the park with, if you enter through the California Adventure side."
On what makes a Disney movie:  "So when I watch Disney movies, what I think they do very well is that I think the spine and the basis of most Disney movies are heart and love.  I know a lot of Disney films kill a parent but even when that happens, it's like the love that binds the rest of the group, or the idea that this person who feels like an outcast who finds this person, or an English woman comes down an umbrella and shows a family…all these things.  I think that at the core of our movie is so much heart and love.  Matilda plays this character that's almost a skeptic and looking at things that she's not quite sure about, which gives you an adult perspective from a children's body, but the idea that all she wants is her family to be happy, and she finds hope and love in Ulysses and this is the thing that she's trying to show her family to bring everyone together.
"So all those beats are there and I think the comedic beats are there, which I fall in love with in all the Disney stuff, and I think when you have the spine that's through love and comedy and a lot of it has to do with family or finding what family means to you–I think that's all really prevalent in this.
"And no parents die.  Yet."
Just released today is the new trailer for Flora & Ulysses:
Flora & Ulysses has its Disney+ premiere on February 19th, 2021.
Questions?  Comments?  Suggestions?  Drop us a line below.
Be sure to follow @allearsnet on Facebook, Instagram and Twitter!
Check out our YouTube Channel for reviews, news, information and more!
Click below to subscribe to the AllEars® newsletter so you don't miss any of the latest Disney news!