Today, Disney+ unwraps an early Christmas present for viewers with its new original holiday film Godmothered.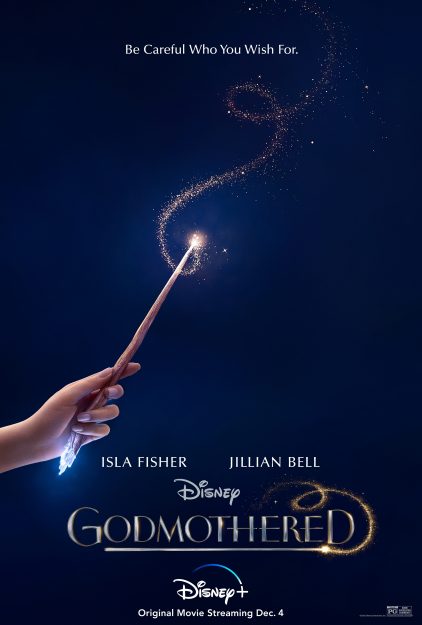 Set at Christmastime, Godmothered stars Jillian Bell as Eleanor, a naive godmother-in-training.  Her relentless ambition to become a full-fledged fairy godmother runs aground when she discovers the entire profession is foundering due to the contemporary world's complete lack of interest, and that the school's headmistress (played by the wonderfully brittle Jane Curtain) is set to close the whole thing down.
Determined to show everyone that fairy godmothers are still essential workers, she finds the last known letter any girl ever wrote to a fairy godmother and escapes from "The Motherland" to the more conventional land of Boston to hunt her down and grant her happiness.
Her task becomes more complicated as thirty years have passed since the letter was written and the girl has grown up to be a single mom, Mackenzie Walsh (Isla Fisher,) whose soul-killing job as a local news producer and loss of her husband has made her depressed and disinterested in anything but providing for her two daughters and making it through another day.
When the irresistible force that is Eleanor's belief in Happily Ever After meets the immovable object that is Mackenzie's burnt-out pragmatism, magical sparks fly, pumpkins explode, and happiness manifests in unexpected ways.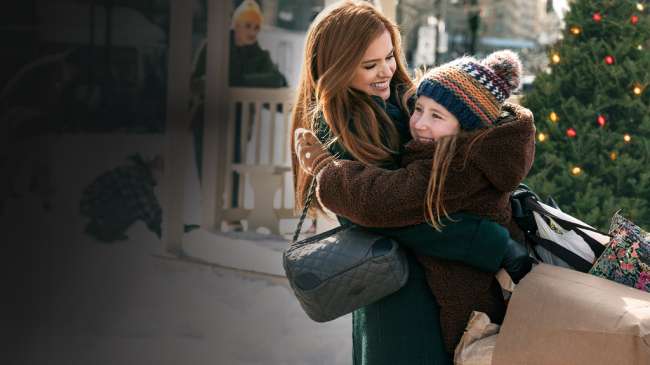 The comparison that will come to most Disney-familiar audiences is to that of 2007's Enchanted which also revolved around a cluelessly naive denizen of fantasy who lands in The Real World and finds her conventional views challenged and narrow outlook broadened as she simultaneously brings joy and magic to the hard, jaded souls she encounters.
Godmothered feels like a much smaller story and a little slower to engage, possibly because the Alan Menken musical score in Enchanted carries a lot of the fairy tale weight. Where Giselle was a perfect fit and (almost) universally beloved in Andalasia, Eleanor is something of a laughing stock back in The Motherland, with the other apprentices and headmistress holding her in the same vaguely amused contempt that the nuns had for Maria in The Sound of Music, which is appropriately the first film Eleanor watches.
This difference colors their respective reactions to the world, giving Eleanor a desperation to succeed and prove herself godmother-worthy that often blinds her as to the appropriate course of action with sometimes hilarious and sometimes excruciatingly embarrassing results.

While Eleanor struggles to make headway with Mackenzie, she has an easier time with her daughters with whom she develops a Mary Poppins-esque relationship. While Jillian Shea Spaeder and Willa Skye do a fine job of portraying girls mildly oppressed by their mother's general joylessness, they aren't given much to do except act as an inciting incident here and there.
The main dynamic is between Eleanor and Mackenzie who are each possessed of enough charm that you almost don't notice how irrationally, yet conveniently they behave. Mackenzie is so horrified by Eleanor's bizarre behavior that she initially doesn't want to let her out of her basement for fear anyone will see her, yet then decides to take her to work with her everyday; she doesn't want anyone to notice her, yet never gets her any new clothes so that Eleanor runs around in the same enormous pink ballgown for the entire film; Eleanor's magic is erratic and unreliable until it suddenly works like a charm.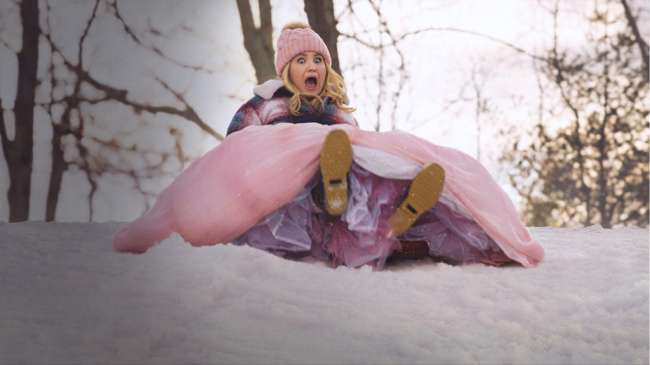 While a bit contrived, Godmothered is a pleasant enough holiday diversion.  The ending of the film is actually the most successful part, and makes some nice statements about the different ways individuals experience and define happiness, and how conventional attitudes need to evolve to remain relevant to modern society.
A nice fish-out-of-water movie night might be pairing it with its thematic sisters Enchanted and The Sound of Music, all of which feature women breaking out of their molds and finding happiness while wearing problematic dresses.
Godmothered premieres Friday, December 4th, 2020 on Disney+.
Check out our YouTube Channel for reviews, news, information and more!
Questions?  Comments?  Suggestions?  Let us know below!
Click below to subscribe to the AllEars® newsletter so you don't miss any of the latest Disney news!