Hey everyone — Molly here! And OHHH BABY GUESS WHAT TIME IT IS.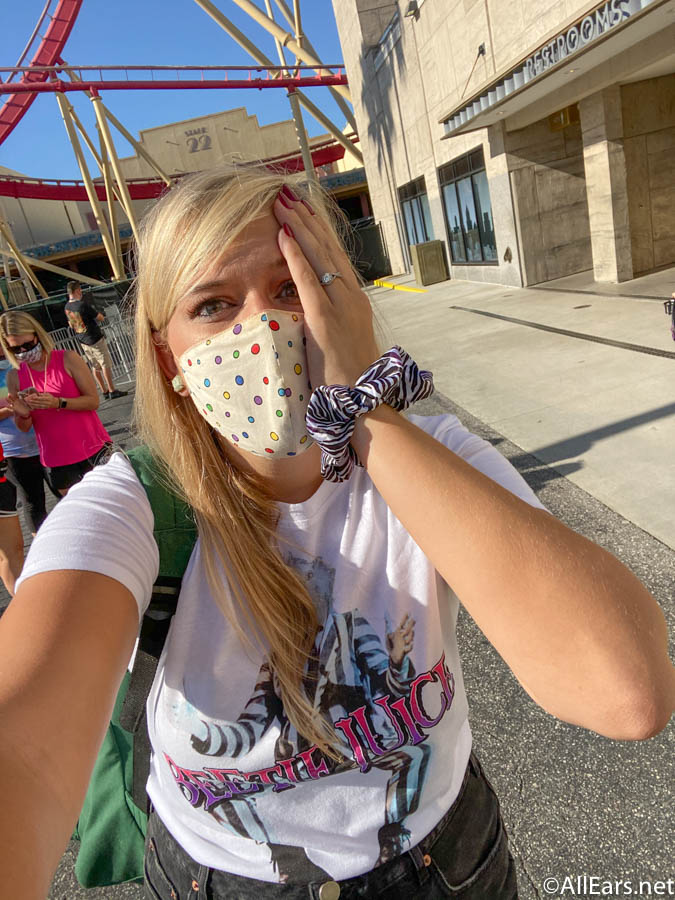 That's right, we made it to INFINITY WAR. I can't believe we're here — it seems like just yesterday and a million years ago that I started watching the Marvel movies for the first time.
This is the first of the big ones, and I vaguely remember my friends being traumatized by it, but TBH I have no idea what is about to happen. I know I have my favorites (Iron Man, T'Challa, Falcon, Peter Parker, the Guardians…) and my not so favorites (Strange…yeah just him) when it comes to the heroes. And I know Thanos be looking for those stones, which probably won't go over well.
Ready or not, here goes nothing.
109 Thoughts I Had Watching Avengers: Infinity War for the First Time
1. The Asgardians are under assault? So we're starting right after Thor: Ragnarok. Literally right at that end credit scene.
2. IDRIS ELBA IS HURT. THIS IS NOT STARTING WELL.
3. LOKI!! Hey boo.
4. OMG IS THAT THOR HE'S JUST DRAGGING?!
5. OOOOH a fancy glove. Seems like he wants to put all the stones in there, yes? I assume real bad things happen if he gets them all.
6. We have a Hulk. HECK YES.
7. IDRIS ELBA!!!!!!!!!! NOOOOOOOOOOOOOOOOOOOOOO!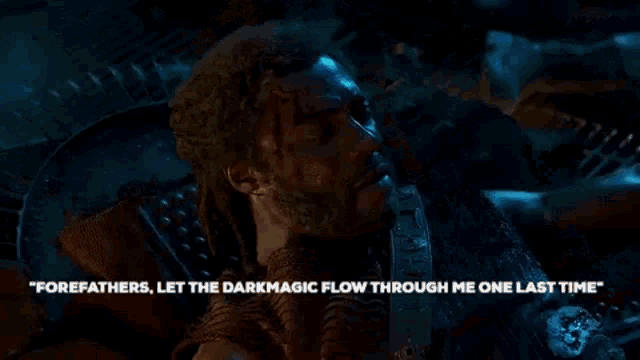 8. Two Stones. This isn't good. Also so much has happened and it's been like 5 minutes.
9. GET HIM LOKI…Oh no.
10. HE CAN'T BE DEAD!!!!!! No. I refuse to believe this. NO NO NO.
11. Howdy there Doctor Strange and Wong.
12. IRON MAN AND PEPPS!!!!!
13. Strange meets Stark! I feel the sass game will be strong in this one. Also, it's gonna be a battle of the egos.
14. Exposition scene: presented by Wong.
15. "Tony you lost another superbot??" LOLOL
16. Put aside your differences Tony! It's time to reunite the Avengers!!
17. LOL @ Tony Stark being a tech billionaire and having to use the same phone I had in 2006.
18. SPIDER-MAN!!!!! This review is just gonna be shouting each time someone shows up, sorry.
19. "You never seen a spaceship before?" LOLOLOL Stan Lee!!!!!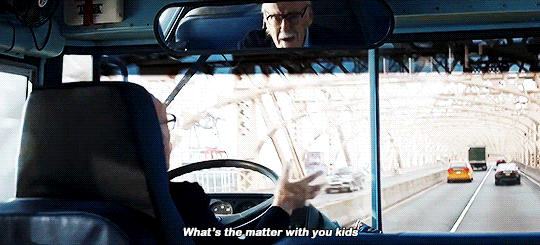 20. "Please get lost Squidward." OH MAN TONY IS GOOD THIS ONE.
21. That is a DOPE Iron-man suit.
22. COME ON BRUCE!! Get angry!! (This is like the opposite of Harry Potter trying to cast a Patronus and trying to think of happy stuff.)
23. "He's here from space to try and steal a necklace from a wizard." Tony Stark sounds like me trying to explain these movies.
24. Doctor Strange's cape continues to be the real hero.
25. It warms my soul that Spider-Man calls Iron-man "Mr. Stark." He is a most precious angel that needs to be protected at all costs.
26. "I'm gonna make a call." YES YES YES.
27. Good jams and space, that can only mean one thing: The Guardians are here BABY.
28. TEENAGE GROOT!!! Not as cute as Baby Groot by far, but very funny.
29. DRAX. IS. SO. FUNNY. "It's like a pirate had a baby with an angel."
30. This whole interaction is so good. Battle of the Chris-es has begun.
31. "He may be on the team, I dunno I haven't been there in a while." I love how Kevin Bacon keeps making appearances.
32. "I bid you farewell and good luck, morons." – Thor, also me when I say goodbye to my friends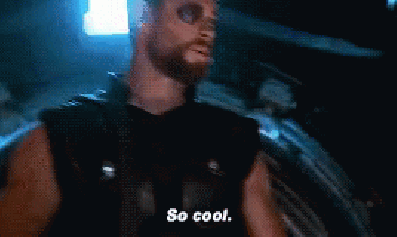 33. I still am not super into this romance with the Scarlet Witch + Vision romance. He's a robot, right? Whatever, still better than Thor and Jane.
34. Just now realizing that Vision is the hilarious Chaucer in A Knight's Tale.
35. VISION!!!!!! DON'T LET THEM GET THE STONE IN YOUR FACE!!
36. CAPTAIN AMERICA IS IN DA BUILDING.
37. FALCON TOO!!!!!
38. AND BLACK WIDOW!!!!! What a trio!
39. Is it hot in here or is it just Cap's beard and long hair?
40. I'm sorry, I realize he's SUPER scary, but Thanos still looks like Grimace from McDonald's to me.
41. Well this Gamora flashback is traumatizing.
42. LOL @ Drax just watching them. HE IS THE BEST COMEDIC RELIEF. I am crying laughing watching him be "invisible to the eye."
43. Gamora stabbing Thanos with the knife he gave her when he destroyed her people: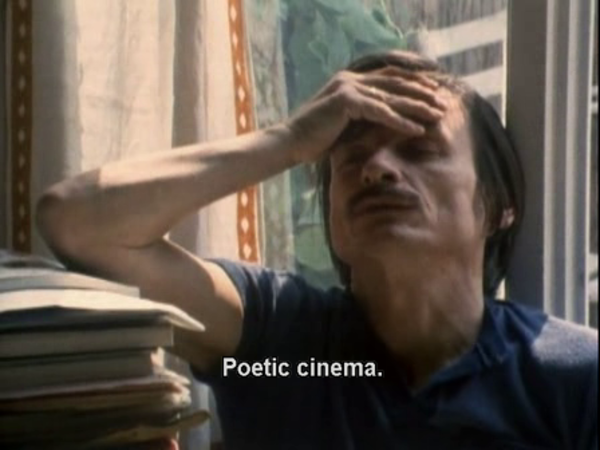 44. Benecio del Toro is giving me major Moira Rose in the Crowening vibes.
45. OMG STAR-LORD TOOK MY GRIMACE JOKE. (Editor's note: Can confirm. She did make it in the Avengers 2 review.)
46. I have a feeling that Thanos having Gamora is very very bad.
47. RHODES!!!!
48. This may be Natasha's best hair yet???
49. OMG can we PLEASE put the Bruce/Natasha romance to bed?! I guess they are ok and all, but the night night sundown hand thing was dumb.
50. "There's an Ant-Man and a Spider-Man?!" – Bruce, also me prior to watching these movies when people talked about Marvel around me
51. WAKANDA!!!!!!
52. T'CHALLA!!! OKOYE!!!! I LOVE THEM SO MUCH!
53. BUCKY!!! IT DOESN'T STOP.
54. Iron-Man, Spider-Man, and Doctor Strange's cape is my new favorite trio.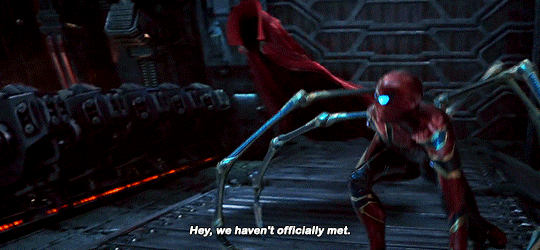 55. "Kid, you're an Avenger now." TEARS.
56. POOR NEBULA!!!!
57. GAMORA KNOWS WHERE THE SOUL STONE IS?! That's her secret!!!!!
58. Yea…where IS Thor gonna get a new hammer?!
59. Thank you sweet rabbit. LOL.
60. I'm sorry is that PETER DINKLAGE?!?!?!?!! *checks IMDB* OMG Tyrion Lannister!!!!
61. OK GUYS STOP FIGHTING AND GET ALONG.
62. "I'm not from Earth, I'm from Missouri." "That's on Earth, dip***t." HAHAHHAHAHA I cannot handle all of the sass in one room.
63. The odds are NOT in their favor.
64. It appears a Dementor is ruling the planet of Volmir?
65. WAIT THAT'S NO DEMENTOR…IT'S RED VOLDEMORT!!!!!
66. Wow the CGI effects of Red Voldemort have really improved since Captain America.
67. OH NO. NOT GAMORA. Her shouting no as he pulled her is too much.
68. LOL @ Rhodes telling Bruce to kneel. Much needed comedic relief.
69. SHURI!!! Love that her first line is to school the boys.
70. "Get this man a shield." LET'S GOOOOOOOO HOT BEARDED MEN AND KICKBUTT LADIES!!!!
71. Oh, this is how Thor will get a new hammer.
72. LOL @ Bruce tripping.
73. YES M'BAKU!!!
74. "What the hell?" – Bucky, also me seeing these nightmare space monkey dog things
75. WAKANDA FOREVER. *actual chills* Also, I shouted it back at my TV.
76. GO GROOT GO GROOT!
77. Ladies and gentlemen, THOR has entered the chat.
78. I am very nervous that Thanos is with several characters I love. And Dr. Strange.
79. DON'T YOU MESS THIS UP STAR-LORD….he messed it up.
80. I love Rocket's weird obsession with stealing people's fake body parts.
81. "This is my friend…Tree." I love funny Thor.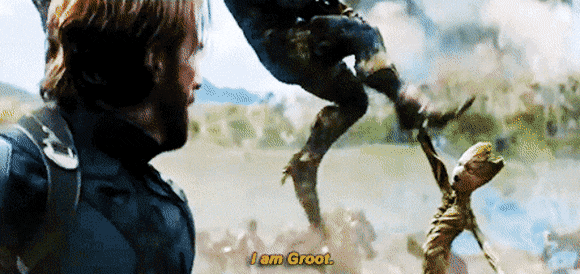 82. YASSS SCARLET WITCH!!!!
83. GIRL GANG!!!!!
84. Come ON Hulk!
85. VISION!!!!!
86. My anxiety is through the ROOF with what's happening on Titan.
87. IRON MAN. NO. NO NO NO NO NO NO.
88. He has 5 now. This is very bad.
89. "We're in the End Game now." *chills*
90. Also, where the heck is Nick Fury?! Just realized he's like, the only person we haven't seen. Well…him and Robin Sparkles. And Hawkeye. And Ant-man.
91. Granted Ant-Man could be there and I just can't see him.
92. Thanos is really just destroying them all huh?
93. Poor Wanda.
94. I have to assume Thanos' theme song is now Cher's "If I Could Turn Back Time."
95. Oh. Oh no. This is very very bad.
96. I would be thrilled Thor just did this but Thanos can reverse time and alter reality so….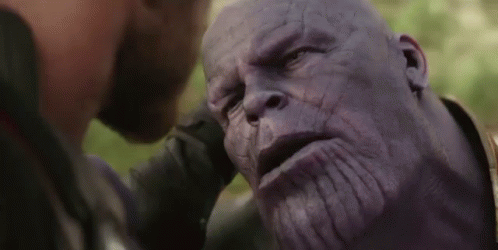 97. When he snaps half the universe is supposed to die right? Oh no…
98. NOT BUCKY!!
99. WAIT NOT T'CHALLA!!!!!!!!!!!!!!!!!!!!
100. GROOT?!!? Rocket's reaction is too much.
101. Scarlet Witch? Falcon?!!!!!!!
102. Mantis? DRAX!!!!????
103. Starlord???!! Strange??
104. "I don't feel so good." OH NO OH NO OH NO. Peter Parker just ripped my heart out.
105. I am now dead inside.
*skips credits*
106. Robin and Nick. Before I would shout because I'd be excited to see them, but I've lost the will to live.
107. ROBIN SPARKLES?!!?!?!?!??!?!?
108. NICK FURY TOO ARE YOU KIDDING ME.
109. I think he sent the page to Captain Marvel but nothing matters anymore.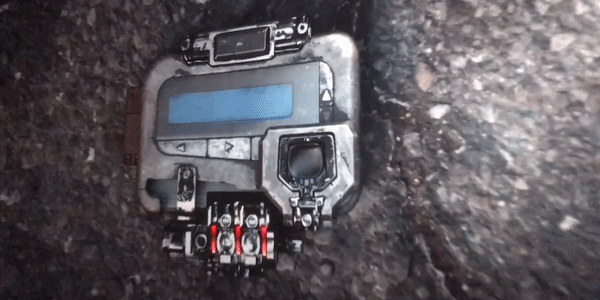 WHAT. JUST. HAPPENED.
I haven't cried that hard in a film in a long, long time. I now understand why all of my friends were in a depressed haze for much of 2018. I cannot believe how many they took out, and it's not lost on me that it's mostly the originals left. Many of my favorites are gone — Okoye's face when T'Challa went, Bucky saying "Steve?", Rocket reaching for Groot all hurt me. And then Peter Parker ripped out what was left of my soul and stepped on it.
As much as it hurt though, it was SO GOOD. I was hooked from beginning to end. It was witty and the action was awesome. I loved having the entire gang working together, and I don't know how, but I hope some of them come back.
Also, he didn't die in the snap, but I refuse to believe Loki is gone as well.
I cannot wait to see what happens — and I cannot believe all of you waited a year to find out. Good for you, that probably built a lot of character.
On a scale of 1 – 10, where 1 is getting raisins in your Trick or Treat bag, and 10 is full-size candy bars, I award Avengers: Infinity War a 9.9.
Next up: Ant-Man and the Wasp
Join the AllEars.net Newsletter to stay on top of ALL the breaking Disney News! You'll also get access to AllEars tips, reviews, trivia, and MORE! Click here to Subscribe!