Hey everyone — it's me, Molly, again!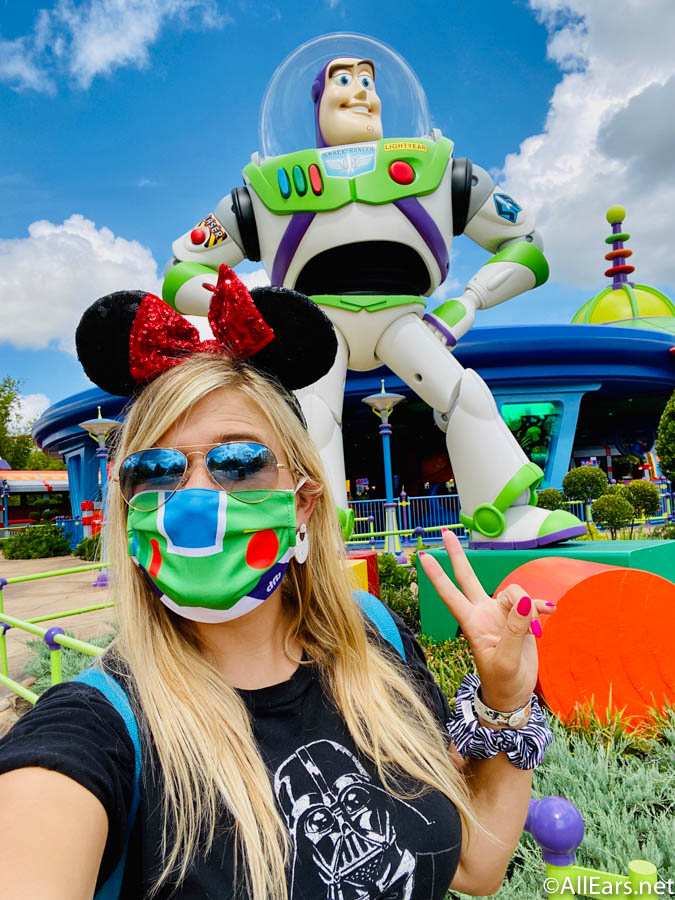 ICYMI, I have been watching all of the Marvel films for the first time, because I am 12 years late to the party. And I've finally made it up to Guardians of the Galaxy!
Technically this is my second time seeing this film — it's the only Marvel film I've ever seen in its entirety prior to this recent adventure. But I only watched it for Chris Pratt and the music, and literally comprehended none of it, other than there's a tree friend and raccoon friend. But I've been anxious to see this one as part of the marathon — I have a feeling I'm going to love it now that I know what's going on!
We're coming off of a real high with Winter Solider, my favorite movie so far, but if any one can top it, it's Andy Dwyer
100 Thoughts I Had Watching Guardians of the Galaxy For the First Time (For Real)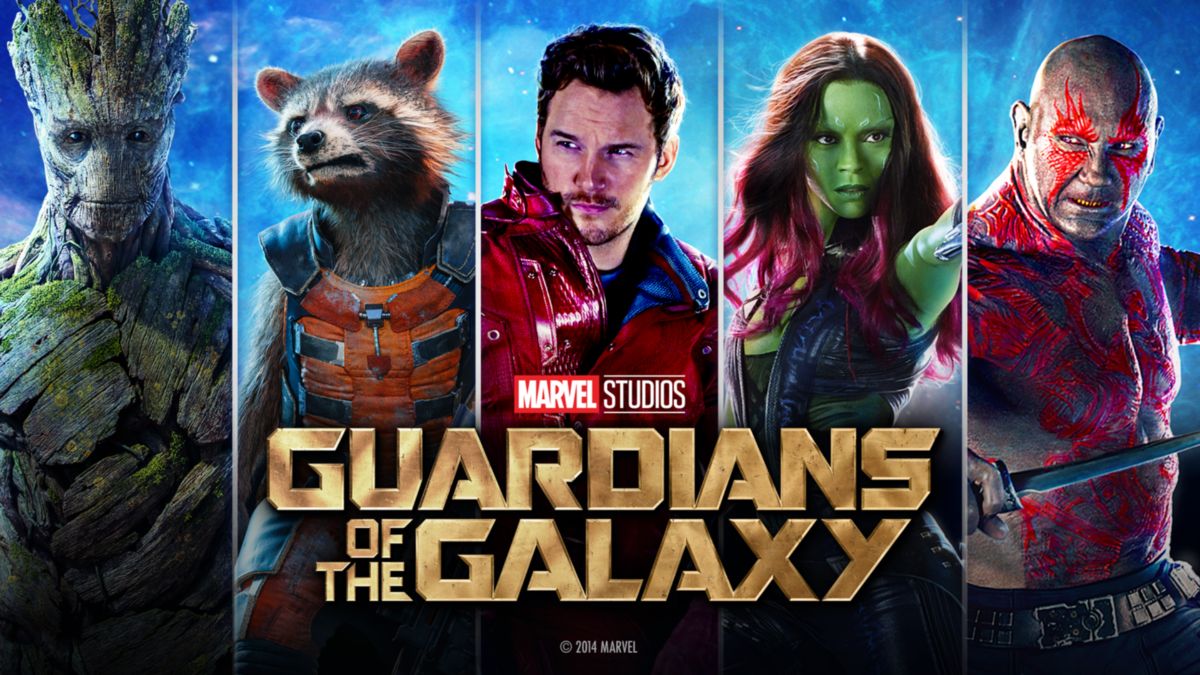 1. This is a real downer so far.
2. Oh no. He didn't take her hand. He's gonna regret that later. I am sad.
3. Nothing like a casual space abduction to kick things back up.
4. Is his space flashlight projecting things that happened in the ruins in the past? Trippy.
5. Andddddd that's why I'm watching this movie.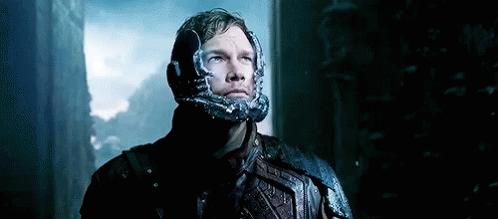 6. *Come and Get Your Love Starts* annnnnnnd that's the second reason I'm watching this movie.
7. OOOOOH Djimon Hounsou looks scary. Scary cool.
8. LOL He called him a ninja turtle. And no one knows who Star Lord is. This movie is already v. funny.
9. Andy Dwyer has moves!
10. "I forgot you were here." He has a Joey Tribbiani vibe going on.
11. So the angry space genie adopted Star Lord when he was abducted?
12. Another angry blue guy…but this one seems extra angry.
13. OOOOH Britney Spears' bestie from Crossroads and the chick from the Jumanji remakes are both in this?!
14. "He's assaulting us with that haircut!" "It's not cool to get help!" HAHAHAH this commentary is v. good.
15. Stan Lee!!
16. The raccoon friend and the tree friend!!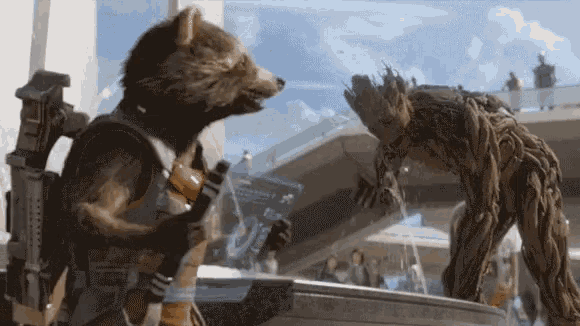 17. I thought the tree was a little baby? He is on all the merchandise???
18. Dang! Get it sassy ballerina from Center Stage!
19. WRECK IT RALPH!!!!
20. Glenn Close!! As always there are lots of famous people to be seen.
21. That guy with her and John C. Reilly is very familiar…*checks IMDB* OMG! It's Lord Covington from Parks and Rec! I wonder if he and Chris Pratt had a little Guardians reunion celebration when he showed up to set.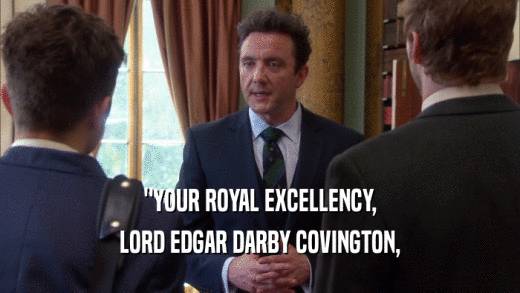 22. Ok so, Neytiri from Avatar (who is green instead of blue in this movie) and Karen Gillian are sisters, and their dad is Thanos. Prettttttttty sure he ends up being real bad in the grand scheme of things.
23. Rocket is the raccoon's name! Isn't he voiced by someone super famous? *checks IMDB* BRADLEY COOPER?! I am not hearing that at all.
24. Groot is the tree — and I see on IMDB he is voiced by Vin Diesel. I can hear that. LOL.
25. "I didn't know how this machine worked." Peter Quill is moving to the top of my list very quickly.
26. *Giving tree* LOLOLOLOLOL.
27. I can only assume that his mom gave him the cassette tape which is why he cherishes it so.
28. Aw what happened to Rocket's back?
29. Groot is a very helpful tree to have around.
30. I thought Thanos was her dad? But she doesn't want to claim him? Maybe she knows he's bad and she's good.

31. Hang on, is Drax the best character? "I would not scratch his throat. I would cut his head clean off." LOL. This movie is DEF the funniest so far.
32. I am getting big time Star Wars vibes, which are really just Wizard of Oz vibes, from the giant hologram head barking orders.
33. I realize now this is the guy in the Avengers end credit scene!!! It's alllllllll coming together.
34. Oof, rough to call the green daughter his favorite right in front of the blue one.
35. Can Groot die? It seems like he can't?
36. What *clap* a *clap* squad.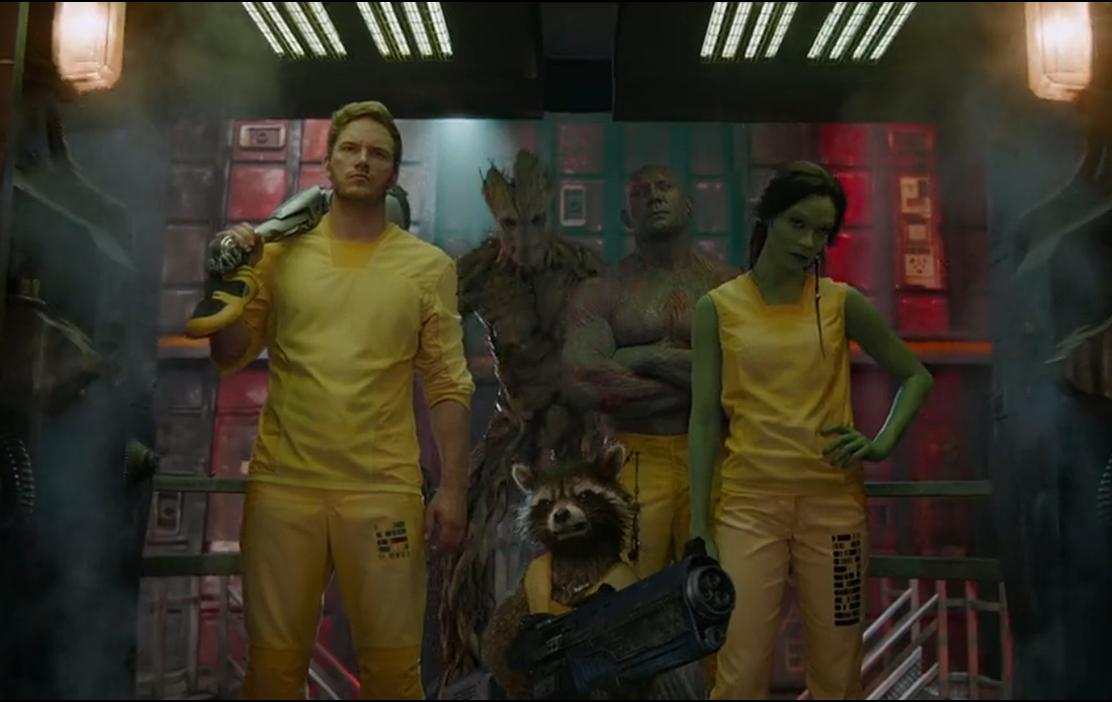 37. Between Rocket just messing with them and the fake leg, Drax saying nothing would go over his head because he can catch it, and Gamora calling them all idiots, I literally cannot decide who's my favorite.
38. So, Rocket is a genius?
39. Cue The Pina Colada song and Peter Quill's swagger.
40. Oh dang, the present from mom. He never opened it!
41. I'd watch the Peter Quill's ship episode of Space Room Raiders.
42. Why does this guy in the poncho look so familiar? *checks IMDB* OMG it's the awkward guy from Gilmore Girls. LOL. (Related, I never finished that show. Rory annoyed me. But that's for another time.)
43. This blue guy's pen is very "Rita Skeeter" chic.
44. That's the Collector from the end of Thor 2!!
45. Guessing the orb has another one of the Infinity Stones?
46. Awww Groot growing the flower <3
47. "Let's put more of this liquid into our bodies!" Me drinking PSLs.
48. Oh no, Thanos really isn't Gamora's father. He is not very nice.
49. His mother DID give him the tape and player.
50. I love all of the pop culture references — "a great hero, named Kevin Bacon, teaches an entire city full of people with sticks up their butts that, dancing, well, is the greatest thing there is."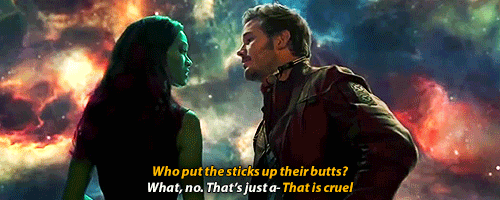 51. I feel so bad for Rocket. I want to hug his little face, but I don't think he'd like it.
52. Benecio del Toro stole his look from Mugatu. It's so hot right now.
53. INFINITY STONES!!!!!!
54. Oh man she is peeling away like Voldemort at the end of HP7 part 2.
55. NOT A PURSE IT'S A NAPSACK. (Indiana Jones has one.)
56. Ronan is really bitter. Is it because he knows he's second fiddle to Thanos?
57. Wait…Gamora can't die?! She's important!!!
58. Wait…Drax can't die?! He's important!!!
59. The blue guy saves the day! Except…I can't tell if he's a good or bad blue guy yet.
60. Is this a romance? I guess I didn't realize this one was gonna be a romance but it feels that way.
61. Groot also saves the day! He's a very handy plant.
62. Ronan is TIRED of your games Thanos. He's not second fiddle anymore!
63. I don't want Peter Quill to die OBVIOUSLY but I kinda wanna see this crazy murder pen in action.
64. "What percentage of a plan do you have?" LOL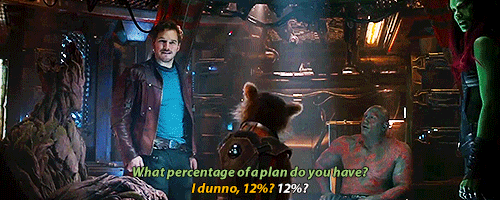 65. I love Rocket and Groot's friendship. They are the best duo yet.
66. "In the end, I will see my wife and daughter again." Is someone cutting onions in here?!
67. Ok I know everyone is obsessed with Groot, and I get it, but Rocket is lowkey the best one.
68. SLO MO SWAGGER WALK
69. I literally can't see Glenn Close as anyone but Cruella with that hair color.
70. Lord Eddie is helping Andy Dwyer!!!!!!!
71. Ok that blockade is awesome but also, how many of them are there?!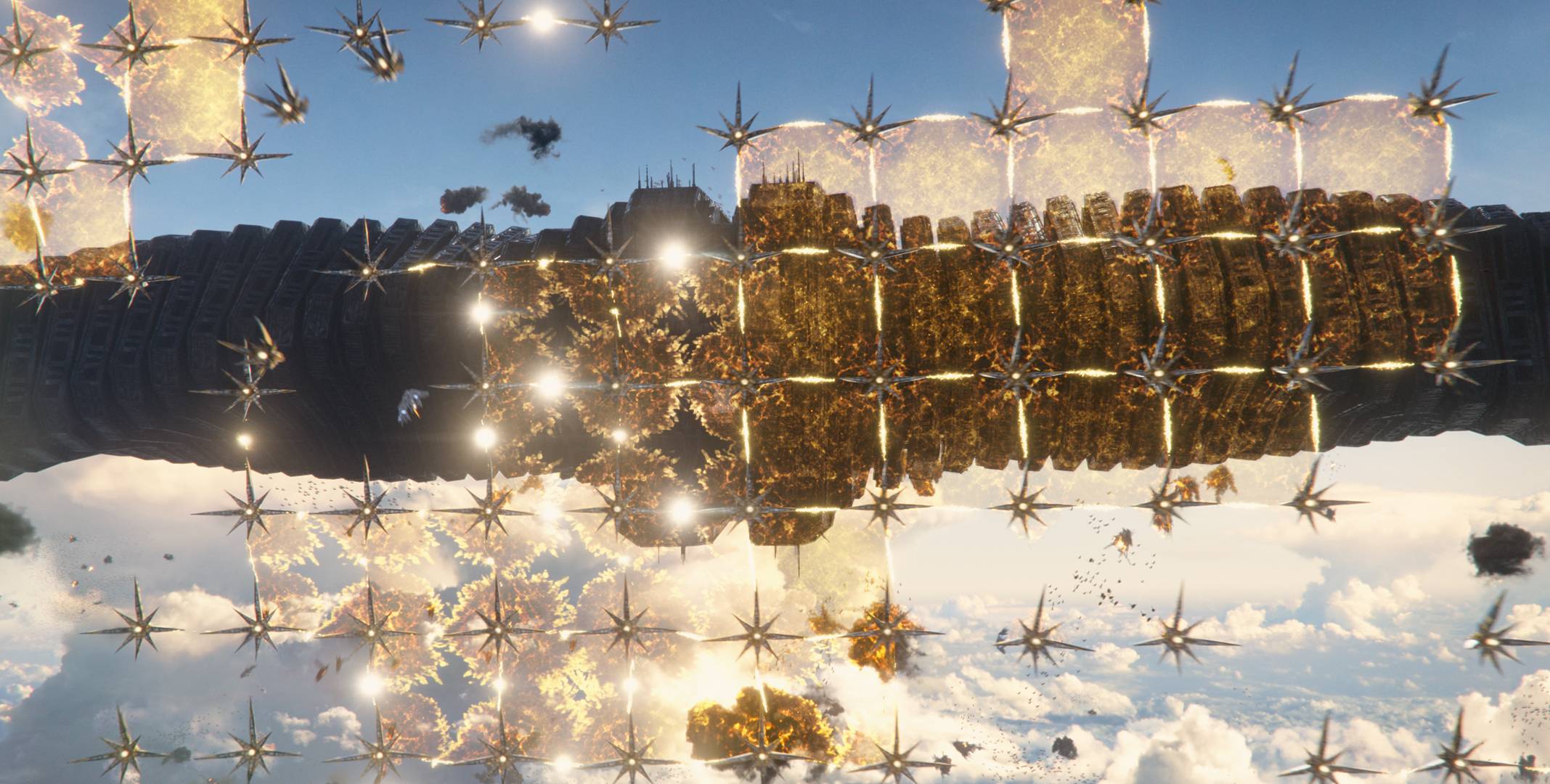 72. Groot is so useful! Again!!!
73. "This dumb tree, he is my friend." LOL.
74. YES TIME FOR THE QUICK QUOTES QUILL!!
75. Peter Quill being excited they called him Star-Lord is Jack Sparrow when they remember to call him Captain.
76. Metaphor.
77. Groot's happy face OMG.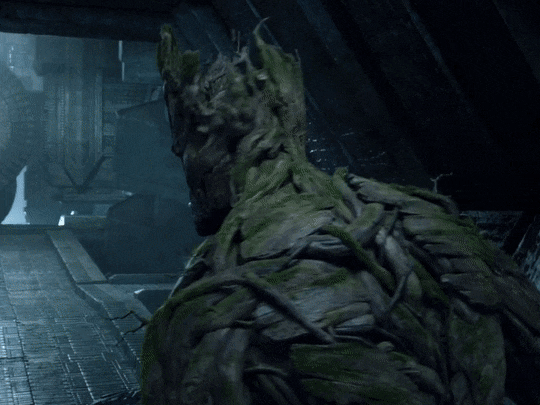 78. Rocket's bomb is da bomb!
79. Wait….spoke too soon.
80. Rocket is da bomb!
81. ROCKET BETTER BE OKAY.
82. Same with Drax. This is stressful!!
83. Is it weird I want to live in this little tree house Groot made?
84. WE ARE GROOT. YES WE ARE PLEASE DON'T DIE.
85. Go Rocket go! I don't know what you're doing but I have faith.
86. Peter Quill about to Footloose this situation.
87. YAS ROCKET AND DRAX!!
88. We're the Guardians of the Galaxy. MIC DROP. Or…infinity stone drop.
89. I feel like that's not really the infinity stone orb.
90. Deliver him to his who now?! I smell a sequel.
91. Called the orb-switch-a-roo.
92. I wish we had more John C. Reilly in this. He's very funny.
93. AWWWW his mom named him Star Lord.
94. And gave him volume 2!!! Which starts off with a banger.
95. A Troll doll, LOL. At least he can put it on his display of little knick-knacks.
96. BABY GROOT!!!! I get it now.
97. I literally LOVE these will return scenes.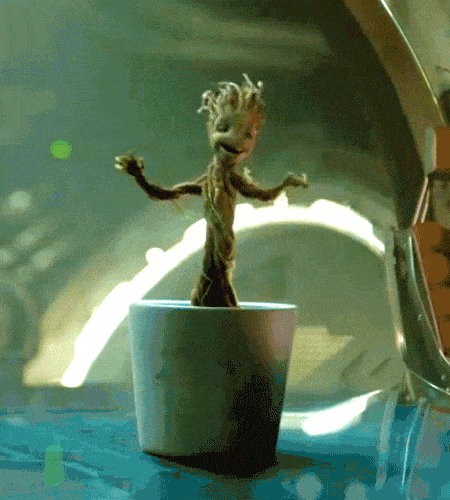 98. But not as much as I love Baby Groot rocking out to the Jackson 5.
99. *skips credits*
100. HOWARD THE DUCK?! Random.
ANOTHER WINNER! I expected to enjoy this one because I like Chris Pratt and good music, and I was not disappointed. I laughed out loud a LOT — and I actually think the funniest characters are Drax or Rocket, when I assumed it would just be Star Lord making me chuckle.
I can now see why understanding the lead-up and overarching plot of the MCU is important when watching each of these — this movie built on and revealed a lot more in the big story. (Re: Infinity Stones and Thanos.)
I am excited to see Star-Lord and the gang in the next Guardians movie, and hope they show up in some of the Avengers films as well. Also, adding this soundtrack to my workout playlist STAT.
On a scale of 1 – 10, where 1 is a paper cut and 10 is someone playing with your hair, I award Guardians of the Galaxy an 8.9!
NEXT UP: Avengers: Age of Ultron
PREVIOUS: Captain America: The Winter Soldier
Join the AllEars.net Newsletter to stay on top of ALL the breaking Disney News! You'll also get access to AllEars tips, reviews, trivia, and MORE! Click here to Subscribe!