A new original unscripted series debuts today on Disney+:  Prop Culture, which takes a look behind the creation of some of Disney's classic films through the mind of host and executive producer Dan Lanigan and the lens of iconic film props.
"It's real light on a real object, and there's just an inherent quality to that that I find superior to a CG-created environment."  –Rick Heinrichs
Lanigan, a long-time collector of movie memorabilia, proves an engaging host as he searches for famous items from an assortment of his favorite films and reunites them with their associated artists.  Given that decades have often passed since the creators and/or performers have seen or touched their handiwork, the resulting stories and memories are both insightful and touching.
The emphasis in each episode varies depending on the type of film examined.  Films that utilized huge breakthroughs in technology like TRON and Who Framed Roger Rabbit tend to focus more on the "how" of filmmaking.  From Harrison Ellenshaw (son of Disney Legend Peter Ellenshaw who did matte design and visual effects for many landmark Disney films) displaying his one matte painting for TRON (surprisingly of the office cubicles,) to Roger Rabbit stunt driver Charlie Croughwell demonstrating how he invisibly drove Benny the Cab with Bob Hoskins practically in his lap, these episodes give a greater understanding of the immense work and creativity involved in the technical side of film making.
The guests Lanigan visits make up the heart of the show as their affection and pride in these films and their work on them is palpable.  Stars such as Kathleen Turner, Christopher Lloyd, and Rick Moranis all get a chance to examine and reminisce over costumes they wore and admire the incredible attention to detail that made getting into character that much easier.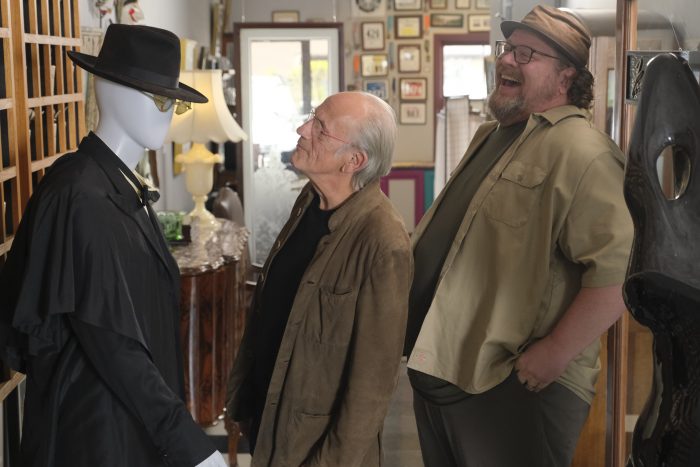 The show arguably works best with films which are perhaps more calculated to invoke an emotional response from the viewers, such as Mary Poppins and The Muppet Movie.  Mary Poppins in particular has become such a fixture in popular culture and childhood memories that its stature really transcends its status as a practically perfect work of art, so it is little wonder that the series leads off with it.  Everyone shown, from long-standing Disney artist Kevin Kidney who helped recreate the iconic snowglobe, to choreographer Dee Dee Wood, to Disney Legend Richard Sherman, makes their joy at being a part of the phenomenon evident.  Just watching Sherman play "Feed the Birds" on the piano in Walt's Office as he did for Walt all those years ago, is worth the price of admission alone.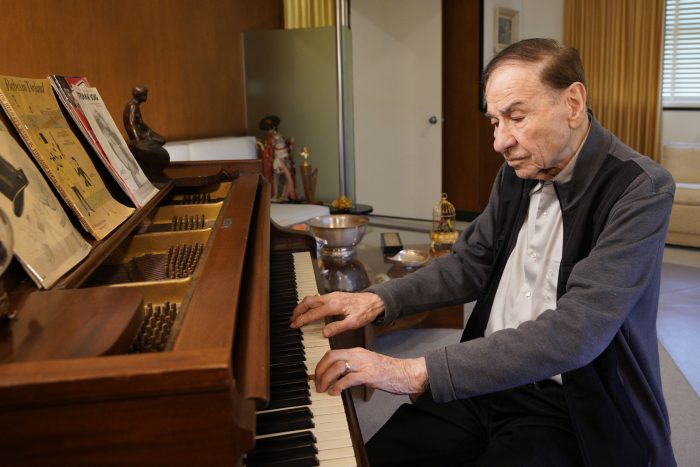 Ultimately, movies are an odd concept–they are stories brought to virtual life on the screen, with no real substance given to their fans, except what they keep in their imaginations.  Maybe that's part of why folks such as Lanigan and his many prop collecting associates have such a fixation on the physical remains of the process–they are evidence not only of the amazing care and craft that the creators poured into their films, but as things of heft and substance are ties that help give these tales an additional manifest reality to those who appreciate them.
All episodes of Prop Culture will premiere on Disney+ today.
Episode 101 – "Mary Poppins"
Episode 102 – "Tron"
Episode 103 – "Tim Burton's The Nightmare Before Christmas"
Episode 104 – "Pirates of the Caribbean: The Curse of the Black Pearl"
Episode 105 – "Honey, I Shrunk the Kids"
Episode 106 – "The Chronicles of Narnia: The Lion the Witch and the Wardrobe"
Episode 107 – "Who Framed Roger Rabbit"
Episode 108 – "The Muppet Movie"
Disney+ pays homage to fan-favorite throwbacks with a weeklong celebration DISNEY+ THROWBACKS (#DisneyPlusThrowbacks), releasing daily content, stickers, and special messages from a wide variety of talent.  Fans are invited to take a look back and relish in the nostalgia and fanaticism from these past favorites through social media activity on all Disney+ accounts.
Visit DisneyPlus.com to learn more!
Be sure to follow @allearsnet on Facebook, Instagram and Twitter!
Check out our YouTube Channel for reviews, news, information and more!
Click below to subscribe to the AllEars® newsletter so you don't miss any of the latest Disney news!

Are you going to be tuning in to learn more about Imagineering? Let us know below!