Hi, AllEars readers! If you would like to read more information regarding the temporary closures at the Disney Parks, please
click here for a list of closures at the Disney Parks
, or
click here for some of our most FAQs
. From all of us at AllEars, our thoughts are with those affected. While the Disney Parks are closed, we will continue to write articles and bring you AllEars TV videos to enjoy and for our readers to use once the parks reopen. 
A new unscripted series arrives May 1st to Disney+ to entertain and inform everyone still staying safe at home:  Dan Lanigan's Prop Culture.
In the course of this show, film historian and prop collector Dan Lanigan takes a deep dive into the making of an assortment of Disney's classic films by investigating the history and genesis of some of their iconic props.  Viewers follow Lanigan as he searches for and helps restore lost movie memorabilia and then reunites them with their associated artists — some of whom have not seen their work in decades.
To talk a little about the new show, host and executive producer Dan Lanigan held a press conference call where he spoke on the creation of the show, his lifelong fascination with movie props, and what films have to teach us.
On creating Prop Culture:  "…I've been trying to tell people for years…that this stuff is fun and…these pieces mean a lot to people because these movies mean a lot.  And these people that work on this stuff are all just amazing artists and amazing people."
"You know, I came to create the show because I have an obsession for movie-used-art.  You know, props, costumes, wardrobe, set pieces, all that kind of stuff. And I wanted to share my obsession with the world and show everybody why the people that work on these films are all just as important as the stars.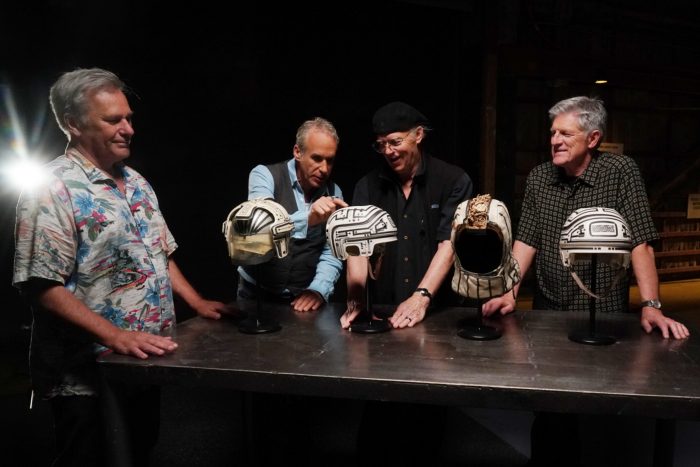 DISNEY'S PROP CULTURE – "TRON" (Disney+/RICHARD CARTWRIGHT)JEFF KLEISER, KENNY MIRMAN, RICHARD TAYLOR, BILL KROYER
"I'm a fan – I'm a huge fan of everything on here.  I mean, I came to this show from a fan's perspective, not from a filmmaker's  perspective.  I'm not an insider on this–I'm right there with you being a fanboy.  So I was geeking out just as much as anybody would and I made this for the fans because I made it for myself."
On his favorite discovery making the show:  "One of the pieces that I had heard of, but finding out the details about just blew my mind, was the Jack Skellington that Rick Heinrichs had in his collection that he had originally created for Disney with Tim Burton.  And to know that that design…one sculpt, that design stuck through all the way through the original concept of the TV show of Nightmare Before Christmas, all the way through to when Tim proposed the film and Henry Selick and that team built it….That blew me away because I'm a huge, huge fan of Nightmare Before Christmas and I have been collecting those pieces for 20 years and studying that film."
"…But the other piece that was important to me that…kind of discovered was Charles Fleischer from Who Framed Roger Rabbit wore this costume on set so that he could transprojectional act his voice into the virtual Roger that Bob Hoskins was acting against. He still has the ears–the costume ears that he wore on set.  And it's dirty and it's filthy, but it is this moment in time of Roger Rabbit who…by a huge amount is my favorite character.  I love Roger Rabbit.  I think it's such a brilliant mix of the old style Tex Avery, Warner Brothers, and Disney cartoons into one perfect character.  And Charles is an amazing guy.  And…I've become friends with him since shooting the episode–brilliant guy, crazy in the best way, and just…you know, seeing that piece really meant a lot to me.  It was like…it was holding the Maltese Falcon looking at that dirty old rag of a set of ears. It was amazing."
On what pieces he still wants for his personal collection:  "The problem is the stuff that I want from Disney should be in the Disney Archives…I helped the Archives acquire…the carpet bag from Mary Poppins, oh, my gosh…eight, seven, years ago and, you know, a piece like that belongs in the Archives.  So, even though I may want it in my collection–if they're willing to take it, I shouldn't have it.  I mean, they had the costume…they need the carpet bag.  And if I were to somehow come across an original umbrella, which the archive doesn't have a complete one–I would do my best to get it into the archive because they should have it.  They should…pieces like that should stay together because that is the character.  And then people can see it."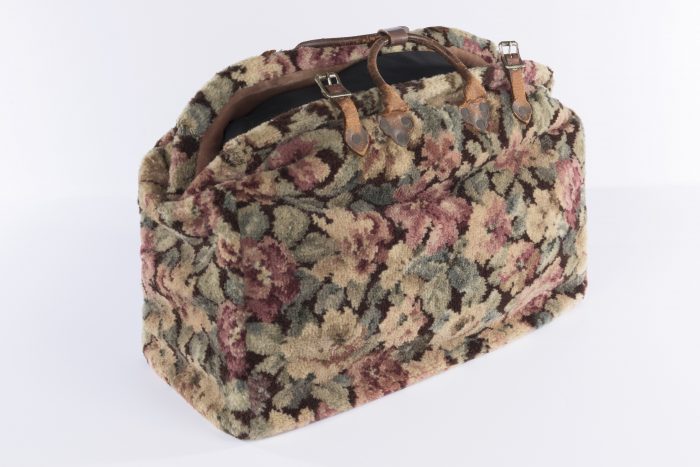 On which prop discovery had the most interesting story:  "The most interesting story–I would say it has to be the Mary Poppins bag because how it was…given away from the studio as part of an advertising campaign, and then not actually given to the person who won the contest–it was kept by the advertising guy–and then in the basement for years and years and years, and then one of our producers on the show, Jason DeBord, found out about it through one of his prop websites.  (This was, of course, well before he was a producer of ours.)  And…he was a prop guy that I've known for years.  And he got it into auction.  I found out about it through him.  It went into auction and then we figured out a way to get it back to the Disney Archive.  I mean, it's just a crazy story.  It's just a crazy story.  And it's still in great condition.  The chances of that happening are so slim.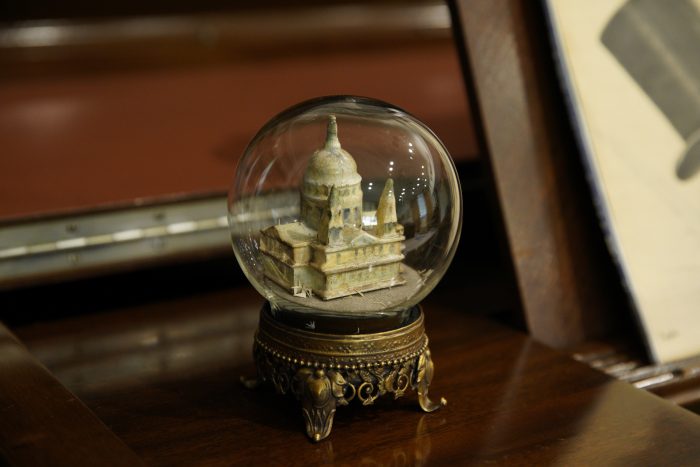 "The umbrella…you know, there are copies of the umbrella head through an original mold, but where the original umbrella is, nobody knows.  Hopefully, someone's going to watch the show and can lead us to information where we can track it down or at least find out what happened to it."
"You know, the thing about it is, we do have some leads on the umbrella, but we're not sure if they're that strong. So, we need, we need more information from the public.  Let's try and find it. But if, hey, that's the thing about it, though.  I may want to find it, but if we can't find it, we're not doing an episode about it.  It's got to be legitimate."
On why it's important to learn about filmmaking:  "You know, I collect these artifacts because to me they're important remembrances that these movies were actually filmed by people and by artists.  And, you know, these artifacts are artworks in their own right–masterpieces in a lot of cases–of all different types of trades, to accomplish this fleeting moment on film to allow the actors to live the characters.  And thereby, allow the audience to believe what's going on."
"And I love this stuff.  I live and breathe it.  And I learn about film making by collecting props.  I learn the skills, and of course not like the masters, but it's allowed me to make my own films.  I became a collector and then got involved into production after the fact.  So…you know, I started collecting as a kid, action figures and now I'm an adult and I'm collecting props and they're kind of my version of toys as an adult.
"But one thing that is key is for this show, is I'm hoping to inspire young filmmakers to see that anybody can do this if they apply themselves.  And by looking at these objects that are created for film and all of the different skills that you can apply to making these things, whether it's costuming, whether it's engineering, whether it's automotive, whether it's sculpting, whether it's painting, whether it's design, whether it's directing or camera work.  There's so many different skill sets that come together and…part of the show is about celebrating those artisans. And showing that anybody can do it if they apply themselves."
All episodes of Prop Culture will premiere on Disney+ on May 1.
Episode 101 – "Mary Poppins"
Episode 102 – "Tron"
Episode 103 – "Tim Burton's The Nightmare Before Christmas"
Episode 104 – "Pirates of the Caribbean: The Curse of the Black Pearl"
Episode 105 – "Honey, I Shrunk the Kids"
Episode 106 – "The Chronicles of Narnia: The Lion the Witch and the Wardrobe"
Episode 107 – "Who Framed Roger Rabbit"
Episode 108 – "The Muppet Movie"
Disney+ pays homage to fan-favorite throwbacks with a weeklong celebration DISNEY+ THROWBACKS (#DisneyPlusThrowbacks), releasing daily content, stickers, and special messages from a wide variety of talent.  Fans are invited to take a look back and relish in the nostalgia and fanaticism from these past favorites through social media activity on all Disney+ accounts.
Be sure to follow @allearsnet on Instagram and Twitter!
Check out our YouTube Channel for reviews, news, information and more!
Questions?  Comments?  Suggestions?  Let us know below!
Click below to subscribe to the AllEars® newsletter so you don't miss any of the latest Disney news!