Waiting in lines really puts a damper on a fun Disney Parks vacation, and sometimes it seems like Walt Disney World is 90% waiting in lines. (It's probably not, but it sure can feel that way!)
That's one reason Disney introduced time-savers like FastPass+: to cut down on your line time and to increase your fun (and dining and shopping) time. When Disney introduced Mobile Order in 2017, it was the same idea: cut down on your line time and increase your snacking time.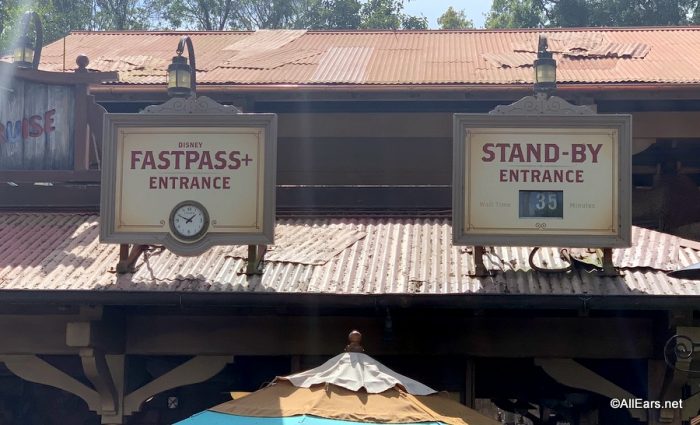 In fact, we like to think of Mobile Order as a FastPass for your food. 😉 Instead of booking it months in advance, though, you order your food before you get to the restaurant (hours or just minutes before you want to eat).
Learn everything you need to know about Mobile Order here! 
So in the spirit of Mobile Order, we're walking you through all the places in Magic Kingdom that use Mobile Order and when to take advantage of it!
Casey's Corner is located at the Castle end of Main Street, U.S.A., on the left. They serve hot dogs (straight up or loaded) and fries. They regularly have seasonal hot dogs. They even offer plant-based sausage as well.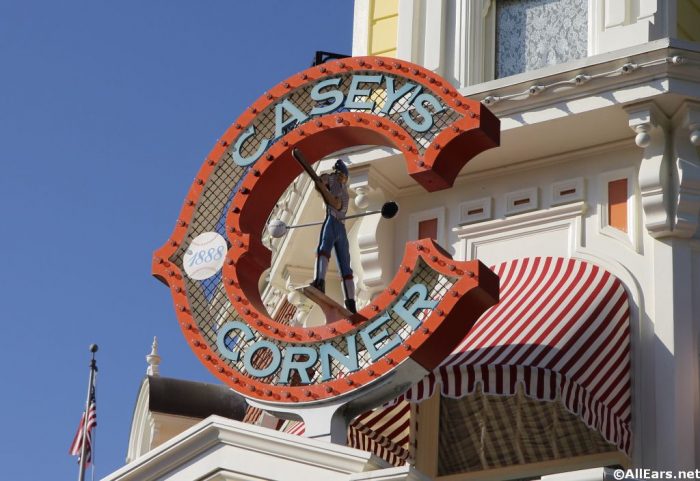 Casey's tends to be busiest in the evening when folks are staking out their spots in the hub and on Main Street for the Happily Ever After fireworks show. To avoid waiting in a long line of tired guests, place your Mobile Order earlier in the day, then check in as you near Casey's in the evening. You'll be able to pick up your order and then settle in for the big show.
Aloha Isle is the home of one of our favorite treats: Dole Whip. This is the dairy-free treat we dream of when we get home. Mobile Order has made it so much easier to get a Dole Whip almost instantly. Aloha Isle pretty much always has a line, and sometimes it wraps around itself.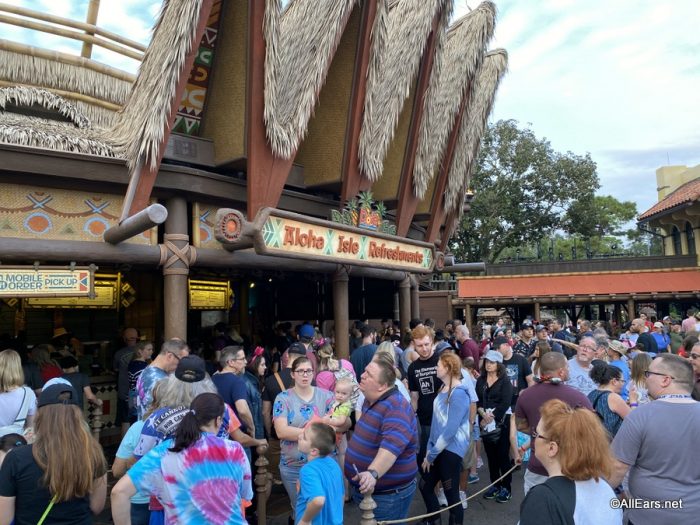 Now you can order your Dole Whip swirl on the walk over and pick it up on your way by. And best of all, you can bring your Dole Whip into the Tiki Room and enjoy it in the tropical hideaway, you lucky people you.
Howdy, pardners! Now it's time to see the legend of the ol' west, Pecos Bill, and partake in some of his Tex-Mex cookin'. The nachos, fajitas, and tacos are pretty good, and they have plant-based options as well. The best part: there's a fixin's bar loaded with toppings so you can level up your lunch or dinner.
Imagine sitting in the Country Bear Jamboree nearby and getting a hankerin' for some tacos. Bing! Lightbulb! You can order tacos on the walk out of the Country Bears and be inhaling them in just a few minutes.
Columbia Harbour House is a great place to get some seafood when you need a break from burgers and pizza. And there is almost always seating on the second floor, where you can dine with views of Liberty Square. This can often be an oasis in the middle of a busy park, but the lines for food are usually pretty long. That's why you'll find us placing a Mobile Order so we can grab our food at the counter and then squirrel away upstairs for a much-needed break.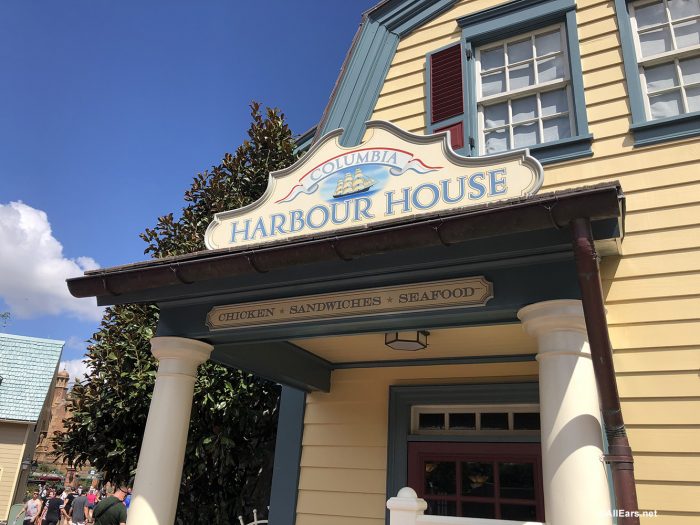 Next time you waiting in line for the Haunted Mansion and feel a rumbly in your tumbly, just take out your phone, open the Disney World app, and order some seafood from Columbia Harbour House to munch on when you're done visiting those Happy Haunts.
Some might find it odd that a restaurant based on an Italian fairy tale has the German word for house in the name (we sure do). But you can get Italian food here using Mobile Order, so we won't complain. Plus it's located right in the heart of Fantasyland, making this a convenient spot to Mobile Order.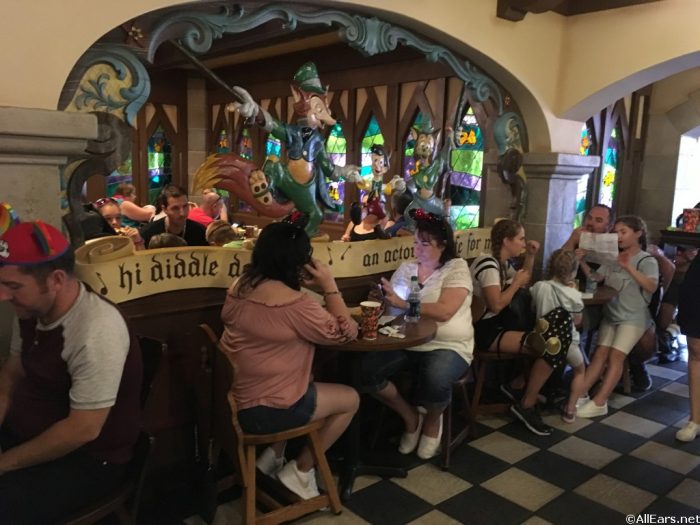 When you have a craving for a flatbread or some chicken parm but you don't want to leave behind the attractions and fun of Fantasyland, use Mobile Order here!
Sometimes you just want a solid burger option, and Cosmic Ray's delivers on that. For a while they even had a Mobile Order-exclusive menu item, so be on the lookout for that, too. Most recently, Cosmic Ray's transformed one of its old ordering bays into a full-time Mobile Order pick-up location for the restaurant, so that makes Cosmic Ray's a really convenient option.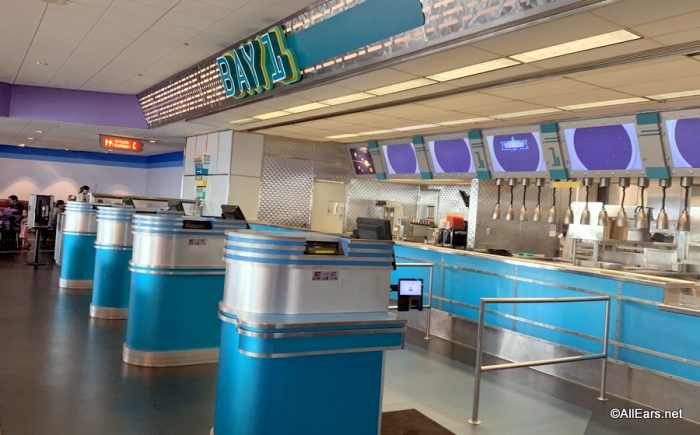 If you're looking for classic theme park food that's not too far off the hub, use Mobile Order at Cosmic Ray's.
It's the second half of the day, and you need a Mickey Pretzel and a Frozen Coke to make it through the hottest part of the day. Instead of waiting in line for your treats, just take a spin on the Peoplemover and open the Disney World app.  By the time you get off the perpetually moving blue vehicles, your snack will be ready and waiting at The Lunching Pad.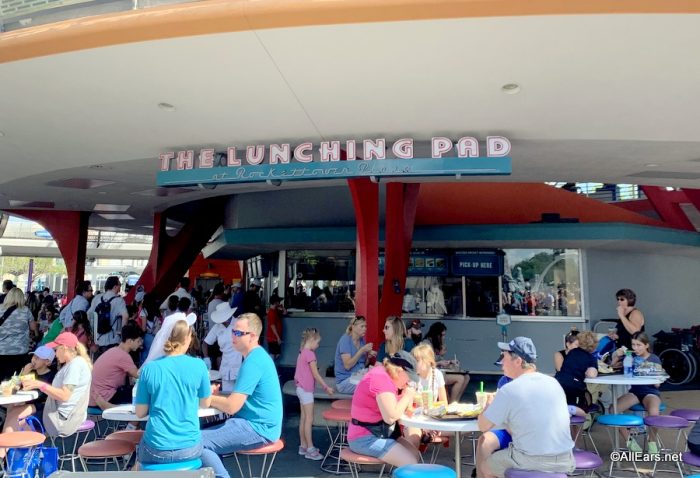 There's something almost magical about being able to skip lines and get fueled up with very little effort or time. That's the dream! Next time you find yourself in Disney World and hungry, try out the Mobile Order and cut out some of the wait.
What is your favorite Mobile Order spot? Let us know in the comments.