As you probably know, breakfast is the most important meal of the day (or so they say).
But at Walt Disney World, breakfast is also the least expensive meal of the day! And if you're on the Disney Dining Plan, you'll want to get the most out of your credits even for the least valuable (in terms of DDP) meal of the day.
For those on the Quick-Service and Standard Disney Dining Plans, you'll be receiving credits for two meals a day, plus two snacks. And financially- speaking, it makes the most sense to use your meal credits toward lunch and dinner, as those meals are generally pricier than breakfast.
But don't worry — we haven't forgotten about breakfast! There are quite a few items that count as snack credits that also happen to be the perfect jump-start to your magical day.
Here are the Best Snack Credit Items that Make a Great Breakfast.
1. Cinnamon Rolls
We love cinnamon rolls around here — big swirls of chewy dough with lots of flavor and (of course!) frosting. You can find decent Cinnamon Rolls in just about every pastry case at Walt Disney World, but we have our tried and true favorites. Meet the massive Cinnamon Roll from Gaston's Tavern.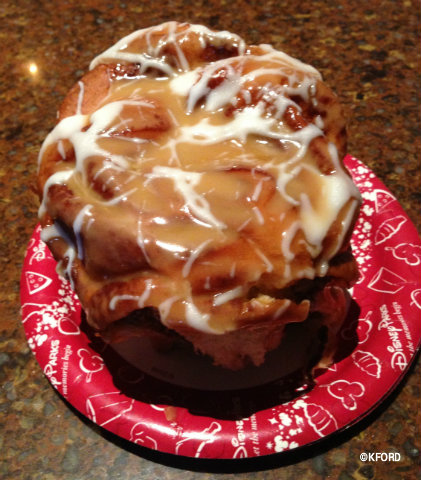 (Guess it makes sense Gaston would have giant pastries…he is roughly the size of a barge, after all.) This thing is seriously huge — you could probably split it between two or more people because that sugar and heavy dough fill you up fast. Not only that, it's super tasty and comes out warm and delicious.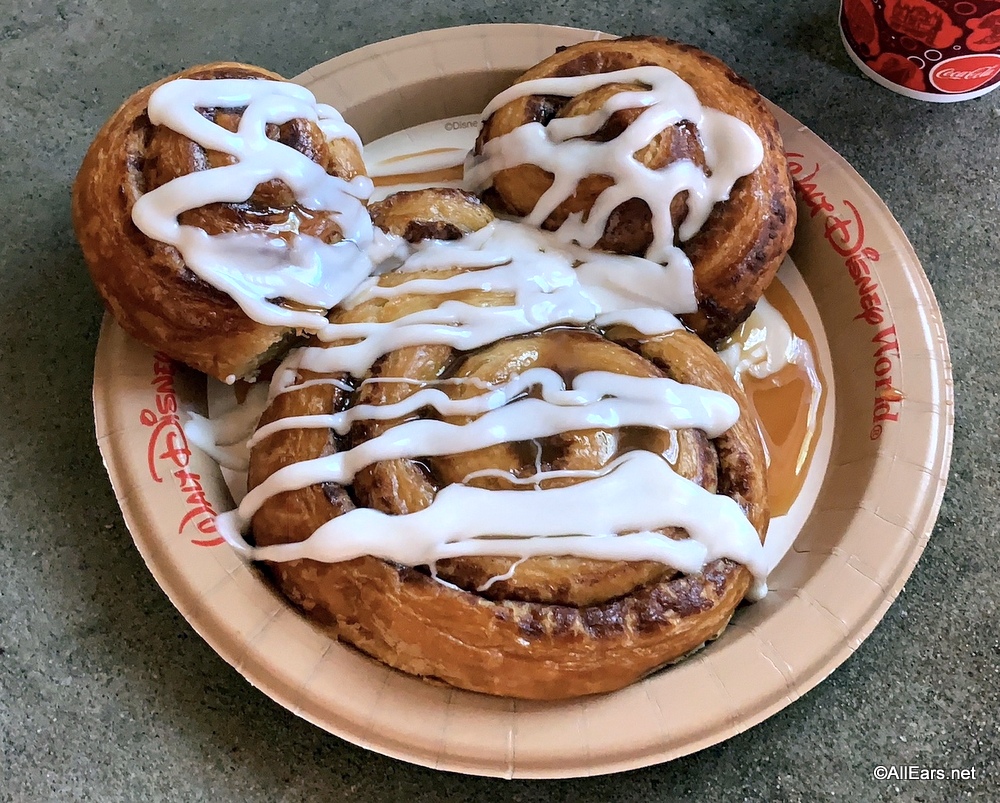 We also adore this Colossal Cinnamon Roll from Kusafari Bakery in Animal Kingdom. And because it's adorably Mickey shaped, it's basically like 3 rolls in one and very shareable.
2. Croissant Jambon Fromage
Head over to Boulangerie Patisserie Les Halles in Epcot's France Pavilion for a delicious and filling breakfast for one snack credit! We love just about everything here, and lots of goodies are eligible for snack credits.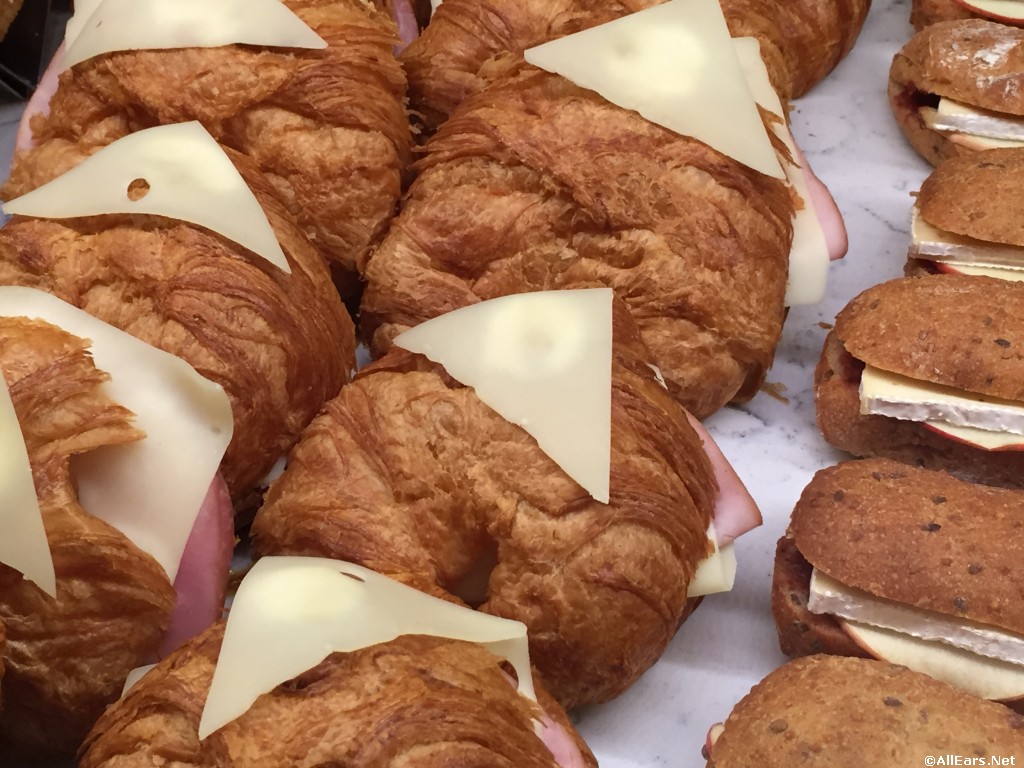 Possibly the most filling of the bunch is the Croissant Jambon Fromage, which is a ham and cheese croissant with bechamel sauce. They toast it upon request (definitely do!), and the cheese on top gets all melty and delicious. Other savory options include the  Roule Lard & Fromage,   which is a tasty bacon and cheese roll.
If you're more of a sweet breakfast person, there are tons of great sweet pastries as well, including eclairs, frangipane, and chocolate croissants.
And don't forget — while most of the World Showcase opens at 11AM, this French bakery opens at 9AM so you're able to enjoy a leisurely and delicious breakfast. (Keep this in mind if you're entering the park at International Gateway!)
3. Mickey Waffle
Mickey Waffles are a classic and iconic way to start a day at Disney, but most of them require a table service breakfast buffet or a quick service meal. Not these babies, though!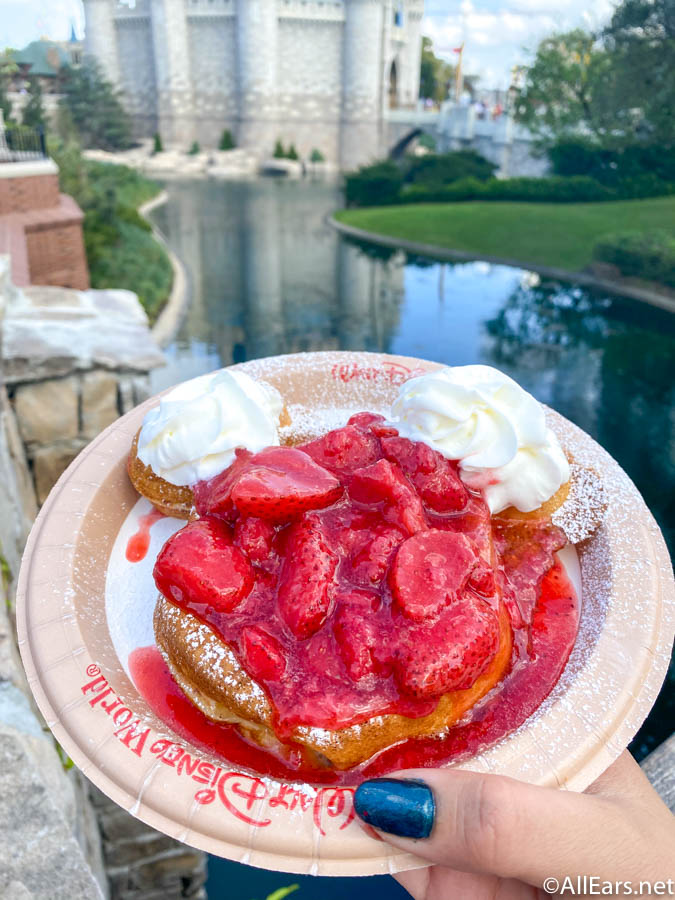 The giant Mickey Waffles at Sleepy Hollow in Magic Kingdom come topped with strawberries and whipped cream or simply with powdered sugar. (They usually have syrup available, too.) And priced at $5.79 or $6.79, they're not only an awesome breakfast but a great use of a snack credit.
4. Joffrey's Donuts
Ahhh, donuts. What a fabulous and fun way to start the day!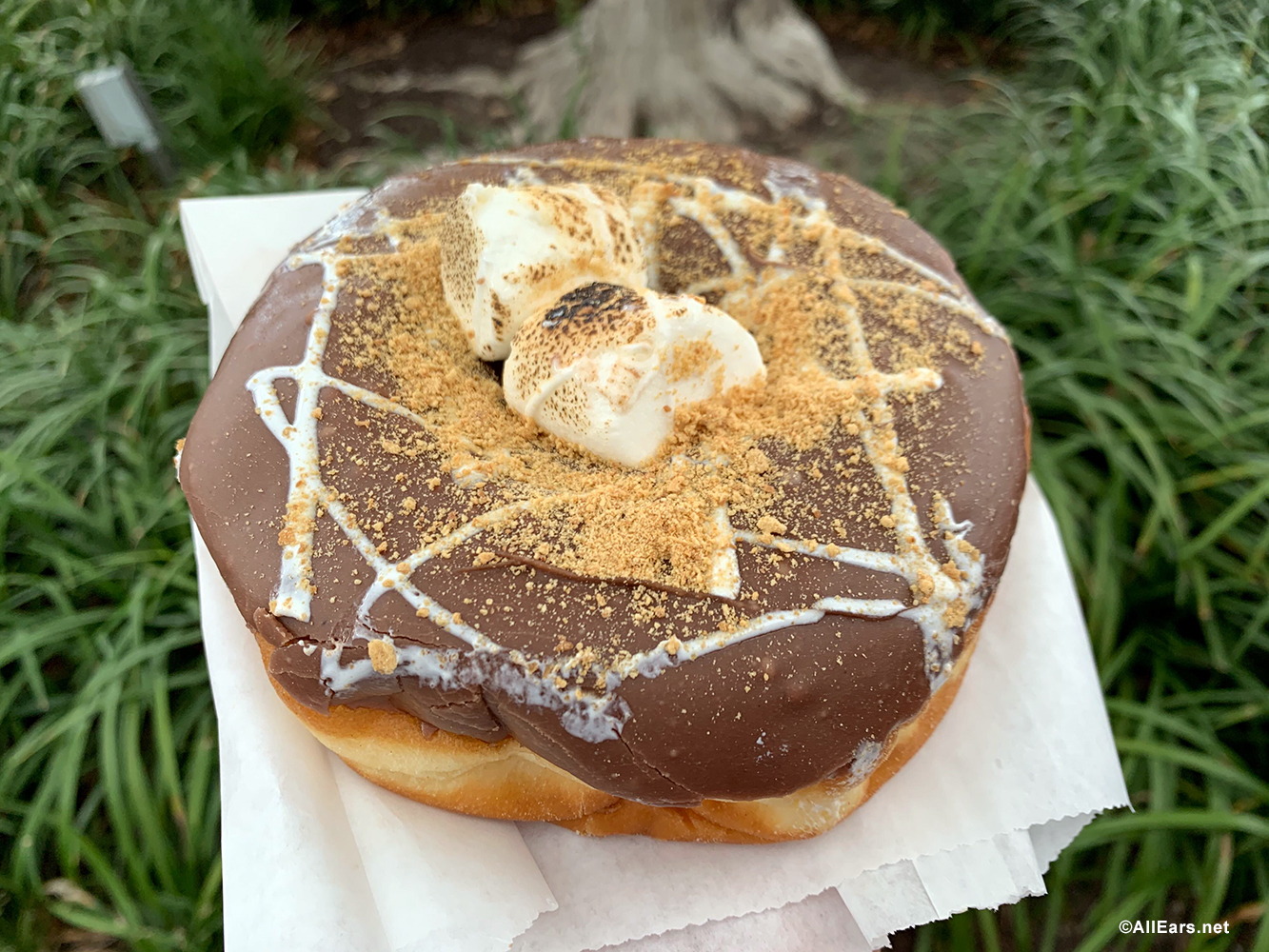 And our favorite donuts come from the Joffrey's Coffee Carts around the parks. These big, doughy delights are made by an Orlando local donut shop, Donut King, and they are honestly perfect. Plus, they're as big as your face.
Choose from brightly colored icing and sprinkles or creative toppings like s'mores or oreo, Hey, you're on vacay right?
5. Beignets
The Mickey Shaped Beignets are one of our favorite snacks in all of Disney World, so twist our arm if we have to eat them for breakfast.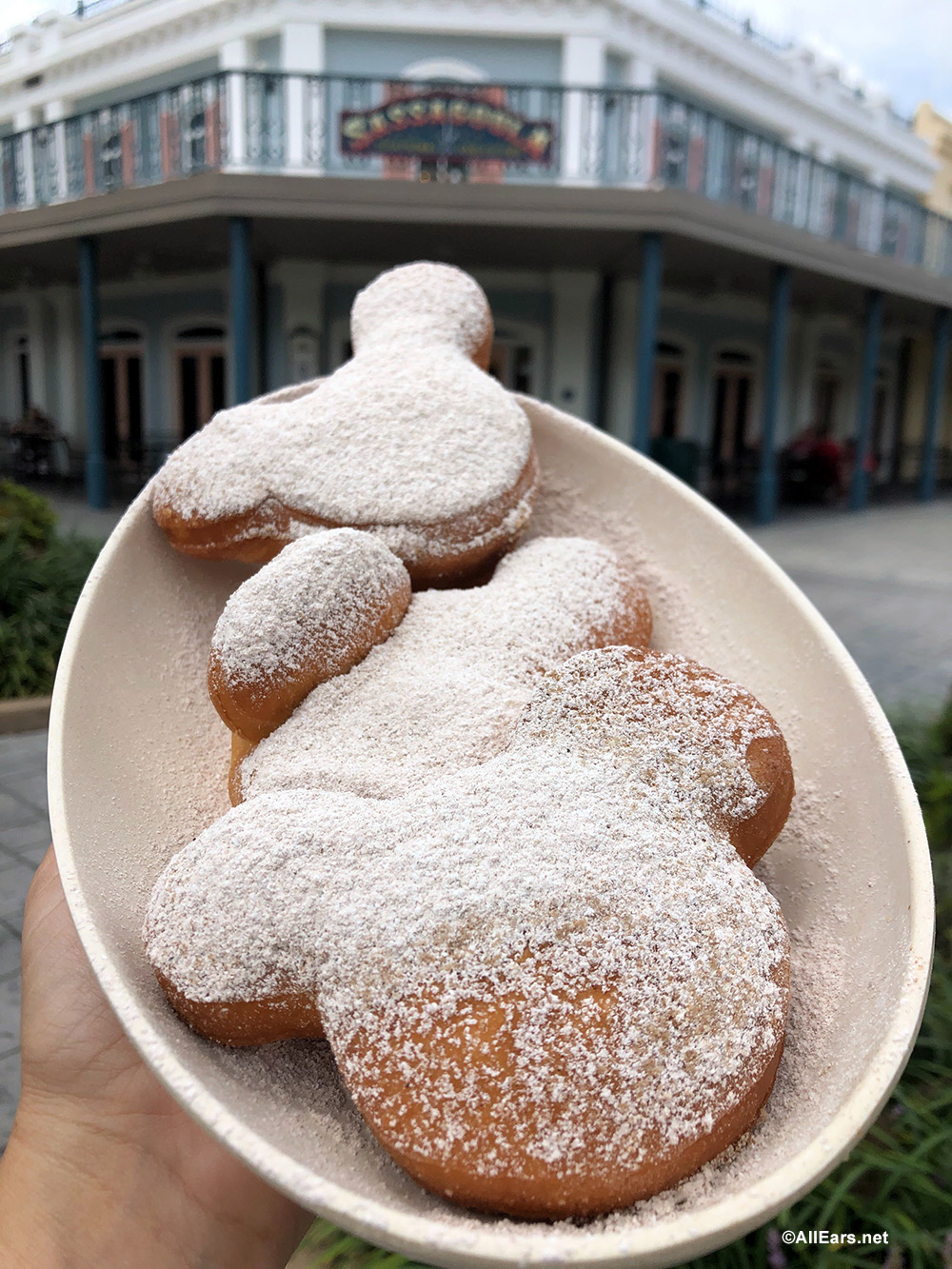 For one snack credit you can get three beignets, so they're perfect to share. (If you're willing… we won't judge you if you're not.) The only downfall to the beignets is that the only place to get them is at Scat Cat's Cafe at Port Orleans French Quarter, so they are a little out of the way if you aren't staying there. That said, these are so good (and just a boat ride away from Disney Springs), that we'd be lying if we said we hadn't made a special trip just to get them.
6. Lunch Box Tart
Kick it old school, and get yourself a Pop-Tart for breakfast — or rather, a Lunch Box Tart! These tasty items can be found at Woody's Lunchbox in Toy Story Land.
There are usually 2-3 flavors available at any given time, including seasonal varieties!
There's also a French Toast Pretzel at select Joffrey's Locations and Carts in Studios that is a great breakfast. But beware! It goes quick!
7. Fancy Starbucks Coffees
If you're more of the "drink your breakfast" type, then we've got good news for you! At the Starbucks Locations in the parks, any size of any drink is snack credit eligible.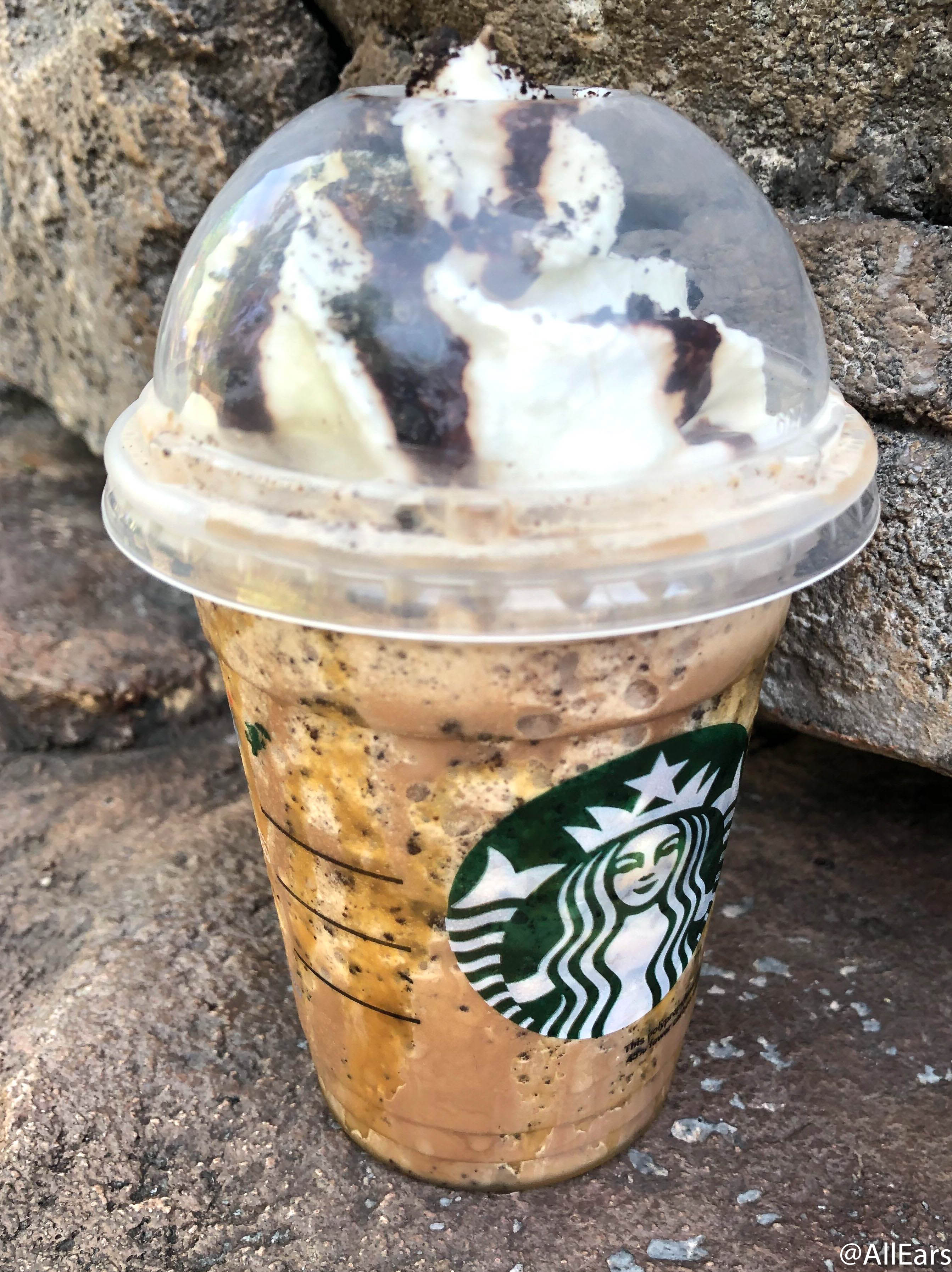 When I asked the Barista/Cast Member, she said "you can literally add 12 espresso shots to the biggest drink we have if you want." (We do not recommend this.)
So, if you're going to get a plain coffee it's probably not worth it, but even any larger size latte or frappe would be a great use of a snack credit!
What are your favorite Snack Credit Breakfasts in Walt Disney World? Let us know in the comments!
Want to know more about the Disney Dining Plan? Click here!