It's hard to imagine a world without Disneyland. It has become so ingrained in our culture and history that it's crazy to think that it only opened 64 years ago.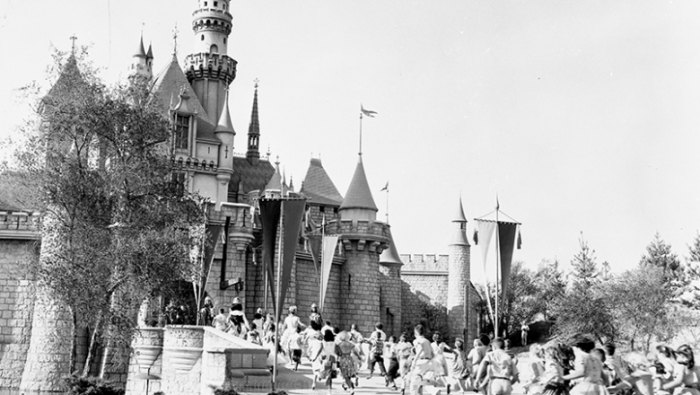 And while we all know the mastermind behind the park was Walt Disney himself, he had a team of creative geniuses that came together to make his dream a reality.
These Imagineers had to design and build the Happiest Place on Earth — often developing new technologies and effects to do so. Many of them started as artists and animators for Disney Movies, and Walt hand-selected them to work on his special new project. It took a lot of hard work, faith, trust, talent, and, of course, pixie dust, but because of these men and women, we now have Disneyland.
Here are five Imagineers without whom, there would be no Disneyland.
1. Herb Ryman
Herb Ryman began his Disney career working on films such as Fantasia and Dumbo. But likely his most iconic contribution to the Disney company is drawing the place that would become Disneyland.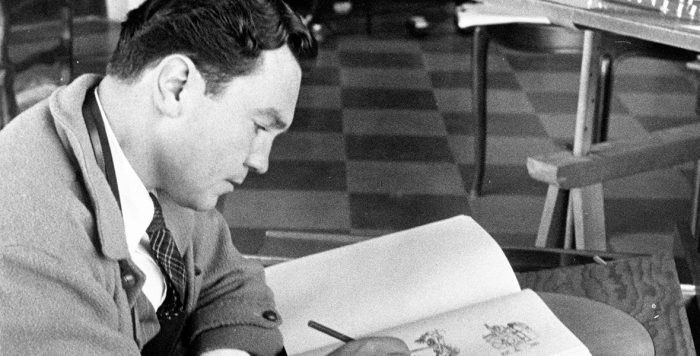 One afternoon in 1953, Walt called Herb and explained his idea for a theme park for families. Herb nodded along, saying that sounded nice, and he'd love to see it. Walt replied "Me too. You're going to draw it."
In just one weekend, Herb drew the first full scale illustrations of Disneyland. It was these sketches that Roy O. Disney (Walt's brother) showed to investors to secure the financial backing for the project.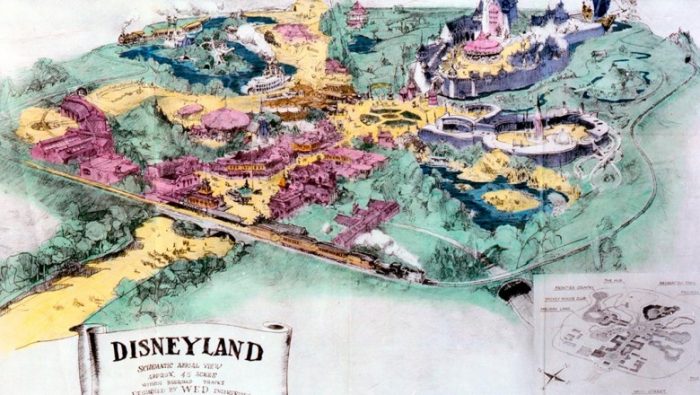 Herb continued his imagineering work by sketching concept art for Sleeping Beauty Castle, The Jungle Cruise,  Main Street USA, Pirates of the Caribbean, and more. He was even the chief designer on Cinderella Castle in Disney World.
2. Roger Broggie
Known as the "Original Imagineer," Roger Broggie had a knack for all things mechanic. He worked closely with animators and filmmakers to create special effects for films such as 20,000 Leagues Under the Sea. He also worked with Wathel Rogers on the prototypes and first Audio Animatronics.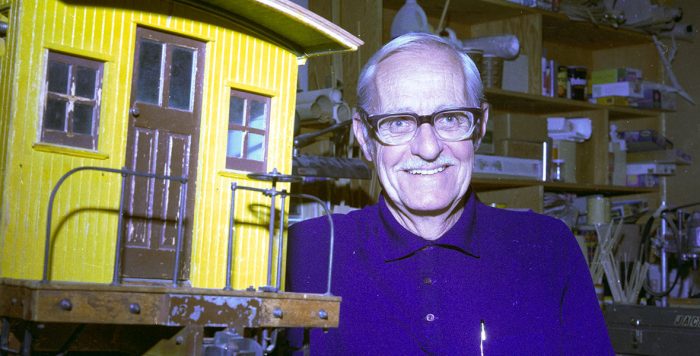 Perhaps Roger's largest contribution to Disneyland was his work on the Disneyland Railroad. Many that knew him joked that Walt only wanted a theme park so he could have a bigger train set. Roger oversaw the development of the railroad, and as a tribute to him, the No. 3 Engine at Walt Disney World is named the "Roger E. Broggie."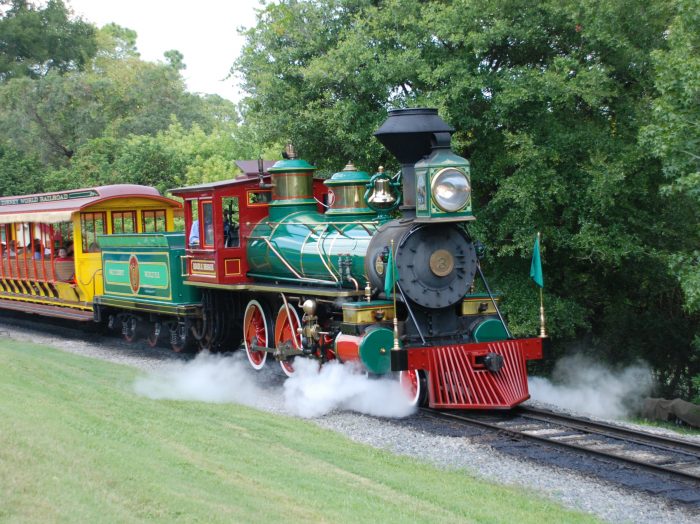 Roger Broggie went on to co-design the famed OmniMover system, which is still frequently used today on attractions like Haunted Mansion, Buzz Lightyear Space Ranger Spin, Peter Pan's Flight, and Under the Sea – Journey of the Little Mermaid.
3. Harriet Burns
Harriet Burns was one of the first Imagineers —  notably the first female Imagineer. Whenever others talk about her they always mention that she could use the power tools and saws just like the men — but she was always impeccably dressed in heels.
Her first role at Disney was designing the sets of the Mickey Mouse Club. However with Imagineering, Harriet was largely in charge of models and "detail work." She crafted the to scale models of Sleeping Beauty Castle, the Matterhorn, Storybook Land, Haunted Mansion, and New Orleans Square.
Eventually, Harriet was instrumental on working with animatronics for iconic attractions such as Pirates of the Caribbean and the Enchanted Tiki Room.  And she did it all in a skirt. 😉
4. Bob Gurr
Bob Gurr has been known to say  "If it moves on wheels at Disneyland, I probably designed it." He designed the vehicles for Autopia, the Monorail, Haunted Mansion, the Matterhorn, and more — in total over 100 designs.
From a young age, Bob was always fascinated with machinery and movement, and his tinkering eventually became a career. And this man was incredibly dedicated to his craft — he even TAUGHT HIMSELF trigonometry when building the Matterhorn to ensure he understood the angles and forces behind a roller coaster.
5. Wathel Rogers
Wathel was another of Walt's animators who was selected to come to the Disneyland project. He worked on films such as Lady and the Tramp, Sleeping Beauty, Peter Pan and Alice in Wonderland. But from a young age, Wathel had an incredible ability to take an inanimate object and figure out a way to make it move.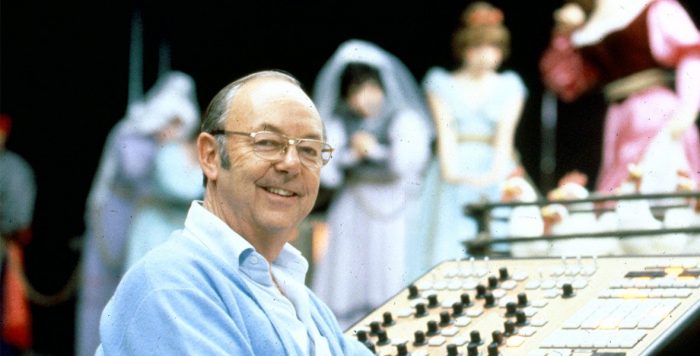 Wathel was responsible for many of the initial moving figures and models of Disneyland — notably the mechanical animals on The Jungle Cruise. Eventually he worked with Roger Broggie on the prototype for "Project Little  Man," which would become the prototype for Audio Animatronics.
Wathel was later known as "The Godfather of Animatronics" as he was largely responsible for the development of the figures as we know them today. His long resume includes Great Moments with Mr.  Lincoln, the Carousel of Progress, The Enchanted Tiki Room, Haunted Mansion, and Pirates of the Caribbean (just to name a few).
Fellow Imagineer John Hench once said, ""Wathel was always making everything come to life. If it was stationary and we wanted it to move, all we had to do was call Wathel and in his quiet, calm way, he'd make it work."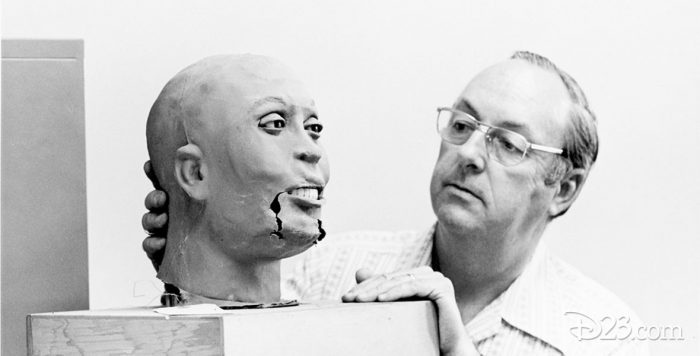 Can you believe the talents and innovations of these men and women? Pretty incredible to think they created Disneyland from nothing — and we still use and love their technologies today. These are just a handful of the incredible Imagineers behind the magic, and if you're like us and want to learn more, you can stream "The Imagineering Project" on Disney+!
Interested in Disney history and Imagineering details? Take a look at these recent posts: