On November 12, Disney+ will launch as the dedicated streaming home for movies and shows from Walt Disney Studios, Walt Disney Animation Studios, Pixar, Marvel, Star Wars, National Geographic, and more.  Star Wars: The Mandalorian, brought to you by Jon (Iron Man, Jungle Book) Favreau and Dave (The Clone Wars, Star Wars Rebels) Filoni, fills in the time span in the Star Wars universe between the fall of the Empire and the rise of the First Order as it follows the adventures of a lone gunfighter making a living on the edge of the galaxy.
To tell people a little of what to expect of what has become one of the most anticipated original titles to launch with Disney+, filmmakers  Jon Favreau (Writer/Creator), Dave Filoni (Director), Pedro Pascal "The Mandalorian", Gina Carano "Cara Dune", and Carl Weathers "Greef Carga" participated in a recent press conference.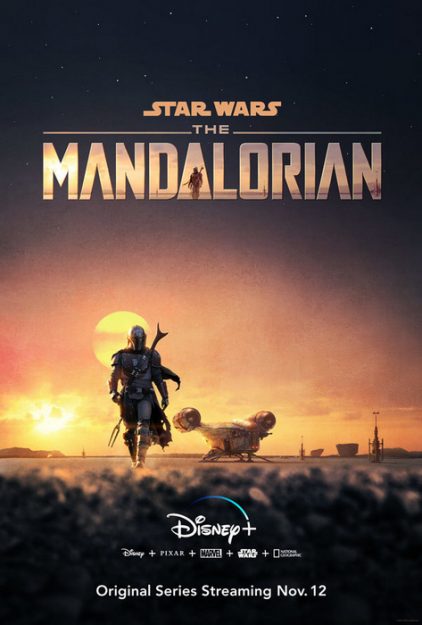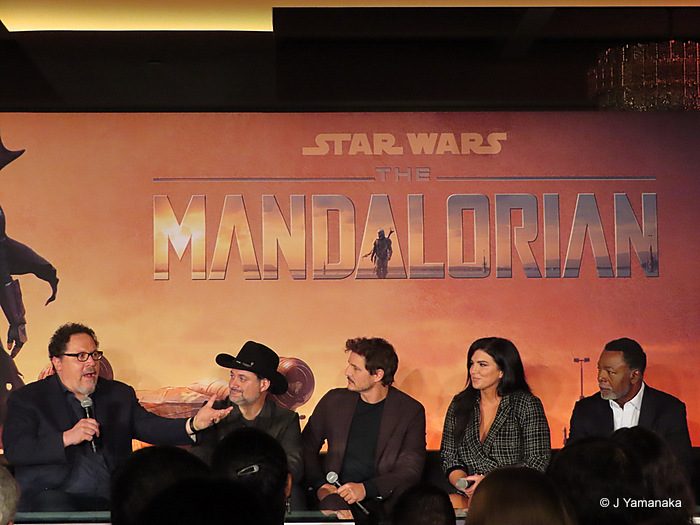 Favreau on creating the first Star Wars television series:  "There's nothing to compare it to.  Nothing has been on TV, other than the holiday special, and the idea of telling a story over more than just a couple of hours told every few years opens us up to this novelization of story and a return back to the roots, in many ways, of the Saturday afternoon serial films that my parents' generation grew up with.  With cliffhangers, adventure…and drawing from that style of storytelling lends itself really well to what we're tackling here.  And so…it's fun not to have the preciousness in the way we're telling the stories because we're coming back to you next week with another one."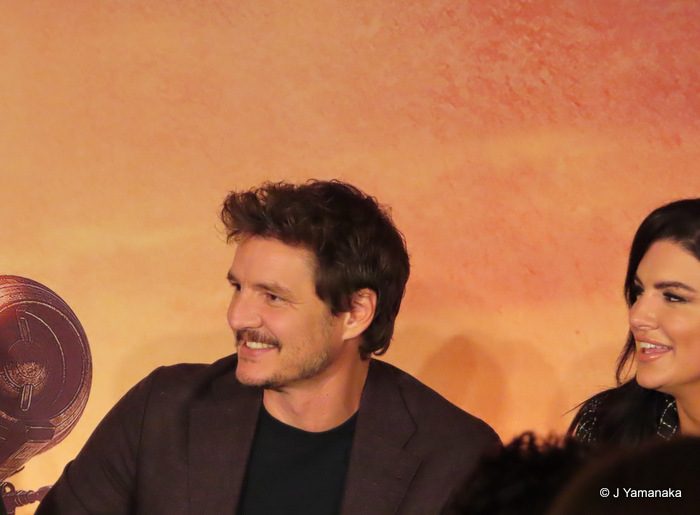 Pascal on first realizing he was part of the Star Wars universe:  "Putting on the helmet, for sure.  They had handed it to me the first meeting to see if it would fit, and it fit perfectly…you can't see very well through the helmet but I got a pretty clear impression.  If you grow up playing with Star Wars toys and obviously seeing the movies, and then you're staring at yourself and you are the image of…that kind of childhood imagination…it's a super 'pinch-me' moment.
"Quote me exactly:  'A super 'pinch-me' moment.'  Hashtag '#SuperPinchMandalorian."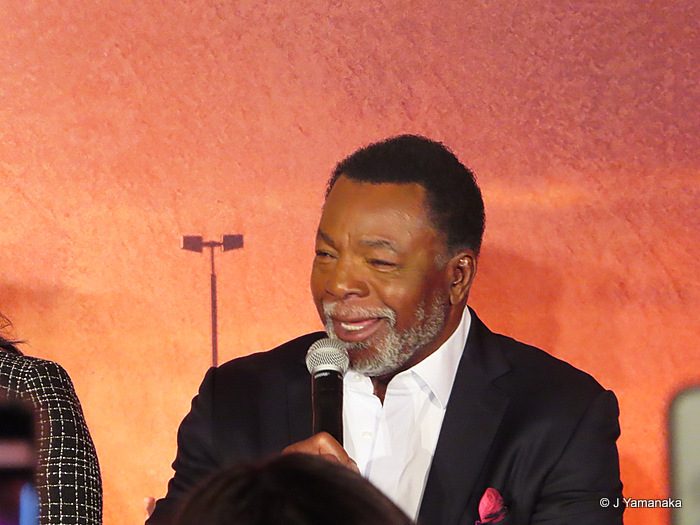 Weathers on directing:  "Honestly, I don't think it would have happened with a lot of people.  Jon promised last year when I agreed to do this, because he knows I wanted to direct more and more, that if we got a second season, that he'd give me a shot.  And I gotta tell ya, I've been around enough to know that people don't always keep their word.  And it was like…'absolutely.'  And so, being a part of this though, again, has been one of the greatest things that has happened in all the years I've been involved in entertainment.  It's cool."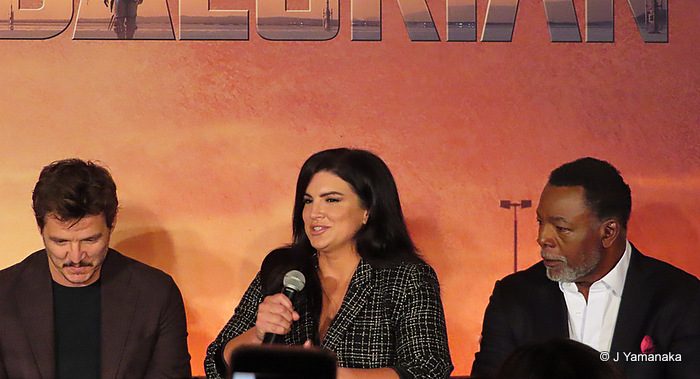 Carano on stunt-doubles:  "I did not want to see anyone in this Cara Dune costume.  I was 'oh is she running?  Ok, I'll run.  That's my…?  Oh, we don't need her.  No, I didn't want anyone in this costume.  I did not want to share at all."
Pascal:  "I was more generous."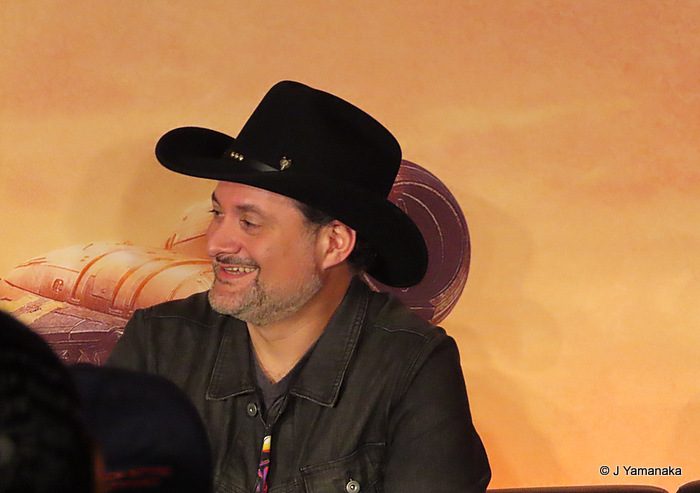 Filoni on what he's learned from making season 1:  "I learn a tremendous amount every day and I think for me…I was on set every day for the whole season, so I learned watching every single one of our directors, I learned watching our great cast, everyone behind the scenes…I treated it as boot camp for me to learn this type of filmmaking, but then I tried to offer the knowledge that I've had passed on to me by George for Star Wars things, and just the way he liked to shoot things.
"But it definitely has affected the way I look at a day–what can I accomplish in a day–that's a big difference for me filmmaking-wise.  We arrived on the backlot and the DP, Greg, is like 'well, the sun's up.  We got to get going.' And I'm like 'oh right, because it's going to go down.'  In animation, we don't really have that problem.  So, you know, you're getting on six o'clock, and everyone's getting squirrely, and like 'THE SUN'S GOING DOWN!  THE SUN'S GOING DOWN!' And I'm like 'right!  Then we're screwed!'"
Star Wars:  The Mandalorian will be streaming on Disney+ at launch–the second episode will premiere Friday, Nov. 15, on Disney+, with new episodes premiering on the streaming service every Friday. 
(#101- November 12 (season premiere);
#102- November 15
#103- November 22
#104- November 29
#105- December 6
#106- December 13
#107- December 18
#108 – December 27 (season finale))
Visit DisneyPlus.com to learn more!
Questions?  Comments?  Suggestions?  Drop us a line below.
Be sure to follow @allearsnet on Facebook, Instagram and Twitter!
Check out our YouTube Channel for reviews, news, information and more!
Click below to subscribe to the AllEars® newsletter so you don't miss any of the latest Disney news!