On November 12, Disney+ will launch as the dedicated streaming home for movies and shows from Walt Disney Studios, Walt Disney Animation Studios, Pixar, Marvel, Star Wars, National Geographic, and more.  "The World According to Jeff Goldblum" is a twelve-part series in which the backstories and connections of seemingly mundane objects are revealed as ranging from scientifically curious to entertainingly humorous when filtered through the whimsical and inquisitive Goldblum mind.
As part of the Disney+ press day, Jeff Goldblum himself made time for a short roundtable discussion on what it's like to helm up a show and interpret the world.
Goldblum on getting involved with "The World According to Jeff Goldblum":  "Here's what happened:  I did a show a couple of years ago–three episodes of Nat Geo Explorer…I loved them and we hit it off and got to talking some time after that and said 'hey, maybe you want to do a show of your own…we'll have twelve episodes of these ordinary items maybe, and they can have extraordinary undiscovered facets and surprising elements, and maybe you'll do some hosting of some kind…'
"And as we started to talk about it, I said 'you know, I think I could lend myself in some fun way…maybe I could do it in such a way that's a little different and kind of personal and spontaneous.  I don't really want to read anything and recite anything.  Maybe I can talk and I don't have to pretend to know anything, I don't have to be a teacher, I can kinda go hey I'm interested and hello camera people, people who are watching, come along with me and let's learn about this together' and that's how it evolved."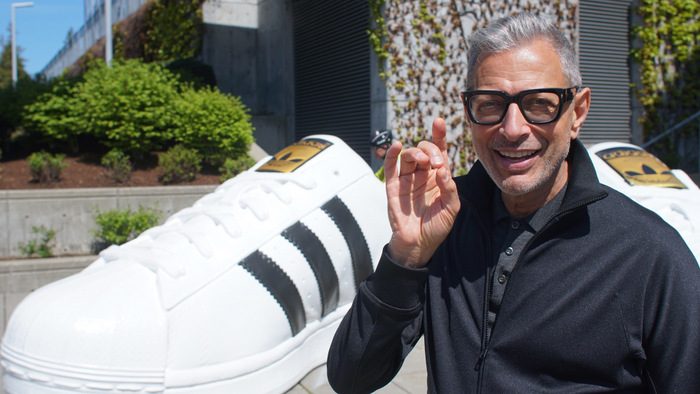 Goldblum on picking show topics :  "We collaborated early on, and they said 'here's some ideas we had, here's some background information on why it might be interesting, you may not know this about this, and this about RVs and stuff like that.'  It became clear early on that it was personal…it had something to do with me.  They were interested and very generous in hearing out my interest in whatever it was and we kind of picked things that way.  Collaboratively."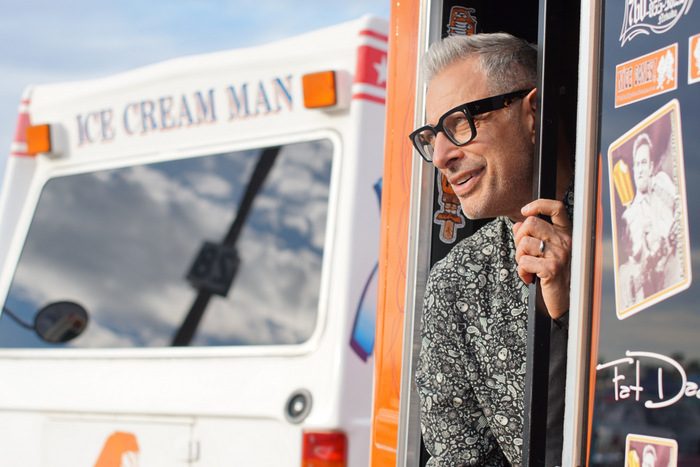 Las Vegas, NV – Jeff Goldblum in a Fat Daddys Ice Cream Truck. (National Geographic/Susannah Wilkinson)
Goldblum on his view of the world :  "I suppose it looks like the ordinary, mundane world, but then as we look deeper…there's something extraordinary about this glass of water and us being here in this room and certainly for my money and my sensibility so to speak, the people.  People are, to me, just endlessly, infinitely mysterious and beautiful and fascinating and educational.
"Part of my technology of my acting training which I had a natural feel for…my teacher, Sandy Meisner said 'you know, if you want to be an actor, you gotta be interesting, of course, but you're interesting to the extent that you're interested.'  So you gotta make your acting in every moment more importantly about the other person and why they might have some hidden story.  So this is kind of in line with that."
"The World According to Jeff Goldblum" will be streaming on Disney+ at launch–
Episode 101 "Sneakers" | Premieres Nov. 12 on Disney+
Episode 102 "Ice Cream" | Premieres Nov. 15 on Disney+
Episode 103 "Tattoos" | Premieres Nov. 22 on Disney+
Episode 104 "Denim" | Premieres Nov. 29 on Disney+
Visit DisneyPlus.com to learn more!
Questions?  Comments?  Suggestions?  Drop us a line below.
Be sure to follow @allearsnet on Facebook, Instagram and Twitter!
Check out our YouTube Channel for reviews, news, information and more!
Click below to subscribe to the AllEars® newsletter so you don't miss any of the latest Disney news!

Will you be tuning in to watch Jeff Goldblum? Let us know in the comments!