Ahhhh, Cars Land at Disney California Adventure. When this land opened in 2012, we fell even more in love with Pixar's Cars films because now we could actually walk down the streets of Radiator Springs and experience places like Cozy Cone Motel, Flo's V8 Cafe, Luigi's Casa Della Tires, and Ramone's House of Body Art  in real life! And we can't forget to mention Cars Land is home to one of our absolute favorite Disney attractions of all time — Radiator Springs Racers!
And as if we weren't enthralled enough, California Adventure takes Cars Land a step further by adding holiday overlays! They started with Season's Speedings in Radiator Springs, a special Christmastime overlay. And three years ago they added a new Halloween-theme to the mix with Radiator Screams Haul-O-Ween bash!
But which holiday version is better: Christmas or Halloween? Let's take a look at some of the offerings of each and see if there's a clear winner!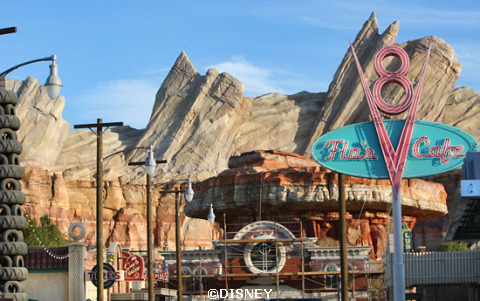 Halloween Cars Land
We'll start with Halloween because this is how Cars Land is currently decorated for its spooky seasonal overlay! The entrance to Cars Land has received tons of glowing Halloween-colored lights, a new billboard, and a witchy lookin' car (a scare-car?) making this a popular first stop to snap a few pics before entering the land!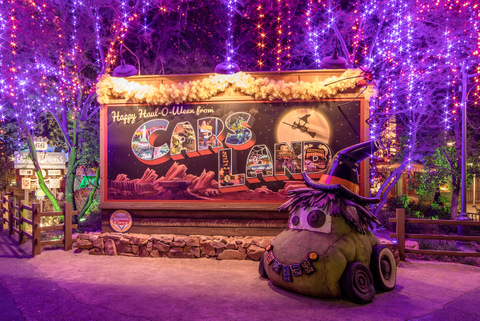 As you enter, you'll hear some exciting Halloween tunes being sung by Mater. That's because his signature attraction transforms into Mater's Junkyard JamBOOree for the Halloween season!
You'll also spy tons of Halloween decorations throughout Radiator Springs — all with a special Cars-themed twist. For example, Sarge's pump-kins patch has gas cans growing on a vine, and you can spot 30 car-achnids creeping around Radiator Screams.
Cozy Cone Motel gets gussied up with eerie-looking faces and even has a special Halloween display showcased in its lobby made out of candy! The Cozy Cone is also where you'll be able to meet many of the Cars characters in their Halloween car-stumes and enjoy some of the seasonal offerings such as Slow-Burnin' Mac and Cheese Cone, "Spoke-y"Cone Macaron, and Haul-O-Ween churro!
If you've been to Cars Land before, then you may know that every night as dusk approaches, Radiators Springs comes to life with a special "lighting ceremony" as music plays and all the businesses turn on their neon lights. For Halloween, the music is extra spooky! You'll also hear plenty of Trunk-or-Treating tunes as you mosey in and out of shops in Cars Land.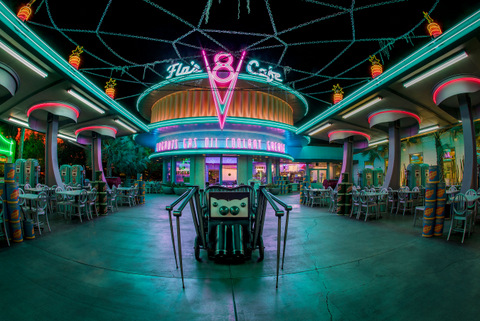 Luigi also celebrates the Halloween season by turning his attraction into Luigi's Honking Haul-O-Ween for Halloween! If you're lucky, you may even hear the song about how he and Guido built the witch car you saw as you came in!
Christmas Cars Land
When you approach the entrance to Radiator Springs during the winter holidays, you'll be greeted by this adorable snow car! The billboard artwork is also switched up, and is that garland made out of car parts?!?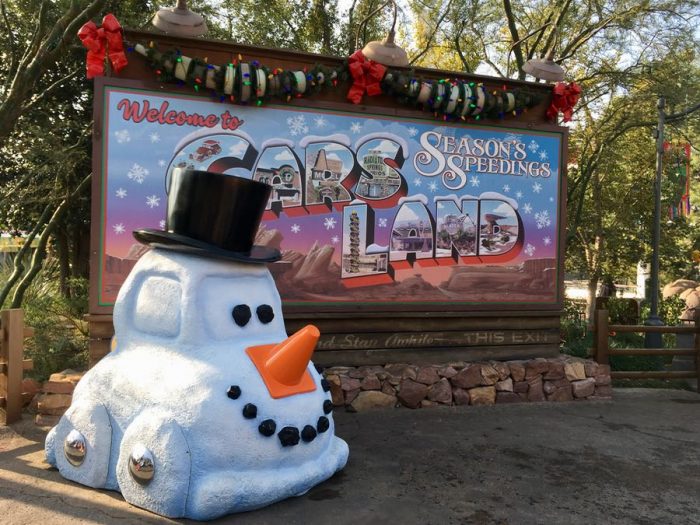 Just like with Cars Land's Halloween decorations, you'll see some truly ingenious repurposing of old tires, tools, street signs… you name it.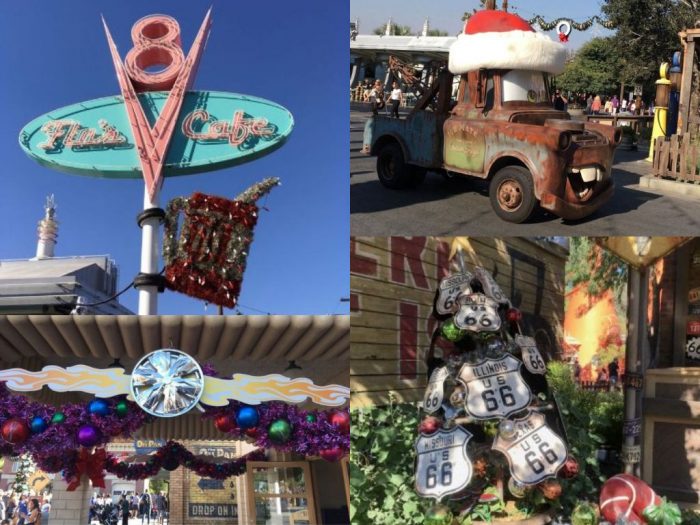 We think it's these little details that have the biggest impact on Radiator Springs' Christmas overlay. Everywhere you look, there's another crafty use of an unconventional item being repurposed as a Christmas decoration, not to mention the Christmas lights everywhere really enhance the neon!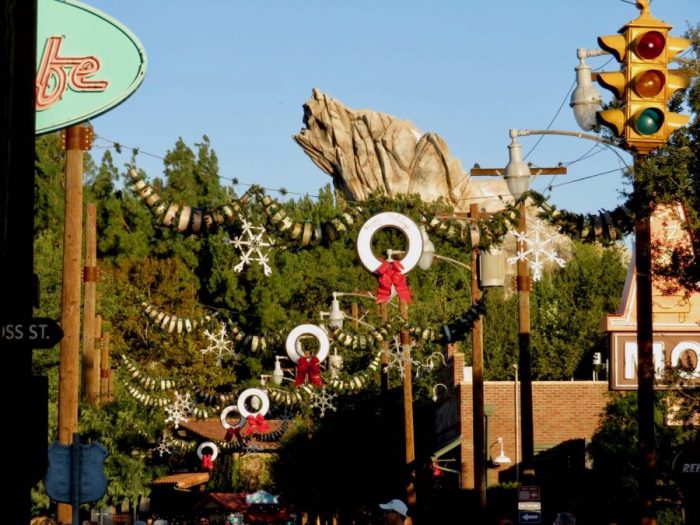 Mater's Jingle Jamboree and Luigi's Joy to the Whirl are the special Christmas overlays you'll be able to look forward to this year as both attractions receive special holiday tunes and decor. Meanwhile, Fillmore, Flo, and Luigi will all put up their own unique versions of Christmas trees!
And of course there will be plenty of seasonal treats to enjoy, too! Some of the specialty Christmas treats we've seen in previous years have included novelty cupcakes, milkshakes, and Santa hat/traffic cone macarons!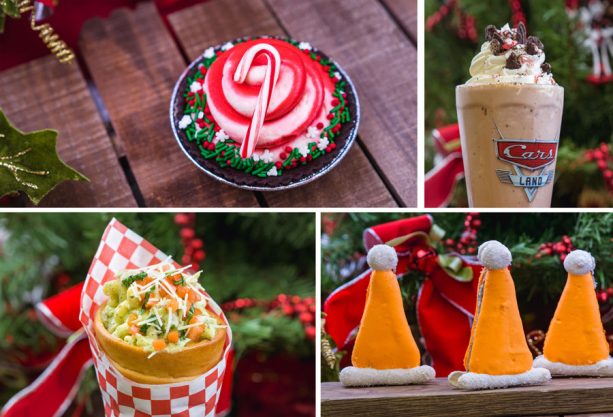 Although choosing a favorite season at Cars Land may seem impossible, we might be giving a slight-edge to its Christmas because it's the original Radiator Springs overlay that started it all — and paved the way for the Halloween version!
Will we see new overlays of Cars Land in the future? Maybe Easter or Valentine's Day? Only time will tell! Until then, let us know which Cars Land version YOU prefer (Halloween, Christmas, or original!) in the comments section!
Want More AllEars? You know you Do! Follow us on social media!