Traveling gear is essential when going on a galactic adventure through Star Wars: Galaxy's Edge at Disneyland.
And luckily the planet of Batuu is filled with options for every type of journey or mission. With Black Spire Outfitters, First Order Cargo, Resistance Supply, the Creature Stall, and Toydarian Toymaker, Galaxy's Edge will have you covered.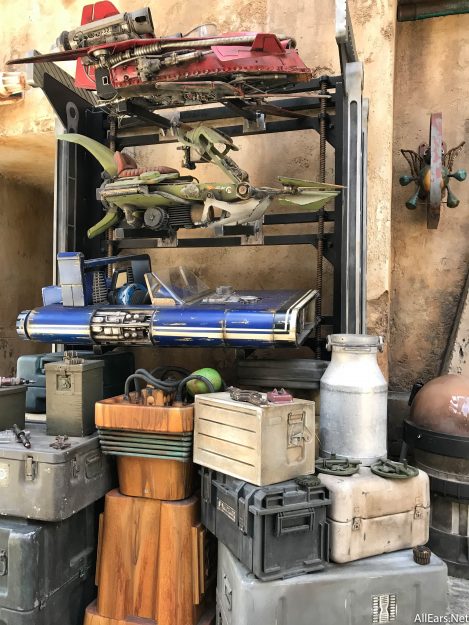 One important note, however: Do not expect to find any merchandise here that says STAR WARS: GALAXY'S EDGE. That would not be in keeping with the land's theme. If you want that sort of merch, you'll have to shop elsewhere in the Disneyland Resort. Click here to find out what your options are!
Black Spire Outfitters
In need of some casual garb for walking around Black Spire Outpost or a robe to meet the ambassador of your planet? Then, this teensy shop has you covered.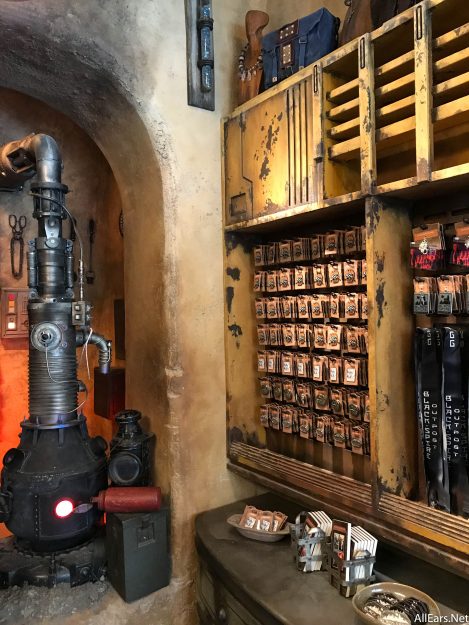 Atmosphere
Located in the marketplace area in the Black Spire Outpost you will find a small shop. Cloth, fabrics, and spools of thread hang from the ceilings, just like you'd find in any tailor's.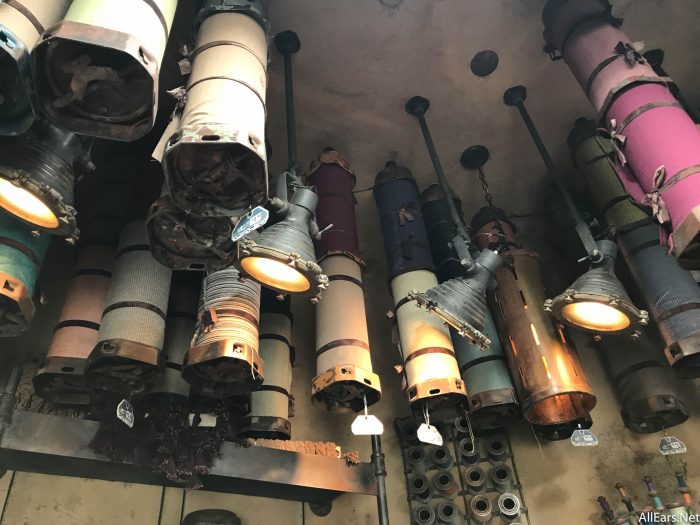 Merchandise
When it comes to Jedi apparel, this shop offers the best of the best. You can find amazing Jedi robes here for $125.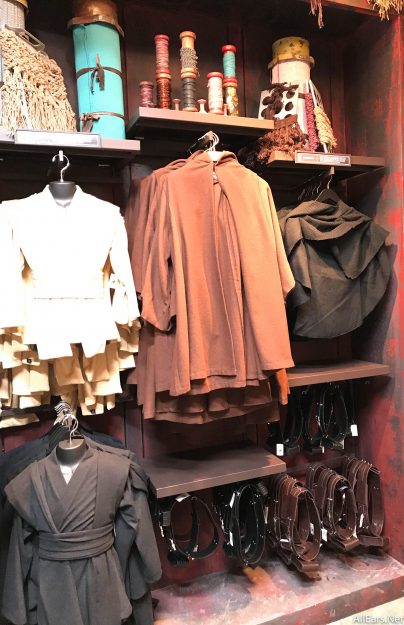 The belts will cost you about $50. Dress the part with more costume-like outfits as well!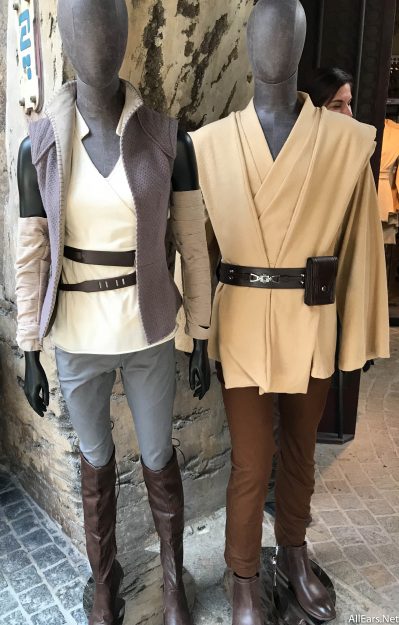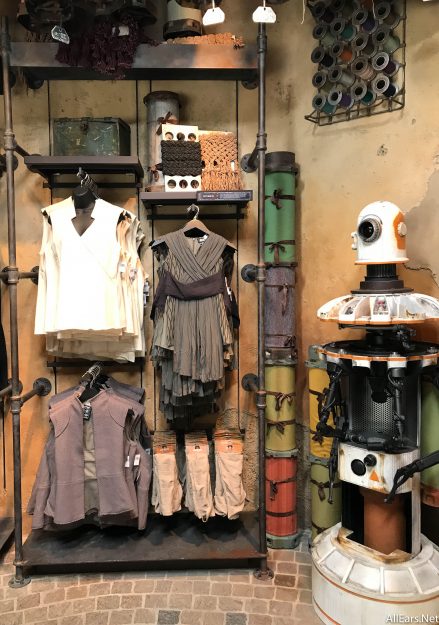 First Order Cargo
This is a temporary base, which has been set up by the First Order since they arrived not too long ago on Black Spire Outpost. You may have noticed their shuttle parked nearby.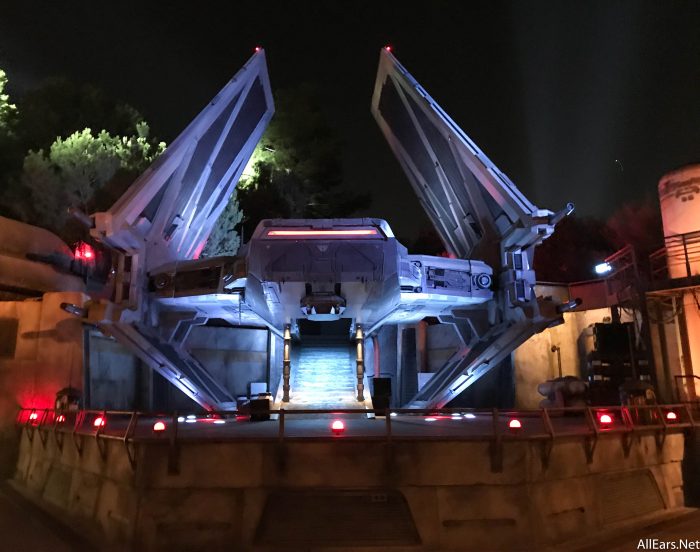 And why are they here, you ask? Well, to win over the locals while pursuing the Resistance, of course!
Atmosphere
The shop is very sleek and orderly. And it looks much more like a typical shop than many of the others at Black Spire Outpost.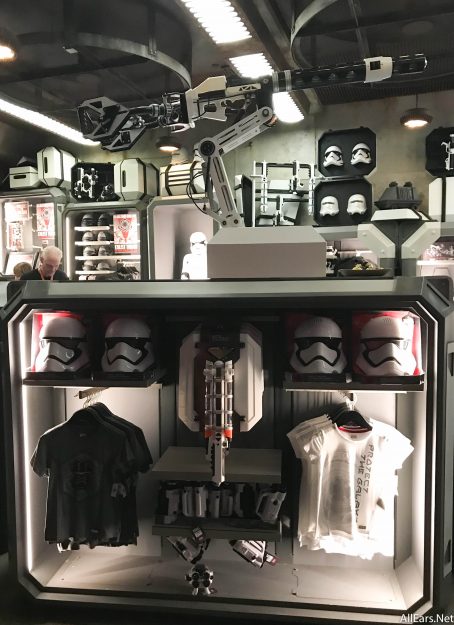 Since it is a temporary base, you can see that items are displayed in cases that could be easily packed up and moved.
Merchandise
Here you will find gear and garments to show off your loyalty to the First Order. There's a pretty wide range of merchandise, although, as we said earlier, none branded "Disney" or "Star Wars" at all.
There will be armbands designating your rank, T-shirts, Stormtrooper kids' costumes, and more. As you can see, a lot of the gear is in red and black, the colors of the First Order.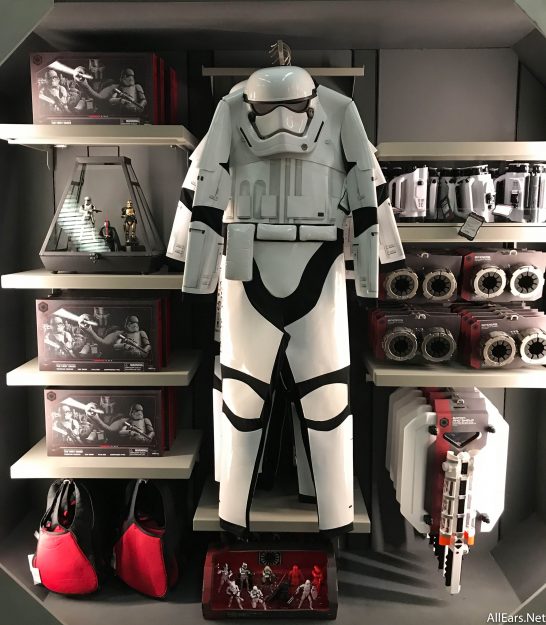 There's also, somewhat surprisingly, a line of First Order housewares, including blankets, mugs, and water bottles.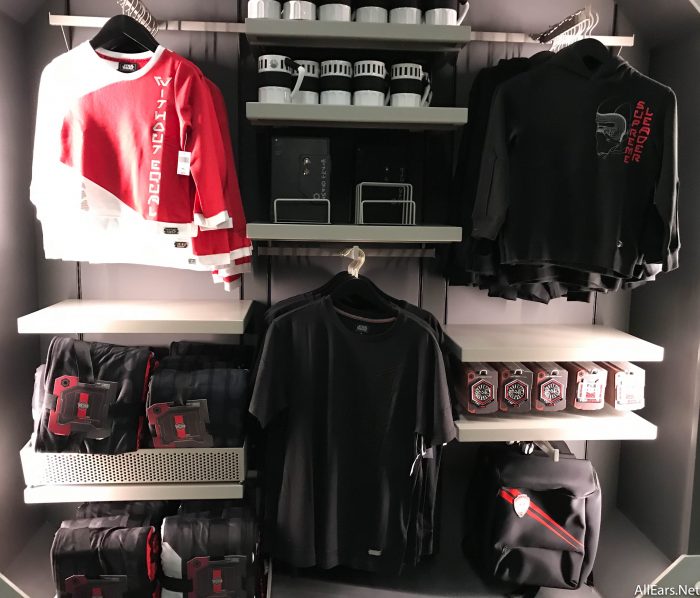 You will also find things like figure packs and models ships.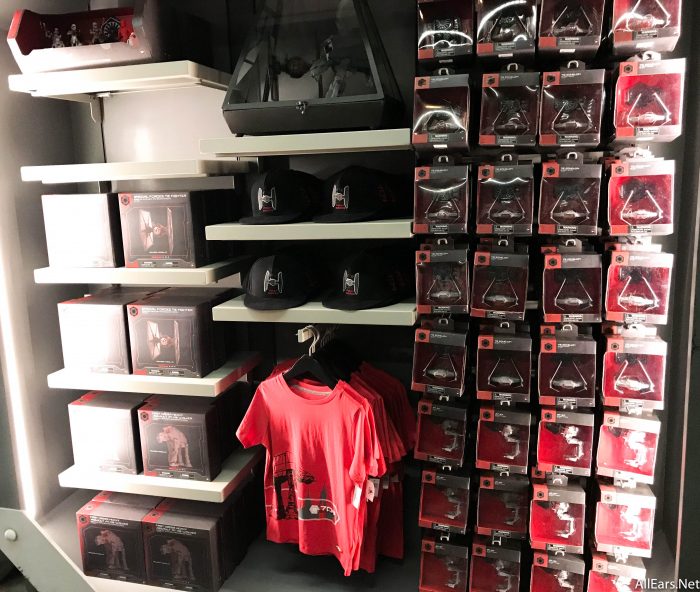 There are also more typical souvenirs, like keychains, patches, and pins.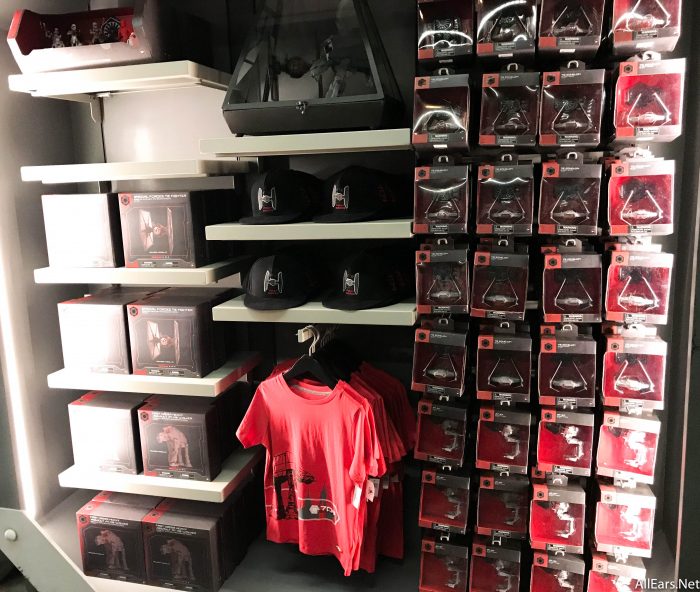 This is also where you will find a complete outfit of Stormtrooper armor for a mere $6,615 — one of the most expensive items in Galaxy's Edge. Better start saving those Galactic Credits!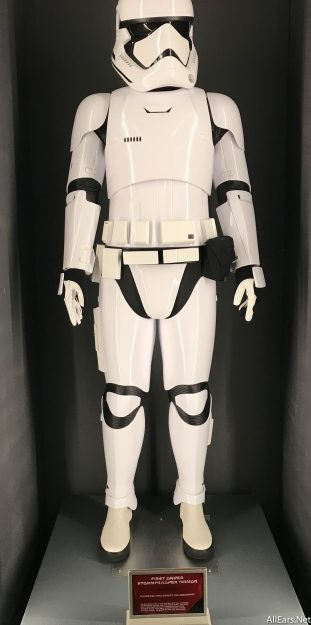 Resistance Supply
Are you a part of the Resistance? (Ssshhh, don't tell anyone, but we are!) Then gear up and head on over to Resistance Supply.
Atmosphere
You may have to search a bit as this shop is tucked into a forested area close to the ancient ruins on Black Spire Outpost. This makeshift spot is meant to fly under the radar so the Resistance is not ousted by the First Order. Be on the lookout for cargo containers and discarded Resistance equipment when searching for this location.
And just as First Order Cargo is the place to get all of your First Order Gear, Resistance Supply is the spot for picking up items that will show how committed you are to the Resistance.
Merchandise
This shop is filled with supplies meant to aid the Resistance, therefore you will find items like tools, training supplies, food rations, and maps.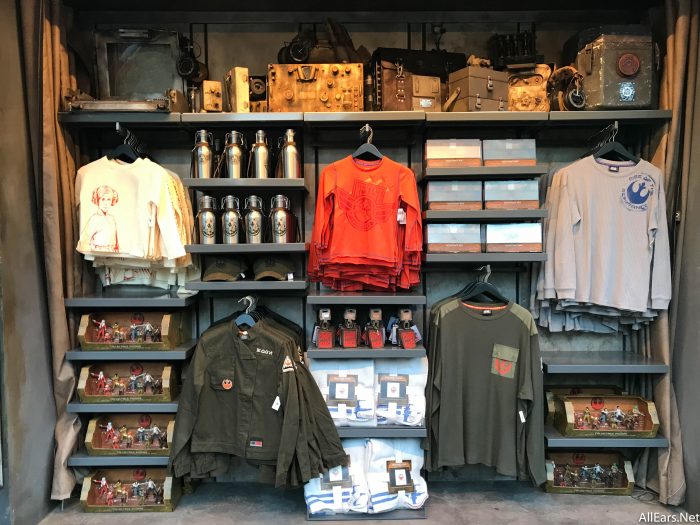 Not afraid to proudly display your allegiance to the Resistance? Well, now you can with an assortment of hats, jackets, and t-shirts.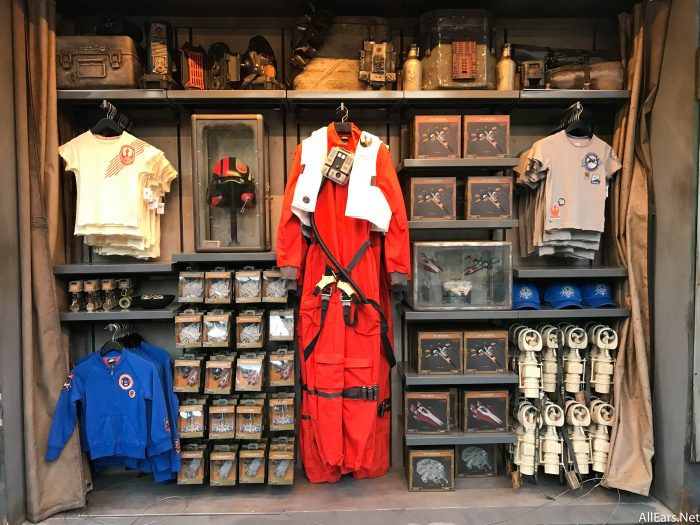 You can also get a few costume pieces here like helmets and the orange pilot outfit that Poe Dameron wears.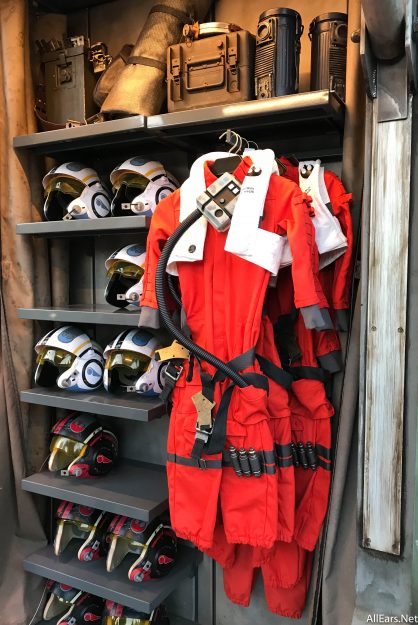 The Resistance has its line of household goods, too. Pick up a blanket for snuggling up when you watch the movies back home, and don't forget a mug or water bottle.
This shop is small, but it also stocks plenty of pins and action figure packs.
Another really cool item that can be purchased at this location are the Resistance rank badges.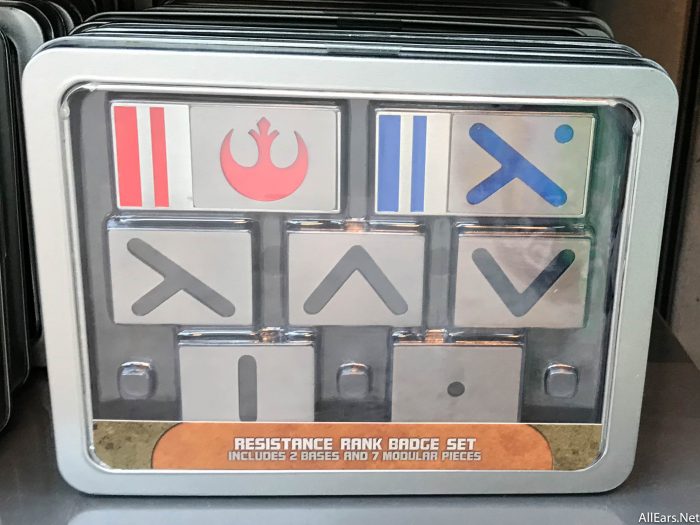 Creature Stall
Run by an Amani alien proprietor named Bina, this is THE place to find your favorite Star Wars creature. Bina has scoured the stars to find the perfect creatures for her stall.
Atmosphere
The small space is filled with your favorite galactic creatures like the Kowakian monkey-lizards, Worrts, Krykna spiders, and Porgs!  There are even some alien critters — not necessarily for sale — in cages placed around the shop.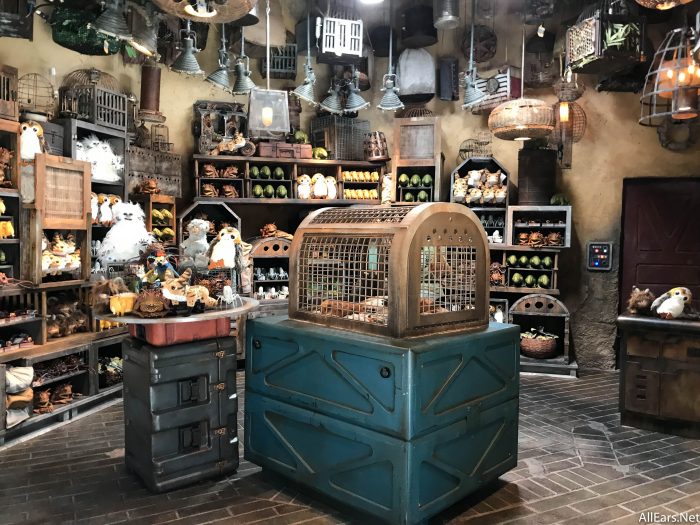 Merchandise
Many of the creatures here do much more than meets the eye. For example, the Porgs make lifelike sounds and movements, so you'll feel like you're really bringing home one of these adorable pot-bellied babies — for $44.99.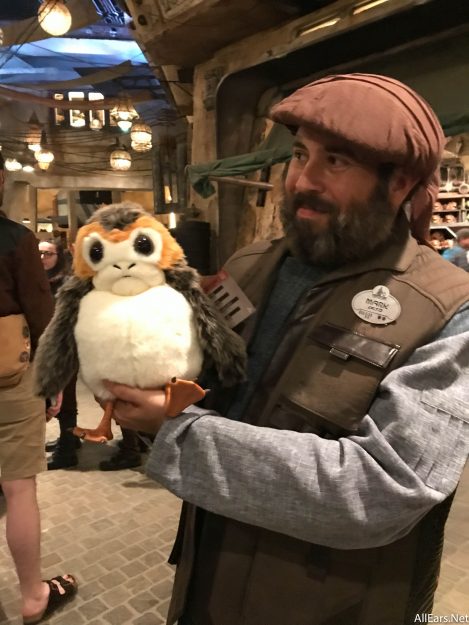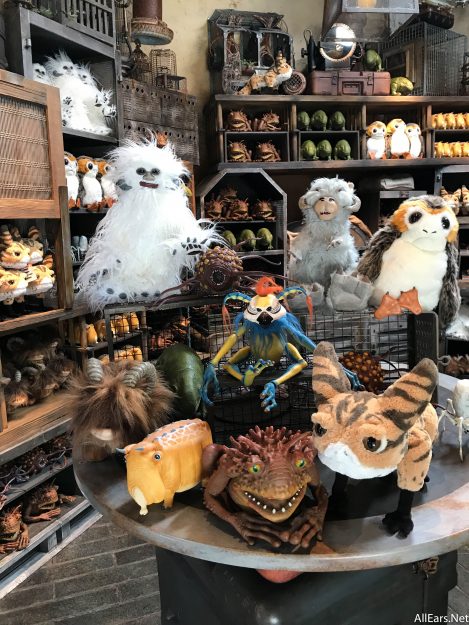 Have you ever seen the banshees from Pandora at Disney's Animal Kingdom? Well, Galaxy's Edge has a creature that is very similar. Even though the character they're patterned after (Jabba the Hutt's annoying jester Salacious Crumb) was NOT, these toys are super-cute! Formally known as Kowakian monkey-lizards, they perch on your shoulder, like the banshees, and can also move their heads as you control them, plus they laugh! They can be found just around the corner from the Creature Stall at the Creature Corner for $69.99.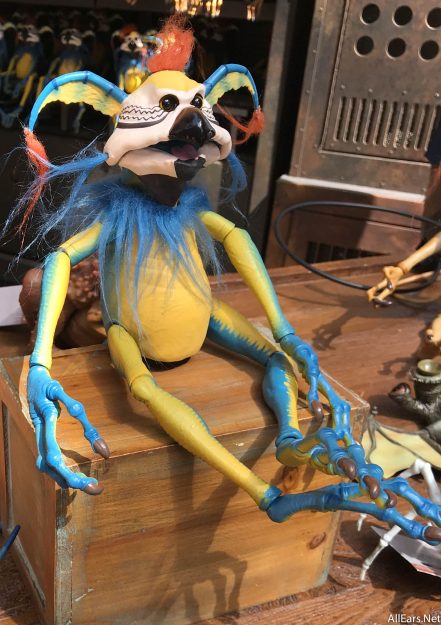 If you'd rather have something plush and cuddly, keep your eyes peeled for stuffed Banthas, Wampas, and Tauntauns.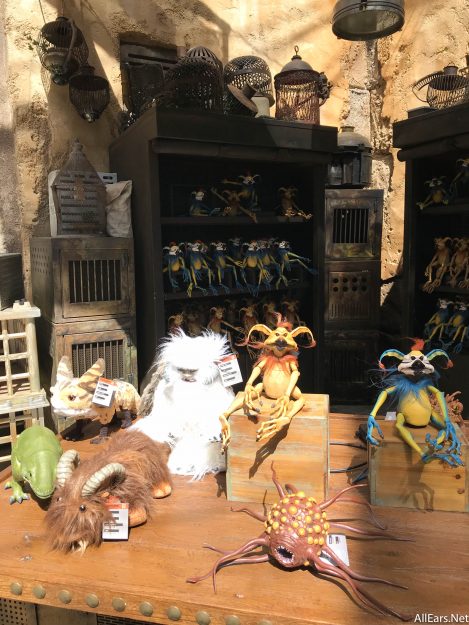 Adopt one of these plush pets and bring a part of the Star Wars galaxy back home with you!
Toydarian Toymaker
If you're looking actual TOYS, then you'll need to stop at the Toydarian Toymakers. Here you will find all of the little things that Black Spire Outpost has to offer so your little one's galactic adventures can continue back home.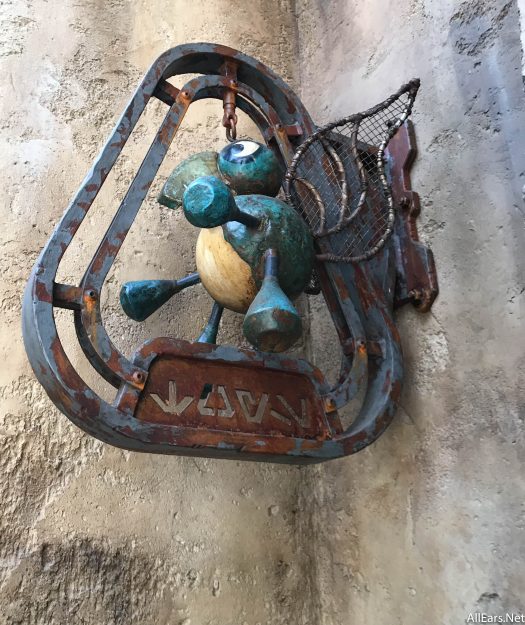 Local artisans on Batuu have crafted toys of all kinds for your kiddos — and you! — to enjoy.
Atmosphere
Zabaka the Toydarian has filled her shop with toys and collectibles. It can be overwhelming at times, as there is so much to take in. A few of these items include those created by Zabaka herself, as well as pieces created by a few local vendors.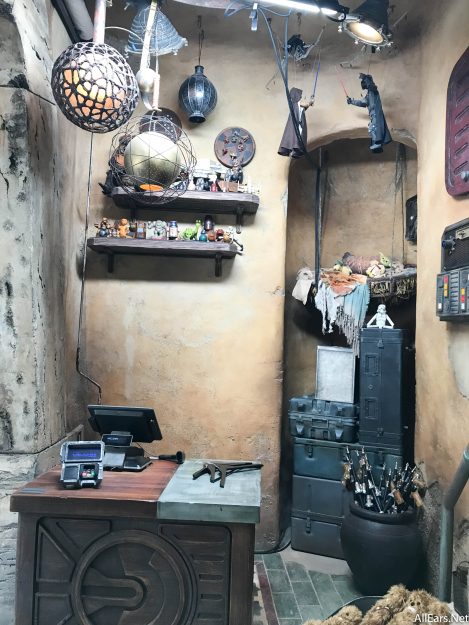 The shop is a bit… well, messy. You will find piles of toys placed on makeshift tables. From the walls hang droids, TIE fighter models, and puppets. Look at the Jedi battling Darth Vader up in the corner!
Around the shop, you'll see crates full of toy-making materials and toys in mid-creation. Be sure to keep your eyes peeled, as you may even spy Zabaka herself. She likes to hang out near the back window, so watch for her silhouette as she creates new toys for the shop.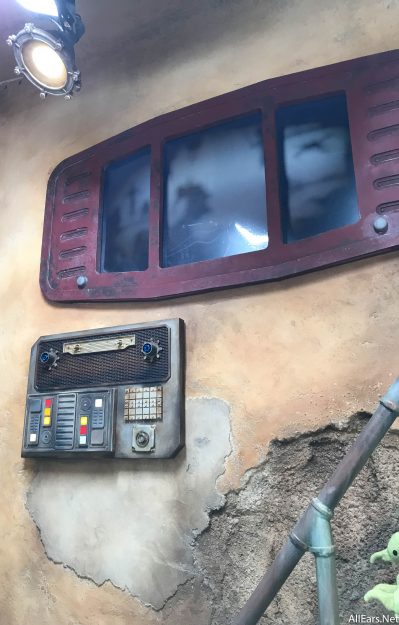 Merchandise
Mostly created out of wood, cloth, and tin, these toys will be great collectibles for you and your young Padawans.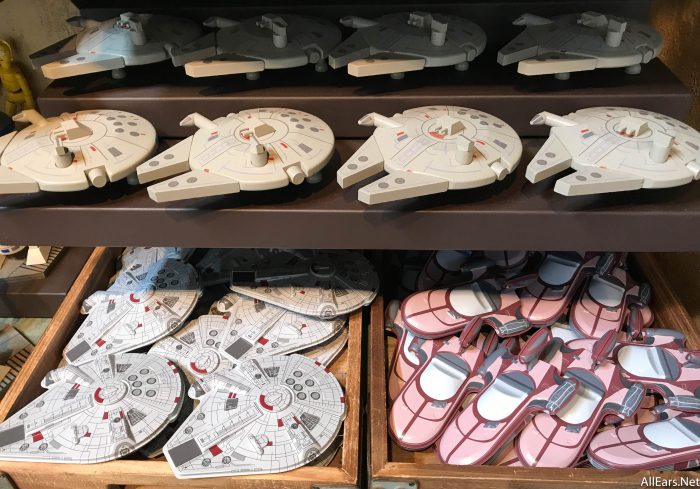 There are games like Sabacc cards, Chance cubes, and more — toys and games that are apparently all the rage on Batuu at the moment.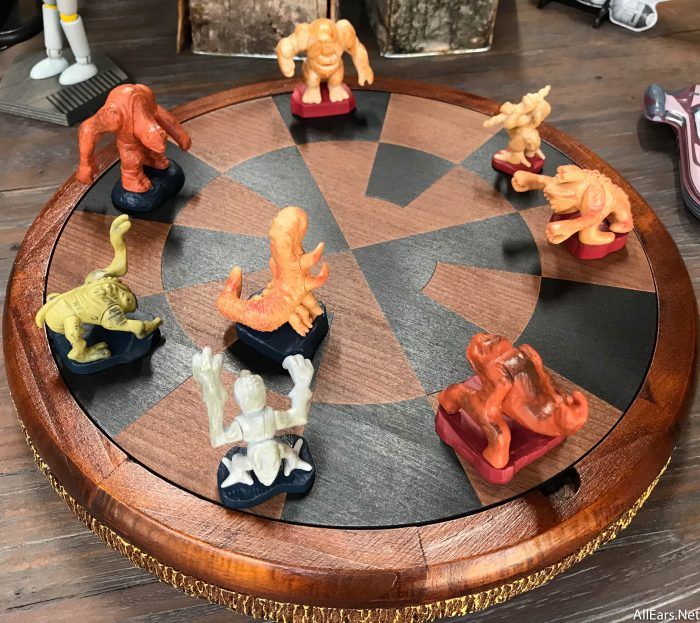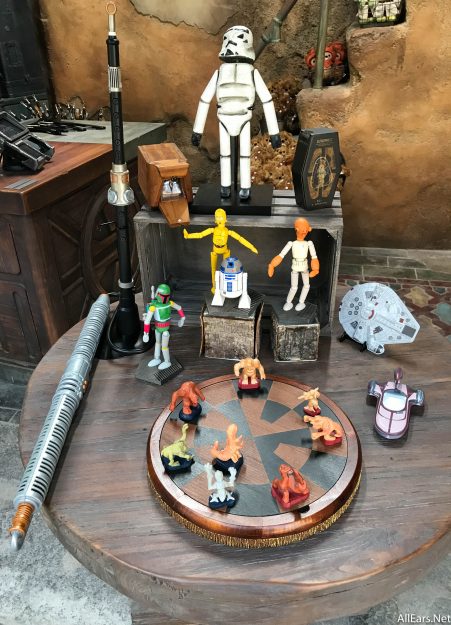 You'll be able to create the music from Star Wars: Galaxy's Edge back at home if purchase some Ewok drums. But if you're looking for dolls, go no further. Zabaka has created a range of cuddly characters based on tales she's heard throughout the galaxy. Classic Star Wars characters like Chewie, Rey, Kylo Ren, Ewoks, Leia, Porgs, Yoda, and more. Not sure I'd ever want my kids to snuggle up with a little Stormtrooper or Kylo Ren doll, but, well, there you go.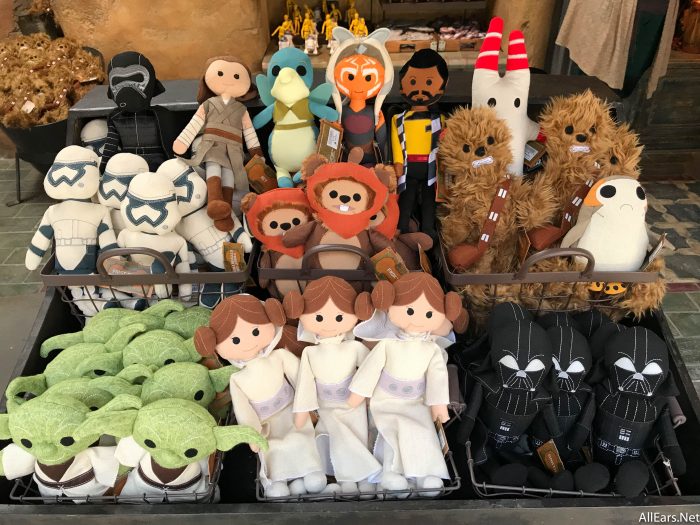 You will find that this souvenir shop is very different from any other you've seen at a Disney park. The items are not priced or packaged like you're used to.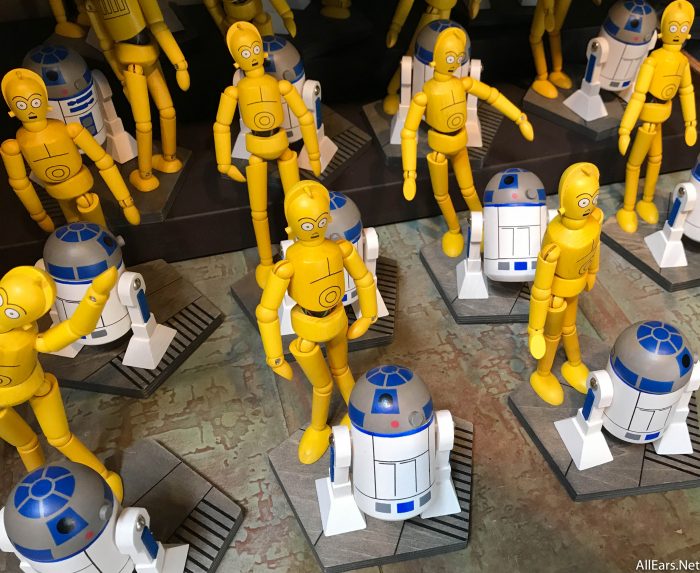 What can you not wait to buy? What will you need to save your Galactic Credits for? Let us know in the comments below!
Disclaimer: AllEars.Net was an invited media guest of Disney at the debut of Star Wars: Galaxy's Edge, but this did not affect our opinions. Our opinions are our own!
Star Wars: Galaxy's Edge at Disneyland is NOW OPEN! Don't miss these posts about the new land:
Be sure to follow @allearsnet on Instagram and Twitter!
Check out our YouTube Channel for reviews, news, information and more!
Click below to subscribe to the AllEars® newsletter so you don't miss any of the latest Disney news!