Of all of the food and drink locations coming to Star Wars: Galaxy's Edge, we might just dare to say that we've been most excited to step into Oga's Cantina!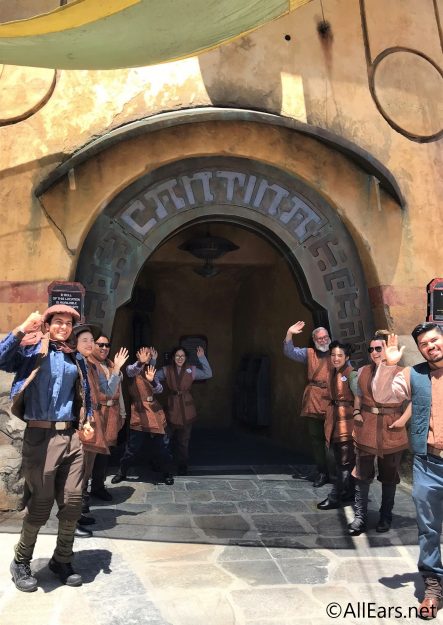 Ever since Han (or Greedo!?) shot first in "A New Hope" we've been excited at the thought of grabbing a drink at a galactic taproom. Just to be clear — Oga's Cantina in Galaxy's Edge doesn't appear in any film, but the influence from the the Mos Eisley Cantina  ("A New Hope") is obvious.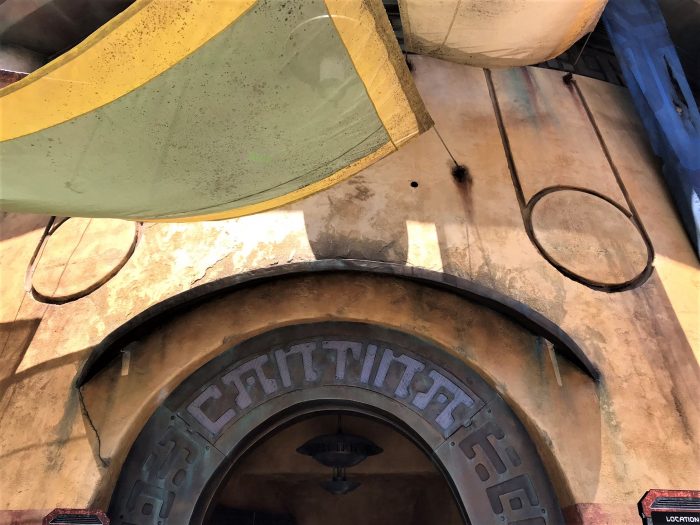 Are you ready to grab a drink with us on Batuu? Read on for our full review!
Oga's Cantina is located across from the Milk Stand and around the corner from the Millennium Falcon in a large domed building. Oga Garra is the proprietor here, and it's fun to ask the locals if she's around. While we don't think she will ever make appearances, we still got various answers from the villagers about her whereabouts. Responses ranged from "she drops by periodically" to"we never see her." It's fun that the Cast Members are truly immersed in the experience and your interactions with them will likely be different every single time. Also, be on the lookout for Storm Troopers who pop in from time to time to make sure everything is in order.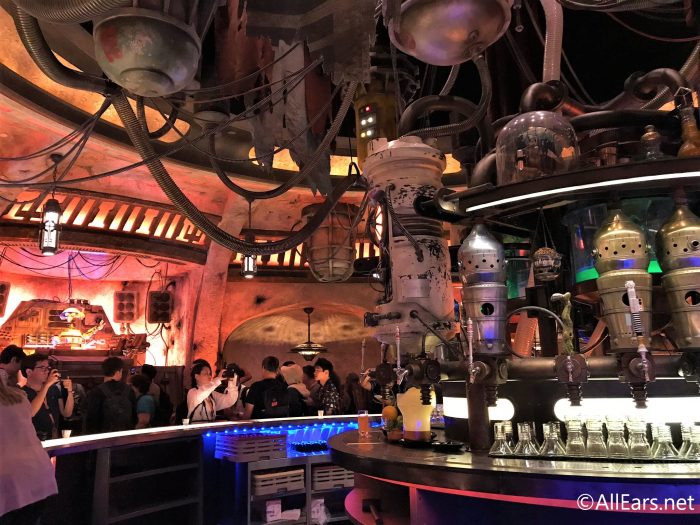 Once inside, you'll immediately feel like one of the Villagers (if you didn't already!). Along the walls of the cantina are several large, semi-circular booths made of dark leather, as well as large, curved standing tables. All of the tables appear to be wooden — but they have lights embedded in them! These change colors and illuminate your drinks, which is an awesome touch.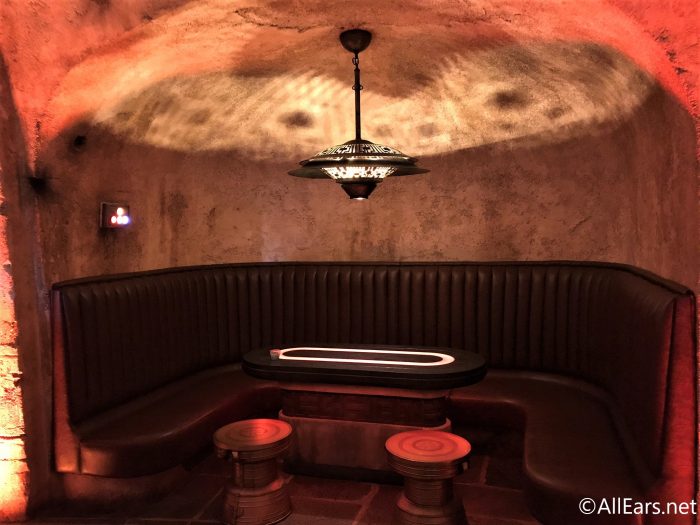 There are lots of exposed pipes and tubes, and various flags hang from the ceiling. Along the floor, you'll see a bunch of various-sized flat rocks have come together instead of tiles.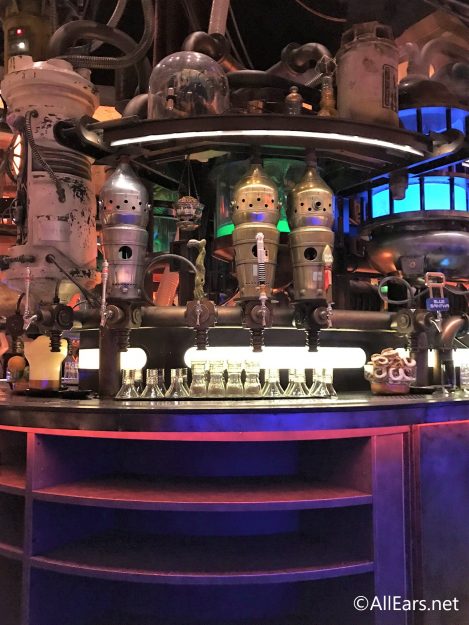 The bar itself is in the center of the Cantina and is HUGE. It's circular in shape and snakes around the entire space. It's also illuminated so that your drinks "light up." Look at the center of the bar, and you'll see a large structure. You can't miss it because it goes all the way to the ceiling! This contains all of the drink taps — but that's not all! Be on the lookout for some strange creatures in tanks (like worrts!) and canisters of bubbling liquid.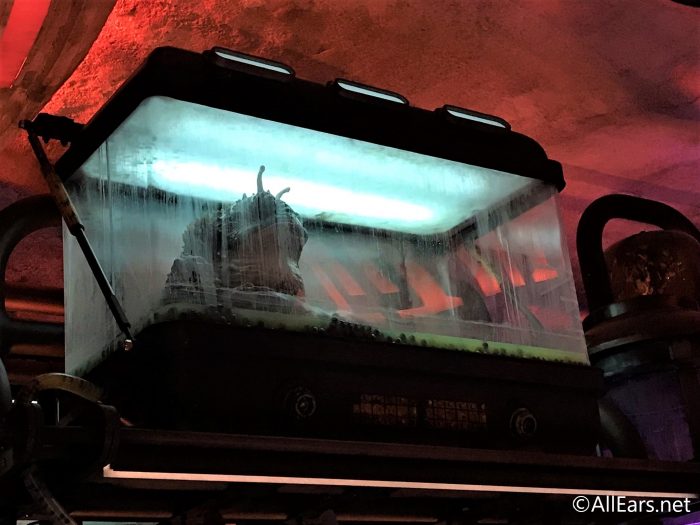 Hear that whimsical space music? That is courtesy of DJ R-3X! Star Tours fans may recognize him as the former pilot of the StarSpeeder 3000 from the original version of the attraction. Back then he was known as RX-24, but sadly for Rex, he failed pilot school. Lucky for us, though — he found his way to Batuu and is now spinning the hits from a galaxy far, far away!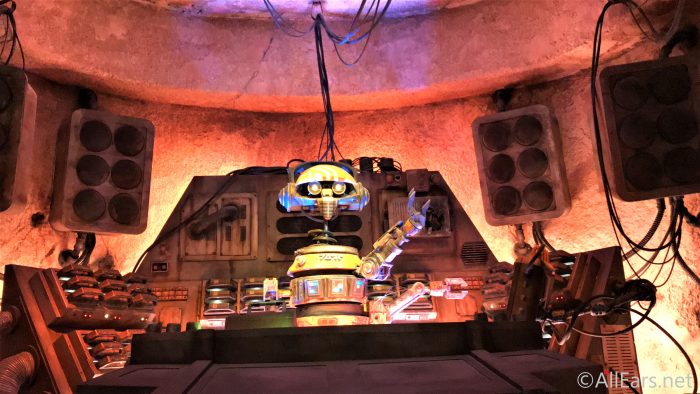 He is super cute and such a fun touch to Oga's! But keep in mind he won't interact with you. Much like another outer-world entertainer, Sonny Eclipse (at Cosmic Ray's Starlight Cafe), he has a set show that repeats throughout the day.
Now for the "good stuff"– the drinks! Bartenders behind the bar are taking orders, as are roaming cast members to help with the crowds. One interesting thing to note is that all of the drinks — including cocktails — are pre-made. (We assume to help with time management.) The bartenders are just pulling taps, so you won't be able to make any kind of modifications to the recipes or order a standard bar drink. (There are no liquor bottles to be seen.)  Additionally, when we were at Oga's there wasn't a straw in sight.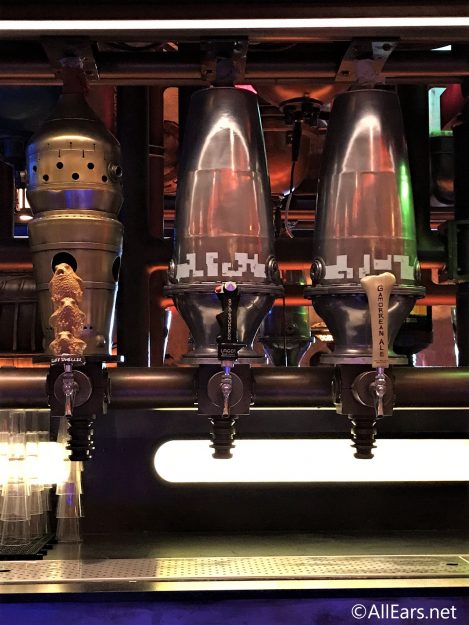 Most of the drinks here are pretty sweet, so keep that in mind when you're ordering. It appears Batuu is not the place to go if you're hoping for a stiff cocktail on the rocks. That said — several of the drinks we tried were tasty and super colorful! They have been stylized wonderfully to feel other-worldly, and look really awesome with the bar illuminating them.
Let's take a look at a few of our favorites!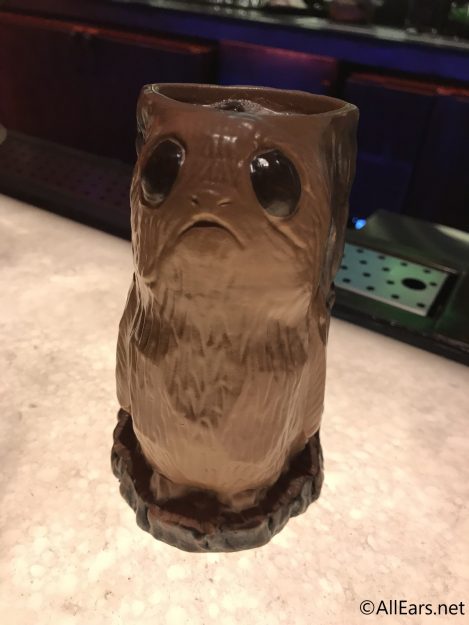 The Cliff Dweller is Citrus Juices, Coconut, Hibiscus-Grenadine, and Seagram's® Ginger Ale, and comes in this ADORABLE souvenir Porg Mug! This one is non-alcoholic so your young padawans can enjoy it.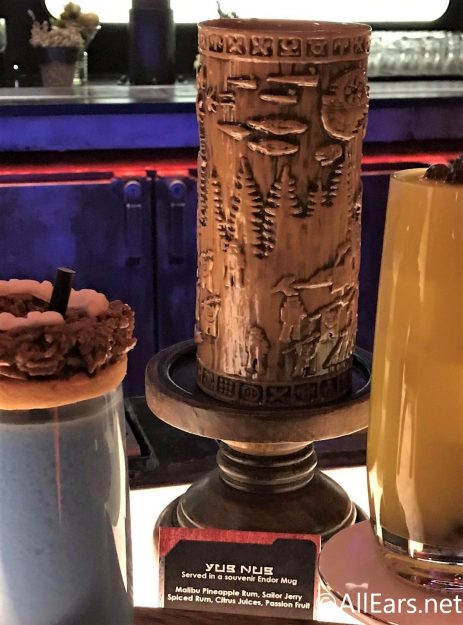 The Yub Nub is Malibu Pineapple Rum, Sailor Jerry Spiced Rum, Citrus Juices, and Passion Fruit. It can be served in a souvenir Endor mug!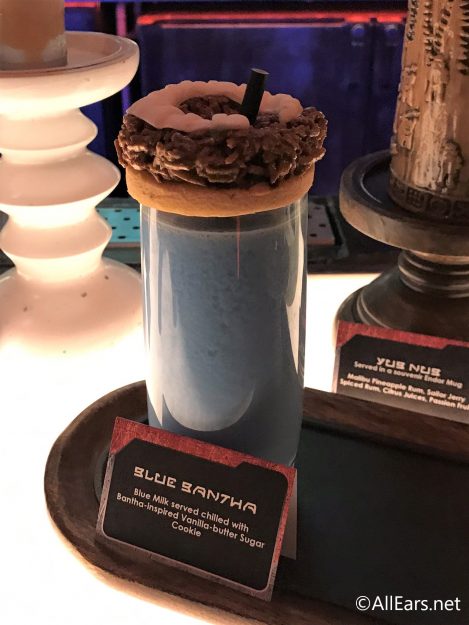 The Blue Bantha is the iconic drink from "A New Hope" kicked up a level. It is Blue Milk served chilled with Bantha-inspired Vanilla-Butter Sugar Cookie. This is also non-alcoholic — and basically dessert!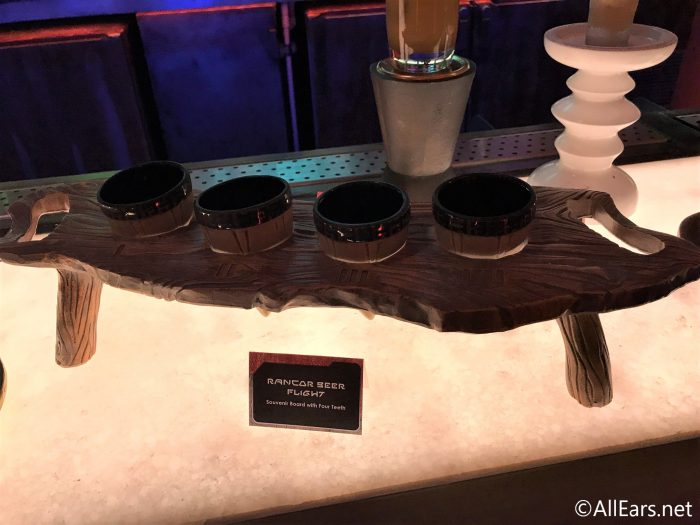 Beer lovers can also get the Rancor Beer Flight which is served on a souvenir board with teeth glasses, and features beers exclusive to Galaxy's Edge.
And don't forget — we have the full menu posted here so you can check out the entire list of galactic libations. This includes more non-alcoholic concoctions for your young padawans, and the rest of the drinks for full-sized Jedis. 😉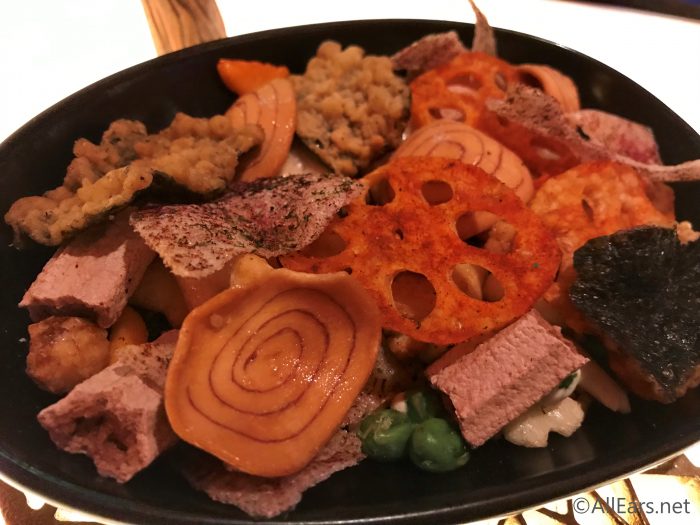 Beyond drinks, Oga's does serve a sweet and savory snack mix called "Batuu Bits." It's served in a dessert plate-sized portion so you can share it if you're not starving or just want to try. Breakfast will also be available, where you can grab the Mustafarian Roll or the Rising Moon Overnight Oats (both of which are also available at Docking Bay 7, and the oats will also be at Ronto Roasters).
You can also get the specially packaged Coca-Cola products at Oga's. When we went there was a three-bottle limit per person, so keep that in mind.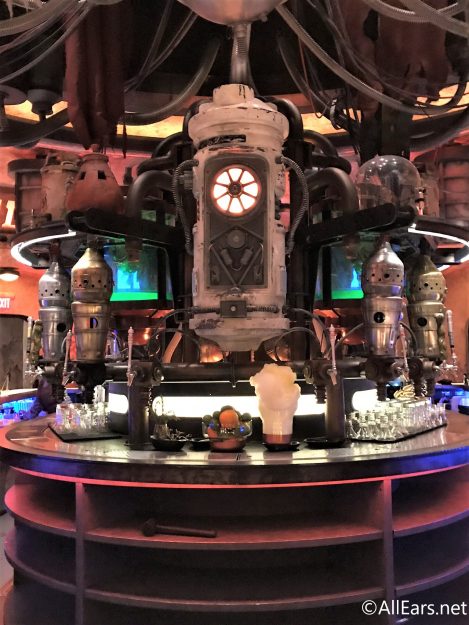 As an important note: that if the Cantina is a must-do for you, we HIGHLY recommend heading there first thing. During our preview, the line was 45 – 60 minutes the entire time, and the line was cut an hour before the reservation period was over to ensure each guest had enough time inside. Speaking of being inside, we were told the rules while we waited — there's a 45-minute time limit and two-drink maximum per person. Additionally, seating is not guaranteed while inside. We aren't sure how long these rules will be in place, but it's safe to assume it'll be this way for a few weeks at least (until all the Galaxy's Edge madness dies down).
So there you have it — a first look and review of Oga's Cantina! What did you think? Are you excited to grab a drink among the locals? Let us know in the comments!
Disclaimer: AllEars.Net was an invited media guest of Disney at the debut of Star Wars: Galaxy's Edge, but this did not affect our opinions. Our opinions are our own!
Star Wars: Galaxy's Edge at Disneyland is NOW OPEN! Don't miss these posts about the new land:
Be sure to follow @allearsnet on Instagram and Twitter!
Check out our YouTube Channel for reviews, news, information and more!
Click below to subscribe to the AllEars® newsletter so you don't miss any of the latest Disney news!