Conservation and caring for the planet have been core values of The Walt Disney Company since the beginning. In fact, Walt himself ensured that one-third of the land purchased for Walt Disney World would never be developed for entertainment, but would be used for conservation projects. And last week, we were lucky enough to tour one of Disney's newest green initiatives — a brand-new Solar Energy Facility!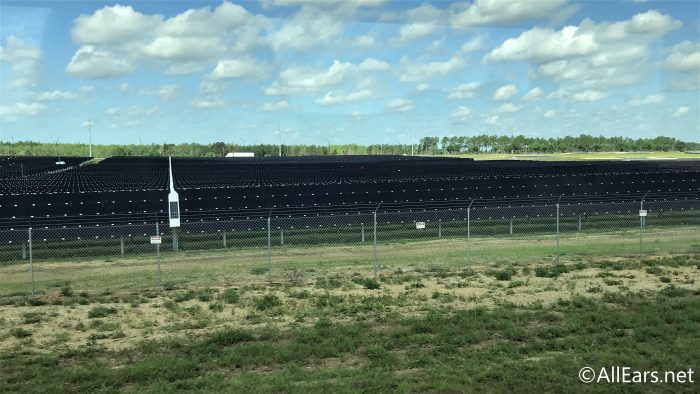 The Solar Facility is located just outside of Walt Disney World property, in the Reedy Creek Improvement District — which is the municipality that oversees Walt Disney World. Origis Energy USA, a solar energy company out of Miami, served as the developer on the project.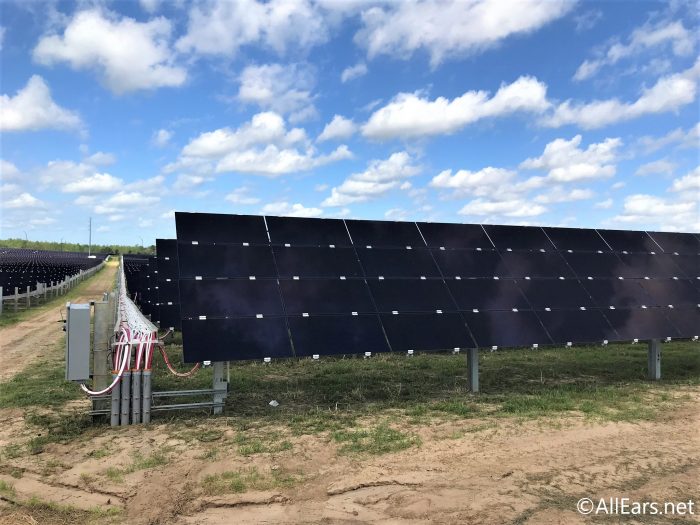 This 270-acre facility boasts more than 500,000 solar panels, and during peak sun hours can produce enough energy to run up to 25 percent of Walt Disney World. The energy produced will all be sent to the utility grid, and used throughout Disney property to power the magic. These half-million panels are capable of producing more than 50 megawatts of power. That's enough clean energy to power approximately 50,000 homes, or TWO Walt Disney World theme parks!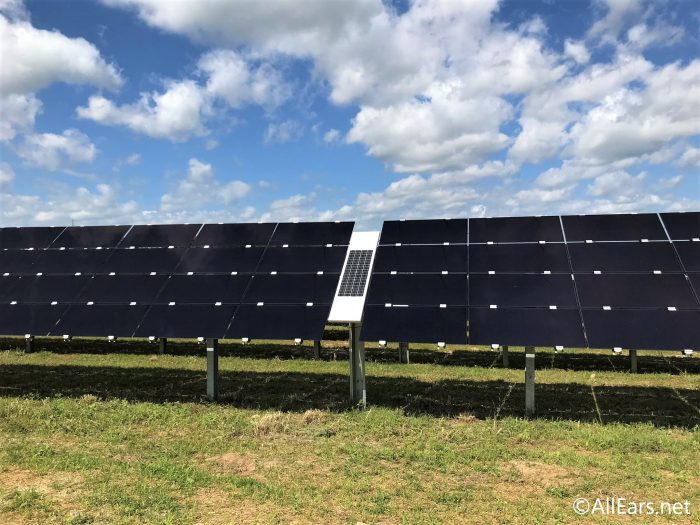 The panels sit on motors, which use a solar-powered tracker (the white panel in the middle, above) to follow the sun. The tracker tells the panels which angle to face so they receive maximum sun exposure. For example, at noon they will lay flat, facing directly up.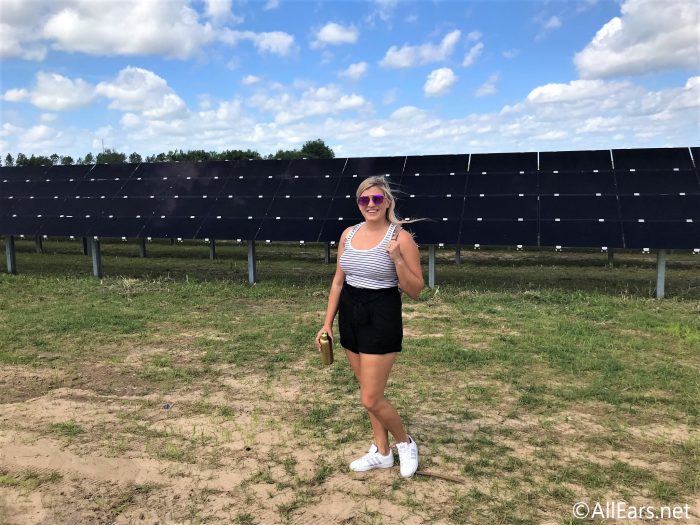 The panels are able to absorb energy during the day, even if it's rainy or overcast — though it may not be as much as a full sunshine day. And as you can tell — the panel arrays are huge!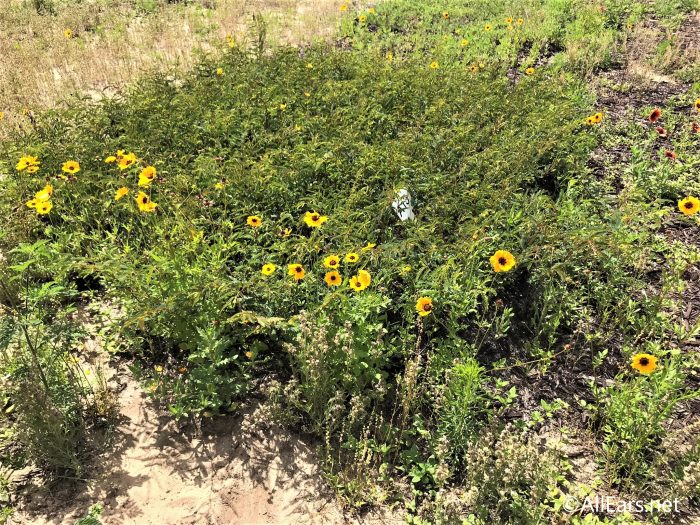 Solar isn't the only resident on the new property. Disney Animal Sciences and Horticulture teams are also collaborating to plant a huge pollinator garden.  Currently they are in the testing phase to see which plants are most successful, but eventually two-thirds of the property will be covered in plants and flowers that attract helpful pollinator species. In time, they'd like to see more than 50 species of bees, butterflies, and other insects thrive in this garden — especially endangered species. So far they have seen about 15, in just a few short weeks.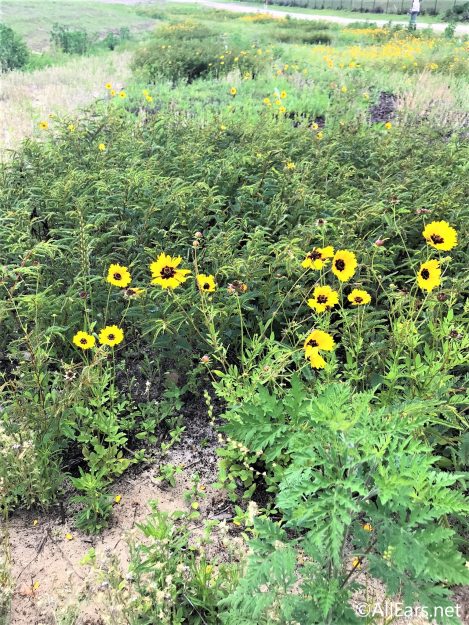 And, as a fun surprise…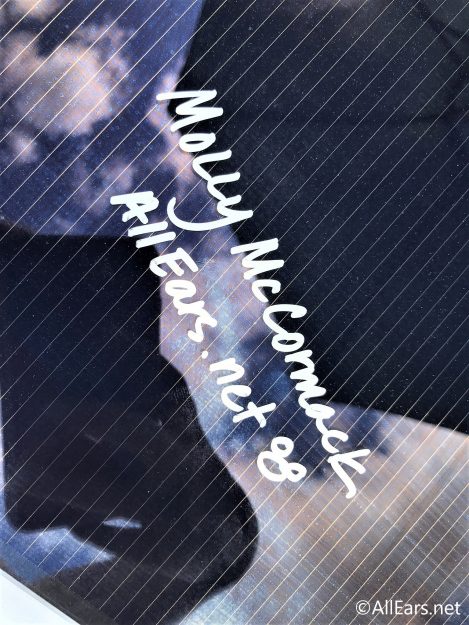 …AllEars.net got to leave its mark on a panel for years and years to come!
This new property joins the much smaller, Mickey Mouse-shaped solar facility near Magic Kingdom, which opened in 2016 as part of Disney's long-term sustainability goals. These solar facilities are a big part of Disney's goal to cut their greenhouse gas emissions in half by the year 2020, as compared to 2012.
"You've probably heard people talk about conservation. Well, conservation isn't just the business of a few people. It's a matter that concerns all of us."  – Walt Disney
What do you think of the new Solar Facility and Disney's sustainability goals? Let us know in the comments!
Read more about Disney's commitment to conservation and its other "green" initiatives:
Be sure to follow @allearsnet on Instagram and Twitter!
Be sure to check out our YouTube Channel for reviews, news, information and more! 
Click below to subscribe to the AllEars® newsletter so you don't miss news of any of the latest Disney news!

AllEars.Net was an invited guest of Walt Disney World at a Media Tour of the Solar Facility. This did not affect our opinion; our opinion is our own.