What could be better than a Thanksgiving Day Feast in the Grand Ballroom at Disneyland Hotel? Plan now to attend Disneyland Hotel's Thanksgiving Day Feast on November 22 from  11:30 a.m. to 6 p.m.
The Thanksgiving Feast is cooked up by Disneyland Hotel's chefs and served in an immersive atmosphere, complete with seasonal décor.  Plus, there will be visits from some popular Disney pals to make for memorable photo opportunities.
Your feast is served all-you-care-to-enjoy buffet-style with lots of traditional holiday fare, gourmet specialties, and a kid-friendly menu perfect for your youngsters.
Thanksgiving Day Feast at the Disneyland Hotel Menu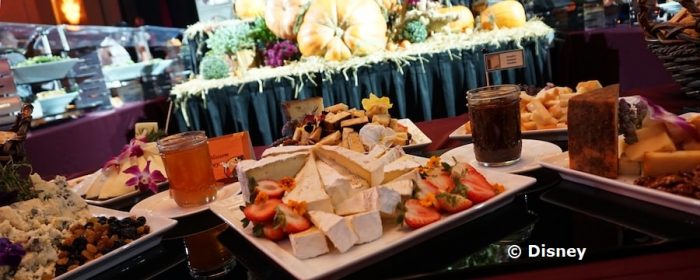 Starters and Salads
Artisanal cheeses
Charcuterie
Chilled poached jumbo shrimp and crab legs
Market-fresh green and prepared salads
Smoked salmon
Carved-to-Order Meats
Succulent roast turkey
Prime rib of beef
Fixings and Sides
Homemade stuffing
Sweet potato soufflé
Fresh cranberry-orange relish
Mashed potatoes and gravy
Desserts and Pastries
Classic pumpkin pie
Make your own Ice Cream Sundae
Chocolate mousse
Cookies
Tarts
Children's Buffet
Crisp Chicken Nuggets
Homemade pizza
Macaroni and cheese
Fresh corn
Dessert selection
Complimentary Beverage Selections
Lemonade
Ice Tea
Milk and chocolate milk
Soft drinks
Coffee
Tea
One specialty cocktail or nonalcoholic specialty drink is provided with buffet. In addition, a full bar selection is available for purchase, including wine by the bottle.
Please note: all menu items and event experiences are subject to change without notice.
Pricing, Reservations and Parking
The cost for this dining event is $120 for adults and $35 for children (ages 3 through 9), plus tax and gratuity. There is no charge for children under 3 years of age.
Reservations
To book your reservation for the Disneyland Hotel Thanksgiving Dinner Buffet, check availability online or call (714) 781-DINE or (714) 781-3463. Full payment is required at the time you make your reservation.
Please note: reservations must be canceled 72 hours prior to the event to avoid being charged the full admission price.
Parking
Complimentary 4-hour self-parking is available at the Disneyland Hotel only. After the initial 4 hours, regular parking rates will apply. We recommend you allow additional arrival time, as your ID and vehicle may be checked by security.
Are you planning on feasting in Disneyland this Thanksgiving? Let us know in the comments!