A few weeks ago, I wrote about my experience with Digital Key, the keyless way to open your room door simply by using the My Disney Experience app on your Bluetooth-enabled mobile device.
At the time, I was staying at the Boulder Ridge Villas at Wilderness Lodge, and the feature was just beginning to be rolled out.
As of now, though, you can use Digital Key at ALL Walt Disney World Resorts! The rollout is complete.
In case you're wondering, here's how it works:
When you reach your room, open your My Disney Experience app on your mobile device and go to your Reservations. You should see something like this:
Hold your device close to the door lock and tap the "unlock door" button on your device's screen.
If everything's working the way it ought to, you'll hear the lock on your door click and you're in! The lock is open and you may enter your room. Just in case you don't hear the click, your device will tell you of your success, with a magical sound and a sprinkle of pixie dust across the screen: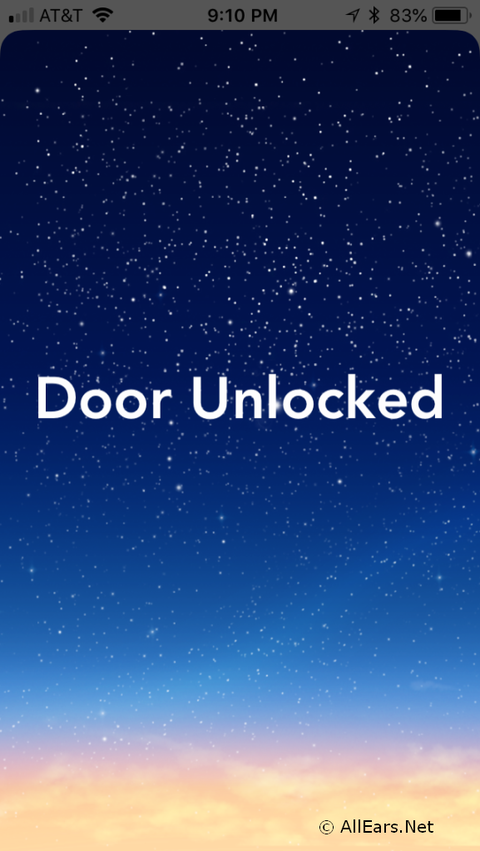 If you struggle with contorting your wrist to use your MagicBands, if you're the forgetful sort who leaves your MagicBand behind somewhere, or even if you just love new tech, then this alternative is for you. I have since used Digital Key at the BoardWalk Resort, too, and find it so easy to use — not only at the room, but also at other locked areas around the resort, including pools and fitness centers.
Oh, if only everything in life worked so well! As I said in my earlier report, I am amazed at what we can do just by holding our phone or mobile devices in our hands.
Have you used the new Digital Key feature of the My Disney Experience app? What do you think? What other enhancements would you like to see in MDE? Let us know in the comments below.