San Diego Comic-Con has come and gone again, providing somewhere in the vicinity of 130,000 attendees an opportunity to immerse themselves in all aspects of pop culture.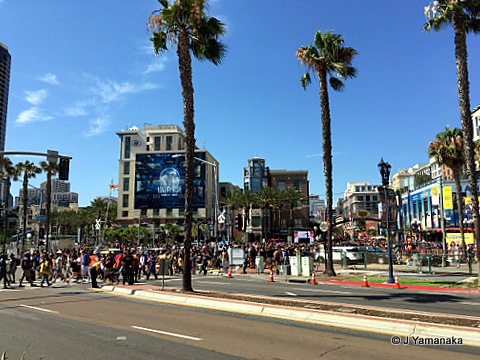 While Disney's main SDCC perennials Star Wars and Marvel passed on their usual big Hall H presentations this year, they made a strong showing with D23, their official fan club. As its first big foray into the madness that is Comic-Con, D23 put on two panels and a member mixer.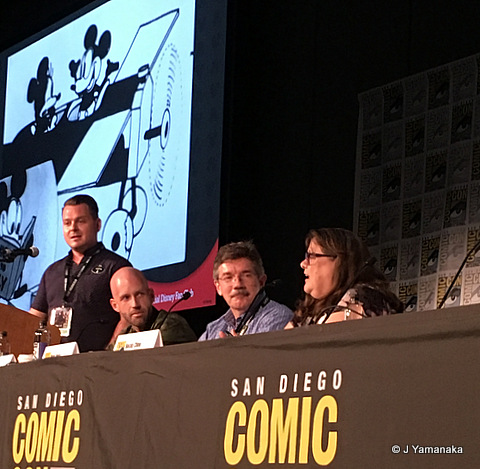 Starting off its first-ever SDCC panel, "Celebrating 90 Years of Mickey Mouse with D23: the Official Disney Fan Club," Walt Disney Archives Director Becky Cline, Official Voice of Mickey Mouse Bret Iwan, and Master Disney Animator Mark Henn took the audience members through a whirlwind tour of the iconic mouse's long and famed history.
Cline detailed Mickey's birth, from the ashes of Charles Mintz's takeover of Walt's initial star "Oswald the Lucky Rabbit," and his entry into the era of motion picture "talkies." Iwan discussed the what Walt and his animators went through to innovate the process of synchronized sound and reminded us that the legacy he continues as Mickey's voice originated with Walt himself. They showed a clip from "Karnival Kid," showcasing Mickey's first words on screen. After Henn spoke on the animation debt Mickey owed to original animator Ub Iwerks, the panel touched a little on the origins of Mickey Mouse merchandise, from seamstress Charlotte Clark making the first set of plushes, to some of the more esoteric items like undies and pocket knives.
Moving on to the evolution of Mickey's appearance through the years, Henn paid tribute to Disney Legend Freddie Moore as one of the fundamental influences on developing the distinctive "Disney appeal" in animation in general and bringing increased personality and expressiveness to the mouse specifically. "Fantasia" was mentioned as providing both a huge boost to Mickey's popularity and being the first vehicle to show Mickey having eyes with pupils.
Passing through the '50s, Cline talked about Mickey's increasing exposure through television, in "The Mickey Mouse Club," and Disneyland, and then leaped forward to the '80s when Archivist Dave Smith established Mickey Mouse's birthday as November 18. The Mickey imagery on the outside of "Star Traders" at Disneyland was revealed to be Henn's work, which he describes as his "one big contribution to Disneyland." After Iwan spoke a little on his history with Disney and his assumption of the role of Mickey Mouse, Henn briefly described bringing Mickey back and forth through different styles of animation in "Get A Horse."
Arriving at the present day, the panel spoke a little about some of Mickey's activities going on surrounding his 90th birthday, including Iwan's involvement in voicing Mickey in the upcoming "Kingdom Hearts III."
The panel finished with an official unveiling of the 90th birthday portrait of Mickey Mouse created by Henn, titled "Spreading Happiness Around the World."
Fans can join D23 at Gold Membership ($79.99), Gold Family Membership ($104.99), and General Membership (complimentary) levels at D23.com and at shopDisney.com/D23.