Walt Disney World annual passholders can take advantage of a bouquet of new offers, including several at the Epcot International Flower and Garden Festival.
Each passholder is invited to take advantage of complimentary dedicated seating at the Garden Rocks concerts, which take place every Friday, Saturday, Sunday and Monday during the festival through May 28. Distribution of wristbands for the reserved seating begins when Epcot opens each day and continues while supplies last through:
** 4:30 p.m. for the 5:30 p.m. shows
** 5:45 p.m. for the 6:35 p.m. shows
** 7 p.m. for the 8 p.m. shows
The wristband pick-up area is located in the Fountain View Hallway at Epcot, just behind Club Cool. Each passholder can get up to three additional wristbands when showing a valid annual pass and photo identification. Note that wristbands are only good for the specific showtime and date they are issued.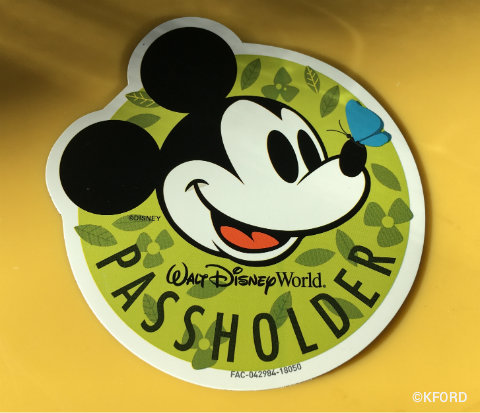 Walt Disney World is continuing its popular annual passholder magnet giveaways with two new seasonal magnets. The spring-themed magnets are available to passholders during the Epcot International Flower and Garden Festival. A Mickey Mouse magnet can be collected from the start of the festival through April 8 and a Minnie Mouse magnet — the first time for this character — from April 9 through the end of the festival on May 28.
When I went to pick up my spring Mickey magnet (in the same location as concert wristband distribution) during the opening weekend of the festival, I found the distribution to be more organized than that of the holiday magnets at Hollywood Studios. A cast member was directing guests to a queue. When I reached the front of the queue, another cast member scanned the annual passes for my family and gave me the appropriate number of magnets. This was a nice surprise because in the past, each person had to present his or her own pass. With the new system, one passholder in a group can present the passes for the entire group, which is so much more efficient. It also cuts down on passholders who collect more than the one magnet per guest.
On the second Saturday of each month, annual passholders can attend an exclusive shopping experience at a Disney Springs retail location. Passholders will have the store to themselves for an hour during which they can use their 20 percent discount. There will be surprises that could include food and beverage samples, sneak peeks at new offerings and guest speakers.
Passholders will be notified by email to register for each Super Saturday experience. The first event takes place from 9 to 10 a.m. March 10 at World of Disney, and it's already full. That email went out on March 1 so I would suggest looking for the email invitations at the beginning of each month if this interests you.
On March 17, passholders can attend a special day designed to give them exclusive access to game-day suites during a spring training game. Passholder Suite Day packages are available for the Atlanta Braves versus St. Louis Cardinals game at 1:05 p.m. and include a full ballpark buffet, admission to the game and the opportunity for your kids to run the bases after the event. The cost is $112 per adult and $85.50 per child ages 3 to 9. Adults who want to upgrade to on-field passes, which include watching battling practice before the game, pay $132 and children pay $105.50. To purchase your tickets, call 407-939-GAME.
Finally, through the end of March, passholders can save 30 percent on the Savor the Savanna: Evening Safari Experience. This privately guided tour goes into the heart of the Harambe Wildlife Reserve with private viewing areas. While savoring the Savanna scenery, guests will sample African-inspired cuisine paired with regional wine and beer offerings. Each participant takes home a keepsake. Call 407-939-TOUR to book Savor the Savanna. Deb Wills and Linda Eckwerth recently took this tour, and Deb shares all the details in her latest blog.