New Disney venues bring new Hidden Mickeys (at least, that's my undying hope – which is not assured by any means). Thankfully, we've spotted a few new Hidden images as Disney Springs continues to expand.
Enzo's Hideaway Tunnel Bar and Restaurant is an underground speak-easy retreat located between The Edison and Maria and Enzo's restaurants in The Landing. High on a wall along a corridor to the Hideaway, a black musical note is drawn as a tiny classic Hidden Mickey! (Thanks to Cast Member Jill).

In a display behind glass situated in a hallway near the lower level seating area for Maria and Enzo's restaurant, a white classic Hidden Mickey is stuck on the front middle of an airplane propeller.

Here's an area photo to help you locate the airplane. It's on the middle shelf of the display.

What about the carpet at the inside entrance to the AMC Disney Springs Theaters; do the yellow circles form classic Hidden Mickeys? (Thanks to Donald Torr).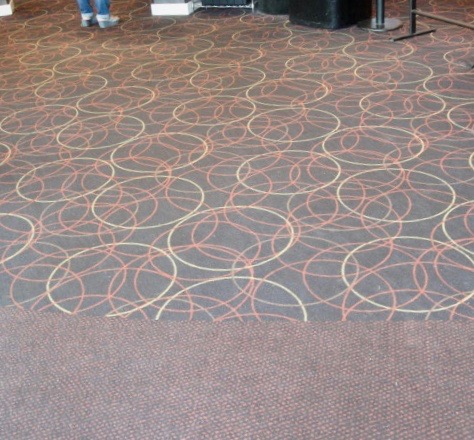 A new Hidden Mickey is a beautiful thing!