For many of us, our furry pets are like family, and we include them in our Christmas celebrations with stockings, presents and holiday sweaters. But Florida residents and visitors can help marine life celebrate the season, too. SeaWorld Orlando has a fantastic Christmas Celebration, and now Clearwater Marine Aquarium, home of Winter the dolphin, has its Winter's Wonderland. But, hurry, there are just three days left to celebrate at the aquarium!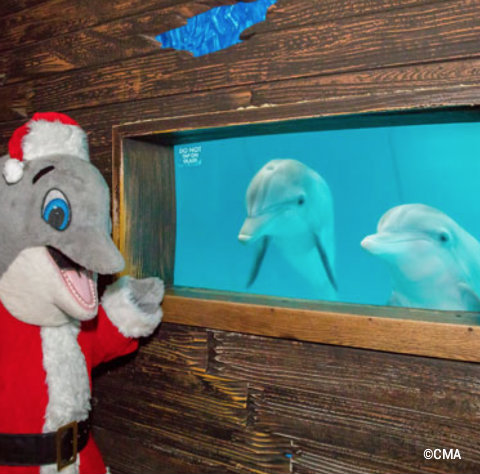 Through Saturday, CMA guests will be able to celebrate the season with these activities, which are included in a day's admission:
** Get a photo taken with the Winter Claus mascot.
** Check out the holiday-themed habitats for our resident animals.
** See special Santa dive presentations (11 a.m. and 2 p.m.).
** Enjoy the Kids Fun Zone in our 3rd floor classrooms for crafts and fun facts about penguins and polar bears.
** Experience a winter wonderland with lights and decorations all around.
The aquarium will have extended hours — until 9 p.m. — on Friday, Dec. 22 and Saturday, Dec. 23. Admission is only $9.99 after 4 p.m. During that time, the holiday activities will continue, plus visitors can:
** See special evening presentations with the rescued dolphins at 6:30 p.m.
** Sample complimentary holiday cookies.
** Children 10 and younger can collect a holiday gift of a Winter train set (while supplies last).
On Friday and Saturday, guests also can get in the holiday spirit with a Sea of Lights Boat Cruise. This 45-minute journey travels around Clearwater's finger islands. Guests can enjoy holiday treats, sing holiday songs and participate in holiday-themed trivia during the ride. Plus, they can learn about CMA while listening to a story highlighting its mission, residents and rescue stories. The price is $9.99 per person.
An online-only price of $17.99 is available for the combination of the boat cruise and Winter's Wonderland After Hours (after 4 p.m.).
After Christmas, Clearwater Marine Aquarium hosts holiday camps from Dec. 27 to 29 or Jan. 3 to 5 for kids ages 6 to 12. Campers also can choose to attend for a single day. Each day starts at 8:30 a.m. and goes until 4 p.m.
Campers will:
** Learn about cold weather adaptations and marine life.
** Blow bubbles to an otter.
** Feed the fish holiday treats.
** Take a boat ride around Clearwater Bay while conducting a plankton tow and investigate the samples under a microscope.
** Meet one of the animal care team members and participate in a private Q&A session.
** Make a marshmallow catapult.
** Construct an Elf parachute while engineering the best design.
The three-day price is $175 for annual passholders and $195 for the general public. Single-day prices are $75 for annual passholders and $90 for all others. At the time this blog was published, there was availability in both camps.
Can't attend a holiday camp in Florida? You can help the residents of Clearwater Marine Aquarium have a happy holiday by shopping in the online store, where all purchases help the organization's mission of rescue, rehabilitation and release of marine wildlife. The store has introduced new merchandise for the holidays, including special "Dolphin Tale" play sets, clothing and plush animals.
Clearwater Marine Aquarium is just a 90-minute drive from Orlando. Whether you're a local resident looking for a little different holiday experience for the family this year or an out-of-state visitor who has never been this close to Winter's home, the holiday mini-camps are good reason to take a road trip.