This past weekend, my daughter and husband got in the Christmas spirit by running the Greg Warmoth Reindeer Run at SeaWorld Orlando for the first time. This 5K takes place every December and is full of holiday cheer for the participants.
Registration was handled online through Track Shack, a local running store. Organizers were willing to register runners the day of the event if space was still available, but the race is capped at 4,500 participants. For comparison, that's about a third of the field that usually runs 5Ks at Walt Disney World. Packet pickup also is done at Track Shack, which is located in downtown Orlando.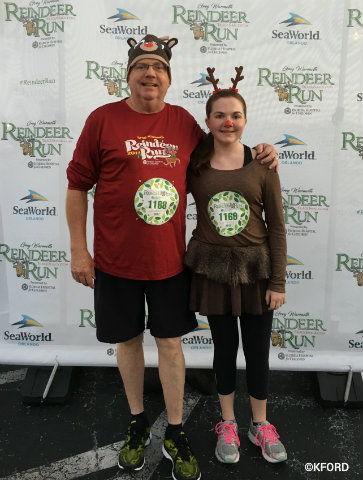 The price of the Reindeer Run is significantly less than runDisney, as well, at $30 to $38, depending on when you registered. Kids 17 and younger and seniors 65 and older were eligible for $10 off the price. Plus, when three or more participants registered together, they received 15 percent off their total. runDisney 5Ks now cost $80 apiece. Those fees come with different things, however. At SeaWorld's Reindeer Run, participants each receive a long-sleeve tech shirt, a bib, and a snack at the finish line. runDisney provides its participants with the same things and a medal at the finish line. In addition, there is a lot more entertainment on the Walt Disney World courses with character meet-and-greets. SeaWorld did offer photo opportunities throughout the race route, but they were stationary backdrops. Participants were given a voucher for 30 percent off one day's admission to SeaWorld, where they could meet Rudolph, Clarice, the Abominable Snowman and Yukon Cornelius.
My daughter and husband primarily have participated in runDisney races, so they couldn't help but make comparisons. Still, both said they really enjoyed the SeaWorld run and would definitely do it again next year.
The Reindeer Run is a more casual event — so casual, in fact, that participants are not timed. As such, walkers are encouraged and are even invited to push strollers. That is something you definitely will not see on a Disney course! Runners are not assigned to starting corrals based on their expected finish times. Instead, SeaWorld participants are divided into two groups: walkers and runners. Each group joins the appropriate queue as they arrive. Runners start before the walkers.
Carolers entertained the participants before the 5K started. Then, they took off around the perimeter of the parking lot before entering the park and circling through it. There was one water station along the way, plus an animal ambassador was out greeting participants. The 5K finished near Ports of Call, which is where post-race activities were located. At the end of the race, participants could make ornaments to donate to Florida Hospital for Children, which is a sponsor, or take advantage of other craft activities. My daughter really enjoyed that aspect of this event.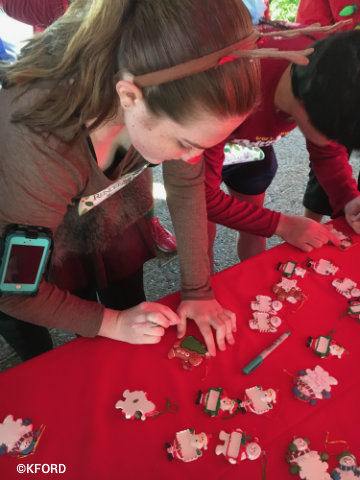 There also was a costume contest with prizes awarded for the "Most Creative Holiday Attire" for an adult (individual), a group (up to 8 members), and a child (up to age 18 years old). The adult winner received a two-night stay and dinner at Rosen Hotels & Resorts. The group and child winners received SeaWorld tickets.
Kids could participate in a free Rudolph Run with age-appropriate groups for distances ranging from 100 to 400 yards. Registration is on race day only. The first 250 registered participants receive a T-shirt, and all kids take home a red reindeer nose and finisher's ribbon. For the Rudolph Run, participants gathered under the Kids' Run Pavilion located inside the post-race area. They (and their parents) were walked inside the park for the races.
Runners were encouraged to bring new, unwrapped toys to the Reindeer Run to donate to Toys for Tots, the charity of the Marine Corps Reserve.
SeaWorld's Reindeer Run is a popular annual event that allows many different types of runners, walkers and children to join in the holiday fun while benefiting children's charities. My family looks forward to participating again next year!