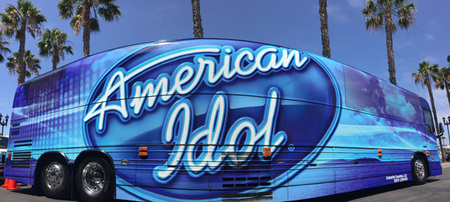 ABC's "American Idol" launches the start of its highly anticipated open auditions at Disney Springs at Walt Disney World Resort. The iconic "American Idol" bus will roll into Disney Springs for auditions taking place on THURSDAY, AUGUST 17. "Idol"-winners Jordin Sparks, Kris Allen and Ruben Studdard will make a special appearance and greet lucky audition participants during the kickoff celebration of the search for America's next superstar.
When the bus rolls away at the end of the day, Central Florida hopefuls will still have the chance to become a part of "Idol" history by auditioning via the "American Idol" pop-up audition kiosk, which will be at Disney Springs on FRIDAY, AUGUST 18, through FRIDAY, SEPTEMBER 15. During regular Disney Springs operating hours, visitors can create and submit their very own audition video at the kiosk.
If you can't make it for the Bus Tour audition, visit the "American Idol" website to audition online.
All singers must be at least 15 years old to audition. Pre-Registration is encouraged. To Pre-Register and for additional details, full eligibility requirements, submission forms, and terms and conditions, visit www.americanidol.com. Those auditioning can bring one guest to accompany them and the guest must be over 5 years old.
Auditions will simultaneously kick off on the West Coast in Portland, Oregon. Visit www.americanidol.com for more information and specific audition details, locations, full eligibility requirements, submission forms, terms and conditions.
"American Idol" is produced by FremantleMedia North America and 19 Entertainment, a division of CORE Media Group. Executive producers include FremantleMedia North America's Trish Kinane and Jennifer Mullin, along with co-executive producer Megan Wolflick. FremantleMedia International distributes the series worldwide.
Remember the American Idol Experience at Disney's Hollywood Studios!