Satu'li Canteen in the Pandora area of Disney's Animal Kingdom has added a great new menu option for groups dining together. The Satu'li Sampler Family Style Dinner allows guests to try all the different combinations of ingredients that can be purchased for individual signature bowl meals. My family and I were eager to try this new offering this week.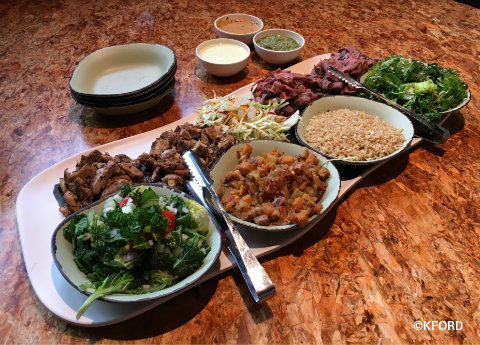 The Satu'li Sampler includes:
** 4 servings of protein. You can choose from slow-roasted, sliced grilled beef; chopped wood-grilled chicken; sustainable fish fillet; or chili-spiced crispy fried tofu. You can select any or all of the proteins. My family and I chose two servings of the chicken and two of the beef. My husband had tried — and enjoyed — the fish on a previous visit, but the rest of our family isn't big on fish, and none of us were interested in the tofu.
** 4 servings of the base foods: quinoa and vegetable salad; red & sweet potato hash; mixed whole grain & rice; or romaine & kale salad. You do not have the option to mix and match these dishes; you receive one of each.
** 3 types of sauce: Charred onion chimichurri; black bean vinaigrette; or creamy herb dressing. Your table will receive all three sauces, and they are refillable. Although we all tried each one, the creamy herb dressing, which was similar to a ranch dressing, was the most popular with our group so we did have to ask for a second bowl.
** 1 large serving of the vegetable slaw topped with yogurt boba balls.
** 4 non-specialty drinks. Choose from sodas, iced tea, lemonade, Powerade, orange juice, bottled water, coffee or tea.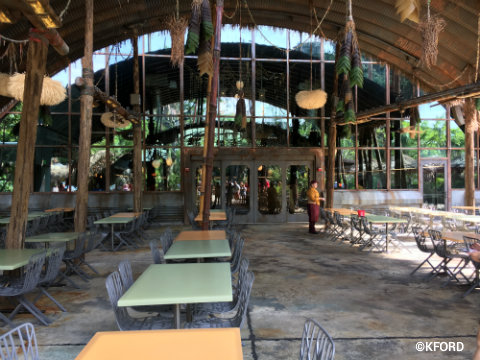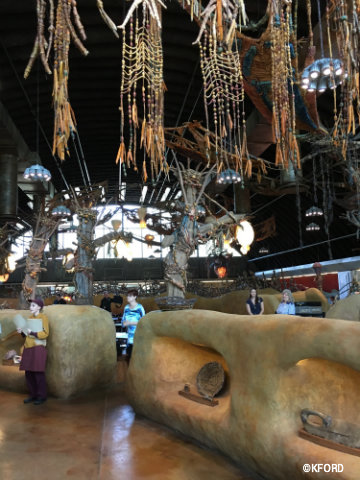 If you've never been to the Satu'li Canteen and you have a group of three or four adventurous diners, the Satu'li Sampler Family Style Dinner might be a good option for dinner. There are, after all, almost 50 combinations of signature bowls that can be created from the various proteins, bases and sauces. That many delicious options can be overwhelming for some people, and the Sampler Dinner eliminates the need for menu debates. Then, if you return to dine at Satu'li Canteen again, you know what you like and can order accordingly.
My husband, 12-year-old daughter and I all enjoyed trying the various components of the platter. My daughter has some digestive issues and, for her, the fresh food at Satu'li Canteen is ideal. She was able to sample everything and not worry about the rest of her night being spoiled by stomach pain.
However, my 14-year-old son is a pickier eater and wanted to hog all the chicken and rice. He would have been better off to have gotten his own meal because he was unwilling to try different combinations. (As it turned out, we did let him get another meal in addition to his share of the family platter because he's a competitive swimmer and needs more fuel for all that exercise.)
The price for the Satu'li Sampler Family Style Dinner was $74.99 plus tax. When you do the math, the sampler does end up costing more than ordering four individual Satu'li bowls ($11.49 to $12.99 each depending on your choice of protein) and four fountain beverages ($3.29 each). Plus, if you prefer a specialty drink or an alcoholic beverage, that's not included. You could, of course, opt for a bottle of water to take out into the park, though, if you don't want the selection of a fountain beverage to go to waste when you pay for a an adult beverage.
For my family, it was worth it to try the Satu'li Sampler Family Style Dinner at least once. In the future, I imagine we'll each order our own meals. (You can read my previous review of other dishes here.)
Know that when you order the sampler platter, you also receive extra assistance from cast members. They will bring your dinner to your table, as well as get your silverware and drinks for you. During the course of your meal, a dedicated cast member will check on your table, asking if he or she can bring you refills and inquiring if you need anything else. This is not the norm at Satu'li Canteen because it's a quick-service restaurant, not a table-service restaurant.
The Satu'li Sampler Family Style Dinner is only available from 5 p.m. to closing time.