Disney Springs really has undergone an amazing transformation. We have probably spent more time there in the last couple years than we had the 10 prior. Lots of great places to eat with a variety of tastes and prices. In fact, for several months we have been talking about noshing our way around Disney Springs.
We were staying at a Disney Springs hotel recently, so we decided it was time for Noshing Night! Our criteria was to sit at the bar and order a beverage and appetizer. A progressive dinner without dessert. One important note — Linda enjoys craft cocktails and I only drink wine (mostly red). Both of us were certain to be drinking lots of water and most of the bartenders were refilling our glasses without asking.
The sky was clear on this Friday evening as the week of rain had finally ended for a few hours. Still, it was a hot June evening.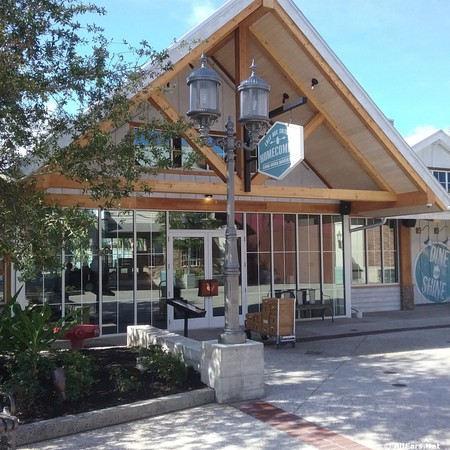 We began at Art Smith's Homecoming: Florida Kitchen and Shine Bar, one of our favorite places at Disney Springs.
The Homecoming bar has two options, you can either sit inside the restaurant (in air conditioning) or outside. We spotted two seats inside and sat down. Bartender Doug came over and introduced himself, keeping us happy for the duration.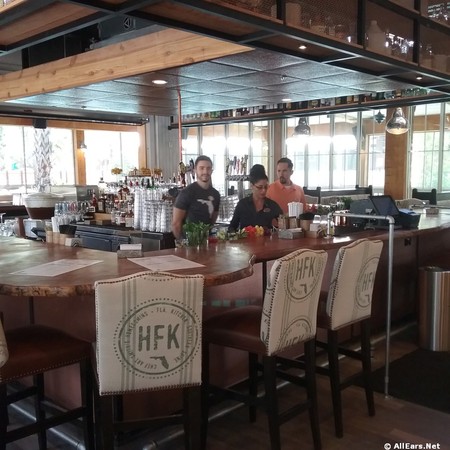 We perused the beverage menu. Linda feels that Homecoming has one of the best craft cocktail bars in Disney Springs. She chose the Cucumber Cooler, which consisted of Tito's handmade vodka with lime juice, simple syrup and crisp cucumber slices ($11). Linda asked for it very easy on the simple syrup and it came out perfectly. I actually might have enjoyed it on the rocks.
I chose an Alexander Valley Merlot ($12), although I would have preferred a nice crisp white — but this is a craft cocktail bar, not a wine bar (Winebar George, we can't wait for you to open!)
Drinks having arrived, it was time for food. We ordered the Church Lady Deviled Eggs ($10 for 6). OMG! We order them every visit! I recall the first time we ate there I was thinking, "Why pay so much money for a deviled egg?" But you have to try them! Then you'll understand.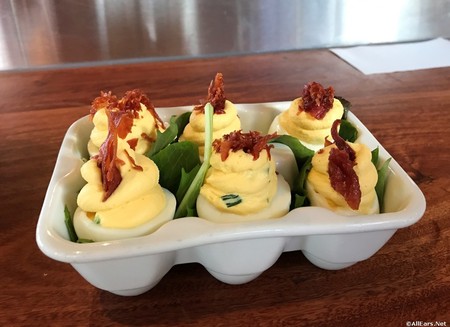 Linda then decided some of the Cheddar Cheese Drop Biscuits ($6) would be great, especially since we were drinking. Another OMG! These were quite different than the ones we had here previously. Our barkeep told us they had changed them and added cream cheese to fluff them up. They were outstanding! Who takes biscuits home in their doggie bag? We did!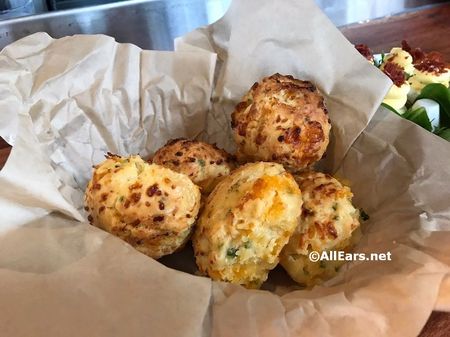 We chatted, noshed and sipped there for about an hour, paid our bill and left to find another spot.
Rating: Food 5*, Service 5*, Ambiance 5*.
As we walked outside, we talked about where to head next. Linda had a hankering for oysters so off to the Boathouse we went.
As you might imagine, it was quite crowded over there. There is the Captain's Raw Bar inside, just as you enter the restaurant, but we find it too loud to talk so we opt for the dockside bar.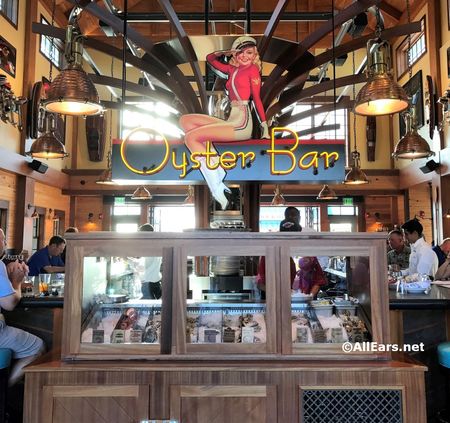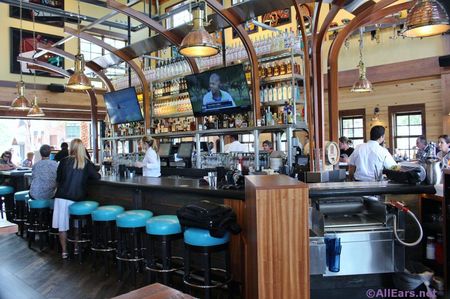 The only outdoor seating was in direct sun, so we walked around a bit in hopes something in the shade would free up. Sure enough, a table for two opened up at the outside bar with our names on it.
Linda placed an order for oysters along with a Blue Moon Beer. I was still feeling full from Homecoming and wanted something cool and refreshing so I ordered a glass of prosecco.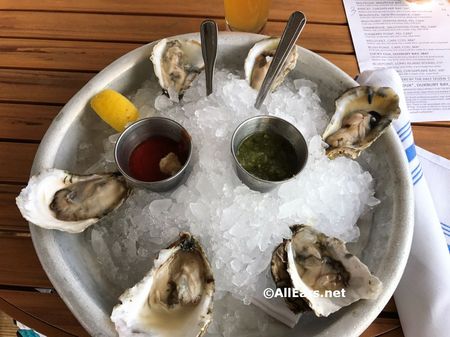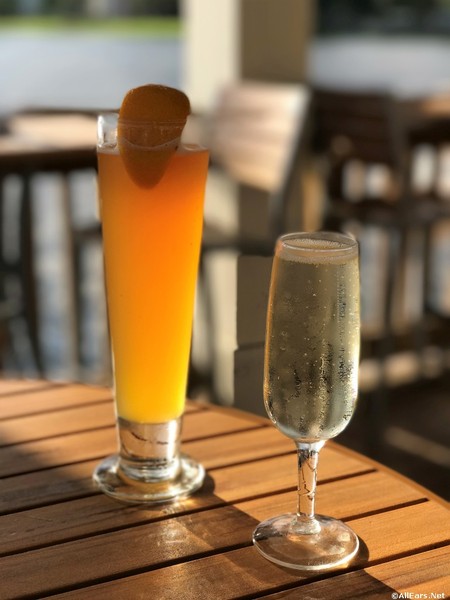 We have enjoyed beautiful sunsets at this location before, but tonight that wasn't meant to be. Instead we enjoyed watching folks in the Amphicars. In fact, we even got to see one of them being towed back in due to technical problems. Oops.
After we had been there about an hour, we felt the temperature had gotten increasingly hotter. Soon we were both feeling sluggish. Time to walk!
Rating: Food 5*, Service 3.5*, Ambiance 5*.
We saw lots of different types of entertainment around Disney Springs, which is always fun. I really like that they have enhanced this aspect since the total refurbishment of the old Downtown Disney. We enjoyed the strolling violinist, strolling piano and singer and a Living Statue. It was very entertaining to watch folks who wanted to get their photo with the Living Statue, but were not exactly sure how to approach him. We even had fun checking out the Lego displays.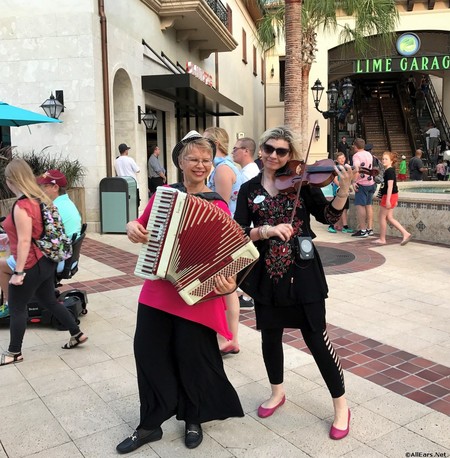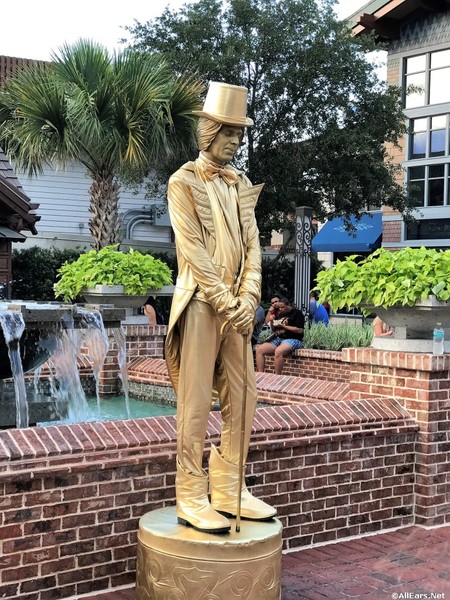 Our next and what turned out to be our final stop — Morimoto Asia.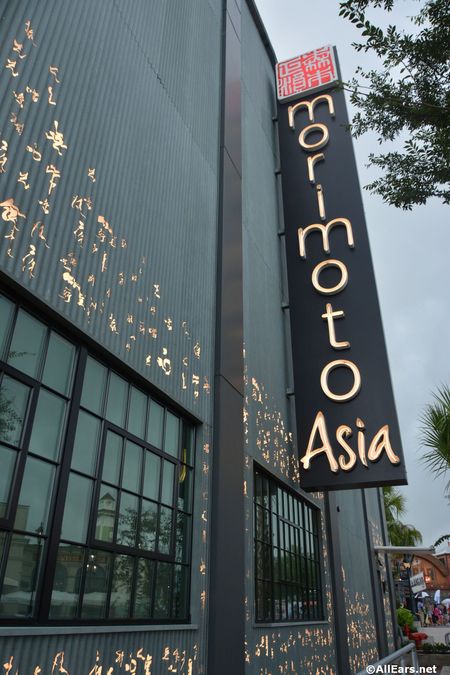 The downstairs bar was very noisy and hectic so we made our way to the upstairs bar. Ah, the air conditioning felt so very good and soon we both perked up again.
Linda loves the Manhattan East here so she ordered one. It is made of hiro sake, Makers Mark bourbon, canton liqueur, and orange bitters ($14).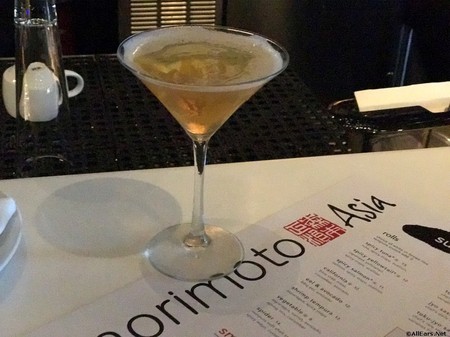 To no one's surprise I ordered another glass of red wine, Antinori Santa Cristina Chianti, Tuscany ($12). I have found this chianti works really well with Morimoto's ribs!
Our two servers, Matthew and Junko, took most excellent care of us. Linda decided the Manhattan that Junko made was the BEST Manhattan East she has had there!
I ordered an appetizer portion of the spare ribs (pork ribs, cilantro, hoisin sweet chili glaze) for $14. One of my favorites — three tender and crispy ribs. Be careful of the red threads on top of the ribs, though. They are VERY hot!
Linda got a Spicy Tuna Roll with white rice (you have a choice between white and brown). The tuna, with spicy mayo and scallion, is $13.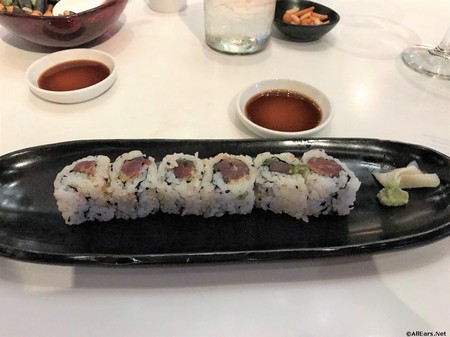 We were having lots of fun talking with the bartenders and soaking up the relaxing atmosphere. Love the background music upstairs — smooth jazz or New Age, not sure which.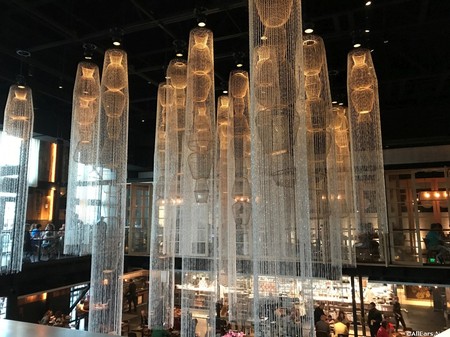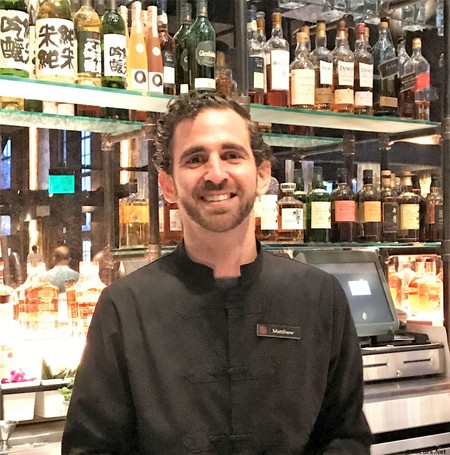 Rating: Food 5*, Service 5*, Ambiance 5*.
Around 9 p.m. we decided to call it a night and walked back to our Disney Springs hotel.
The food of the night award goes to Homecoming! The server of the night award goes to Matthew at Morimoto Asia.
You might be asking yourself, "What did all this cost?" The food itself without tax/tip came to $73, divided by two that made it about $37 each. The alcohol without tax/tip came to $78.50, so just under $40 each. All totaled including tip, tax and tags our total price was $185.75.
There were a few discounts available. Homecoming offers the Tables in Wonderland 20 percent discount; the Boathouse offers 10 percent with the Annual Passport (food only), and Morimoto Asia takes the Tables in Wonderland 20 percent.
We certainly won't be doing this often, given the price tag, but it made for a perfect evening out!
It was wonderful and we hope to do it again when the weather turns cooler.
Have you enjoyed a night of noshing at Disney Springs? Where did you go? Tell us about it in the comments.