Flying Fish Cafe on Disney's BoardWalk was my go-to dining place for the last several years. Whether it was for a relaxing fine dining experience with friends, or for sitting at the bar having an appetizer and wine, I loved the atmosphere, the cast members, the food and beverage. It just felt like "home."
So I was a bit apprehensive when I learned both the restaurant and menu were going to be totally redone.
Here it is, many, many months later, and the new Flying Fish debuted on August 3. In fact, Linda and I dined on reopening night with our friends Steve and Vickie.
First, let me sum up the look of the new Flying Fish in one word: WOW!
When I walked through the door. I was immediately transported to a brand new restaurant. The new decor is stunning and classy! Gone is the whimsical Coney Island feel, but there are a few nods to it remaining. The transformed space has an elegance that matches the new menu. I walked around the restaurant several times with my mouth open in awe… I could not believe the transformation.
The redesigned open kitchen still allows for great views, but with a much classier look and feel.
The "Chef's Table" no longer has a "bar feel", as it is now made up of tables adjacent to the kitchen. This still allows for interaction with the chefs, but guests now face each other, making it easier to converse with your dining partners. There is seating for 12.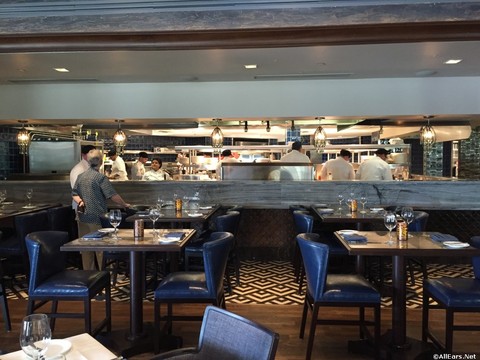 Overall, the restaurant has a more intimate feel, with booths that seat four to eight diners.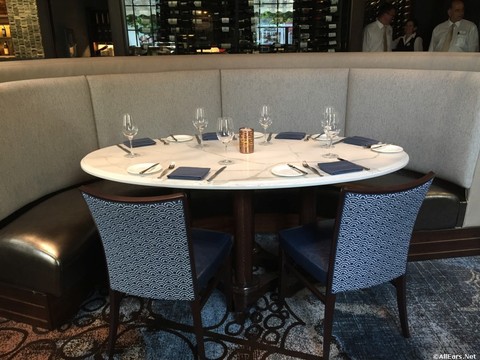 The tables are now draped with tablecloths, and the silverware has a fish theme.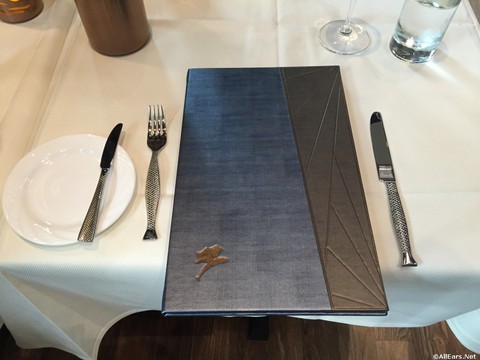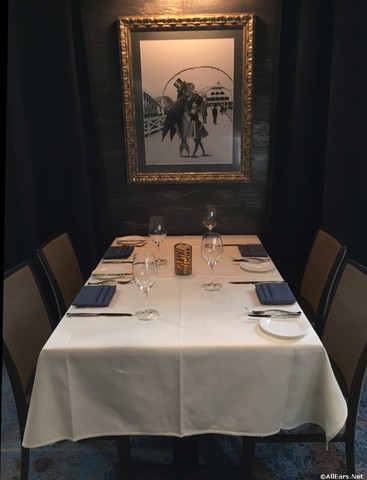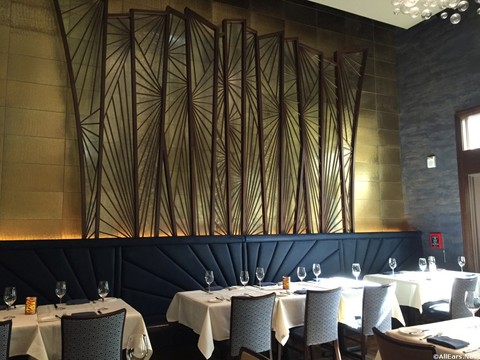 The former wine room (Cabana Room) with horrible acoustics has been made over into a private dining space with doors that close it off from the main dining area. The problem with the acoustics has been fixed and it looks like it will be a wonderful place in which to have an intimate dining experience.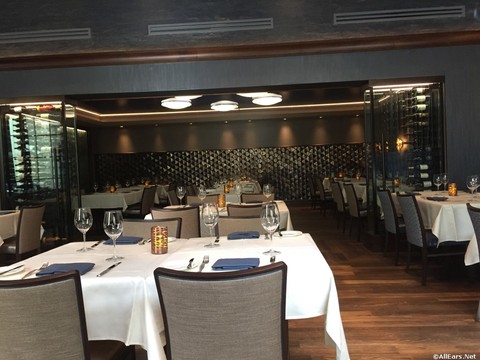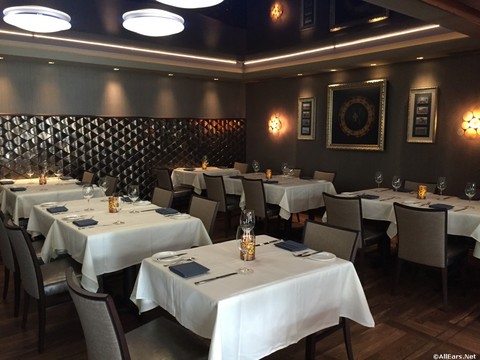 There are state-of-the-art wine coolers with space for 250 bottles of red wines and 300 for whites. There are also a few smaller coolers for certain varietals.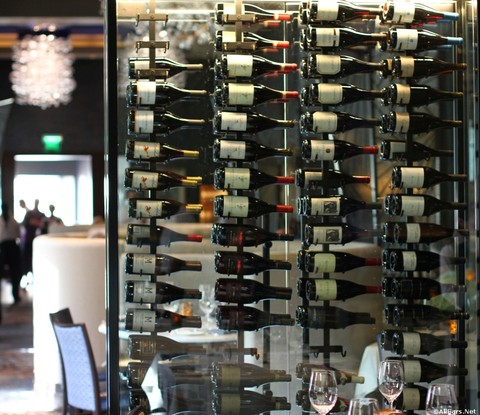 The bar area has the same basic layout as before, but it's been refurbished with new, upscale decor and seating.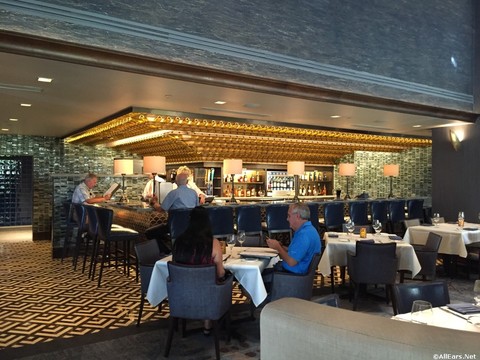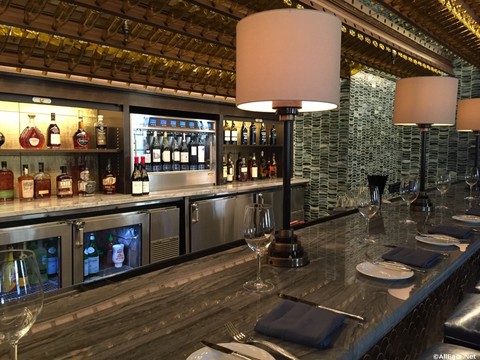 The bar features the WineEmotionâ"¢ system, with a dual-temperature zone for four whites and four reds. The WineEmotion system allows pours of one, two or three ounces. If you've ever wanted to discover what a $200+ bottle of wine tastes like, here is your opportunity.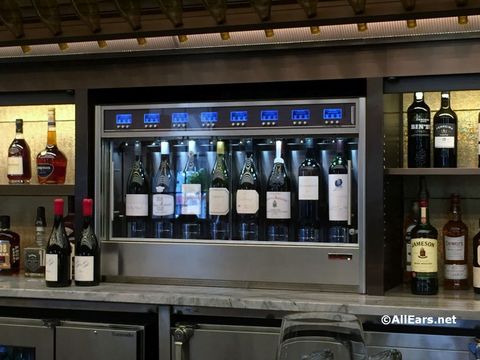 Beautiful glass chandeliers combine elegance and whimsy, as sea bubbles and schools of fish float above you.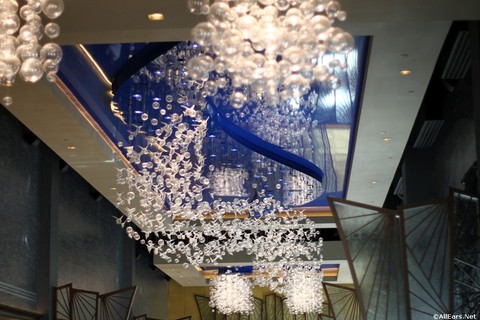 There are numerous artistic tributes to the Flying Turns, the Coney Island coaster from which the original restaurant derived its name.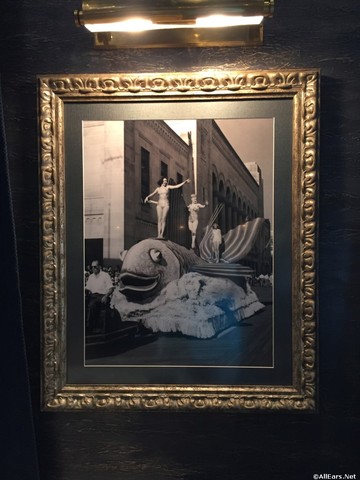 As you can see, the physical changes to the restaurant completely overwhelmed us. But what about the food and the completely new menu?
The seafood-centric menu features entirely sustainable fish and shellfish.
The bread service now nori bread made of semolina, and arrives hot with a side of butter topped with a delicious sea salt.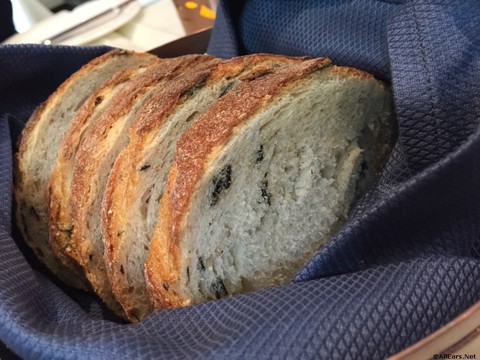 For an appetizer I chose the Mesclun Salad with petite lettuces, market vegetables, fines herbes, barrel-aged feta, and torn focaccia for $12. The portion looked on the small side (I had this complaint at Animal Kingdom's new Tiffins, too — is this the new normal?), however the flavors blew me away. I savored each bite.
My other dining companions chose the Blue Crab Bisque — jumbo lump crab, melted leeks, aged sherry, tarragon creme fraiche for $15. The Crab Bisque was tasty with a sufficient amount of crab. Normally a bisque has a small clump of meat in the center of the bowl, but this bisque had the clump plus crab meat throughout. Linda also enjoyed the presentation of the sherry drizzled on the bisque tableside.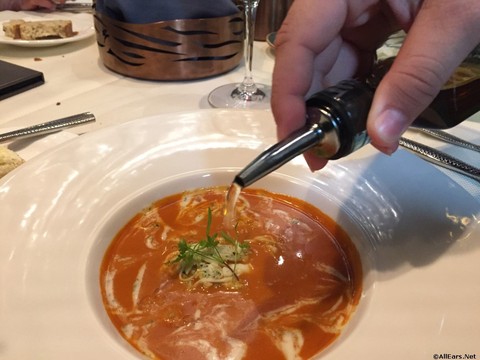 Now for our entrees. I selected the Bison Strip Loin with ancient grains, salsify, cipollini onions, haricots verts, sun-dried tomato choron sauce for $49. I am SO disappointed my photos of this dish did not turn out. This was a very, very tender cut of meat that melted in my mouth. The accompaniments perfectly complimented the bison (although I skipped the onions). While it came rare (I prefer medium), one bite of the perfect blend of flavors quickly put me at ease.
Steve ordered the Wild Alaskan Coho Salmon, which came with pancetta-laced ivory lentils, wilted varietal kale, Meyer lemon, and a garden vinaigrette for $41. As a person who frequently orders salmon out, he deemed it one of the best salmon dishes he has ever had.
Vickie chose the Wagyu Filet Mignon with Okinawan potaotes, chanterelle mushrooms, romanesco and Bordelaise sauce for $55. While flavorful, the dish did not arrive hot so she sent it back. Those kinds of things happen on opening night.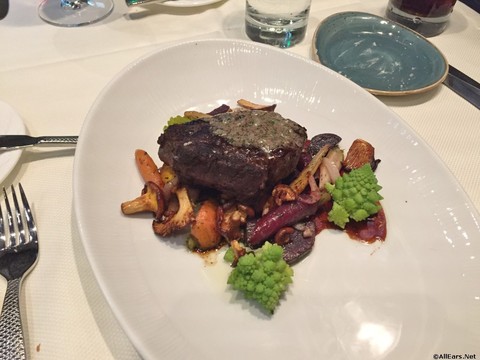 Linda selected Plancha-Seared Hokkaido Scallops, with Antebellum grits, Brentwood sweet corn and a peppadew emulsion for $46. She said that she enjoyed the dish, which featured four scallops, seared to perfection, nestled on a bed of creamy grits. The only negative she expressed was that perhaps there was a bit too much peppedew sauce.
After such filling entrees, we didn't have much room for dessert, but wanted to at least sample them… so we ordered ALL of them. While beautifully presented, the desserts were our one disappointment of the evening. They just didn't live up to the quality of our appetizers and entrees. Among the five sweets we tried, we agreed that the Florida Reef was our favorite.
Under the Sea – Valrhona Manjari chocolate, chocolate coral sponge, pistachio sand, dehydrated milk foam, tasting of three sea salts $12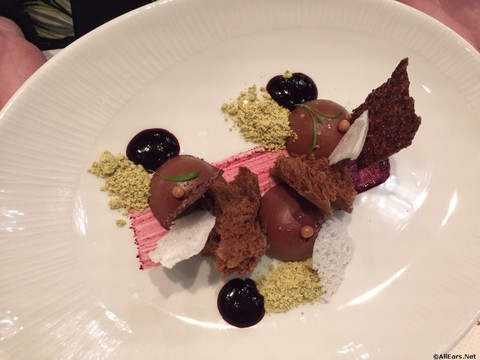 Cherries, Peaches, and Sea Shells – mascarpone cream, Georgia peaches, cherries, hibiscus meringue, rye bourbon caramel $9
Panna "Carpa" – buttermilk panna cotta, rhubarb, strawberry-lime consomme, basil sugar; no sugar added, sugar-free and gluten-friendly $10
Florida Reef – lemon tart, toasted meringue, Florida citrus salad, ruby red grapefruit sorbet $9
Chocolate-Banana Napoleon – banana-raspberry mousse, slow-cooked vanilla rum caramel sauce $10
The Bottom Line:
Linda's overall thoughts:
When I stepped into the restaurant I was wowed. The decor is beautiful and gives the Flying Fish a more upscale feel. While dining I noticed that the noise level was not as loud as it used to be — but then again the restaurant was not full. I was pleased with the food quality and presentation. I miss some of my favorites from the previous menu, like the tomato and mozzarella salad, but with time I am sure I will find a few favorites on Chef Tim Majoras' menu.
While I enjoy all types of seafood, several of my dining companions do not or are allergic to seafood. One of the nice features in the past was that those folks were able to dine at the Flying Fish because of the alternatives available. With the current menu, that is difficult to do. I hope this will change sooner rather than later. It was wonderful to dine once again in one of my favorite restaurants on property. I always enjoyed the warm, welcoming family atmosphere that the entire staff brought forth. I hope that feeling continues and that, with all the changes, I will still be able to call this one of my favorite "go-to places."
Deb's overall thoughts:
The new Flying Fish has certainly met the raised bar that has been set by several of the newer restaurants around Walt Disney World property in both decor, quality of food and, yes, also price. As I said earlier, the place is just stunning. It is hard to imagine there are two theme parks within walking distance.
I do miss my favorites from the old menu, as most of us will, but I realize there are new favorites to be discovered and savored. My biggest concern is that as a non-seafood lover with a picky palate, my options are more limited. In the past there were several appetizers for me to choose from. Now I have two choices (three if I include the dessert menu's cheese selection), the Mesclun Salad and the Peaches and Prosciutto. I'm not a fan of pork belly, which is the other non-seafood option. On the other hand, the bison strip loin was so amazing that I quickly forgot my old favorite the char-crusted New York Strip.
The staff tells us that the Flying Fish menu will change often depending on the availability of sustainable products. I look forward to the creativity of the kitchen team. Creative Imagineers and Chef Tim Majoras have brought us a wonderful new upscale signature dining location at Walt Disney World and I look forward to a return visit.
Questions? Leave them in the comment section below. Once you've dined at the new Flying Fish, head to our Rate and Review section and enter your review!