I was able to dine at a number of new (to me) places on this trip and had some really good experiences.
I started off my trip staying at the Polynesian Villas and Bungalows. On the first night there I went to Captain Cook's. I wasn't very hungry but I thought the Pho Noodle Bowl with Shrimp (it also comes with beef) looked good. Rice noodles and seasonal vegetables in Bui broth. It was tasty and really hit the spot, though I would've liked to have gyoza sauce or something like that to add to it to kick up the flavor a little. All that was available was soy sauce. Still, I liked it so much that I had it again later in the week.
The following afternoon Deb and I went to Afternoon Tea in the Garden View Lounge at the Grand Floridian. Sigh. It was just lovely.
We both had the Derbyshire Tea, which was three courses: sandwich plate, scone and tart, and choice of dessert. We also received a glass of Veuve Clicquot champagne and our choice of tea, each with our own individual pot.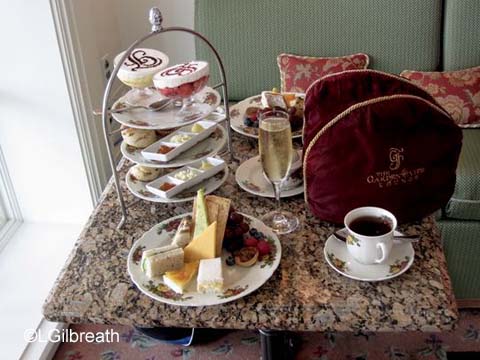 The sandwich plate was four tea sandwiches: egg salad, golden beet and goat cheese, curried chicken salad, and cucumber. It also had generous slices of Tillamook and sage cheddar cheese with lavosh, grapes, and a small caramelized onion tart. I thought the presentation was very attractive. And it was really quite a bit of food.
The currant scone was served with apricot jam (which was wonderful!), clotted cream, and lemon curd, accompanied by a strawberry jam tart. The scone was very good, but the tart was disappointing – the jam seemed gummy and the texture was unappealing.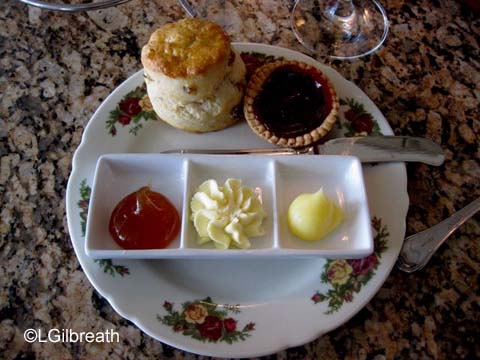 For dessert we had our choice of strawberries and cream, pastries, or banana creme brulee trifle. I chose the strawberries and cream. A little too much whipped cream, but the berries were excellent.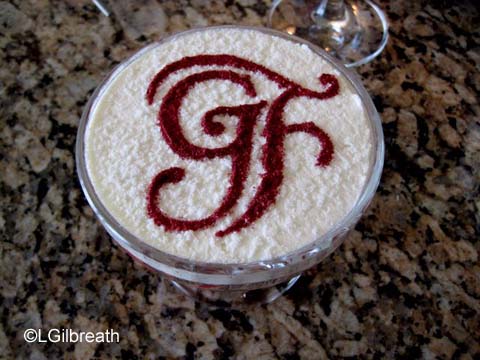 Deb tried the trifle – she said it was too sweet. The pieces of banana in it were good, but there weren't enough of them. (This photo is from my tea with Lee later in the week – he ordered the trifle and I tried the housemade pastries, which I really enjoyed.)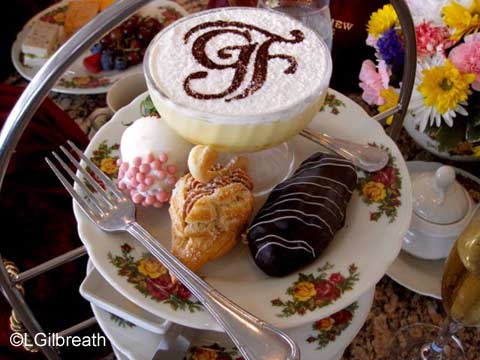 I chose the Mad Hatter's Tea Party as my tea selection. I really enjoyed it – black tea, a bit fruity with some vanilla.
It was really a lovely way to spend almost two hours. We were not rushed at all and were able to relax and enjoy our food, as well as our tea and champagne. We were both pleasantly full when we left.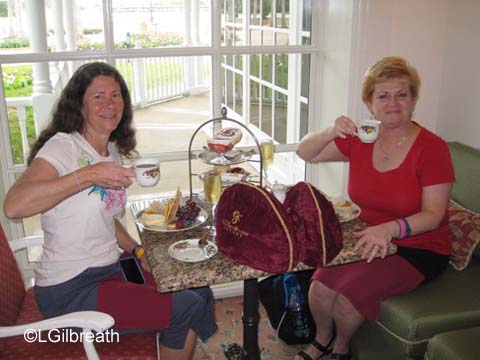 The Derbyshire Tea was $45/person, plus tax and gratuity. (The Lounge does not accept Tables in Wonderland.) I thought it was well worth it for the experience that we had. In addition to being tasty the food was very satisfying – we weren't hungry again for hours.
Tea is served from 2:00-5:00. It's not a very big place, and most of the tables are only seated once. I made reservations six months in advance – you need to plan ahead for this one.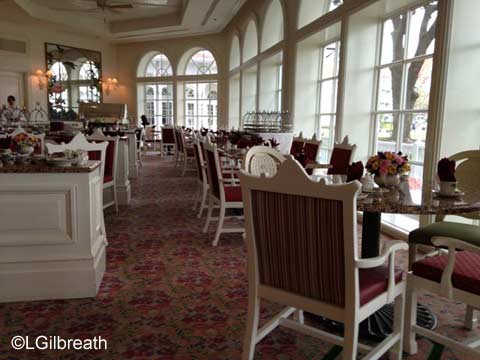 I recently tried the new Classic Afternoon Tea at Steakhouse 55 at Disneyland – and while that was very nice, I have to say that I enjoyed this one more. It was also significantly cheaper – our Derbyshire Tea was almost equivalent to the Premium Tea Party we enjoyed at Steakhouse 55 (it also included a salad), but that one was $65/person.
That night we had a late dinner at Captain Cook's. I tried the Aloha Pork Sandwich – pulled pork on pineapple-coconut bun with cheddar, cucumbers, and tomatoes. It came with fries, but I opted for steamed vegetables instead. Unfortunately that included lots of red peppers – yuck. The pork itself was good and the pineapple-coconut bun was really good – very soft and tender.
Deb tried the Hot Beef and Cheddar Sandwich – Roast beef, cheddar, caramelized onions with sweet chili mayo on house-made bread. It was also topped with yellow peppers, which were not mentioned anywhere in the description. She likes peppers about as well as I do, so was not too happy about that. The sandwich was served with a small side "Asian slaw" – it was mostly red peppers and onions! Deb commented that it wasn't like any "slaw" she'd ever had before. Pretty inedible.
The next afternoon we went to "Be Our Guest" restaurant at the Magic Kingdom. I'd also made this reservation six months in advance. The restaurant gives you the option of pre-ordering your food – you can do that several days in advance, but we just did it that morning. When we arrived at the podium outside we were given a large plastic rose (tracking device), then we went inside to the registers. The cashier asked if we had any changes to what we had pre-ordered, we said no, and she rang us up.
The restaurant is "seat yourself" at lunch. While it was busy, we were still able to quickly find a table in the main room. Our food was delivered to us about 10 minutes later, and the server took the rose away. That worked pretty well.
I ordered the Tuna Nicoise Salad – Warm seared tuna steak with chilled green beans, potatoes, olives, roasted bell peppers, tomatoes, and hard boiled eggs. Bell peppers again – ugh. (Ordering on-line gave me limited options for modifying the dish.) Fortunately there weren't very many and they were pretty easy to pick out. I was able to order the dressing on the side – it was some kind of a light fruit vinaigrette. The tuna was very good, and it was nice to see the roasted potato wedges. The egg wasn't hard boiled – it was more like a poached egg over medium. It was a very good salad and I would order it again, though maybe for $15.99 they could have added some more greens to it.
Deb ordered the Carved Prime Chuck Roast Beef Sandwich – served warm on a baguette with horseradish sour cream and Pomme Frites. She said it was good. I tried a couple of the fries and they were decent.
Our friend Jack joined us (they were able to add him to our party as a walk-up), and ordered the Carved Turkey Sandwich – served on a warm baguette with Dijon mayonnaise and Pomme Frites. REAL carved turkey – it looked very good.
I had ordered dessert: The Triple Chocolate Cupcake. They had me at "chocolate". 🙂 Chocolate sponge cake, chocolate mousse filling, and chocolate ganache. It was a pretty small cupcake for $4.59, but it was really good. The cake was moist and delicious, and the mousse filling and ganache icing were chocolaty goodness. My sweet tooth was happy. (I did offer to share!)
That evening four of us dined at Liberty Tree Tavern. Let's just say I will not be returning there anytime soon. The seating process was chaotic. They don't use pagers there – instead the hostesses stand in the restaurant waiting area and announce: "Hear ye, hear ye, now seating the Wills family from the colony of Florida". Which is different, but the waiting area is SO loud that we couldn't hear them – especially since most of them didn't project very well. We had a reservation but we still waited about 20 minutes before we were seated.
Once we made it to our table, our server quickly took our drink orders and explained the menu. It's a series of items served family style – and if you want more of anything the server will bring it to you. We started with the Declaration Salad. It was your average green salad – nothing remarkable about it. Also served with rolls and cornbread, which you will see in the next photo.
The entree and side dishes were all served at the same time. The Patriot's Platter included roast turkey breast, carved ham, and pot roast, with stuffing and cranberry relish. For side dishes we had green beans and mashed potatoes, gravy, and macaroni and cheese. It was all – OK. Filling, but not exceptional. None of us cared for the cranberry relish – all we could taste was orange rind. The turkey was pretty good, and the ham was fine. I didn't try the pot roast but the others didn't like it at all.
For dessert we had pieces of Johnny Appleseed's Cake – Tavern made white cake filled with apples and dried cranberries, topped with ice cream, according to the menu. I think I was the only one who liked this. But the menu description is not correct – it was not cakey at all – it was more like a bar topped with apples and cranberries. I don't think this is a very appealing dessert to most people – it didn't look very appetizing, and I think they would have been better off with apple pie or apple crisp. (I make an oatmeal apple crisp that is way better than what I was served.)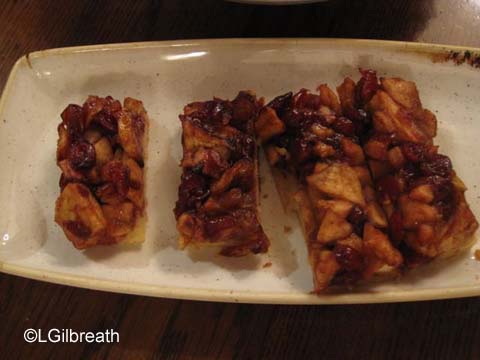 It was a disappointing meal. Not that anything was really BAD, but for the price ($34/person) I expected more. If you have a hungry family and want to fill them up this might be a good option…but I won't be returning any time soon.
The next morning we went to breakfast at The Garden Grill in The Land Pavilion in Epcot. It's an "All-you-care-to eat Harvest Feast" served family style, and I enjoyed this one a whole lot more than our meal the night before.
We started with Chip's Sticky Bun Bake – a large cinnamon bun served in a skillet. It separated into pieces pretty easily. I loved this…I could've filled up just on this – it was hard not to go back for seconds or thirds (I did have a second piece after I'd finished most of the rest of my breakfast.)
We also had a dish of fresh fruit. It was good – it would have been nice to have more strawberries.
And then there was a plate of sausage gravy with biscuits. I didn't try this, but my companions seemed to enjoy it.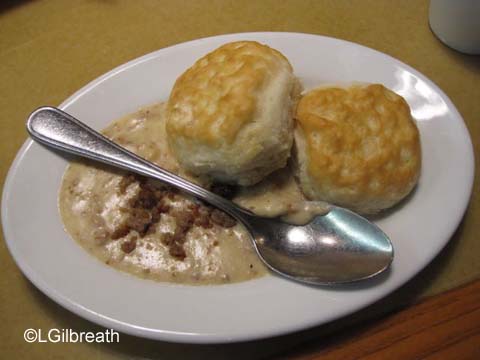 The main platter included Mickey waffles, scrambled eggs, bacon (and it was CRISP! Yay!), ham, and tater tots. There was chocolate-hazelnut sauce to go on the Mickey waffles…heavenly! (Though the rest of the table requested plain old maple syrup. I'm not sure they are really my friends. 🙂 )
The scrambled eggs were freshly prepared but they were a little salty. We requested a second serving later and they were fine.
The tater tots were surprisingly good – I'm not sure why. But several of us had a hard time stopping and kept returning to the plate to have "just one more".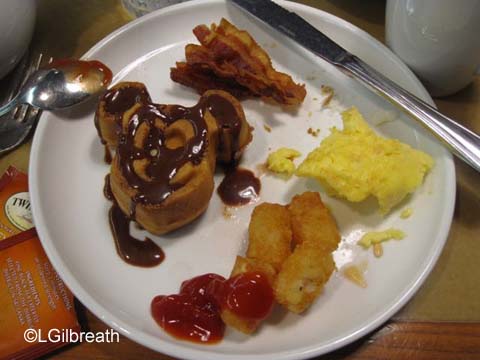 This was a character meal, with Farmer Mickey, Chip, Dale, and Pluto. They all came by at least twice. The chipmunks were a hoot. Chip tried to convince us that he had layed the eggs (eww!), and Dale had a sign telling us to "look for the hidden Dale in the flowers" – the mural on the wall. But there wasn't one – he was just messing with us.
Farmer Mickey was having a hard time keeping the chipmunks under control. And they were taking all of the credit for his hard work in growing the food, too. 🙂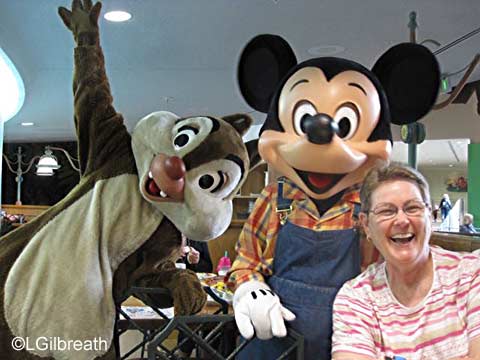 The Garden Grill restaurant rotates above the "Living with the Land" attraction. We were there a little over an hour and made one revolution. Afterward we walked around the restaurant to have a better view (we were on the upper level, so couldn't see down into it very well when we went around.)
The price for breakfast was $29.99, and it also included juice, and coffee/tea. For a character meal I didn't think that was too bad, and I really enjoyed the food. I'd seriously consider returning again when I want a big breakfast – like after running a half marathon or even a 10K. With so much of The Land pavilion closed right now (Living with the Land is the only attraction open) the restaurant was relatively quiet – when it's very busy and loud I might feel differently.
Even though we were still pretty full from breakfast, in the interests of research Deb and I headed over to the Magic Kingdom for a late lunch at the new Skipper Canteen in Adventureland. You can watch our episode of AllEarsTV below, or keep reading…
It was much larger than I expected – three different rooms. All decorated in that sort of Jungle Cruise motif.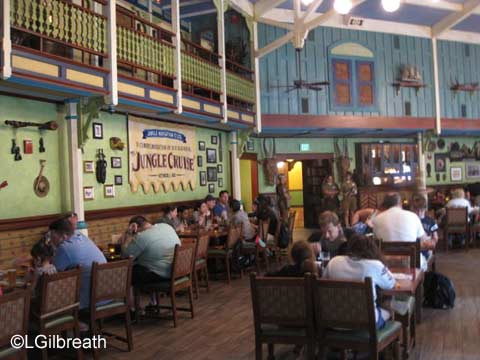 This is one of the back rooms – more of a library or study.
The room we were in was a large, richly decorated dining room – this is one of the lights.
Our server told us that the menu would take us all over the world. And yes, it included selections from China, southeast Asia, and India. There were also more traditional dishes like mac and cheese and lamb, but they incorporated spices from Africa and Asia.
Deb and I both started with one of the specialty (non-alcoholic, since this is the Magic Kingdom) beverages. I had the Schweitzer Slush (trying saying that fast even twice!) – frozen apple juice and passion fruit with bursting green apple boba balls. I liked it because it wasn't too sweet – very refreshing, and the boba balls are fun, though I had to be careful not to inhale them through the straw.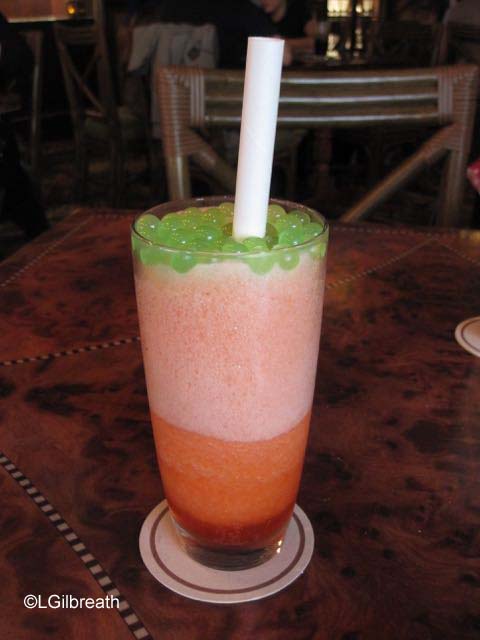 Deb tried the Punch Line Punch– tropical fruit juices and mango puree. She enjoyed that – said it was like a mango smoothie.
The bread service was an Ethiopian bread served with honey that was spiced with fenugreek. The bread had coriander in it. It was a fairly assertive spice flavor – I really didn't like it at all.
As an appetizer we ordered the S.E.A. SHU MAI – steamed dumplings filled with pork, shrimp, and mung beans. It was served with tamari sauce – sort of a soy sauce with some additional flavor. I thought it was a pretty generous serving for $10.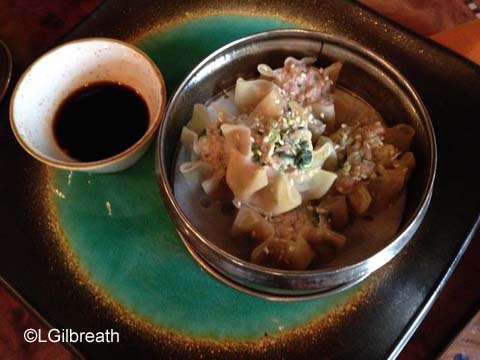 For an entree I tried Char Siu Pork – marinated grilled pork tenderloin medallions served with Chinese broccoli and white rice. It was the right color, and nicely grilled, but it was dry. While it had a good flavor it didn't have the sweetness I associate with Char Siu pork. The Chinese broccoli was pretty fibrous – it needed a sauce or some additional flavors.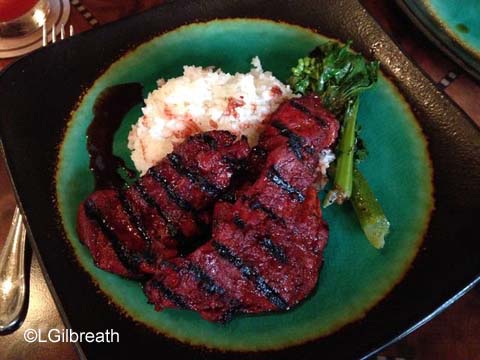 Deb tried Skip's Mac and Cheese – an Egyptian take on the dish with spiced ground beef, pasta, and Bechamel sauce. Also served with Chinese broccoli. She enjoyed it, and in fact said the mac and cheese part was among the best she's had. I tried just the mac and cheese part and it was very good.
For dessert we tried a Kungaloosh. Those of you who remember the Adventurer's Club at Pleasure Island will be familiar with this name. In this case it's a chocolate cake served with cashew caramel ice cream and caramelized bananas. We were pretty full – all I tried was the ice cream. Which was excellent – like a butter pecan, but with cashews.
As Deb and I said in the AllEarsNet TV episode – we really liked the idea of this restaurant, but don't think the menu is going to go over very well in Magic Kingdom. The spices and flavors are more appropriate for Animal Kingdom or a resort restaurant. I thought a lot of the appetizers looked good, so on a return visit I'd be tempted just to order several of those to share rather than ordering entrees.
That night a group of us went to Morimoto Asia in Disney Springs. This was my first time visiting Disney Springs since before the name changed. So there was a lot of it that was new to me. The restaurant is really gorgeous, and quite large. Unfortunately it's also extremely loud.
The menu had all kinds of offerings that looked really good. To start I ordered a glass of Sake Sangria – asian pears, apple plum, tangerine juice, sake, light white wine, plum wine. It was refreshing – the sake gave it a different flavor that I'm a little on the fence about.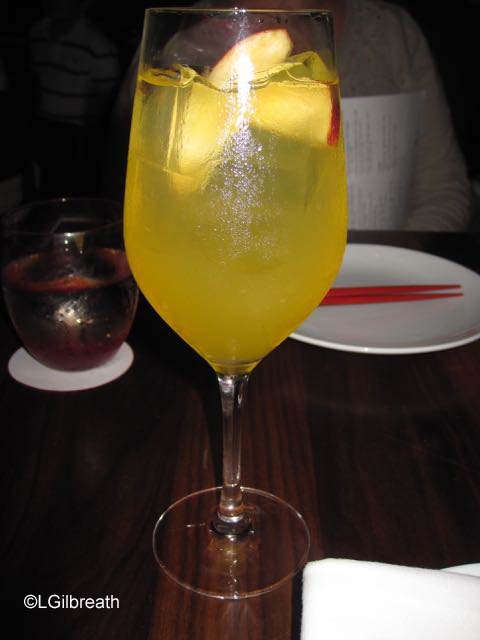 For an appetizer I tried Vegetable Sushi with spicy mayo, asparagus, carrot, and cucumber. I liked it.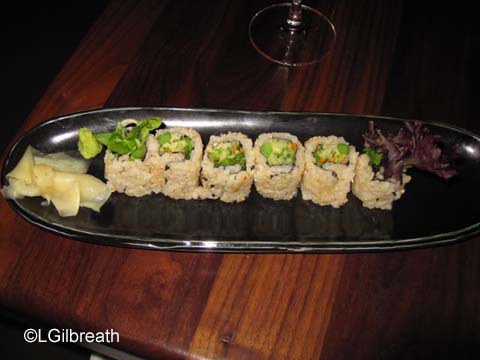 Deb ordered Shrimp Tempura Sushi with asparagus, spicy mayo, and avocado, and I tried a piece of that. It was also very good, though the panko crumbs on top weren't very attractive.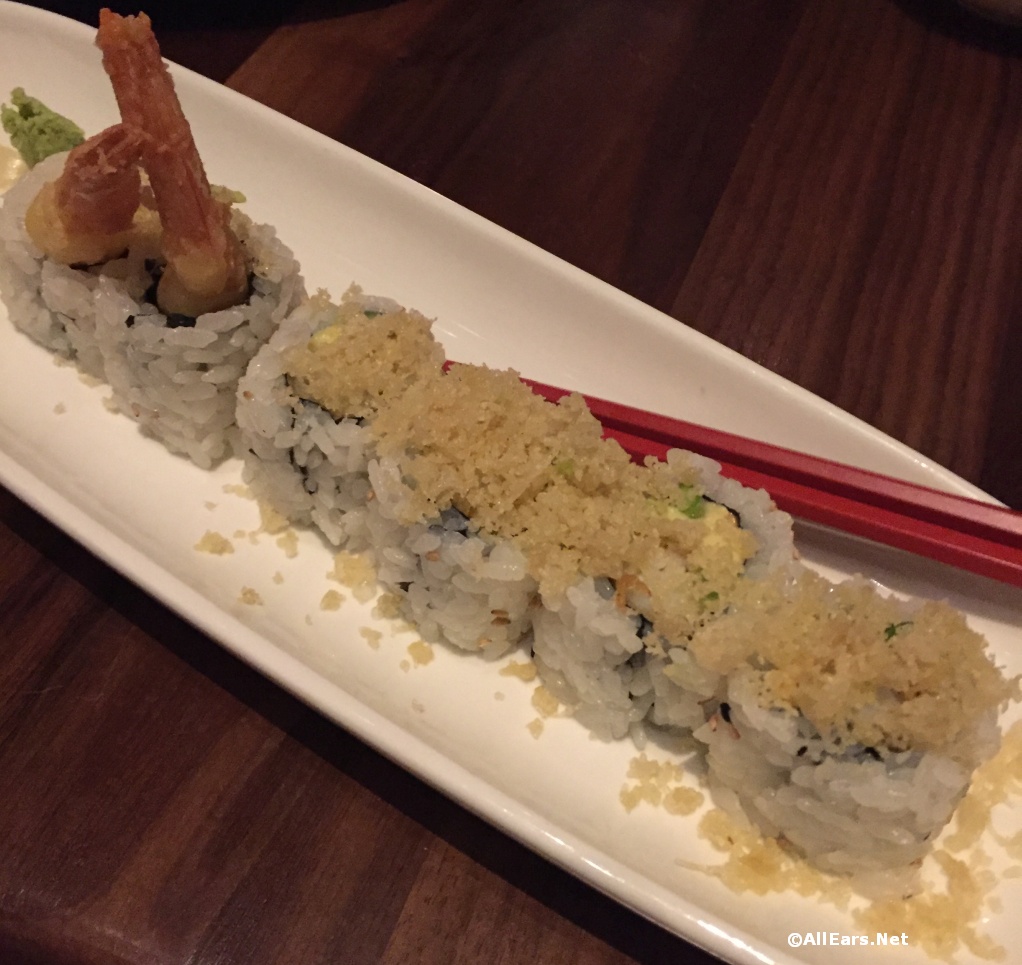 Several of us also shared a Tuna Pizza – crispy tortilla, tuna sashimi, tomato, jalapeno, and anchovy aioli. It was a little messy to eat, but very tasty.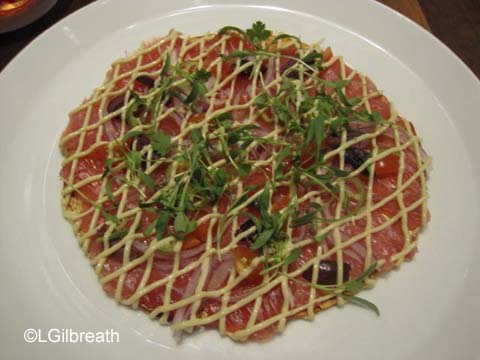 For an entree I ordered Pad Thai with Shrimp – it also comes with chicken. Stir-fried flat rice noodles, egg, bean sprouts, scallions, fried tofu, pickled turnip, and sweet tamarind sauce. Our server advised me that it was not a traditional pad thai with peanut sauce – and that was fine with me, since I don't really like peanut sauce. It was very good – I especially liked the fried tofu. The sauce was very good.
For dessert we all shared an Mm Parfait. This is a dessert for two: chocolate cream puffs, vanilla gelato, hazelnut chocolate crunchies, and sesame mochi. I thought the mochi was a little odd, but I really enjoyed all of the rest of it, especially the hazelnut crunchies. It will definitely serve more than two people.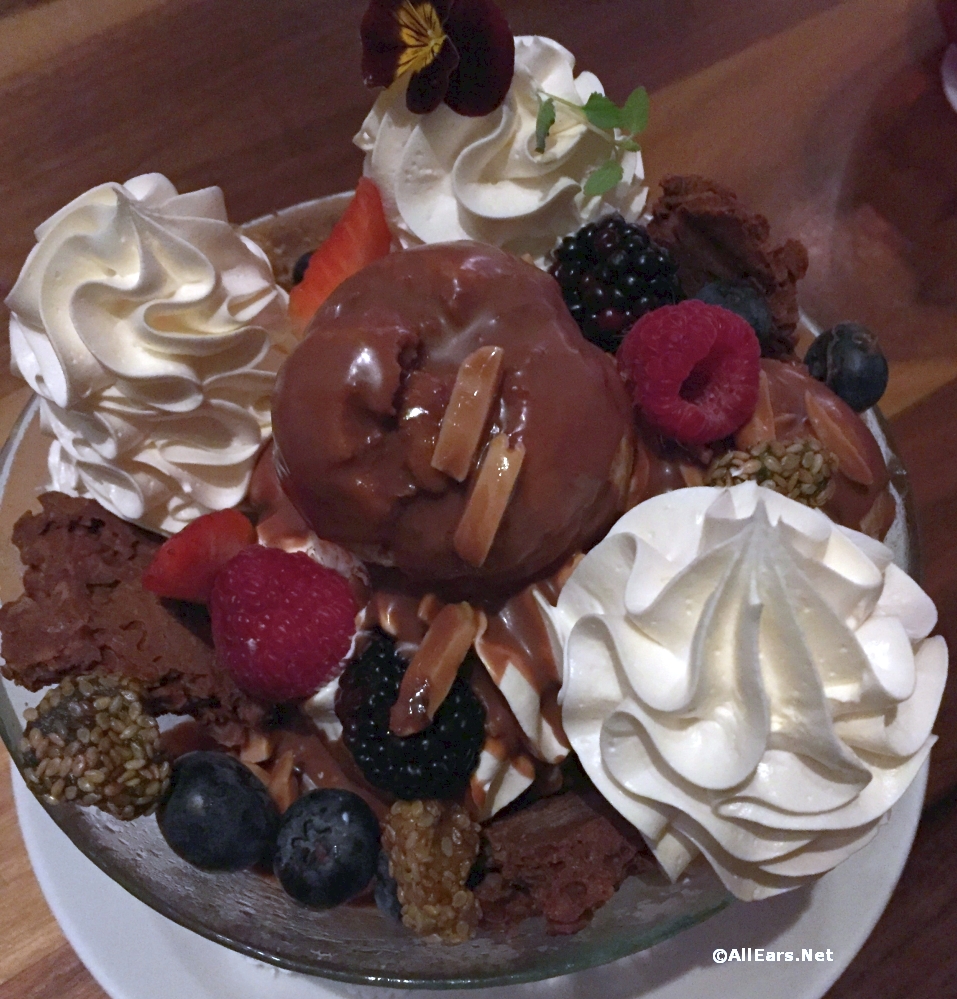 Other than the noise I really enjoyed our meal at Morimoto Asia. We had a terrific server and the food was great. I'm looking forward to trying it again, and being able to take Lee this time.
More dining still to come!