As a fan of all of the special tours I've taken at Disney's Animal Kingdom over the years (including the Wild Africa Trek and the now-defunct Wild by Design and Wildlife Discovery Excursion), I was eager to try the new-ish Backstage Tales tour, which started in spring of this year. I say "new-ish" because Backstage Tales replaces, for the most part, Animal Kingdom's now-retired Backstage Safari tour. While many of the elements of the new tour are the same as the old one's, which I somehow managed to never take, they tell me that several have been changed based on guest feedback.
My Backstage Tales experience started on a misty fall morning. Since I needed to be AT Animal Kingdom by 7:30 a.m. I took a cab from my hotel (the Walt Disney World Dolphin). (I imagine that you could take one of the early morning breakfast buses that Disney offers, but I didn't want to chance it.)
After leaving the hotel around 7 a.m., I found myself walking up to Animal Kingdom's turnstiles by 7:15, where a cast member told me I was just the third guest in the park — I was so early, how I was not the first is beyond me!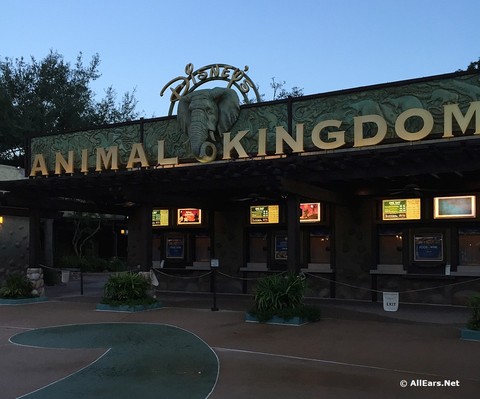 Off to the left of the park entrance I found a few cast members with iPads waiting to check in tour participants. Paula and Dan checked my ID and had me sign a standard waiver (which said basically that I wouldn't hold Disney responsible if anything bad happened to me on the tour) and gave me my name tag.
As I waited for the rest of the tour group to assemble, I spotted a hawk in a nearby tree — a cool, if unofficial, welcome to Animal Kingdom and the morning's festivities.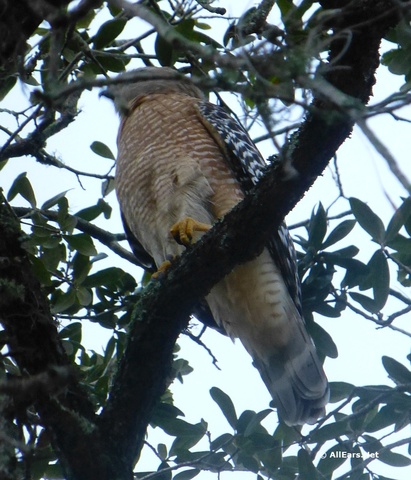 On this morning only two others joined my group — two lovely gentlemen from the UK. There were supposed to be two other tourists joining us, but after waiting several minutes and getting a questioning call from our first stop wondering where we were, our guides decided the others were no-shows, and we embarked on our 3-hour-45-minute adventure.
After giving us headsets that would allow us to hear the guide over crowd noise, or if we wandered out of normal earshot, the guides told us a little about themselves. (Interestingly, Paula and Dan also work together over at the Dolphins in Depth program at Epcot — perhaps I'll see them there soon!). Using the iPad, Paula then introduced us to Walt Disney's commitment to wildlife, and talked about his early True-Life Adventure series films.
The scene thus set, we made our way to the Aviary, located in the Pangani Forest Exploration Trail at the back of the park. Our guides reminded us that photos were not allowed when in any "backstage" areas, which is standard for most Disney World tours and which is why this report is, unfortunately, light on my own pictures. Taking photos while in the park with the rest of the guests, however, was obviously allowed, and I managed to get a fairly nice shot of the iconic Tree of Life, without other people around.
When we reached the Aviary, we were met by Nick, one of the park's bird specialists. He shared with us the banding system they use to identify and keep track of the aviary's myriad winged residents.
We were also given the chance to "feed the birds." I couldn't help but hum the tune quietly to myself, although I don't think the Mary Poppins' bird lady used the same "food" we did — mealworms! Nick gave us each latex gloves if we wanted to dip our hands into the squirming worms, which we each did, quickly throwing out a handful that was just as quickly gobbled up. It did allow us some up-close-and-personal bird viewing, especially since there were no other park guests around yet to distract us, or the birds.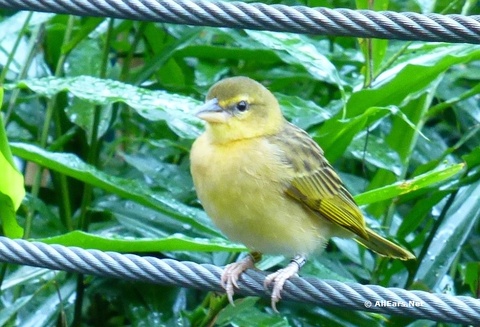 From the Aviary, our guides finally took us backstage, where we boarded a vehicle that drove us past all the animal barns, many of which you can see when you're riding the park's Wildlife Express train to Rafiki's Planet Watch.
We stopped at the elephant and rhinoceros barn, where we were met by another animal specialist who talked to us about the training, care and feeding of these giants. We had the opportunity to meet Frank (so-called because of his blue eyes) and another rhino, while the cast member shared some fun anecdotes about working with these animals. I really do wish I could have taken some photos at this point — we were so close to the animals I could have reached through the bars of their habitats and touched them. This could have been due to the small size of our group, though — I don't want you to think that every tour gets such an up-close-and-personal look at the animals, because according to other reports I've read that's not the case.
From there, it was back to the vehicle and off to the Animal Nutrition Center, which prepares the approximately 9,000 pounds of food consumed by Animal Kingdom residents each day.
This was a fascinating peek into what it takes to feed the 250 different species represented in the theme park. One of the cast members working during our visit was preparing the next day's meals for all the small mammals, following detailed instructions from an overly large ring binder that contained the critters' regular dietary requirements, as well as instructions for when to include special treats or "enrichments." I got a chuckle out of learning that the porcupine loves jelly and gets a smidgen of the sweet treat just once a month. I could just imagine his (or her) delight: "Oh boy! It's Jelly Saturday!"
Not as funny were the menus being prepared by the cast member at the other station. He was charged with feeding larger animals, and so was surrounded by large bags of frozen mice, rats, even rabbits, as well as various kinds of fish and raw meat. Thus killing any desire I might have had to work in the Animal Nutrition Center.
At this point were were about midway through our morning, so we were escorted to a break room in the Education Building. After a quick pit stop to the restroom, we were treated to a conversation with Scott, a zoological manager at Animal Kingdom who told us about his involvement with Operation Migration and its efforts to help whooping cranes.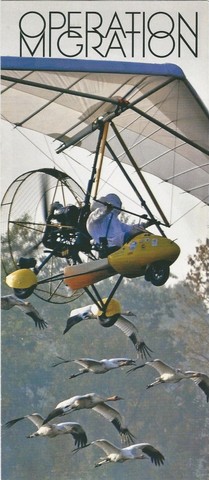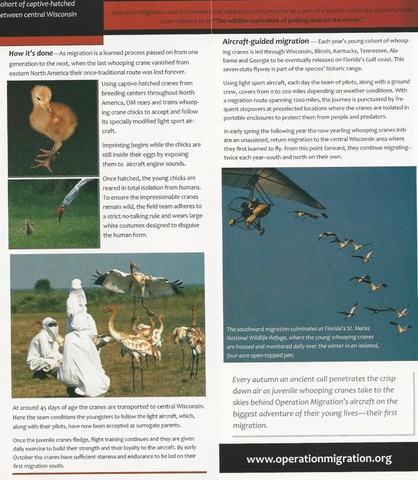 While we listened to Scott, we were given a treat of our own — a rice krispies treat and a bottle of water. We were also given a keepsake "Backstage Tales" water bottle.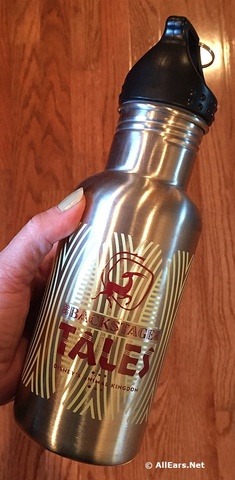 After our break, it was off to the backstage area of Conversation Station, one of my favorite areas of Animal Kingdom. I love heading up to Rafiki's Planet Watch early in the morning in the hope of seeing some animal procedures in Conservation Station's operating room. I always find that fascinating. Imagine my surprise when we were actually walked into the back rooms there and learned about the tools the 11 vets and eight vet techs use and how they often have to improvise due to the exotic nature of their "patients." I was a little disappointed that there were no procedures taking place during our brief stop, but what happened next more than made up for it.
When we had first stopped at the rhino and elephant barns, we noticed that we could see Animal Kingdom's "Pride Rock" — the lions' habitat — from the rear. One of the male lions had been in full view, causing to inwardly curse at the no-photos rule. But our upset turned to delight when our final stop on the tour was the "Big Cat" house. Again, I believe it was due to the small size of our group — just three of us plus the two guides — but we were treated to a long visit with Savannah, the 19-year-old matriarch of the lion family at Animal Kingdom. While the animal specialist told us about the habits and lifestyles of the lions at Animal Kingdom, the graceful cat lay on her side, but an occasional tail or ear twitch indicated that she was listening and watching our every move. It was a real treat to spend such a long while in such proximity to her. In fact, I spent so much time observing her, I missed some of what the animal specialist was telling us.
After that, it was time to say good-bye to the backstage area, and our guides walked us back out into Animal Kingdom. We said our good-byes, but not before Dan and Paula gave us our shiny, 20th Anniversary Disney Conservation Fund badges, a reminder that a portion of the tour proceeds is donated to the Fund.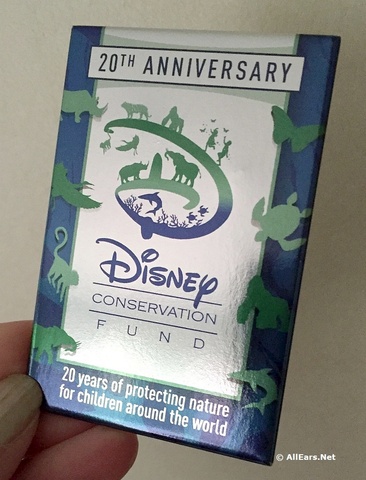 To sum up, all I can say is, "Wow!" It was a terrific tour and I'm so glad that I took it. It was a lot of walking, but at a leisurely pace, and fortunately the weather cooperated — not too hot, not too cold, not too wet. I know all the literature about the tour emphasizes that animal interaction is not guaranteed, but obviously I hit it lucky with such a small group — I really do think that enabled us to spend as much time as we did with both the rhinos and the lioness.
I feel that this tour was definitely worth the $90 price tag, although when you book remember to ask about DVC, Annual Passholder, and Disney Visa discounts — I only paid $81.48, including tax, with my Disney Visa discount. (The total price would have been $95.85 otherwise.)
Another nice thing about this tour is that children older than 12 can go (although those under 18 must be accompanied by a participating adult.
You can book the tour by calling 407-WDW-TOUR.