If you are a repeat visitor at Walt Disney World, chances are you have favorite foods at each of the theme parks that you can't wait to sink your teeth into again. For my family and I, a visit to Animal Kingdom usually means a meal at Flame Tree Barbecue. We like the food there well enough, but part of our enjoyment of that restaurant is also the shaded seating overlooking the lake in front of Mount Everest. But, a new quick-service restaurant that opened last month has us rethinking our tried-and-true routine.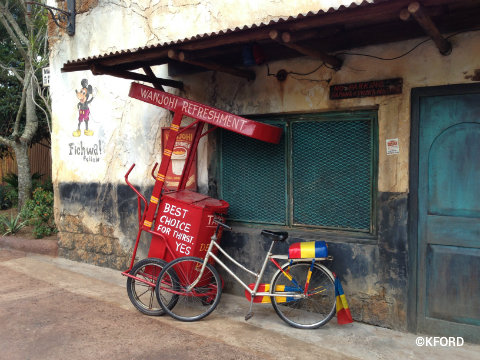 Located in the Africa section of the park, Harambe Market mimics the atmosphere of an open-air marketplace and serves dishes that would be considered African street foods. My family and I recently tried some of the offerings and were pleased with what we sampled. And, when we found the perfect shaded table, we enjoyed the atmosphere of the market, too.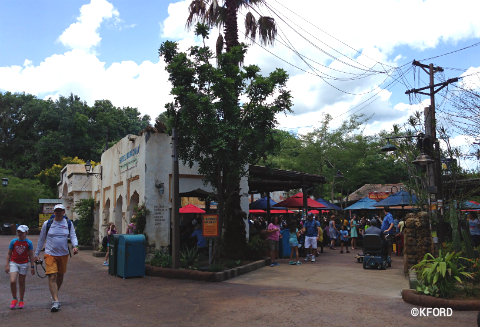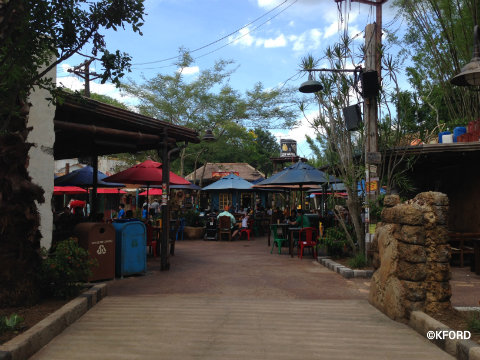 Our experience began as we approached the area near Kilimanjaro Safaris at the back of the park. Yes, this is a trek from the front of the park, but we thought it was worth it. And, of course, if you're already in the park, it's not such a hike. Just keep this in mind if you're planning on going to lunch first before your day's activities in the park.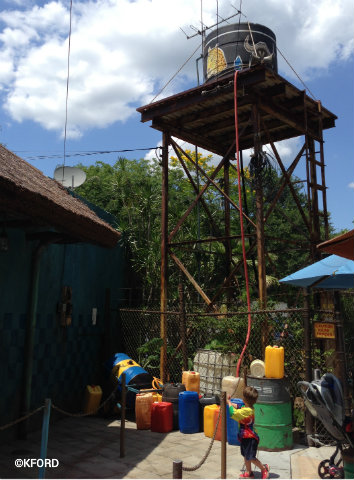 Harambe Market is colorful, loud, and, when we arrived at 1:30 p.m., it was busy! By the time we finished standing in line, found a table and ate, it was 3 p.m. and the place had cleared out. I suspect the crowds were there in full force because of the novelty of a new eatery and the start of the summer season at Walt Disney World, but it never hurts to avoid peak meal times if you want to skip the lines.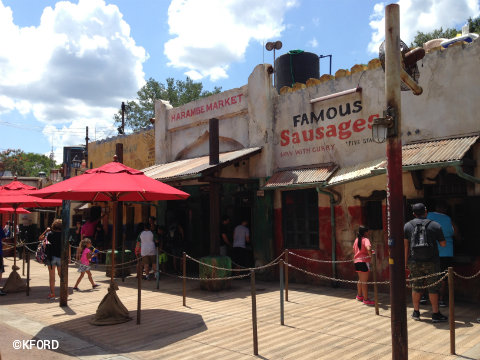 Although there are four shop windows advertising different menu items, know that you can pick any line to order from the entire menu. You do not need to stand in separate lines. The queue for the ribs — on the far right when looking at the storefronts — was the shortest on the day we were there and it offered the most shade. Also, on the day we were there, cast members were at the front of the lines, handing out menus for customers to browse before they got into the lines.
Your choices include:
** Kitamu Grill: Skewered chicken and a kebab flatbread sandwich
** Famous Sausages: Corndog made with a South African boerewors sausage dipped in curry-infused corn batter
** Chef Mwanga's: Spice-rubbed Karubi Rib paired with green papaya-carrot slaw
Each of these service counters offers a kids version of the main dish. For the chicken and ribs, it's just a smaller portion with kid-friendly sides. For the sausage station, it's a traditional corn dog instead of the sausage. A Kids Snack Pack with yogurt, apple slices, carrot sticks, Goldfish crackers, apple-cinnamon bar and choice of small lowfat milk or small water is also available.
** Wanjohi Refreshments: Craft draft beers like Safari Amber Lager; six South African wines by the glass, The Starr of Harambe frozen drink with Starr African rum and mango puree in a souvenir mug, red Sangria with Van der Hum tangerine liqueur, and non alcoholic tangerine lemonade or fountain beverages like Sparberry from Zimbabwe. (My husband loves a good IPA and he highly recommended the I-4 IPA from Orlando Brewing.)
For dessert, all the counters serve a coconut custard in a chocolate tart shell.
For complete menu details, including prices, see our AllEars.Net dining page.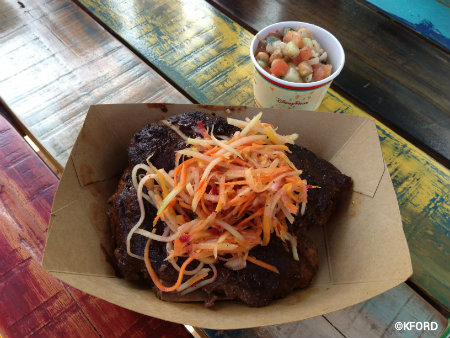 For our meal, my family and I tried the Karubi Ribs and the Boerewors Sausage Corndog. The guys tried the ribs, which are served with green papaya-carrot slaw on top and a cucumber and tomato salad on the side. Predictably, my 12-yer-old son did not like the slaw, but both he and my husband raved about the ribs, which are kind of like the variety they often order at Flame Tree Barbecue. This dish is a little spicier, but they both said they liked it equally as well, if not better than the other Animal Kingdom ribs.
My 10-year-old daughter and I were tempted by the African version of a corndog for lunch. I thoroughly enjoyed the unexpected flavors of the sausage and the curry-infused corn batter and certainly would order it again. The sausage is served with a roasted broccoli and tomato salad that has a light and tasty dressing. My daughter, however, would have been happier with the traditional corndog that is offered on the kids menu.
Both the ribs and the sausage are served in generous-size portions — more than enough to be filling for one person or possibly two less-hungry patrons. Don't make the mistake of thinking this marketplace is serving appetizer-size portions, as is done at kiosks during Epcot food and beverage festivals. If you want to sample several dishes, plan accordingly!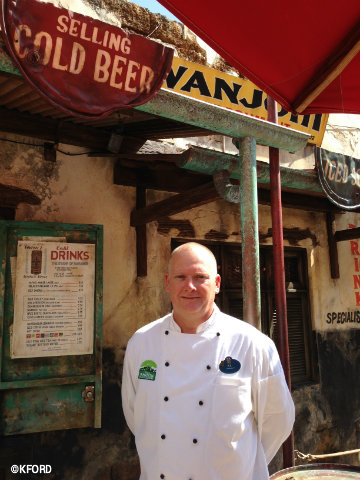 I recently spoke with Animal Kingdom's chef de cuisine Albert Youngman about how foods were created for Harambe Market — specifically how he and his team chose flavors that would be palatable to guests who might not be accustomed to typical African foods.
"The earth tones of the flavors and the actual flavors that come from the cardamom and the coriander and cumin and things like that are very much tasted in all of our food [at Harambe Market], but it's not overdone to where it's offensive to our guests," Youngman said. "So, we tried to get a balance with the food. So, you take the African corn dog, for instance. People sometimes are scared of curry, right? Curry means hot. But [the corn dog] is not really hot. It actually has more of an earth tone and a sweetness to it and we incorporate it with our sweet corn batter that helps that flavor kind of mend together."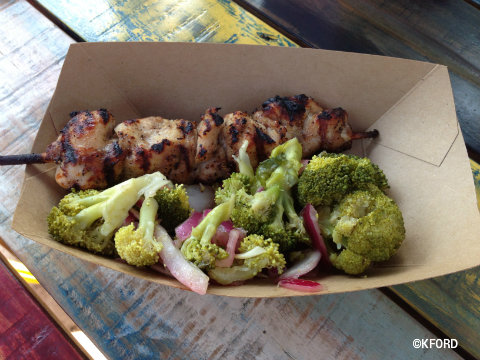 On a second visit to Harambe Market for a media event, my family and I sampled the skewered chicken, which we missed the first time, and found it to be rather plain, not offering the interesting flavors of the other foods we've come to enjoy there. Still, Youngman said it is the most popular item at Harambe Market — both for adults and children. Perhaps that's because it's not a culinary risk for most people. Yet, this is exactly the place to try something new, he said. "If you just go out of your element a little bit, I'm sure you'll enjoy it."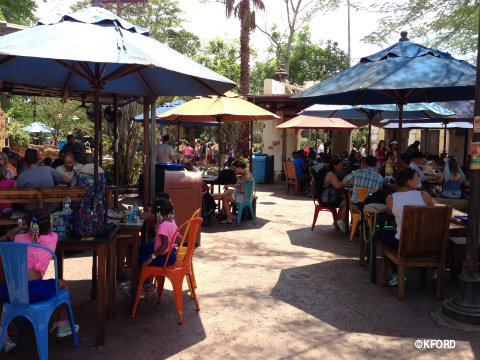 At Harambe Market, guests seat themselves at the outdoor tables. Because of the crowds, we started at a table that was in the sun. When an umbrella table emptied, we jumped at the chance to sit in the shade, which definitely made our experience more pleasant. The marketplace is, of course, creatively decorated and the Wildlife Express train to Rafiki's Planet Watch passes by in the back on a regular schedule. Disney officials have said that live entertainment eventually will be offered in the marketplace, as well.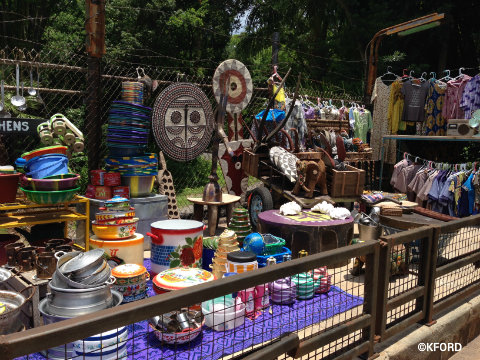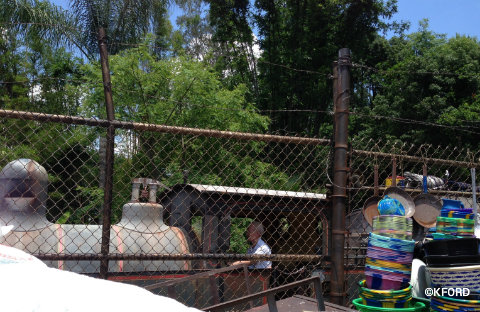 During the media event, I also spoke with Imagineer Emily O'Brien, who was the lead designer for Harambe Market. You can read about how the new restaurant was developed and what it's like to be an Imagineer here.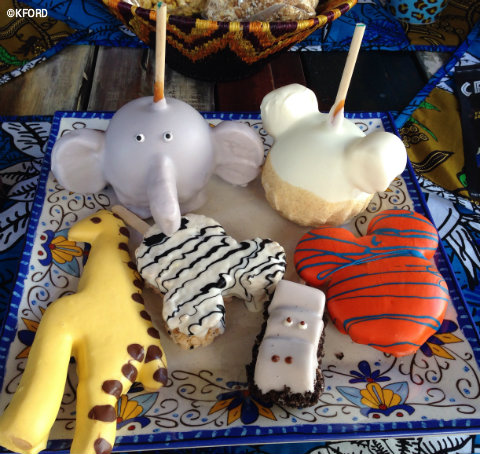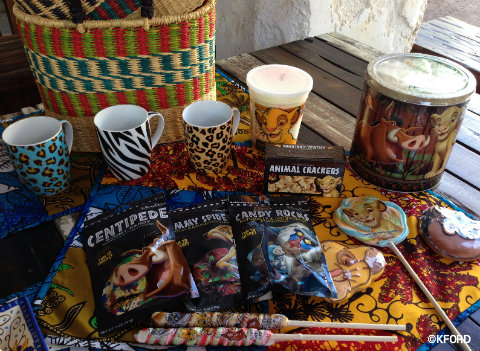 Last month, Zuri's Sweets Shop opened across from Harambe Market. This African-themed shop is the first dedicated consumables store, said Steven Miller, Walt Disney World Merchandise Communications Manager. It features three new lines of goodies: one based on "The Lion King," one inspired by the bold and colorful African Kente cloths, and one that celebrates African spices and flavors. Miller talks to me about the tasty treats in the video below:
We found Harambe Market to be a fun — and tasty — addition to the quick-service restaurants at Animal Kingdom. The African flavors offer guests exciting alternatives to the traditional sandwiches, salads, burgers and fries that we've come to expect at counter-service restaurants at Walt Disney World, and there are enough kid-friendly choices to please the little ones.
The trek to the far corner of the park might be a far one from the front gates of Animal Kingdom, but, based on our recent dining experience, the journey there is a rewarding one if you're looking for good food in a uniquely themed atmosphere. But, just as you would on the savannah grasslands west of Nairobi, try to find a nice shady spot to enjoy your lunch unless you want to end up feeling as baked as the Chef Mwanga's special.
Enjoy this video of the Harambe Market:
DISCLAIMER: I was a guest of Walt Disney World for my second visit to Harambe Market. The first visit was at my own expense. This did not affect my story; my opinions are my own.