By AllEars Team Member: Linda Eckwerth
Raglan Road Irish Pub and Restaurant located in Downtown Disney, has recently updated its menu for lunch, dinner and the Rollicking Raglan Weekend Brunch.
On Thursday 2/19/2015 I had the opportunity to taste the new dishes and adult beverages. Chef Heberto Segura presented each of the new dishes and explained this is their menu update for Spring. He was also very proud to announce that Raglan Road will be celebrating their 10 year anniversary this October. Look for announcements on upcoming events.
Keep in mind these photos represent our tastings and not what the regular portion will look like.
Our first course of the day was an appetizer that appears on both the lunch and dinner menu.
Harry's Beef Carpaccio – seared tenderloin of beef with watercress and romaine hearts, grape tomatoes, shaved parmesan and creamy anchovy vinaigrette. The beef is thinly sliced and while the vinaigrette went well with the beef, I did not care for the anchovy.
Next came a tasting of the three new items for brunch.
Ellis Isle Steak n Eggs – Grilled NY strip steak, breakfast roasties and battered poached eggs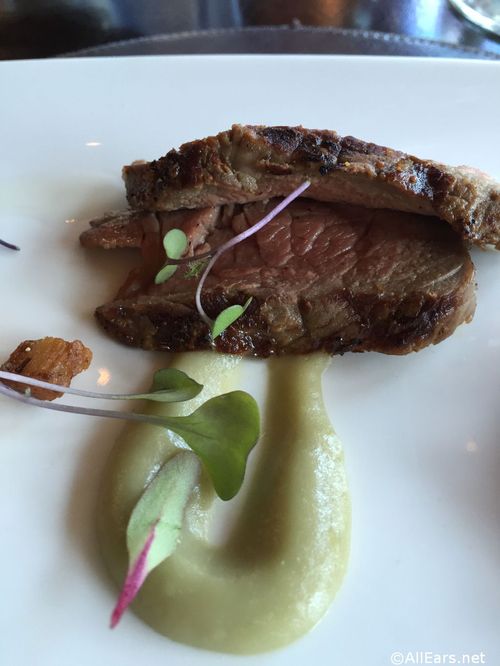 Pork Hashed Tagged – Braised pork belly, scallions and potato hash top with fried eggs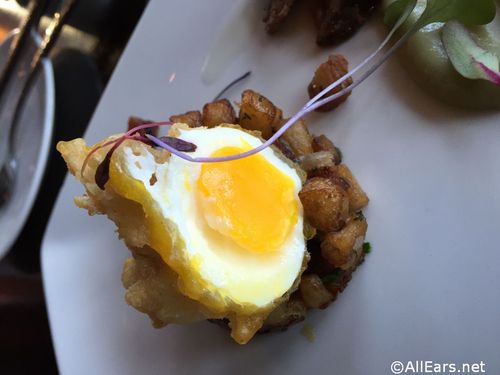 Smoked Salmon Potato Cakes РSliced smoked Salmon, served with potato pancakes, cr̬me fraiche and caper dill vinaigrette
All three dishes were delicious and had something unique to offer. The battering on the poached egg gave it a nice light crunch. How can you go wrong with the unbelievable flavor of pork belly and potato hash. The Smoked Salmon was my favorite. The potato cakes were light and the crème fraiche and vinaigrette added just the right accent of flavor to the salmon.
There are three new items for the dinner menu.
Cod Cornucopia – Pan Roasted Cod served with a warm mustard potato salad and a chorizo vinaigrette This was my favorite! The cod was light and flaky and melted in my mouth. Combine the light mustard and vinaigrette flavors and the dish became a cornucopia of flavors.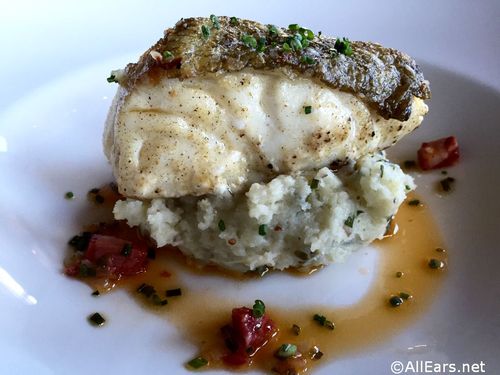 Proud Pork – Grilled Pork Chop, colcannon potatoes, Cider port jus and applesauce
The pork was tender and juicy. While it had lots of flavor on its own, the cider port jus and applesauce added additional layers of flavor.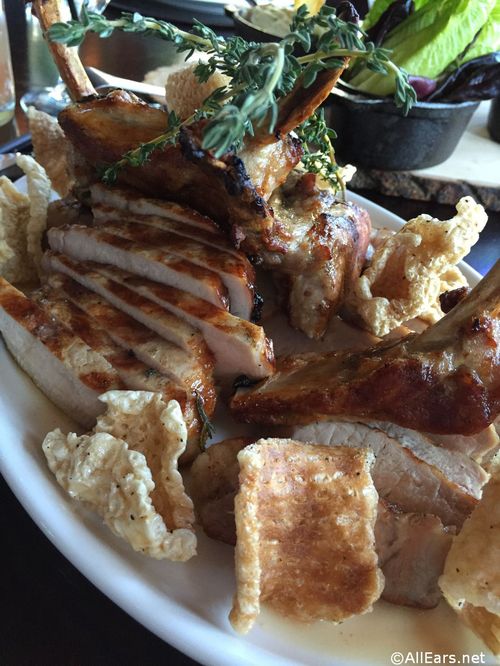 Double Joint – (served tableside) – Cowboy cut bone in rib-eye steak, fat chips, roasted veggies and salad greens, sauce bearnaise. At 28 ounces, this is a lot of steak goodness!
Sauve Smoothie – Seasonal fruit smoothie with honey yogurt and vanilla. This is a little something to open the palate and will be served during brunch.
Champion Cheese – Chef's featured farmhouse cheese with seasonal accoutrements.
The cheese platter will vary depending on the availability of cheeses.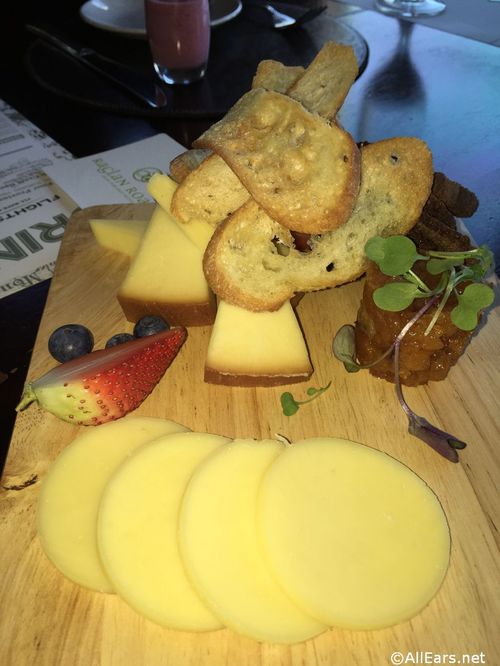 There are also ten new specialty libations to choose from.
My two favorites were the Irish Honey Cup and Our Whiskey Sour.
The Irish Honey Cup contained Bushmills Irish honey, Pimms, fresh lemon sour, sprite, cucumber and fresh lemon.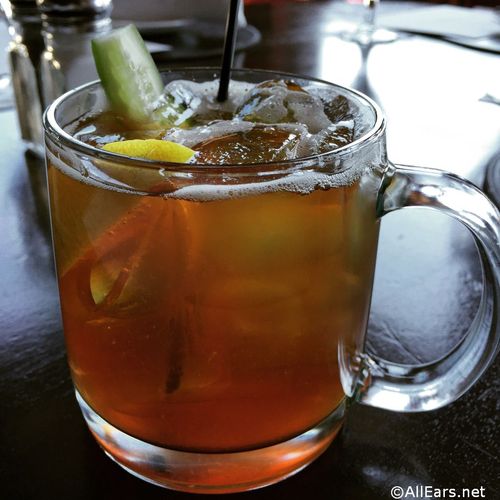 Our Whiskey Sour included Tullamore Dew Irish Whiskey, fresh lemon sour & egg whites. Served with classic trimmings.
I enjoyed both drinks for the whiskey flavor.
The new items certainly compliment the already popular menu. Don't worry, your "favorites" are probably still on the menu. I know mine are!
Complete Raglan Road Information including menus and photos!
Rate and Review Raglan Road (see what others have to say too!)