I'm excited about the addition of the festival marketplaces to the Flower and Garden Festival. I hope Disney does not increase the number of booths as that would really take away from the focus of the flowers. I will admit, it is nice to nosh around in the temperate springtime and enjoy the color!
TOP PICKS
These are my favorites from the new marketplaces (in order around World Showcase)
1) Florida Fresh: Watermelon Salad with pickled red onion, feta, arugula $3.50
Who knew watermelon and feta went so well together! I don't care to eat onions so just removed them.
2) Taco de Carnitas – pork carnitas topped with Taramindo salsa, served over flour tortilla with pork rinds $4.95
Loved the crunch the pork rinds added!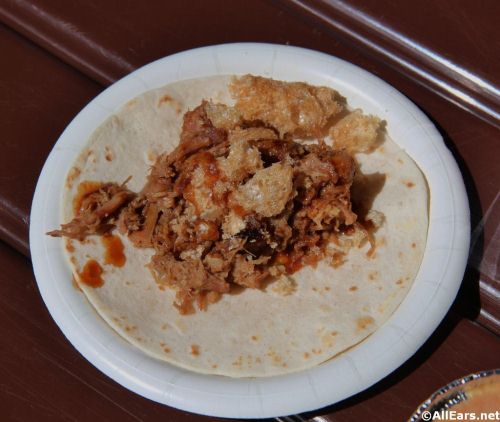 3) Rosita Margarita on the rocks – tequila, triple sec and rose infusions $8.50
What can I say, went well with the Taco de Carnitas (see #2)
4) Potato Pancake with house made Apple Sauce $2.75
Light, flavorful and crispy – I took off all the apple sauce – way too sweet!
5) Panna Cotta al Limoncello and Chianti- Limoncello flavored Panna Cotta with wild berries $5.00
One of the best Panna Cotta – had zest of lemon which gave a new extra to the flavor – Of course Chiati – I"m in Italy after all!
6) Smoked Beef Brisket with Collard Greens and Jalapeño Corn Bread $6.75
Not sure why I included this one as I don't eat collard greens or care for Jalapeno. I think the smells from here influenced me, yea that's it! But seriously, I thought the brisket was very good.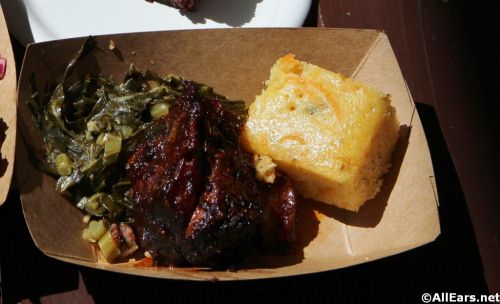 7) Frushi – Fresh strawberries, pineapple and cantaloupe rolled with coconut rice atop a raspberry sauce sprinkled with toasted coconut and whipped cream $4.50
Something different and refreshing.
8) Baghrir – Moroccan pancake with honey, almonds and Argan Oil $3.00
Tell them LIGHT on the honey and easy on the oil and you'll have a most enjoyable munch.
9) Chocolate Trifle $1.50
Chocolate – should I say more?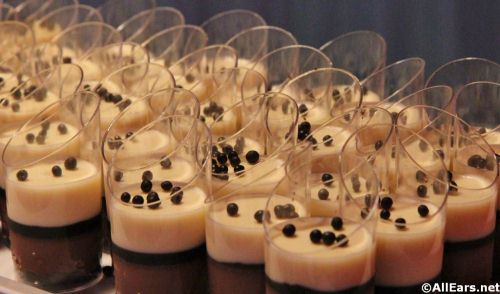 10) Potato, Chive and Cheddar Cheese Biscuit with Smoked Salmon Tartare and Sour Cream $4.25
Ok, this one isn't mine but Linda's. I needed a #10. She raved about the savory biscuit and the salmon went perfectly.
Over the course of several visits I ate just about everything my palate would try. I'm allergic to shellfish and tend to stay away from fish. I also don't like things really sweet anymore (there was a time…..) I thought some of the food was over sauced/ over sweet – don't be afraid to ask for anything on the side or just for a little.
RELATED LINKS:
— Marketplace Foods Photo Gallery

— Rate and Review the Festival Marketplaces
— Even more comprehensive Flower and Garden Festival Information and Photos