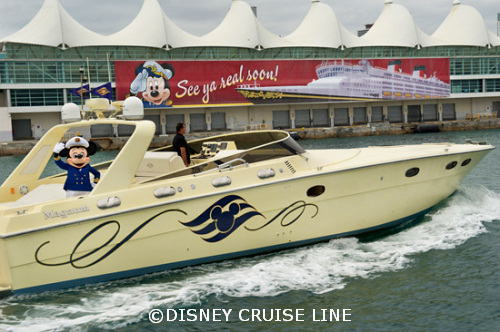 Captain Mickey Mouse officially kicked off the countdown for the arrival of the Disney Wonder to Port Miami with a Disney-style unveiling of a larger-than-life banner proclaiming "See Ya Real Soon.
When the Disney Wonder arrives in Miami on December 23, 2012, it will mark the first time a Disney Cruise Line ship has home-ported in South Florida.
Disney Cruise Line's inaugural Miami season will start with a 7-night Eastern Caribbean Christmas cruise and then ring in the New Year with a 6-night Western Caribbean voyage. These two holiday cruises set the stage for a very happy 2013 with three-, four- and five-night cruises to the Bahamas and Western Caribbean.
The Disney cruises from Miami will stop at multiple ports in the Bahamas and the Caribbean, including Nassau, Key West, Cozumel and Grand Cayman. Can you guess the port the South Florida families I talked to today are most excited about visiting? Disney's private island, Castaway Cay, of course! Miami is the newest addition to the list of Disney Cruise Line homeports from which guests can escape to this exclusive tropical paradise.