At both a media preview and on the DisneyParksBlog, new details were revealed yesterday about the Be Our Guest dining experience. Deb Wills attended the media reveal – look for her blog coming soon.
The big announcement that has Disney fans buzzing is that beer and wines will be served with dinner at Be Our Guest.
It's all about the mysterious new Magic Kingdom Park castle that's home to Beast from "Beauty and the Beast," with a majestic Ballroom with 20-foot-tall ceilings, elegant chandeliers and a wall of 18-foot-tall windows that overlook the French countryside where a light snow is falling; the Rose Gallery, with a large music box centerpiece that's almost 7 feet tall, with Belle and the Beast slowly twirling atop; and the forbidden, dramatic West Wing, with the warm glow of the Beast's enchanted rose.
Assorted Cured Meats and Sausages
A team of Disney chefs, including longtime Disney Chef Roland Muller, a native of Alsace, France, has spent more than three years developing the French-inspired menu, creating both a quick-service menu for lunch and a more elegant table-service menu for dinner.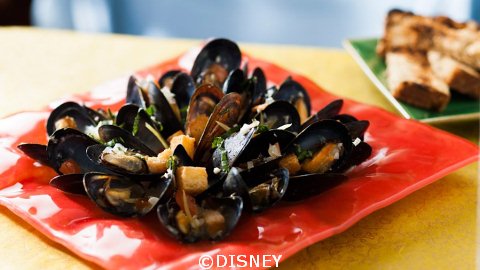 Mussels Provencal
"Our role is to finish the story," says Walt Disney World Executive Chef Lenny DeGeorge. And while the quick-service lunch is more of a French bistro, dinner is a more elegant affair with dishes themed to the film: a whole roasted hen, a pork rack chop, pan-seared salmon with leek fondue and saffron potatoes.
Grilled Steak with Pommes Frites
Ratatouille
Gourmet cupcakes and mousse-filled cream puffs are finished tableside.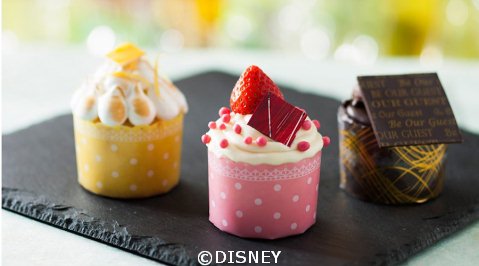 Gourmet Cupcakes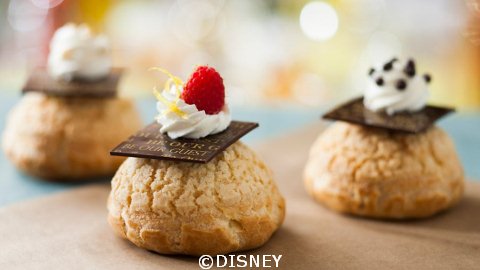 Mousse Filled Cream Puffs
"As part of the overall theming, we wanted to offer wine that enhances the guest experience and complements the French-inspired cuisine," says Stuart McGuire, Beverage Director, Walt Disney Parks and Resorts. "The wines focus primarily on France's famous wine-growing regions, including Champagne, Alsace, Loire, Rhone, Burgundy and Bordeaux.
"We'll also offer the leading French beer, Kronenbourg 1664," says McGuire. "And, staying in the general region, we'll also offer Belgian beers."
Servers complete the picture, dressed in a style inspired by European fashions from the 1400s to the 1600s: a royal purple embroidered doublet, or vest, over a shirt with knickers that reach just below the knee. For evening service, a jabot or ruffle, buttoned at the throat, is added.
"From the moment they cross the bridge into the castle, it's all about immersing our guests in the dining experience," says Bisienere. "Every detail is part of the story."