Dude! You have no idea how long it took me to find this series of photos. Why? I forgot to name the folder they're in on my external hard drive. Let that be a lesson to us all. Okay, moving on. A few years back on back-to-back trips to Walt Disney World, I eluded one major down pour by a few seconds. I was at Epcot, heading into the Japan pavilion when things started looking gray. No sooner had I landed a seat inside Yakitori House that the skies opened up. People flooded inside taking shelter. I can't even remember if I grabbed lunch or dinner but I'm sure I ate something as it is my favorite counter service spot in World Showcase. Anyhoo, a few families didn't seem bothered by the weather and ate outdoors underneath the umbrellas.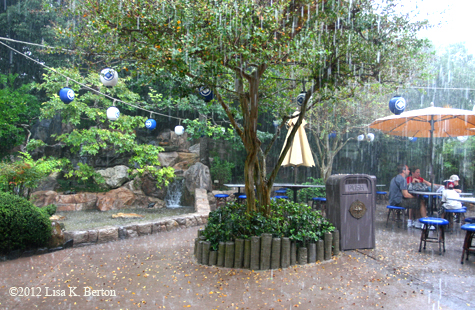 Disney Pic of the Week – Rain
Keep up with my freelance writing and photography via my Facebook page.