Hi, AllEars readers! If you would like to read more information regarding the temporary closures at the Disney Parks, please
click here for a list of closures at the Disney Parks
, or
click here for some of our most FAQs
. From all of us at AllEars, our thoughts are with those affected. While the Disney Parks are closed, we will continue to write articles and bring you AllEars TV videos to enjoy and for our readers to use once the parks reopen. 
With the parks closed, and many of us spending a lot of time at home in order to practice social distancing and help flatten the curve, we have had a lot of time to catch up on our Disney+ binge watches.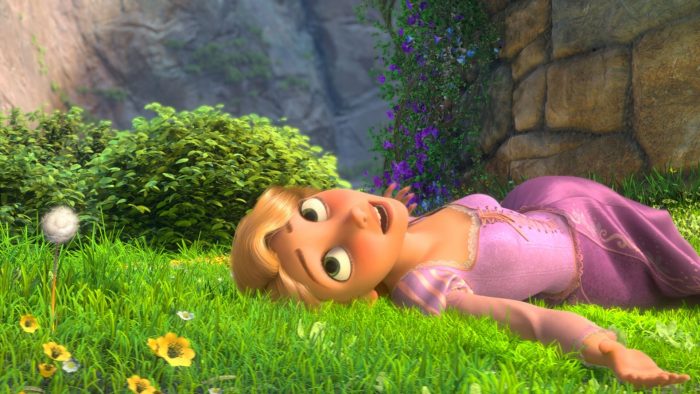 And, as slowly make our way through the entirety of the Disney archives, we couldn't help but notice that there are a lot of Disney characters that have found themselves in some quarantine-esque situations. So, we're taking a closer look at some of our Disney faves, and seeing how they spent their days practicing some self-isolation!
Let's get some tips. Here's our list of
10 Disney characters who were quarantined and what they did to cope

!
Sorceror Mickey from Fantasia
You might not think that Mickey has ever been in self-isolation, but in Fantasia, he spent quite a bit of time cooped up with the wizard Yensid! How did he handle it? By learning some new magic and bringing some brooms to life!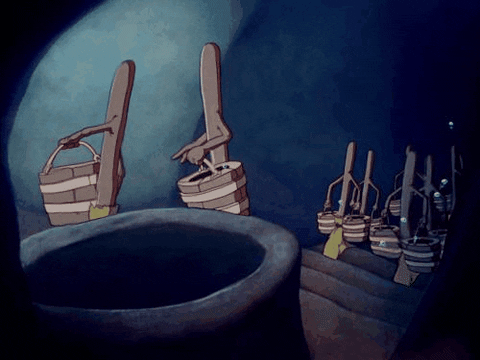 Now, we might not be able to magically animate cleaning supplies, but we can use this time to learn something new and do some deep-cleaning. Good on you, Sorcerer Mickey!
Rapunzel in Tangled
Next up we have the queen of quarantine, Ms. Rapunzel herself! This gal has a whole song full of things that you can do in isolation so if you need some ideas, queue up "When Will My Life Begin" and give it a listen!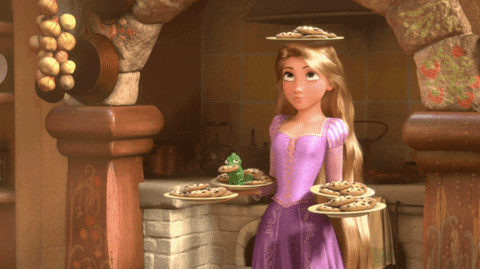 And if you want to know a kooky coincidence, the name of Rapunzel's kingdom is actually "Corona." Weird, right? Not so much when you remember that "corona" means "crown!"
Quasimodo in The Hunchback of Notre Dame
Next up, we have sweet Quasimodo from The Hunchback of Notre Dame. Frollo claims that he keeps Quasi locked up to protect him, and we're all home to protect ourselves and others too!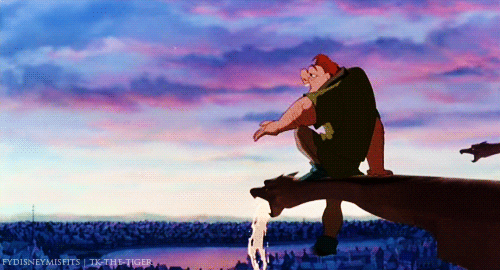 Quasi passes the time by playing some tunes on the bells, modeling the city, and talking to his gargoyle friends. Thankfully, we have phones and the internet so we don't have to talk to statues. Instead, we can pass the time by calling up our pals or getting into the arts, just like Quasi did!
Belle and Beast in Beauty and the Beast
In Beauty and the Beast, both Belle and the Beast deal with some isolation due to different circumstances. Beast because his fearsome visage keeps him away from society and Belle as Beast's prisoner at first.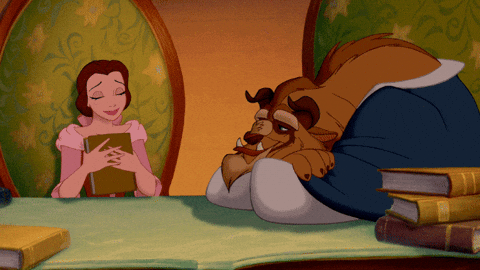 This couple eventually spends their "quarantine" hanging out with one another and working their way through their library. We like the sound of grabbing a good book!
Cinderella in Cinderella
Next up we have Cinderella, who wasn't so lucky to be quarantined with loved ones. Still, Cindy spent some time getting some good cleaning done, hanging with her mice and dreaming of the future.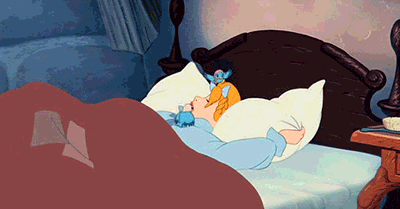 Well, we can get behind some goal-setting and planning, girl! Add that to our quarantine list! Plus, we might not have cute mouse friends but we do have some pretty cute pets, so we'll spend some time with them.
Genie in Aladdin
One cool cat who knows quarantine in and out is Genie from Aladdin. This guy spent literally millions of years cooped up in an itty bitty living space — that's the lamp!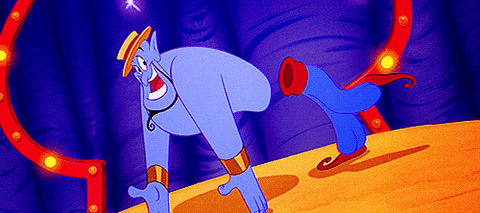 So how does the blue guy handle quarantine? Well, dreaming about a Disney vacay and thinking about helping others, of course! Hey, that sounds like the kind of thing we'd like to do!
Aurora in Sleeping Beauty
Next up, we've got Aurora from Sleeping Beauty. Like many a Disney princess, Aurora didn't choose to be quarantined, but unlike most, she didn't even know she was!

Still, she spent the time in a deep sleep. What we can gather from Sleeping Beauty is that quarantine is a pretty good time for a nice, long nap. We can't argue with that.
Snow White in Snow White and the Seven Dwarfs
The OG princess wasn't running from a virus, instead, she was stuck inside hiding from the Evil Queen. But, it's the same principle. The biggest difference? She was stuck inside with seven new roommates!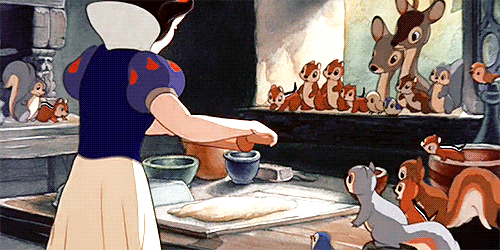 Still, Snow spent her time cleaning, singing, whistling, and spreading kindness. If we could be like Snow White, our quarantine spaces might look a little nicer and we'd have a lot of animal friends around!
Elsa and Anna in Frozen
Next up we have Elsa and Anna from Frozen. This one is a great example of what to do and what not to do in a quarantine. While the gates are closed, Anna and Elsa have very different ways of handling things.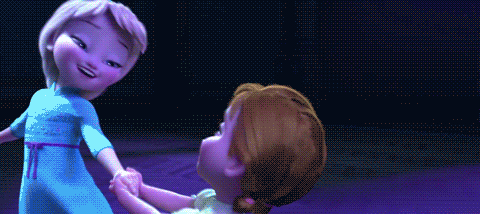 Where Elsa is paralyzed by fear and constantly shut away to make it worse, Anna spends her time playing in the castle and trying to connect with her sister through her closed door. Don't be like Elsa, that is to say, don't panic! Let it go!
Hank the Octopus in Finding Dory
We're finishing up with a great example for all of us and that's Hank the Octopus from Finding Dory. The fish in the movie have been put in quarantine for their only protection (kind of like us!) and yet, they still want to escape.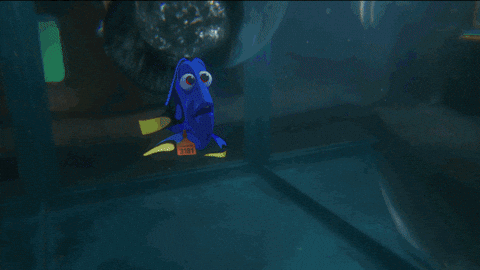 Not Hank though! This octopus is happy in quarantine and wants to stay cooped up, safe and happy. Be like Hank! It's safer for you and others to stay home and listen to health officials — like our octo-pal.
Which of these characters has the right idea when it comes to quarantine? Let us know in the comments!
Join the AllEars.net Newsletter to stay on top of ALL the breaking Disney News! You'll also get access to AllEars tips, reviews, trivia, and MORE! Click here to Subscribe!