I recently had the occasion to spend a night in the Central Florida area and thought I would check out the Hilton Orlando Bonnet Creek, a new 2011 advertiser on AllEars. I had a tour of the property a few months back and was impressed with all the amenities offered. Things almost always look great on tours, but I wanted to try it out for myself.
We arrived at the hotel about 3pm and our room was ready. The lobby area was bright and clean and the front desk staff were most helpful, friendly and efficient. I asked a few questions (I already knew the answers to) and they were also very knowledgeable.
Before long, we were on our way to the King room we requested. Given my Hilton membership, I was upgraded to a beautiful pool view room. The pool area is amazing and wish we had time to check it out.
The room was spacious and nicely appointed.
I had work to do and the pull out computer table under the desk was perfect!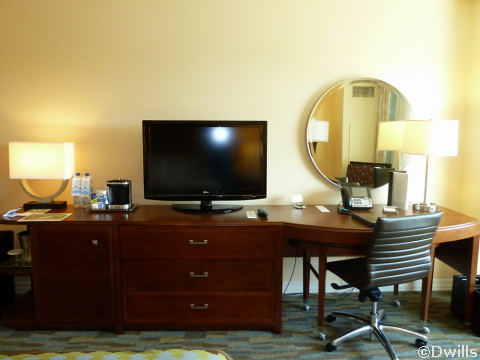 We did have trouble finding the safe, as it wasn't in the closet where I'm used to finding it. The gentleman who answered in Guest Services was very nice and explained the safe is in the nightstand. And, perhaps more importantly, did not make me feel silly for asking.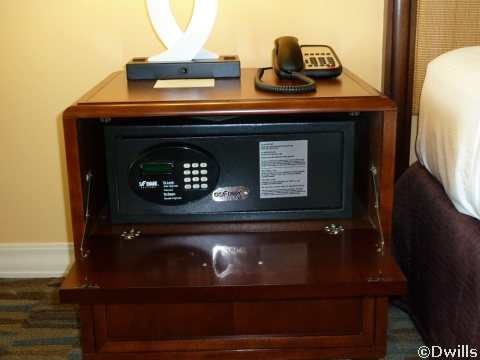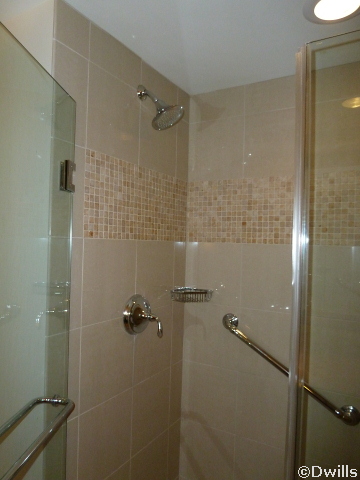 You can't beat the location, I could see parts of Disney's Caribbean Beach Resort from our room. Shuttle transportation is provided to the Disney theme parks on a schedule. We did not use this feature, so I can't comment further.
Wireless internet is free in the lobby area, otherwise there is a charge if you use the hard wire in the room.
There is no resort fee so in addition to paying for in-room internet you also pay to self/valet park.
Special amenities (spa, golfing, dining) are shared with the Waldorf Astoria located nearby.
For dinner we ate at La Luce by Donna Scala, located in the hotel. "This is a modern Italian country kitchen serves dinner and features regional Italian cuisine, thin crust pizzas, Mediterranean-inspired cocktails and a Trattoria-style wine program."
See the large artwork in the photo? It is hand drawn by chalk artists – just amazing. It even changes every few months!
Our server was exceptional and she really added to the ambiance of the dining experience.
The four of us enjoyed our meals and rated the food from outstanding to average depending on the dish. For instance, I LOVED my Asparagus Salad with Lemon Mascarpone, Toasted Pistachio, Goat Cheese, Avocado, and a light lemon dressing. I'd have it again in a moment! The Olive Fritte Fried Spanish Olives with Marcona Almonds appetizer was a huge hit as well! Not only were the olives tasty, there were quite a lot of them served in a nice round bowl which made for easy sharing.
The other items included: Bruschetta del Giorno – this night's special was with tuna tartar. While it was tasty, the tartar was more of a paste and not thinly sliced tuna, which my mind had envisioned so it was a tad disappointing.
The special entree of the evening was Sea Bass with mashed potatoes and a vegetable. Flavors were good, seasoned well, nice sear marks but a tad on the dry side.
Two of us had the Bellwether Ricotta and Pesto Ravioli with a choice of Lemon Cream or Tomato Sauce. Our server recommended we try half of each. While the ravioli with tomato sauce was ok, I really enjoyed the Lemon Cream sauce. It gave a nice citrus accent to the pasta.
We were all full and passed on dessert. Overall a great evening of service, friends, wine and food.
The next morning we slept in before heading out of town. First stop, Harvest Bistro for breakfast. There were a variety of a la carte items or the breakfast buffet for $17. The items all were fresh (and even had my favorite strawberries on the buffet) so the buffet won out. One nice feature is that kids (12 and under) eat FREE at breakfast and dinner at (with the purchase of an adult entree)!
All in all, a short, but wonderful stay at the Hilton Orlando Bonnet Creek. I look forward to a longer stay next time! I suggest you check it out!
Checkout what AllEars readers have to say and post your review too!
Disclosure: The Hilton Orlando Bonnet Creek is a paid advertiser with AllEars®. This in no way influenced my review. The resort did not know I was coming and I paid for the stay myself. I did not even book it through the link on AllEars.