Today I am heading to the west coast for a week in Disneyland. Even though I was just there for 2 nights in April (before the Disney Cruise west coast re-positioning cruise), much has changed since my visit!
At Disneyland, the new Star Tours is open – yes, I know just like WDW. But the Mickey's Soundsational Parade also has debuted and getting very positive reviews. I love a good parade and look forward to seeing this one!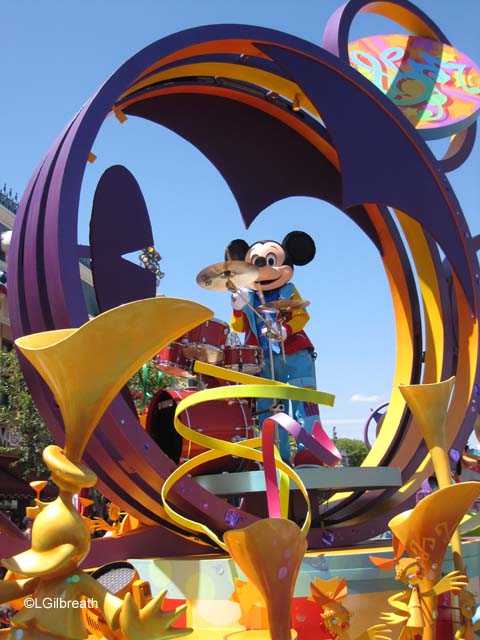 Over at the Disneyland Hotel, where I wandered in a maze of construction walls on my last visit, the pool and 2 new eateries have opened! Tangaroa Terrace and Trader Sam's Enchanted Tiki Bar are now open. In fact, I'll be having a meet and greet at the Tangaroa Terrace on Thursday morning at 9:30am!
But the most changes have occurred over the Disney California Adventure. The new entrance (which I hear makes you think you are at Disney's Hollywood Studios) has opened.
The first photo is from my April trip and then you'll see how it looks now. Quite a difference.
…as has The Little Mermaid: Ariel's Undersea Adventure. I'm excited to be seeing the Little Mermaid attraction as it will be opening in WDW next year!
Also, the Paradise Pier area has many new areas open including Goofy's Fly School and several eateries.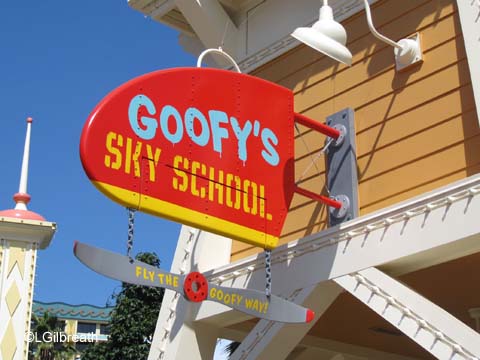 WOW — there is a LOT that is new since just a few months ago. I hope I can see it all.
The reason I'm not sure is because much of my time will be over at the D23 Expo.
The pre-opening festivities include an invitation only special tribute in honor of Betty Taylor & Wally Boag at Disneyland. Plus a media reception that takes place inside the "Carousel of Projects," the spectacular pavilion created to celebrate all the magic on the horizon for Walt Disney Parks and Resorts. We will also get to preview the Treasures of the Walt Disney Archives.
And, I have a few other things I'll be doing on thursday that I hope to be able to tweet photos and update you on.
The Expo kicks off officially on Friday for 3 days. The AllEars team (Deb Koma, Laura, Lee and Jeanine) will be there covering as many events as we can with a jammed packed schedule.
Here is a list of the celebrities who are supposed to be there over the course of the three days:
Celebrities from both current and classic Disney projects (both on screen and behind the scenes) will be on hand throughout the Expo, and are currently scheduled to include: Jennifer Garner, Dick Van Dyke, Willem Dafoe, Kermit the Frog, Miss Piggy, Jason Segel, Marty Sklar, Alice Davis, Michael Giacchino, Tony Baxter, Tom Bergeron, Regis Philbin, Jodi Benson, Lea Salonga, Linda Larkin, Paige O'Hara, Anika Noni Rose, David Arquette, Jason Dolley, Hayley Keyoko, Sterling Knight, Tiffany Thornton, Sarah Silverman, Jack McBrayer, Kelly MacDonald, Kevin McKidd, Lynn Collins, Taylor Kitsch, Wilmer Valderrama, Sean Astin, Melissa Joan Hart, Sean Astin, Chelsea Kane, Kyle Massey, cast members from Marvel's The Avengers and many more.
Many things I want to see overlap, so hard choices will have to be made. Here are just a few of the events I hope to be at
Friday
2011 Disney Legends Ceremony, 11 a.m. D23 Expo kicks off the first day by honoring the latest recipients in Disney's 24-year tradition.
Walt Disney Parks and Resorts, 3:30 p.m. Glimpse into some of the exciting projects currently underway at Disney's parks and resorts.
Dick Van Dyke & The Vantastix, 8:15 p.m. Hear songs from Dick Van Dyke's varied entertainment career and various Disney classic songs.
Saturday
The Walt Disney Studios, 10:30 a.m. Exclusive video clips, live performances, filmmaker discussions, star appearances, and more!
Michael Giacchino's Music of Pixar, 1:00 p.m. In this musical presentation, Michael Giacchino provides an earful of tunes and tales about his early influences for Pixar's modern-day classic scores.
Legends of Walt Disney Imagineering, 4:30 p.m. Disney Legend Marty Sklar will lead a celebration of Imagineering careers and accomplishments.
Sunday
Imagineering the Dream and the Fantasy Ceremony (D23 Members Only), 9:00 a.m. Imagineers Joe Lanzisero and Bob Zalk talk about the design of Disney's latest cruise ships.
Radiator Springs Reality, 1:30 p.m. Pixar's John Lasseter and Roger Gould join Imagineers for a sneak peek look at Cars Land.
MORE of The Wonderful World of Vintage Disneyland and Walt Disney World, 5:15 p.m. Film preservationist Ed Hobelman and Imagineer Tony Baxter look back at vintage footage. Stage 23
Stay turned.
I will be twittering http://twitter.com/#!/allearsdeb and my twitter feeds to my facebook page.
Deb Koma will be twittering via the http://twitter.com/#!/allearsnet.
The Team will be blogging as time permits.