Pleasure Island at Downtown Disney may no longer be the nighttime hotspot that it was in its heyday when clubs like the Comedy Warehouse and the Adventurers Club entertained guests on a nightly basis, but that does not mean that the area is completely devoid of life. As Disney works to develop and breathe new life into the former club district, there are still locations on the island worth visiting. Raglan Road is one such establishment that has helped provide some new energy and excitement to the area with its combination of food and live entertainment.
While Raglan Road brings a little taste of Ireland to Disney World, another restaurant on Pleasure Island provides guests a similar experience but with a much different feel (and one that is a little closer to home). Located next to some of the now-closed clubs, Paradiso 37 is another step in Disney's effort to reinvigorate this area of Downtown Disney.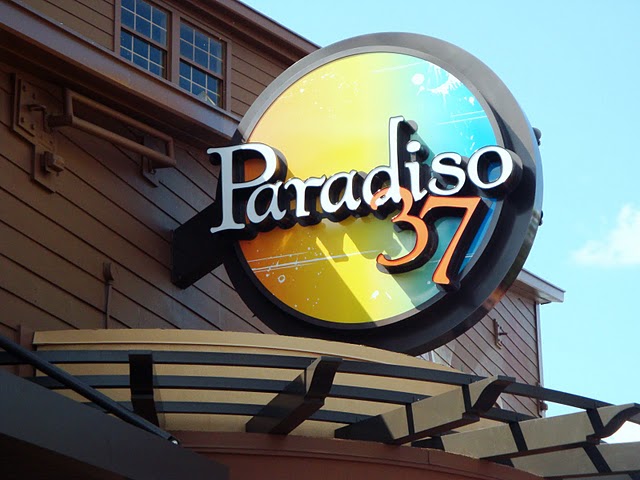 Overview:
Paradiso 37 is a very eclectic restaurant. Rather than highlighting the cuisine of one specific country or region, the restaurant offers diners a far larger scope that encompasses the varied cuisines of two continents. A meal at Paradiso 37 allows guests a taste of North, Central, and South America as well as the Caribbean. The result is a wide array of dishes and flavors that contrast and compliment each other.
The name of the restaurant itself is significant. The 37 acknowledges the thirty-seven different cuisines highlighted on the menu from countries all across the Americas. The restaurant also presents these cuisines in a unique way. Rather than focusing on the gourmet aspects these various cultures have to offer, the restaurant chooses to emphasize what it calls the "street foods" of the Americas. This is the type of cuisine you would find at stands and carts at markets, festivals, and on the streets in the countries of North, South, and Central America. There is nothing really flashy or elegant about the items on the menu, but it does feature many traditional favorites.
This is a restaurant that offers diners a culinary journey from start to finish, sampling foods from many diverse and different areas; you may choose to start with an appetizer of corn dog bites reminiscent of the streets of New York City then travel to South America with an entrée of Chilean Salmon or Argentinian skirt steak and finish your meal with some traditional Mexican churros.
Paradiso 37 is more than just a restaurant and in many ways is similar to Raglan Road except with a Latin rather than Irish spin. Inside the restaurant you can find two bars, including one with a tequila tower featuring (not surprisingly) thirty-seven different kinds of tequila. Other specialties from the bar include a variety of margaritas and what they claim to be the "world's coldest draft beer," served at a chilly twenty-nine degrees. In addition, Paradiso 37 features nightly entertainment with a live band performing starting at 6pm until close. It is definitely a restaurant that offers a little something for everyone, not only in terms of its cuisine, but also with its variety of beverages and entertainment.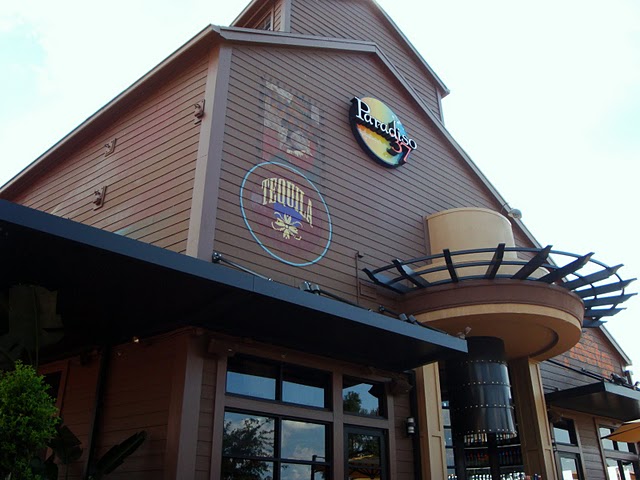 Atmosphere:
Paradiso 37 is a restaurant that highlights all of the Americas, but it has a distinctly Latin flair. This is evident from the moment you enter with the restaurant's lively music and vibrant color scheme. The walls throughout the restaurant feature bright red, yellow, orange, green, and blue, giving Paradiso 37 a very vibrant feel.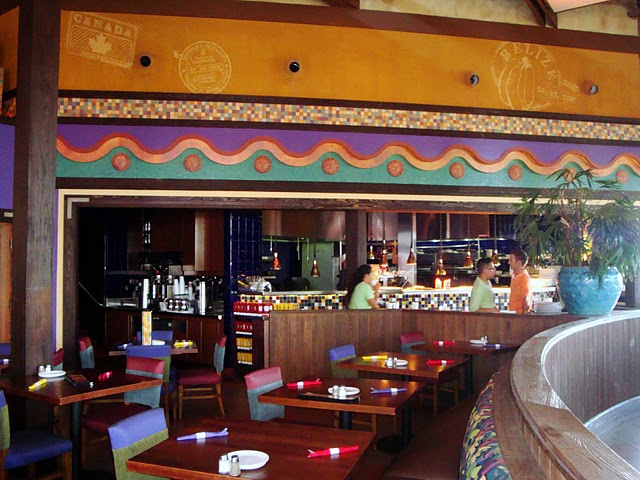 The colorful interior of the restaurant is a contrast to its rather bland-looking, brown exterior.
Also as you enter, be sure to take notice of the very unique light-fixture, a chandelier featuring martini glasses and bottles of tequila.
Another distinguishing feature of the restaurant is its very open, airy feel. Contributing to this are large windows that let in ample amounts of natural light and offer great views of the water in addition to the restaurant's high ceilings.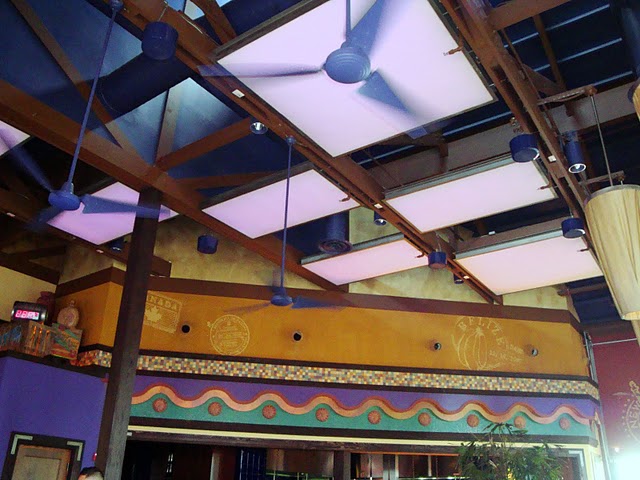 The interior of Paradiso 37 is divided into an upper and lower level. I was surprised to see that they actually had a small elevator for guests travelling in wheelchairs that made the upper level accessible to them. The upper level features tables with brightly colored chairs and booths.
There is also a beautiful mural depicting a vineyard and shelves displaying bottles of wine.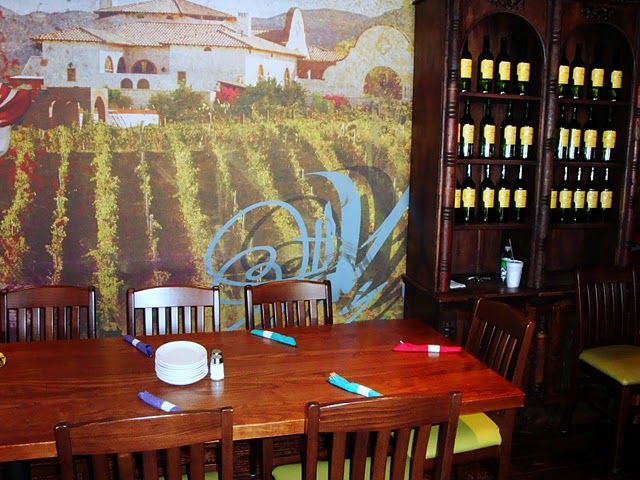 The bar in this section of the restaurant is really a site to behold and is almost like a piece of art in itself, crafted out of melted glass wine bottles.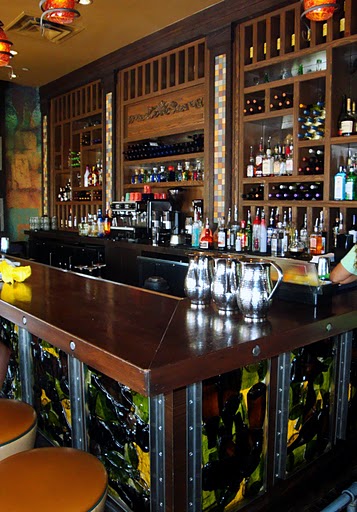 I found this upper section of the restaurant to have a quieter, more intimate feel compared with the rest of the restaurant.
The lower level is more open and its distinguishing feature is its bar and tequila tower. This part of the restaurant had more of a bar-type feel about it and, although it was not crowded when I was there for lunch, I can imagine this part of the restaurant getting very loud when crowded at dinner, especially when the live entertainment starts.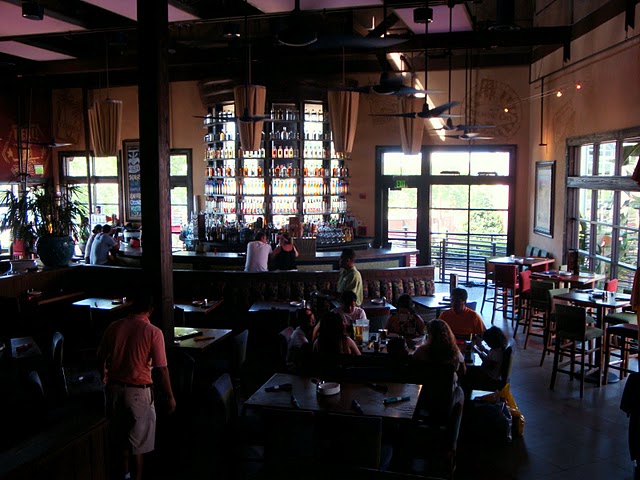 The restaurant's décor is fairly simple. Just as the restaurant's cuisine offers a culinary journey featuring dishes from many different countries, travel plays a large role in the theme of the dining room. In addition to their bright colors, the walls are adorned with vintage travel posters from all across the Americas, ranging from locations in Florida and California to Mexico, South America, and various Caribbean islands.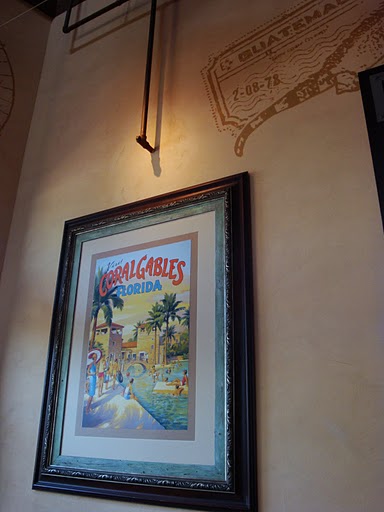 There are also large passport stamps printed on the walls highlighting some of the countries whose cuisine you are able to sample on the menu.
One of the main draws of Paradiso 37 is the restaurant's location overlooking the water and the restaurant features ample outdoor seating that takes advantage of the spectacular views. While outdoor seating might not be the most appealing option during the hot, humid days of summer it becomes a very desirable place to dine on balmy Florida nights.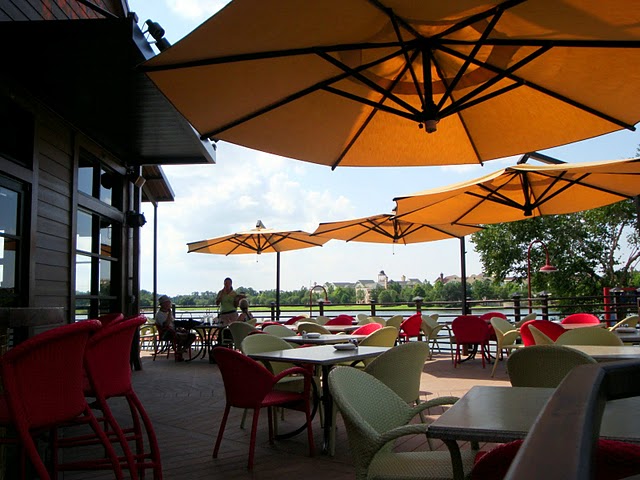 The restaurant also features an outdoor bar for those who do decide to sit outside.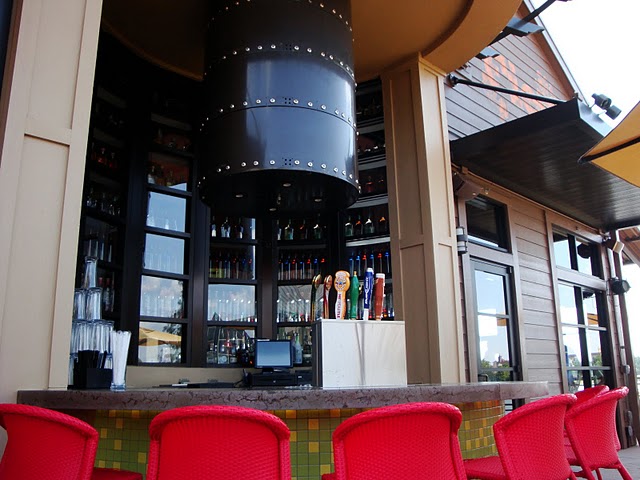 Overall, Paradiso 37 is a restaurant with a very laid-back, relaxing, casual feel that goes along well with the cuisine that the restaurant features. It is the type of restaurant that you would feel comfortable dining at with the entire family, but at the same time would be a nice place for a night out for couples looking to get away from the kids or if you are looking for somewhere to have good food and drinks with some friends and enjoy the entertainment.
It should be noted that if you are planning on dining here with children it is probably best to come for lunch or an earlier dinner as the restaurant becomes louder and more bar-like as it gets later into the night.
The Menu:
Since Paradiso 37 highlights the cuisines of countries from all across North, Central, and South America as well as the Caribbean, the menu features something for almost everyone. As with the restaurant's atmosphere, however, the menu does have a heavy Latin influence.
Since the restaurant highlights street foods from the Americas, I felt that the appetizers were definitely the strongest part of the menu and offered some of the most intriguing options.There are some traditional offerings such as Quesadillas ($12.99) with your choice of chicken or steak, P-37 Nachos ($13.99), North American Corn Dogs ($8.50) served with honey dijon mustard dipping sauce, and Chili Con Carne ($7.00).
There are also several more unique appetizers such as the Caribbean Crab and Fish Fritters ($9.50) served with a coconut lime dipping sauce, Chorizo & Beef Skewers ($15.99) accompanied by chimichurri pita bread, marinated mushrooms, and citrus yogurt sauce, Shrimp Ceviche ($9.75) featuring shrimp topped with lime juice, tangy tomato sauce, fresh chilies, cucumber, and avocado, Mac & Cheese Bites ($8.50) served with a jalapeno and cilantro dipping sauce, and Central American Crazy Corn ($8.50), which is fire-roasted corn on the cob topped with a spicy yellow pepper sauce and imported cheeses.
There is also an entire section of the menu dedicated just to Chips & Dips. These items are great for sharing if eating out with a group. There is the Mexican Dipping Trio ($7.99) of chunky guacamole, chili con carne, and spinach queso dips, the Salsa Trio ($7.99) featuring pineapple salsa, tomatillo salsa verde, and fire roasted salsa diablo, the Paradiso 37 Queso ($8.50) featuring imported cheeses flavored with spinach, cilantro, peppers, chiles, and onions, Guacamole (Regular: $4.99, Large: $7.99), and just plain Chips and Salsa ($3.99).
The menu also includes a variety of salads, sandwiches, and burgers. For salads there is the exotic Skewered Shrimp & Jicama Orange Salad ($16.99) featuring three jumbo shrimp with mixed greens and tossed with orange slices, jicama, dried apricots, raisins, toasted almonds, and pumpkin seeds and topped with a prickly pear vinaigrette, or the Grilled Chicken Tortilla Salad ($13.99) featuring mixed greens tossed with roasted corn, diced tomatoes, crispy tortilla chips, and queso fresco in a citrus vinaigrette, as well as a traditional Grilled Chicken Caesar Salad ($13.99).
The sandwich offerings include the Grilled Chicken Sandwich ($14.99) topped with bacon, guacamole, queso fresco, borracho beans, and serrano slaw and the Blackened Mahi Mahi Sliders ($13.99). Even the burgers have an exotic flair including the Bacon and Pineapple Burger ($14.99) topped with smoked gouda, grilled pineapple, honey glazed bacon, borracho beans, and serrano slaw in addition to the Jalapeno Burger ($14.99) topped with cheddar cheese, guacamole, marinated jalapenos, and pico de gallo.
The final section of the menu is what they call Platters of the Americas, featuring a variety of entrees from different parts of North, Central, and South America. Among the offerings are Chicken or Beef Enchiladas ($14.99) accompanied by cilantro rice and black beans, Baja Fish Tacos ($14.99) topped with roasted corn salsa, lime crema, and spicy slaw, Chicken or Beef Burritos ($14.99) with sautéed peppers, squash, red onions, imported cheeses, and sweet chipotle barbeque sauce served with cilantro rice and black beans, Chilean Style Salmon ($20.99) fire-roasted and served with roasted potatoes and seasonal vegetables, Colombian Style Crispy Hen ($19.99) marinated with onions, garlic, lemon, and cilantro, topped with fresh citrus marmalade, and served with grilled corn cakes, Char Broiled Filet ($29.99), Citrus BBQ Pork Ribs ($22.99), and Argentinean Skirt Steak ($23.99) topped with caramelized onions and chimichurri sauce.
Be sure to save some room for dessert as the menu features several tantalizing options including the Paradiso 37 Chocolate Stack ($7.99), which is layers of chocolate cake and chocolate mousse served on a bed of warm caramel sauce and topped with vanilla ice cream, the Churros & Sopapillas Combo ($5.99) served with caramel and chocolate sauces, Mini Ice Cream Cones ($6.99) with vanilla, chocolate, strawberry and cookies & cream ice creams, Tres Leches ($5.99), which is layers of white cake soaked in sweet milks and layered with fresh strawberry mousse and topped with meringue, and Seasonal Fruit Empanadas ($6.99) served with caramel and fresh fruit marmalade dipping sauces.
When I was looking at the menu there was no one entrée that really stood out to me, but there were several appetizers that sounded very interesting. Therefore, I decided just to order a couple of appetizers for my meal. The only question was which appetizers I wanted to order. I decided on the Mac & Cheese Bites and the Caribbean Crab and Fish Fritters.
The Crab and Fish Fritters were smaller in size than I expected, but the overall portion was still substantial. The fritters themselves included not only crabmeat and fish, but also shrimp as well as bell peppers and cilantro. The flavors of the crab, fish, and shrimp blended together perfectly so that no one flavor really stood out in relation to the others. The peppers added just the slightest kick to the fritters and the cilantro was barely noticeable at all. The fritters were fried to a beautiful golden brown, but they were only slightly crispy on the outside and still soft and moist on the inside.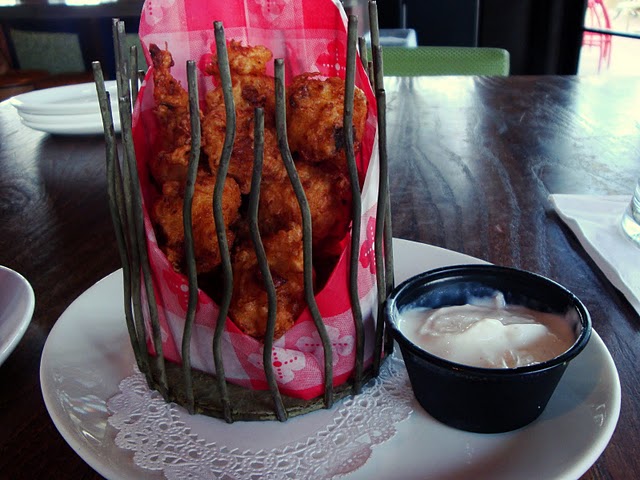 The fritters came served with a coconut-lime dipping sauce which really helped to kick the dish up a notch. The sauce had a slight sweetness that presented a light and refreshing contrast to the heavier fried fritters. While the sauce had a very distinct flavor, I felt that it served to actually enhance the flavor of the fritters rather than overpower them.
The Mac & Cheese Bites were something I had never seen before. I have had baked macaroni and cheese and this was somewhat similar except served in a ball-shape and deep fried. The bites were fried perfectly so that they were crispy on the outside, but when you cut them open the cheese oozed out. The macaroni inside was small elbow pasta cooked al dente while the coating to the bites themselves was standard breadcrumbs. While the bites may not have appeared very big, they were very filling and I was not even able to finish all of them.
My only complaint about the dish was the jalapeno and cilantro dipping sauce that accompanied the bites. I thought that the sauce was far too strong in flavor to be paired with the mac and cheese. When dipping the bites into the sauce, the flavor of the mac and cheese was completely overwhelmed by the taste of cilantro. Personally, I felt that the mac and cheese bites were good enough on their own that they did not even need a dipping sauce.
For dessert I decided on the Churros & Sopapillas Combo. The churros and sopapillas are similar to each other in some ways, but they also have some differences and both actually complimented each other very well. The churros were firmer in texture, almost a little crispy on the outside, while the sopapillas were softer and more moist on the inside.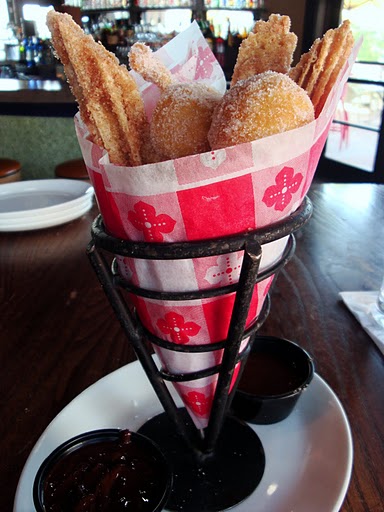 What really made this dessert were the warm chocolate and caramel dipping sauces. While I tried the churros and sopapillas in both, I actually preferred dipping the churros in the caramel and the sopapillas in the chocolate. I felt that the texture and flavor of the churros combined better with the sweeter caramel while the heavier chocolate sauce proved to be a better compliment to the sopapillas. The churros and sopapillas combined with the dipping sauces to make a heavy dessert and the portion size was large enough that I was not even able to finish the whole thing.
Service:
Paradiso 37 is not owned or operated by Disney and as a result the quality of the service was not quite up to the high standards set by other restaurants across Disney World. It was not all bad, however. My server was actually very efficient and the meal proceeded at a good pace but one in which I did not really feel rushed. What disappointed me about the service, however, was that I felt as though my server basically ignored me throughout the course of my meal. I saw my server when he took my order, brought out my food, cleared the table, and brought out the check, but that was it. I was really surprised that my server never even stopped by my table while I was eating to see if I was enjoying everything. There was really no excuse for this because the restaurant was not very crowded while I was dining there and I noticed that my server only had a couple of other tables that he was waiting on.
Dining on a Budget:
One of the things that impressed me most about Paradiso 37 was the relative affordability of many of the items on the menu. My personal recommendation, and one which could save a lot of money if dining with a group, would be to order several appetizers to share. The Crab and Fish Fritters are $9.50 while the Mac & Cheese Bites and the Corn Dog Bites are each $8.50 and even the P-37 Nachos for $13.99 are a good value. Another affordable appetizer selection to split are the various chips and dips. The Mexican Dipping Trio is just $7.99, the Salsa Trio is the same price, and you can't go wrong with the Chips and Salsa for $3.99.. Combine a few appetizers with a dessert or two to split and you have a very affordable meal for the entire group.
Even if you would rather have an entrée rather than splitting appetizers, the Paradiso 37 menu features numerous options for those that are dining on a budget. The Enchiladas, Baja Fish Tacos, and Burritos are each $14.99. Likewise, if you are in the mood for a burger, the Jalapeno Burger and Bacon and Pineapple Burger are each $14.99. Even the desserts are very affordable, ranging in price from $5.99 to $7.99. These prices make Paradiso 37 much more affordable than many of the other sit-down dining options found at Downtown Disney.
The Overall Experience:
I had never been to Paradiso 37 before this trip, but I can say that I will definitely be dining there again. One of the great features of the restaurant is that it highlights the cuisines of such a large, diverse, and dynamic area ranging from North, Central, and South America to the Caribbean. The result is a menu that features a lot of different choices and there are still several other items on the menu that I really want to try the next time I go.
There are many dining options at Downtown Disney and Paradiso 37 does not receive the same attention as some of these other establishments, largely due to its location on the now mostly abandoned Pleasure Island. Just because Paradiso 37 may go overlooked does not mean that it is not worth a visit. On the contrary, I felt that the restaurant's laid-back, relaxed, Latin feel (in terms of both atmosphere and cuisine) offered a nice alternative to the other dining locations I have been to at Downtown Disney. Also, the restaurant's lack of notoriety may make it a little easier to get a table during the busiest dinner times. With its casual atmosphere, good food, and affordable prices, Paradiso 37 is a great place for a night out with family or friends.
Check out Reader Reviews of Paradiso 37 and post your own too!