I haven't done this for a while…here's a few brief reviews on some new (to me) things I've tried at the Disneyland Resort over the last couple of months.
I'll start with the thing that was my favorite, since it's the most memorable: the mini cupcake sampler. Lee and I shared this one evening. It comes with six different miniature frosted cupcakes: carrot cake, red velvet, peanut butter, chocolate, coconut, and vanilla. The red velvet and chocolate cupcakes were awesome (he almost didn't get any of the chocolate one), and he really enjoyed the carrot cake as well (I think it was good carrot cake – I'm just not a carrot cake fan). The coconut one was also good, with nice moist shredded coconut on top. Lee enjoyed the peanut butter one more than I did. Our least favorite was the vanilla – it just didn't have a lot of flavor and didn't seem as "special" as the others. The box is $6.95. I have seen it at Marceline's in Downtown Disney, at the candy counter in Greetings from California at DCA, and in Pooh Corner at Disneyland.
La Brea Bakery Cafe
La Brea Bakery Cafe has several varieties of sliders on its menu – there are three grilled "mini-paninis" in each order. We tried the Three Cheese (cheddar, mozzarella and parmagiano) and Sun Dried Tomato Pesto. I thought the Three Cheese was a bit tasteless but Lee enjoyed them. I really liked the Sun Dried Tomato Pesto. They also have ham and gruyere. These are $7.95 for three, for $3.95 more you can add a (large) salad or a cup of soup.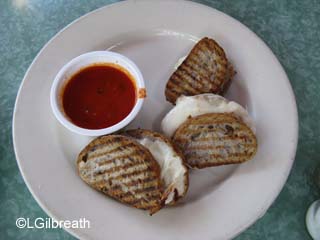 Rancho del Zocalo
Rancho del Zocalo has added Grilled Mahi Mahi Fish Tacos to its menu. The platter of two fish tacos, rice, and beans is $10.49. Each fish taco is wrapped in two corn tortillas, which seems a bit excessive. They were very tasty – just a little bit spicy – but I thought the pieces of fish were very small.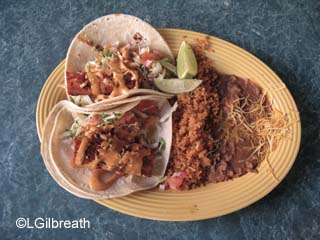 Ralph Brennan's Jazz Kitchen
I've always thought the appetizers at Ralph Brennan's Jazz Kitchen looked really good, so I made a meal out of their appetizer sampler, which comes with BBQ pork sliders, Creole calamari, blackened chicken spring rolls and coconut shrimp. I didn't want the calamari, so our server offered to substitute more of one of the other items – I chose the coconut shrimp, since that's what Lee wanted to "share" with me. 🙂 I ended up with the appetizer for four people ($24) instead of for two ($15), which was a lot of food – I couldn't finish. Next time I'd do the smaller size, unless I had several people who wanted to sample it.
Ralph Brennan's Jazz Kitchen Dinner Menu
Cafe Orleans
Cafe Orleans recently raised their prices, but the menu hasn't changed – we had a late lunch there. I really wanted the Mickey Beignets for dessert, and since we were also going to share an order of Pomme Frites (best French fries ever!), I ordered just the "La Salade de Maison" instead of an entree. It's quite a large salad, though. And between the two of us we couldn't finish the Pomme Frites. Lee had the Creole Ratatouille, which he really enjoyed – it was a little spicy for me, but the corn cakes were very good. The Mickey Beignets were hot and light and airy – just don't inhale when you take a bite (it's hard to breathe powdered sugar!).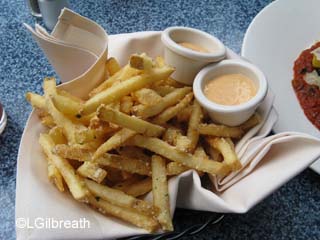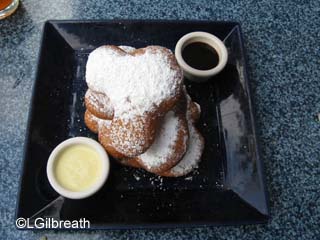 Steakhouse 55
The morning of the Destination 23 scavenger hunt we had breakfast at Steakhouse 55 in the Disneyland Hotel. If you want a calm, quiet place to have breakfast, this is it. There's usually not very many people, and few children, plus the restaurant is pretty quiet anyways – not too many tables, and the surfaces are more sound-absorbing rather than sound-reflecting. The food is good, too. Lee had the Two Times Four, which was two pieces of French toast, two eggs, and two pieces of both bacon and sausage. The French toast was good.
I had the Sunrise Burrito – a tortilla with eggs, chorizo, potatoes, and cheese. I had them leave out the chorizo. I was disappointed in this – the cheese was on the outside and not the inside, and there were peppers in the potatoes. Next time I'd get the Huevos Rancheros, which I've had before – or get what Lee had. Still, it was an excellent breakfast and kept us going through the scavenger hunt, since we didn't have time to eat during the hunt.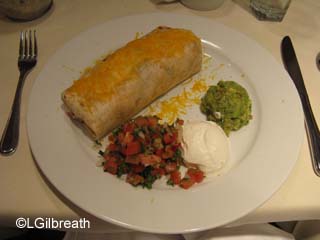 Add YOUR dining review in the Disneyland Rate and Review Area!