(SOMEONE out there, and you know who you are, has been after me to finish this particular set of blogs, so here, finally, is part 3!)
Part 1 Mediterranean Cruise Food Blog
Part 2 Mediterranean Cruise Food Blog
Day 8
Arrr, matey, it was Pirate Night! It had been another long port day, though – we didn't get back to the ship until about 7:30. I think a lot of people who had early seating missed out on this particular dinner. We were back in Parrot Cay again, which seemed appropriate for a pirate-themed dinner.
My appetizer was the Pirate's Golden Pot Stickers – small fried pork dumplings served with pickled vegetables. These were quite good.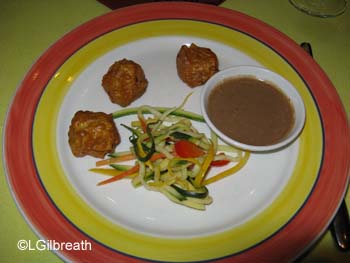 The other very popular appetizer, which Lee ordered, was Black Beard's Jumbo Crab Cake. It was a good-sized crab cake, with lots of crab and not much filler, and everyone enjoyed them.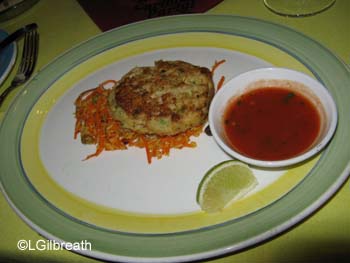 I ordered Mr. Smee's Bibb Lettuce Salad. It was your basic salad, with greens tomato wedges and pine nuts, but it was fresh and tasty, and it was quite a large salad in comparison to some of the others we'd had during the cruise.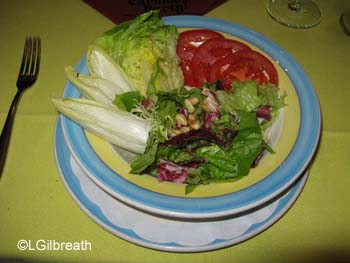 Lee had the Caribbean-style Conch Chowder, as did several others at our table. It was well-received.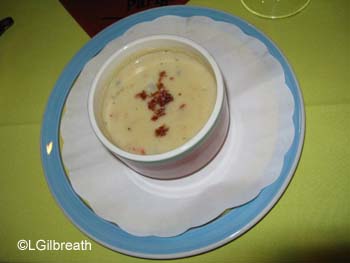 I had another non-traditional vegetarian entree – the Sunken Vegetable Treasure. It was another winner – black-eyed pea and quinoa croquettes with a mushroom sauce. The "croquettes" were shaped more like sausages, and I was expecting patties, but they were really good. I can't even tell you now what the flavor was – there were obviously some spices in it – but I enjoyed them. I don't care for mushrooms, though, so I gave all of those to Lee.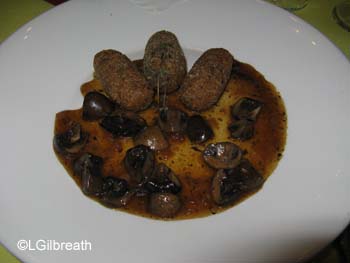 Lee had Jack Sparrow's Barbecue Marinated Beef Short Ribs. He really enjoyed these.
The popular dessert, which I and several tablemates ordered, was actually NOT the chocolate dessert, it was the Floating Island of Tropical Fruit Treasures. This was a very nice selection of mango, kiwi and berries, served in a meringue shell. It was light and very good, though the meringue was quite sweet.
Lee had the Rum Barbossa. This was a version of the "rum baba", which if I knew what that was maybe I could tell you more about it. It looked like flan to me.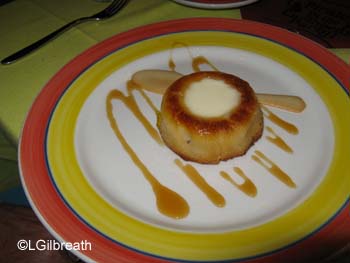 Day 9
The menu was Flavours of the Mediterranean, which I think was my favorite of the cruise. SO many things looked good on this menu!!! We were back in Lumiere's again.
The appetizer and soup and salad menus were full of interesting selections, so I actually ordered three instead of just two.
The Tapas, Taste of the Mediterranean was first. Prosciutto, sun-dried tomatoes, olives and a parmesan breadstick. I have to admit I was getting pretty tired of proscuitto by then, since we'd had it several days in a row as part of our meals in port, but I enjoyed the rest of the appetizer. Lee had this one, too.
I also had the Lemon-Herb Shrimp. It was fine, but didn't have as much flavor as I expected from the description.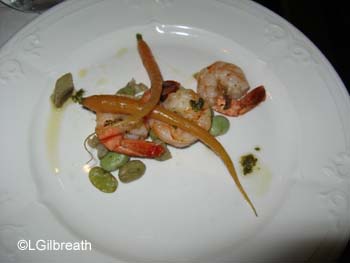 For soup I had the Spicy Andalusian Tomato Soup. I was expecting this to be spicy hot, but it wasn't at all – it just had spices to give it some extra flavor. It was quite good, just not exactly what I thought it would be.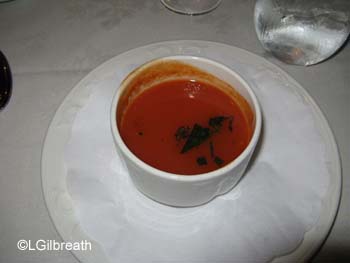 Lee had the Mint Lentil Salad – French lentils with red onion and red pepper. I had a bite and it was pretty good.
A couple of people had the Battered Soft Shell Crab. Apparently this was lots of batter and not really that much crab. And Jane, who had been unlucky with this kind of thing all week, of course got the one that still had some shell – and as her first bite, too!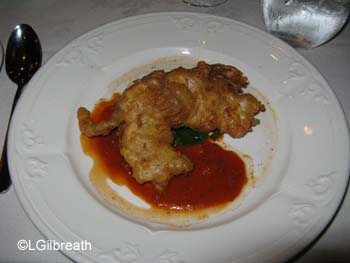 There were lots of entrees on the menu that looked really good – unfortunately I chose the one that ended up being the most disappointing. It was the St. Sebastian Pan-Seared Chicken Breast, served on a bed of orechiette pasta with Emmentaler cheese gratinee. Again, the cheese sauce was just too heavy and the chicken was a little dry. It also wasn't very attractive – all one color. Some veggies would have perked up both the appearance and gone well with the cheese sauce. Oh well.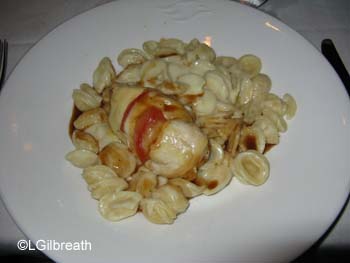 Lee had the Herb-Crusted Monkfish on polenta, with braised fennel. It was very good.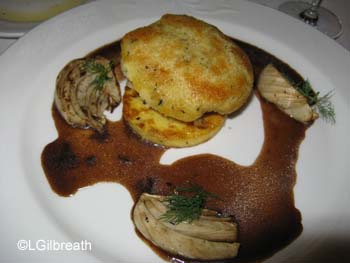 I don't remember which of our tablemates ordered which dish, but between us we sampled an awful lot of the entrees!
This is the Preserved Lemon and Rosemary Rubbed Lamb Sirloin, served with Israeli couscous. All of the lamb dishes we had on the cruise were very good – the lamb apparently all came from New Zealand.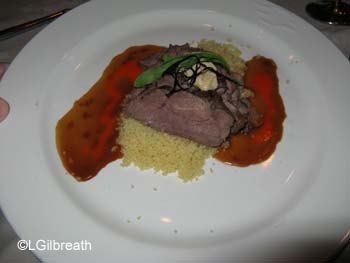 This is the Braised Center Cut Osso Bucco "Milanese".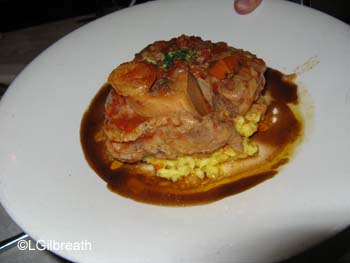 And the Tuscan Style Thin Sliced Beef Flank Steak.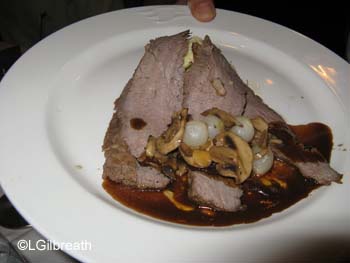 And after all of that, there was still dessert! I had the Flourless Chocolate Cake. I was not expecting it to have some kind of "icing" on it. And fortunately it was a pretty small piece since I was already pretty full. This was more like a cakey brownie than it was a traditional flourless chocolate cake. It was fine – not in the top 5, though.
As you've seen from the photos, they really presented the food very nicely, but they liked to use fruit-flavored sauces with the chocolate desserts, and I like my chocolate unadulterated by fruit, thank-you-very-much. But for the most part the sauce was just a decoration and NOT actually touching the chocolate.
Lee had the Warm French Apple and Almond Tart. This had a layer of marzipan on top which I didn't care for at all, but Lee enjoyed it.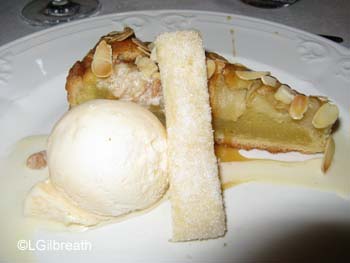 Tonight's Sweet Temptations were the flourless chocolate cake, Kahlua Cheesecake, and Black Currant Napoleon. (Most of the Temptations featured one dessert off the "no sugar added" list – it was the Napoleon this time.)
Day 10
This was the Captain's Gala menu, which really hadn't changed that much since we first had it in January 2009. We treated this as semi-formal night, even though the Daily Navigator said "cruise casual", and we were back in Animator's Palate.
I started with yet another shrimp appetizer – I think I tried most of those on this cruise! This was the Garlic and Herb Sauteed Shrimp served on spaghetti vegetables drizzled with garlic butter. It was good but not great.
Several of our tablemates went with the Oysters Rockefeller on the Half Shell. They enjoyed them…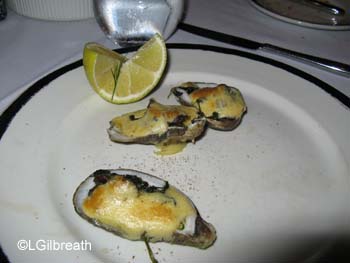 For the salad course I had the Garden Fresh Salad with tomato chips and balsamic dressing. Pretty much just your normal salad. A number of people had the Wild Forest Mushroom Soup, but that really does NOT photograph well (looks like a bowl of mud), so I didn't take a picture of it. Fortunately it obviously tasted a lot better than it looked – it got good reviews from everyone who had it.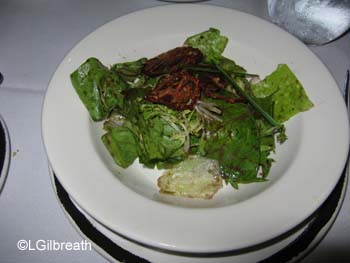 The signature entree for the Captain's Gala is the Baked Lobster Tail served with green beans and rice. Lee doesn't like lobster in the shell, but this was out of the shell, so he ordered it, as did several of our tablemates.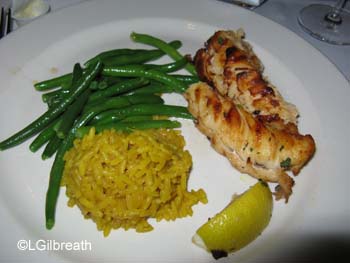 My entree was the Panko-Breaded Pork Envelope, filled with ham and gruyere cheese and served with snow peas and pan-seared potatoes. I think those were the biggest snow peas I've ever seen! This wasn't quite what I was expecting – I thought it would be breaded pork the ham and cheese stuffing, but it was breaded ham and cheese. It was heavy and just ok.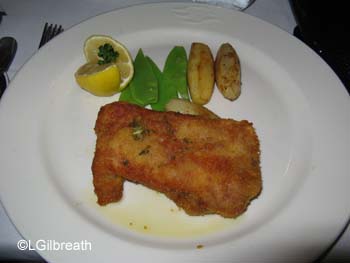 Dessert was the Warm Chocolate Lava Cake, served with double chocolate sauce. It wasn't piping hot the way that I like it, but considering how many of these they had to bake and serve in a very short period of time they did a pretty good job. It wasn't as good as mine – I think they used the chocolate sauce (which was yummy) to hide the fact that they were a little dry. (My recipe available upon request.)
Day 11
The final dinner of our cruise! Where did the time go? As usual, the final night menu was Till We Meet Again. We were in Parrot Cay again – we had four dinners in Animator's Palate and Parrot Cay, and three in Lumiere's.
I started with the Artichoke, Spinach, and Jalapeno Cheese Dip. This was supposed to be served with crispy pita wedges, but they were soft, and there weren't nearly enough of them considering how much dip there was. The dip was good, but I was expecting it to have more of a kick to it.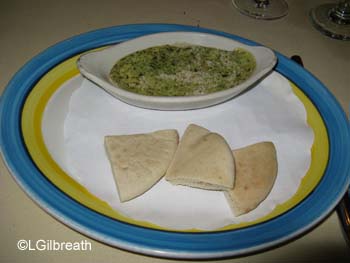 Lee had the Grilled Chicken Sate, with mint-yogurt sauce and spicy cucumber salad. Wow…that was a VERY generous serving – three skewers of chicken!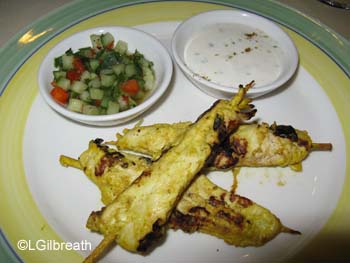 Another option was the Sesame Crusted Tuna Sashimi, Wakame Salad, and American Caviar with pickled ginger wasabi. Our tablemates seemed to like it.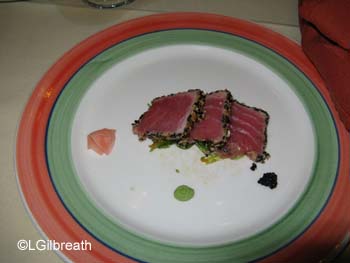 Somebody else had the Chilled Seafood Medley – lemon shrimp, salmon tartare and marinated bay scallops.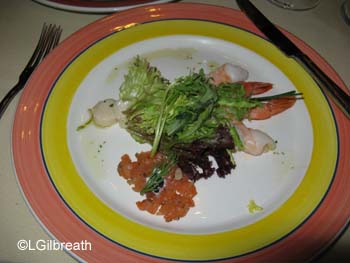 My second course (Lee's too) was the Potato Leek Soup, garnished with sour cream, chives, and caviar. It was very tasty.
My entree was the Garlic and Rosemary-Marinated Lamb Sirloin with onion, leek, and potato gratin. This may have been the best entree I had all week, though as I recall one of the fish dishes I had early in the cruise was really excellent, too.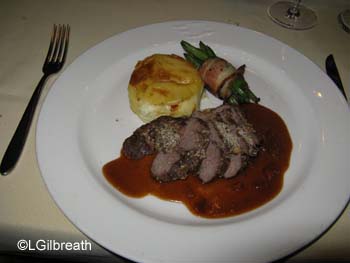 Lee tried the Yachtsman Steakhouse Center Cut Grilled Beef Tenderloin, served with asparagus spears, baby vegetables and Williams potatoes. See that thing on the plate that looks like a pear? That's actually the potatoes!
John had the Roasted Half Cornish Hen, with Israeli couscous, Mediterranean vegetables and lemon-herb sauce. He actually ended up getting a whole hen and not a half, but it was still a pretty large hen. He said it was really good – I had a taste, and it was quite good – but not as good as the lamb. 🙂
My dessert choice was the Sweet Temptations, with Celebration Cake, Chocolate Decadence, and Cappuccino Mousse. The Chocolate Decadence was really good.
The signature dessert that night was the Baked Alaska, complete with an international procession of flag-waving servers and chefs carrying flaming Baked Alaskas.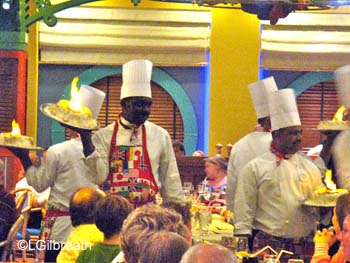 Lee was the only one who had the Baked Alaska. He couldn't finish it, though.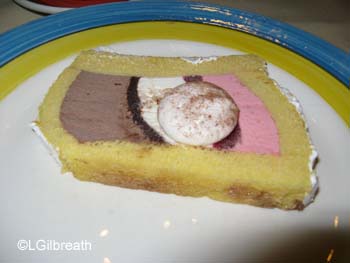 Final Thoughts
The food was good, but I think that we were not quite as impressed by it as we were on our first cruise. I know that I had a couple of entrees I really did not enjoy. It was nice to have a few different menus – Villains Tonight, Flavours of the Mediterranean and Master Chef. I'm not sure I really had an overall favorite – seems like there were hits and misses on most nights.
Thanks for reading if you got this far – and I'm sorry it took me so long to get this final part finished.