In July, the Disneyana Fan Club (up to recently called the National Fantasy Fan Club) held its annual convention at the Anaheim Crowne Plaza Resort, near Disneyland. They are a non-profit organization dedicated to all things Disney, with an emphasis on the many collectible aspects of that company.
The convention was held over six days, with several different panels each day featuring a variety of guest speakers. Past Imagineers Willie Ito and Floyd Norman gave talks on the early days of Disney animation, while Rick Farmiloe presented video of the animation department excerpted in Waking Sleeping Beauty, from the 1980's.
Tony Baxter headed a panel of current Imagineers showing art and describing the process of the resurrection of the Mr. Lincoln attraction, and the reopening of the Disney Gallery in the Main Street Bank at Disneyland.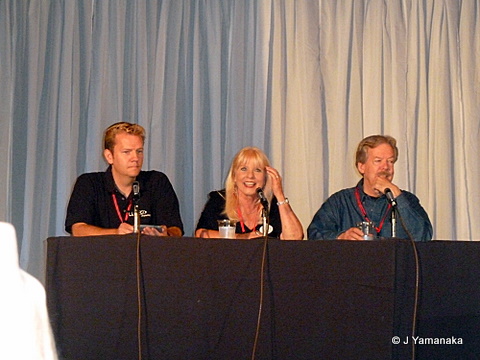 A number of authors presented their books at another panel: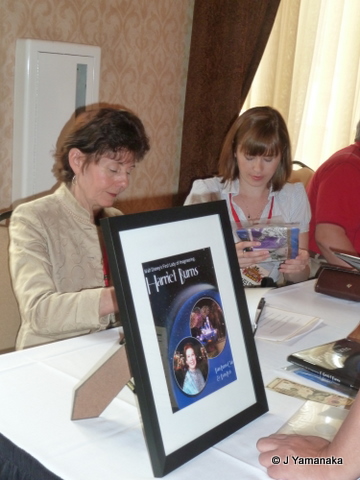 Pam Burns displayed her recent anecdotal book on her mother, Disney Legend/Imagineer Harriet Burns, "Walt Disney's First Lady of Imagineering Harriet Burns."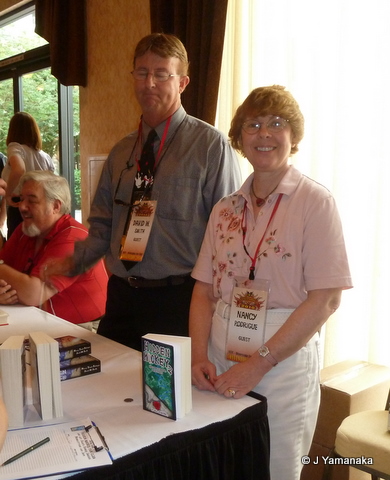 Nancy Rodrigue and David Smith signed their Disneyland-based, historical thrillers "Hidden Mickey" and "Hidden Mickey 2: It All Started…"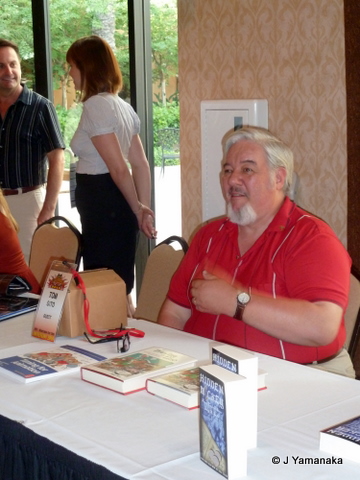 And Tom Sito talked about his book "Drawing the Line," which is a historical account of the unionization of animation, including accounts of the famous Disney Studios strike in 1941.
Voiceover artists were well-represented by June Foray (Lucifer the Cat/Cinderella, Grandmother Fa/Mulan,) who gave an account of her long career in animation
There were a number of celebratory lunches and dinners held in addition to the daytime panels. Disney Legend Bill Farmer (current voice of Goofy) entertained at one, displaying a wide range of voices, from Jack Benny and George Burns, to Bugs Bunny, to Kermit the Frog, and recounting memories of some of the many Disney personalities he knew and worked with throughout the years.
They closed up their schedule of talks with their annual Legends Luncheon, in which they honored four people for their work for Disney: Wayne Jackson, Director for theme park development, manufacturing, and installation of show and ride equipment; animator Mark Henn; choreographer Miriam Nelson; and voice of Jiminy Cricket, the late Eddie Carroll.
Even after the conference part of the event was over, the activities continued for the attendees. There was an in-park event to celebrate Disneyland's 55th Anniversary, and the club's annual Show and Sale over the weekend where virtually anything remotely connected to Disney was sold by a colossal number of vendors.
This was just a small subset of the week's programming–anyone interested in finding out more about the history of the Disney company, or the people who work(ed) there would be well-served by making plans to attend next year's convention. If you're interested in joining/finding out more about the Disneyana Fan Club, more information can be found at their webpage, http://www.disneyanafanclub.org/.