One of my favorite (and I think often overlooked) areas at Disney California Adventure is the Animation Building. In addition to Turtle Talk with Crush, the Toy Story Zoetrope, and The Sorcerer's Workshop, guests can also visit the Animation Academy. This is a ~15-minute session where a Disney animator teaches those in the session how to draw a Disney character. Paper and pencils are provided.
The animator deals with simple shapes and fairly easy-to-follow instructions, so that even people like me, who can barely draw stick figures, end up with a passable drawing. For whatever reason, my best efforts have been with a couple of the dwarfs from Snow White – Dopey and Grumpy.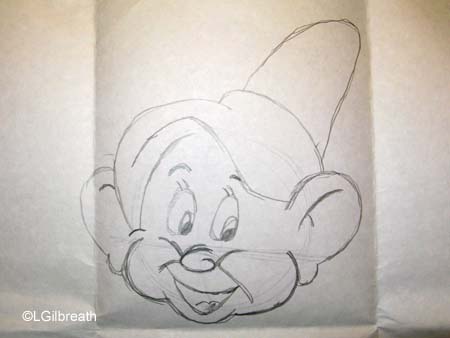 Different characters are featured throughout the day – the cast member at the entrance podium can tell you what characters are coming up, in case you want to return for a specific session. They very rarely fill up, and it's a nice cool place to go and sit down and relax for a while. And you might end up surprising yourself with your drawing!