New 2011 race enhancements include reward of complimentary admission to a Walt Disney World theme park for marathon finishers, plus first-ever online voting to select new race medal; race registration well underway after record marathon weekend exceeded 55,500 in 2010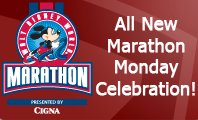 LAKE BUENA VISTA, Fla. (June 1, 2010) – In addition to a tremendous sense of accomplishment, a magical reward will await everyone who completes the Walt Disney World Marathon presented by Cigna in 2011: a new Mickey Mouse race medal and a free day at Disney.
As part of Disney's ongoing efforts to encourage guests to celebrate the milestones in their lives at a Disney park, finishers at the Disney Marathon on Sunday, Jan. 9, 2011, will receive complimentary admission to a Walt Disney World theme park the Monday after the race.
And for the first time ever, runners and fans can choose the official 2011 Disney Marathon medal, which will be their unofficial "ticket' to Disney on "Marathon Monday.' Through online voting this summer, fans can vote for their favorite from three medal designs, all created by Jostens Inc., which has designed Super Bowl rings and college football's prestigious Heisman Trophy. The medal with the most votes will become the official medal of the 2011 Walt Disney World Marathon.
Voting is underway now and runs through July 28 at disneyworldmarathon.com. The winning medal will be announced in early August.
"Running 26.2 miles is quite an accomplishment even if you're energized by Disney entertainment along the way, so what better way to celebrate such an achievement than a complimentary fun-filled day at Disney where you can show off your new medal,' said Faron Kelley, director of marketing for Disney Sports. "These new features are just more ways runners and their families can combine their passion for running with a memorable trip to their favorite vacation destination.'
Registration remains open for the 2011 Walt Disney Marathon Weekend (Jan. 6-9), which is approaching 50 percent of capacity. The Disney Marathon Weekend (typical race start temperature 48.6 degrees) will once again include a variety of events for all ages and running abilities – kids races, a Family Fun Run 5K, the Goofy Race & a Half Challenge, the Disney Half Marathon and the Disney Marathon, plus the Health & Fitness Expo. To sign up for any of the weekend events, go to disneyworldmarathon.com.
Last year's Disney Marathon Weekend, which drew a record 55,500 registered runners from all 50 states and 50 countries, was highlighted by Adriano Bastos' sixth consecutive Disney Marathon victory and Lisa Mizutani's second straight women's title.
About Disney's Endurance Series
The Endurance Series at Walt Disney World Resort gives recreational athletes of all ages and abilities the chance to walk, jog, run, bike and swim their way "around the world." From marathons to road races to triathlons, athletes from across the country and around the world compete to stay in shape, achieve personal best times and raise donations for charitable causes. Popular Endurance Series events are the Walt Disney World Marathon and Half Marathon presented by Cigna, Champion 5K at ESPN the Weekend, Disney's Princess Half Marathon Weekend presented by Lady Foot Locker, Expedition Everest Challenge presented by Champion and the inaugural Disney Wine & Dine Half Marathon Weekend.