Like everything that Disney does, theming is paramount. In this multi-part blog I'll be touring all four parks and pointing out benches, chairs, and other seating options that have been themed specifically for a land or area. For the most part, I'll be concentrating on non-restaurant seating.
Part 1 covered the Magic Kingdom.
Part 2 covered Epcot.
Part 3 Animal Kingdom
The final park on our tour of the World brings us to Disney's Hollywood Studios. Like the other parks, there are few seating options near the entrance. The only place to sit here is on the planters located between security check and the ticket booths.
Hollywood and Sunset Boulevards offer "anywhere U.S.A." city benches. It's interesting to note that Sunset Blvd. has one of the largest concentrations of benches anywhere. Almost the entire street is lined with these wood and concrete seats.
Characteristic of the real world, a number of these benches display advertisements. If you pay attention, you'll notice that the locales depicted on the ads all exist on the two streets. Take a look at the last picture. You can tell by the sagging slats that this bench is used frequently. There's a reason for this. It's near the restroom where guests wait for others to finish their business.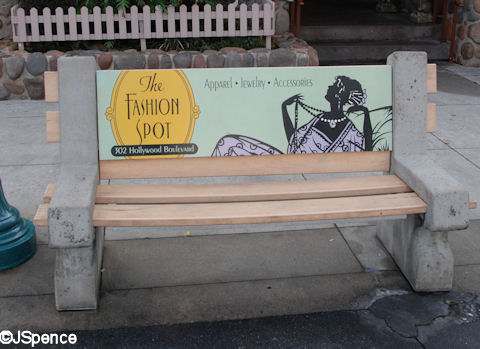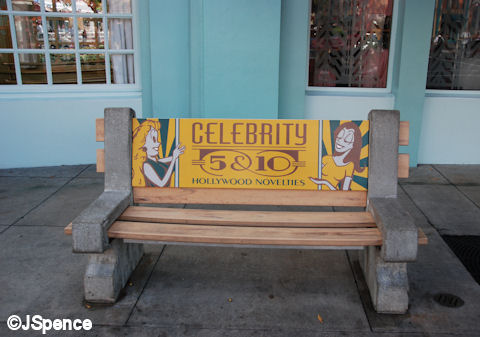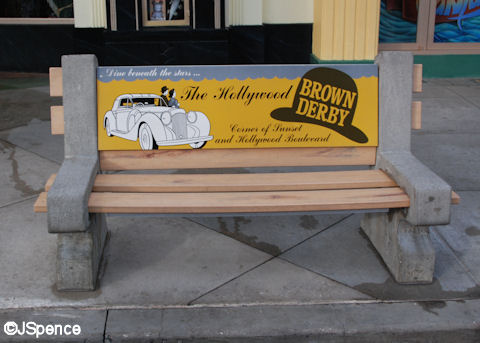 Near the Tip Board is an art deco style fountain. As the park gets busy, this area becomes a "meeting spot" an seating here is often at a premium.
Near the Tower of Terror, the seating is decidedly formal.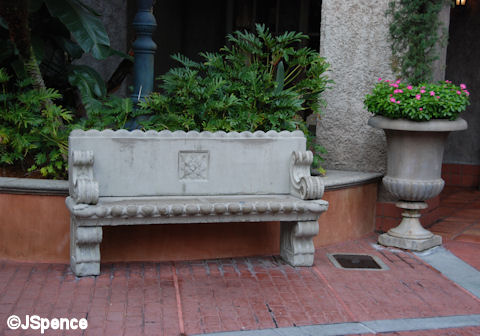 The only seating you'll find in the Rock 'N' Roller Coaster courtyard is the planter ledge that lines the front of the building.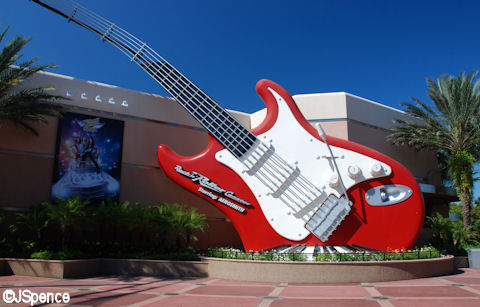 On Mickey Avenue you'll discover the same benches as are used in Innoventions Courtyard at Epcot. And at Pixar Place the seating has a sort of futuristic/cartoon appearance.
You'll find a different version of the "anywhere U.S.A." city bench on the Streets of America.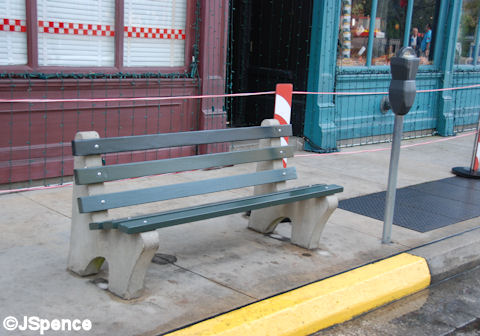 Near Pizza Planet there are a few simple benches and a number of tables and chairs.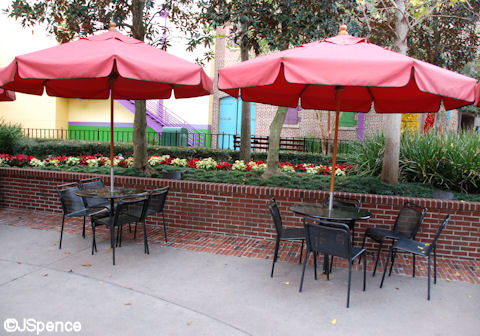 Along Echo Lake are umbrella-covered tables and chairs. Buy an ice cream from nearby Dinosaur Gertie's and enjoy it here.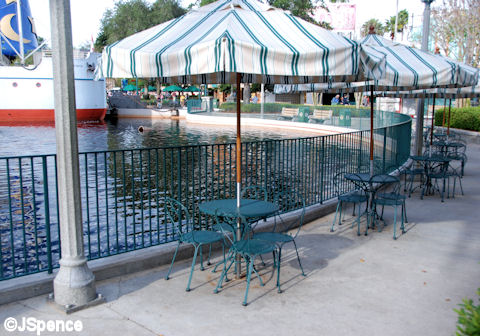 This concludes my tour of theme park benches. But the detailing doesn't stop here. The resorts are full of seating options as unique as the ones I've presented in this blog. As I always keep preaching, pay attention to the little things and your trips to Walt Disney World will be all that more rewarding
By the way, in order to get pictures of benches with nobody sitting on them, I had to arrive at each park at opening, then make a mad dash around the park before people started tiring out.