LAKE BUENA VISTA, Fla. — Chef Cat Cora and Disney have debuted an exciting new family-dining restaurant with the opening of Kouzzina by Cat Cora at Disney's BoardWalk at Walt Disney World Resort.
This is the first table-service restaurant for the celebrity chef, featuring a menu of Mediterranean-style cuisine that pays tribute to the Cora family's Greek roots.
Chef Dee Foundoukis: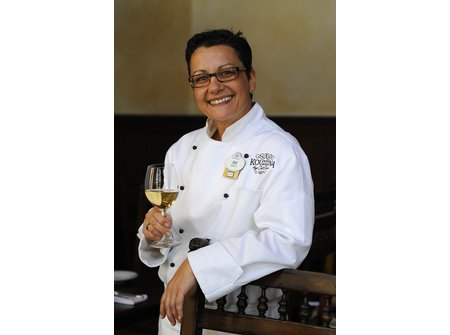 Owned and operated by Disney and open daily for breakfast and dinner with seating for about 200 guests, the new restaurant features "time-honored recipes passed down from my ancestors, as well as my favorite Greek and Mediterranean dishes that my family loves," Cora says.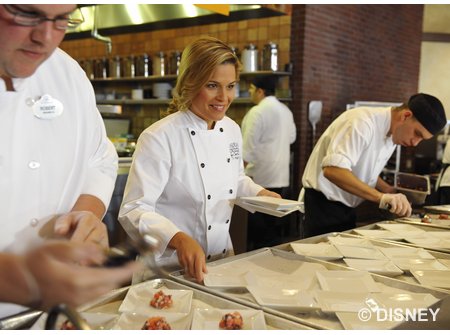 As a Mississippi native born to a family of Greek restaurateurs, Cora grew up immersed in two different and flavorful cultures, and has taken from that unique background the kitchen "know-how" handed down through generations. The cuisine at Kouzzina (Greek for "kitchen" and pronounced "koo-zee-nah") showcases Mediterranean cuisine and Chef Cora's philosophy to create simple yet sensational meals.
Kouzzina by Cat Cora features an exhibition kitchen in the spacious dining room: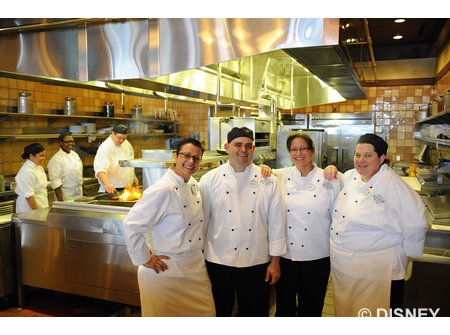 The restaurant's spacious interior features an open kitchen, wooden tables and chairs and a walk-up pizza window for casual dining at outdoor tables on the boardwalk. Breakfast specialties include Kouzzina's signature blend of press-pot coffee and an icy Greek frappé with coffee, milk and natural sugar. Sweet choices include steel-cut cinnamon oatmeal, blueberry orange granola pancakes and Greek-style yogurt with fresh fruit and house-made granola. Savory breakfast creations include turkey-sweet potato hash with two eggs and arugula salad; the stacked Kouzzina breakfast with two poached eggs, kalamata olive toast, artichoke spread, sweet potato hash and bacon or chicken sausage; and spinach-tomato-feta scrambled eggs.
For dinner, Cora's hand-selected beverage menu includes "Cat's Ouzo-tini," Mediterranean sangria and her own wine label, Coranation, featuring California wines. Starters include crisp calamari, goat cheese-stuffed grape leaves, spinach pie and Spiro's Greek Salad. Entrées range from cinnamon stewed chicken to traditional whole fish and a char-grilled lamb burger, with sides such as chilled salt-roasted beets, smashed garlic-fried potatoes, sautéed brussel sprouts and herbed orzo with Greek olive oil and Kasseri cheese. A traditional baklava and dense, rich, chocolate budino are dessert favorites.
CAT'S OUZO-TINI: The signature cocktail at Kouzzina by Cat Cora at Disney's BoardWalk Resort is the ouzo-tini, the celebrity chef's personal recipe featuring Absolut vodka, Metaxa ouzo, pineapple juice, fresh lime juice and pomegranate served in a sugar-rimmed martini glass shaken and served tableside.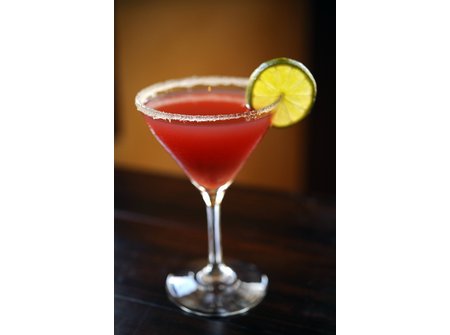 SPIRO'S GREEK SALAD: The traditional starter at Kouzzina by Cat Cora at Disney's BoardWalk Resort includes tomatoes, cucumbers, red onions, kalamata olives and feta.
TRADITIONAL WHOLE FISH: At Kouzzina by Cat Cora at Disney's BoardWalk Resort, whole fish is pan roasted and served with braised greens, Greek olives, fennel and smoked chili.
SPANAKOPITA: The version of this savory pie at Kouzzina by Cora at Disney's BoardWalk Resort has a flaky phyllo crust and a filling of spinach, feta, leeks and dill.
PASTITISIO: This baked Greek casserole dish at Kouzzina by Cat Cora at Disney's BoardWalk Resort includes bucatini pasta, cinnamon-stewed meat sauce, and béchamel sauce.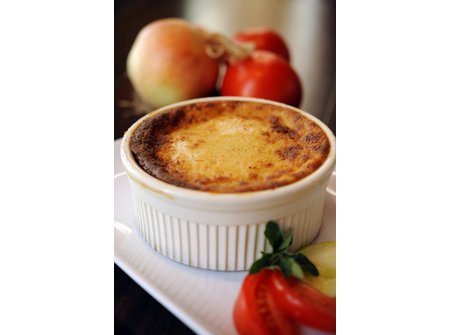 CINNAMON-STEWED CHICKEN: A signature dish at Kouzzina by Cat Cora at Disney's BoardWalk Resort with tomatoes, herbed orzo and Mizithra cheese.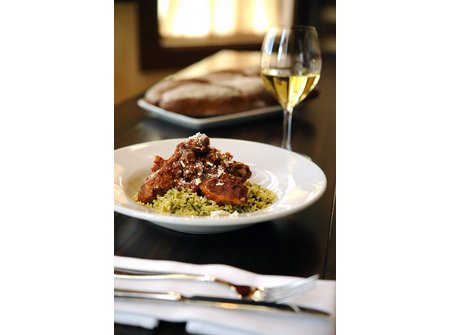 CHAR-GRILLED LAMB BURGER: The burger at Kouzzina by Cat Cora at Disney's BoardWalk is made with lamb and dressed with olives and feta, with a side of crisp sweet potato fries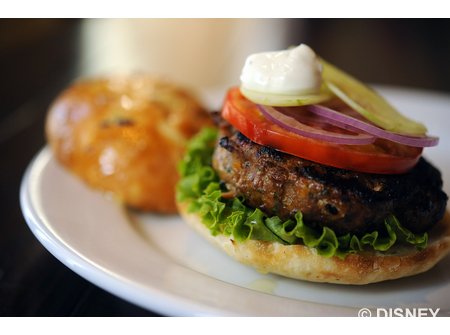 FISHERMAN'S STEW: Scallops, seasonal fish, shellfish and fennel, grilled bread, and ouzo butter create a savory dinner in a bowl.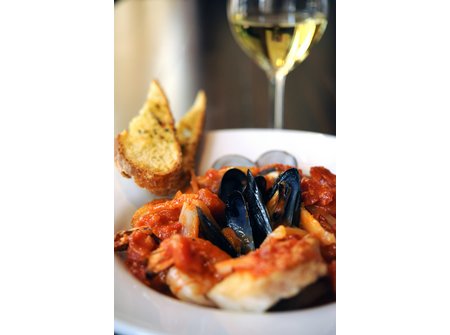 BAKLAVA: This traditional walnut and cinnamon pastry is served with pistachio gelato:
Cora began working with Disney in 2008 by creating a Disney Video on Demand series to showcase ways to help families develop more healthy eating habits. The first and only female Iron Chef on Food Network's hit show "Iron Chef America," Cora is a graduate of the Culinary Institute of America in New York. She also is executive chef for Bon Appétit magazine. In addition to hosting the instructional cooking demonstrations for Disney Video on Demand, Cora has been a featured chef at the Epcot International Food & Wine Festival and at Disney's California Food & Wine Festival at Disneyland Resort.
ALL PHOTOS PROPERTY OF DISNEY