by AllEars® Team Member Jack Marshall
I have always thought that Disney's Animal Kingdom had some of the best food available in any of the parks. Picnic In The Park (PITP) is no exception.
First offered back in April, PITP is definitely a trailblazing meal option for Disney. The basic idea of the program is to select from two tiers of healthy food selections – tier 1 is sandwiches and tier 2 is meats. Details on what the selections are can be found on our Picnic In The Park page.
The process starts when you place your order at the Desk located to the right of the Island Mercantile building.
Orders must be placed a minimum of one and one half hours prior to picking up but you can order your picnic anytime between park opening and 1:30 p.m. for pick up anytime between 10:30 a.m. and 3:00 p.m. The food is prepared in the kitchens of Tusker House. Pick up is done at the window of the Kusafari Coffee Shop and Bakery.
Recently, I dined with two friends and we selected the rotisserie chicken option for three people. The bill came to $29.99 ($31.94 with tax). We ordered our picnic at 10:15 a.m. and picked it up at 12:45 p.m. There are 16 suggested picnic spots throughout the park. We chose the Dawa Bar for its accessibility, closeness to Kusafari Coffe Chop and Bakery and the umbrella tables that kept the spot cooler and dry.
The meal comes in a green reuseable cloth bag.
The tier 2 meal for three consists of your entree, two sides to share, a dessert for each diner and a water for each.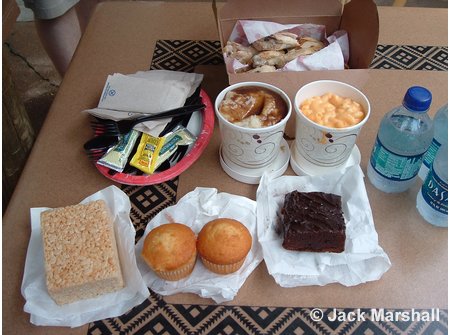 Our rotisserie chicken was supposed to include 6 pieces but we got 8. I don't know whether it was a mistake or not but it was definitely not wasted.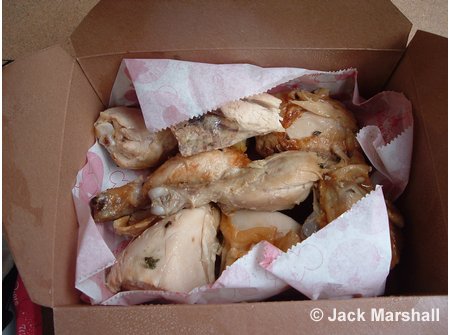 Four our two sides, we chose mashed potato and gravy and macaroni and cheese.These came in pint containers (16 ounces).
We all selected different desserts. Shown here are the cornbread and the brownie.
The final dessert was a crisped rice treat.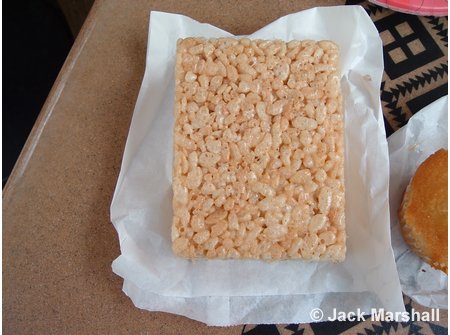 The drinks were 12 ounce bottles of water and were the only option. Additional items like soda could be purchased individually if desired.
Finally, all the necessary plates, napkins, plastic utensils, mayonaisse and mustard were included as well.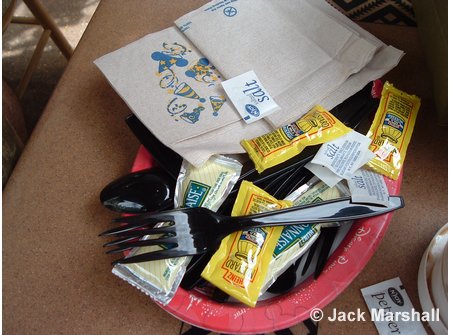 I found the meal to be very good. It was heavily seasoned and was quite hot when we sat down to eat it. My dining companions also enjoyed their meals. We did notice that several things were lacking, notably butter or margerine for the cornbread and wet naps to clean up after eating the chicken. But these were minor things.
As of June 27th, 2009, Picnic In The Park has expanded to offer meals for two. Previously, meals for three were the smallest meals you could get.
The Disney Dining Plan is accepted for this but it will take one adult quick service entitlement for each meal ordered. In other words a meal for two would take two counter service credits while a meal for three would take three, etc.
I have to admit that this is an item that I most likely would not have purchased for myself but I am very glad that I had to for this report. I know I will be doing this option when my family returns to WDW later this year.
Be sure to visit out Rate and Review Area to share your experience and see what others have to say as well!