I do and I'm sure many of you do it. Using our cameras while on a Disney ride or attraction. In the past I've shared one on Big Thunder Mountain Railroad and Test Track. Please, if you attempt ride photography do not endanger yourself or anyone riding with you. I make sure I am securely in my ride vehicle and my camera is not going to leave my hands. I wrap my strap about my arms and neck to make sure.
It is a challenge. Rides are fast and bumpy or slow and dark or a combination of the two. People who enjoy Disney themepark photography try to outdo each other on flickr and many Disney boards as to who can get the best ride shots. Many openly admit that it takes some luck to get a good ride photo. Just as the one I took on Expedition EVEREST. This is a fast ride which is half done inside a dark mountain with a Yeti chasing you. I thought it would be fun to see what a wide angle lens could do on this ride. The result you see below.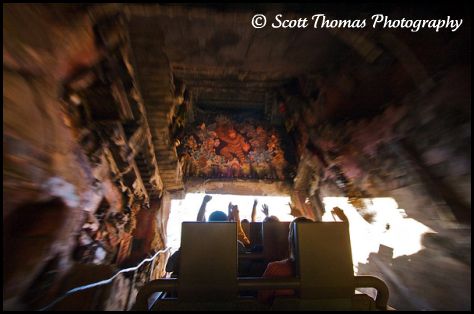 A Yeti mural found in one of the caves of Expedition EVEREST.
Nikon D70/Tokina 11-16, 1/15s, f/9, ISO 400, EV -0.3, 11mm focal length
If you look at the shutter speed, you can see why I was lucky. There is a lot of motion blur in this photo but the mural of the Yeti is fairly steady even with the large contrast of the bright light coming from the cave opening. By the way, anyone know where on Expediton EVEREST this was taken? Leave a comment.