Deb Koma and I ate a number of meals at Disneyland during her visit in April. I have covered in detail already our experiences at the Celebration Roundup and Barbecue and the Arrowood Winemaker Dinner, but here's some mini-reviews on our other experiences.
House of Blues
We ate here on Thursday night – had a 5:30 Priority Seating time, since they don't accept Priority Seating after 5:30. My husband Lee joined us and we had a table outside, which was nice, since it wasn't quite as noisy as it is inside. They had beer-battered onion rings as an appetizer special, so we started with those. They came with ranch and honey mustard dipping sauces, and of course ketchup was available too. They were very good – crisp and hot.
House of Blues has specials each night of the week – Deb ordered the Thursday special, which was Paneed Chicken Breast served on a Bed of Tri-Color Rotini Pasta with a Tabasco Cream Sauce for $16.00. She enjoyed it.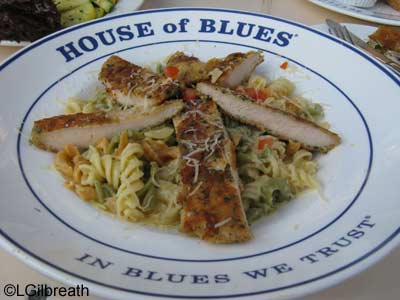 Lee had the Full Rack of "Fall off the Bone" Baby Back Ribs with tangy Jim Beam BBQ Sauce, Mashed Sweet Potatoes, and Sauteed Vegetables for $28.00. As you can see, it was more than a plate's width of ribs. They were tender and flavorful. The mashed sweet potatoes were very tasty, too.
I had the Smoked Pulled Pork Sandwich with a tangy Jim Beam BBQ Sauce, Coleslaw, and Sweet Potato Fries for $13.00. The sauce was good without being overwhelming, the pork had a good flavor, and it was all pork – no fat or gristle. I really liked the sweet potato fries, too.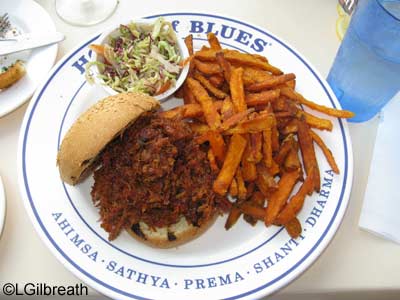 We had good service, and overall it was a very nice meal. The menu is HERE.
Ralph Brennan's Creole Cafe
Saturday morning Deb and I opted for a quick breakfast at Ralph Brennan's Creole Cafe. They serve fresh beignets there, but we really weren't up for that much sugar and fat so early in the day. I have to say that this may be the least expensive place on property to get a hot breakfast – they offer eggs, bacon, and sausage, breakfast sandwiches and burritos, and french toast sticks. It's counter service, and the tables are outside, though it was a beautiful morning, and very pleasant to be sitting outside watching the people pass by. Deb had the English Muffin Sandwich – scrambled eggs with either sausage or bacon, and a slice of American cheese for $5.99. It was served with "hashed browns" – but this was a pre-made hash brown cake (think toaster hash browns), and not "real" hash browns.
I had the Big Easy Breakfast Platter – Scrambled eggs with English muffin, hashbrowns, and choice of bacon or sausage for $6.99. It was just ok – I like my eggs fully cooked and these were a little runny, and the muffin was hardly toasted at all. I think next time I'll try the Breakfast Burrito instead.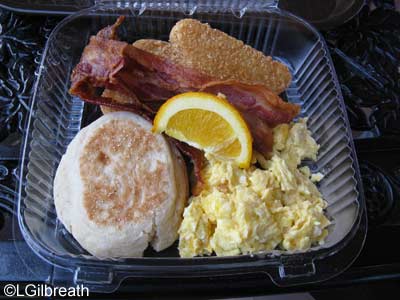 The menu is HERE.
Wine Country Trattoria
Saturday evening Jeanine Yamanaka joined Deb and me for dinner at DCA's Wine Country Trattoria. I think I've mentioned before that this is my favorite table service restaurant in either of the parks. It's just always been a very casual, pleasant, relaxed experience for me, and this meal was no exception. We sat inside this time instead of outside, which was OK since the evening was starting to get a little cool.
I started with the Soup of the Season, which was a broccoli cheese soup. It was served with croutons and had a very nice flavor – and it was filling, too!
For an entree I had the Chicken Bruschetta Salad – Poached chicken, basil, romaine hearts, Roma tomatoes, shaved Romano cheese in balsamic vinaigrette with a garlic crostini for $10.99. It had lots of chicken and lots of fresh lettuce and greens – it was very tasty. I think my favorite is still the Caprese Sandwich, though.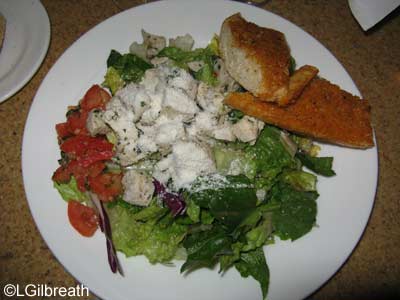 And the Caprese Sandwich is what Jeanine ordered. It's fresh mozzarella, tomatoes, red bell peppers, marinated artichokes, olives and capers drizzled with red wine vinaigrette served on pretzel bread for $9.99.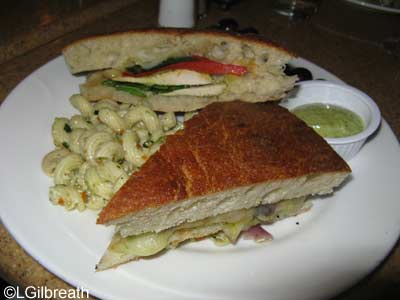 Deb ordered the Chicken Alfredo Lasagna – layers of pasta, chicken, spinach and cheese with Alfredo sauce for $12.79. Deb was a little underwhelmed by the gluey consistency of the sauce and the absence of chicken. Not the best choice on the menu, in her opinion.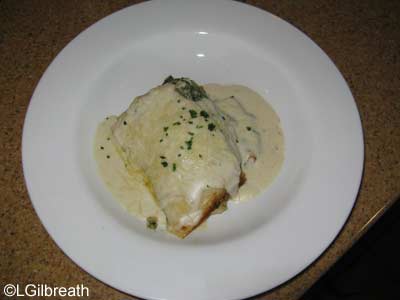 The menu is HERE.
Storyteller's Cafe
Sunday morning Deb and I went over to the Grand Californian to see if we could get in for breakfast even without Priority Seating. It was about 9:00 by then. Sure, no problem – they gave us a pager and buzzed us in less than 5 minutes.
This is quite a large restaurant, and we were seated in a booth back in the corner, which was actually pretty nice – it was a little more out-of-the-way. For breakfast you can either order off the menu or just get the Farmer's Market Buffet for $24.99. Considering the price of the breakfast entrees I think you might as well just order the buffet – you get more of a variety of food (and just about everything on the menu is available on the buffet) and it doesn't cost that much more. Coffee, tea, and juice are included in the buffet, with as many refills as you want.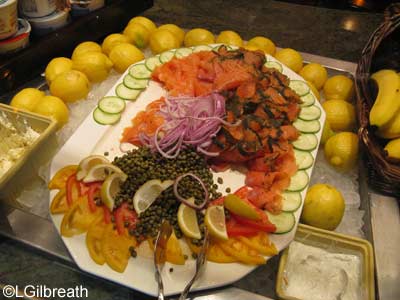 The buffet includes fruit, pastries, eggs (including eggs benedict), breakfast meats, potatoes, hot and cold cereals, and you can also get tossed omelets made to order – that's where the longest lines were. Though the chef had quite an assembly line going, and the process moved pretty quickly – he was preparing four omelets at once!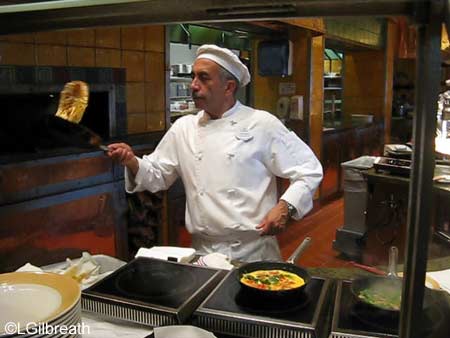 Waffles and pancakes are not on the buffet, but simply tell your server you'd like some and they will bring them out, hot and fresh from the kitchen. Everything we had was very good – especially the omelet. They had a lot of different fillings available for those. Deb, throwing caution over cholesterol to the wind, really enjoyed the eggs benedict.
At breakfast this is a character meal, featuring mostly the "forest" type characters like Chip & Dale, Koda and Kenai, and Meeko. And then there was Rafiki – who didn't really fit the "forest" thing, but he was there, too. (I understand Terk makes appearances here as well.) I don't have a lot of experience with character meals, but Deb said that for a character meal this one was pretty calm and laid-back – they weren't getting the kids involved in a lot of noisy games or other such activities. We certainly got our share of visits from them – Meeko was playing peekaboo with Deb at the table when I came back from the buffet. 🙂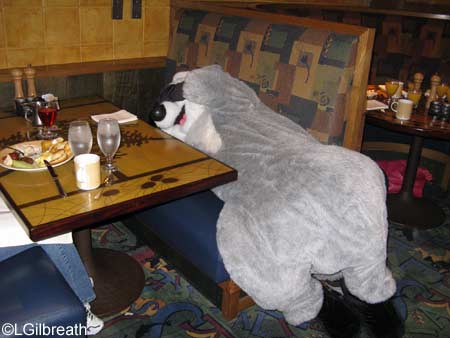 We had two different servers, since our "real" server was on break when we first sat down. The first guy was just OK – it took him a long time to show up with our beverages, but the woman who replaced him was really good, and came by frequently to check to see if we wanted any more juice, tea, or coffee.
I'm definitely going to be making a Priority Seating here for a late breakfast after we run the Half Marathon in September!
The menu is HERE.
And that does it for this set of dining experiences!