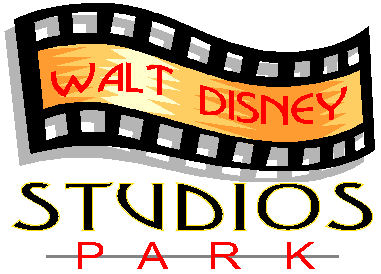 Disney has eleven theme parks around the world. I rank Tokyo DisneySea as my favorite and Disneyland Paris as my second favorite. I rank the Walt Disney Studios Park dead last. Visiting this park makes me long for Disney's California Adventure, which I rank at number ten.
The Walt Disney Studios Park was designed and constructed during the latter years of Michael Eisner's tenure as the head of the Walt Disney Company. This was during his "cheap" years and it shows. This park is soulless.
I often tell people that Tokyo DisneySea is so magnificent that you can pay your admittance fee, never go on one attraction, and you'll still get your money's worth. Just "being" at Tokyo DisneySea is worth the price of a ticket. On the other hand, if you pay your admittance fee for the Walt Disney Studios Park and go on every attraction, you may want a partial refund at the end of the day – or should I say half-day.
But of course, every Disney story needs to have a happy ending and I'm going to try to provide one here. I haven't been to the Walt Disney Studios Park in almost three and a half years. During that time, Bob Iger, the current CEO of the Walt Disney Company, is trying to fix this property (in the same way he's trying to fix Eisner's other fiasco, Disney's California Adventure). The company is investing money in both of these parks and trying to bring them up to Disney standards. My good friend TDLFAN has provided me with some pictures of the improvements made at the Walt Disney Studios Park during the last several years and things look promising.
That being said, I'm going to discuss what I experienced over three years ago, and what has changed and been improved upon during this time. I'm planning another trip to Paris in about a year and a half and I'm hoping that I can delete the opening paragraphs to this blog when I get home.
The Walt Disney Studios Park is situated somewhat next to Disneyland Paris. It's about a ten minute walk from the main gates of one park to the other. The entrance to the Studio looks like the quintessential Hollywood movie lot of the 1930's and 40's. There is a large arch, typical of many of the early studios and a water tower, characteristic of the era. Disney was smart when designing this park, the Imagineers placed the Earful Tower near the entrance where it could easily be seen by all.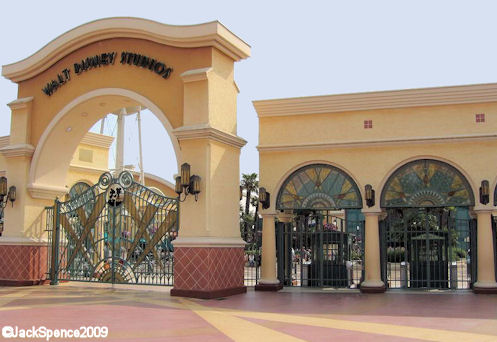 Within the gates is a very pleasant courtyard. Shops and Guest Services can be found in the buildings that flank the square.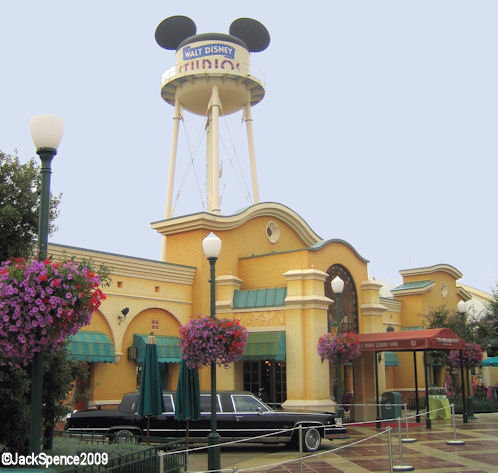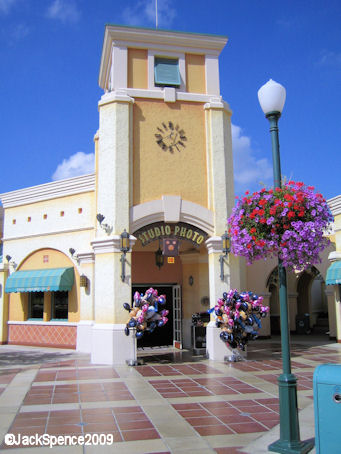 Character Meet-&-Greets are common in the courtyard.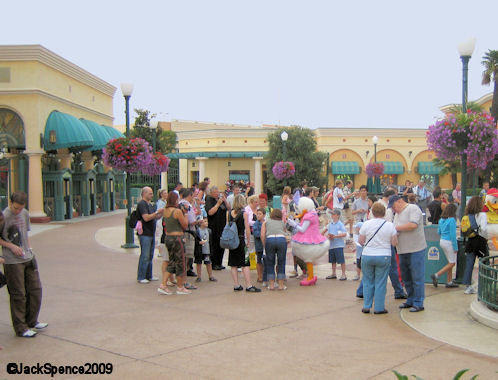 In the center of the courtyard are a fountain and a statue of Mickey as the Sorcerer's Apprentice.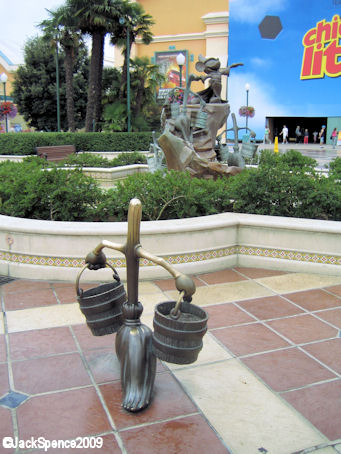 When I visited this park in September 2005, Disney's animated movie "Chicken Little" was opening soon and they were promoting it heavily. The large building (covered by Chicken Little) is called Studio 1. It's actually an attractive structure if you could see more of it.
Studio 1 is the equivalent to Hollywood Blvd. at Disney's Hollywood Studios in Florida. Inside this massive soundstage is a movie set that is supposed to represents a quintessential "Hollywood" street during the golden age of film. To enter the park, all guests must walk down this thoroughfare. But what separates this street from its Florida cousin is that all of the buildings here are facades. Nothing is real.
Behind these facades are a number of shops and a large counter service restaurant, the Restaurant en Coulisse. This eatery serves hamburgers, pizza, and salads. Note, there are no full service restaurants anywhere at the Walt Disney Studios Park.
Studio 1 opens about a half an hour before the rest of the park. This gives guests time to check out the shops and grab a quick bite before starting the day. At opening, grand announcements are made in French and English welcoming everyone to a day of excitement. All the while, search lights crisscross the street and buildings. When the doors finally open at the far end of the soundstage, guests stream out en mass. Outside, cast members applaud everyone as if they had just completed acting in a marvelous scene.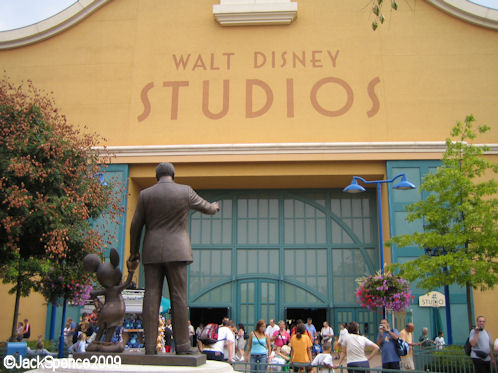 Standing outside the Studio 1 soundstage is the Partners Statue.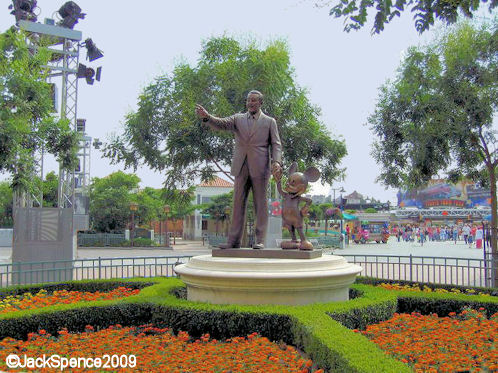 Here's my overall impression of Studio 1. It has its charms. I like that it's perpetually nighttime within the soundstage. This gives the area a nice atmosphere and the many animated neon lights are a lot of fun. And it does resemble an actual movie set – which is what Hollywood is all about. Also, on a cold Parisian winter day, I'm sure it's nice to have a place to escape from the weather.
But after seeing Hollywood and Sunset Boulevards at Disney's Hollywood Studios, I can't help but think that the Imagineers were given a directive to build "Hollywood" as cheaply as possible. They did a decent job, but it just doesn't compare to its Florida cousin.
In my next blog, I'll discuss Production Courtyard.